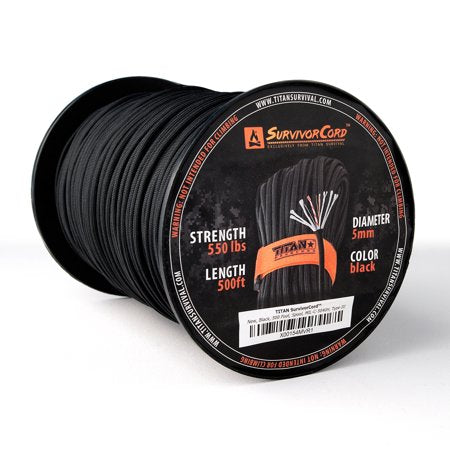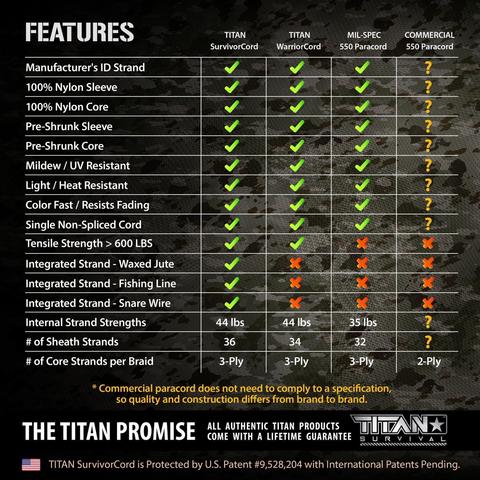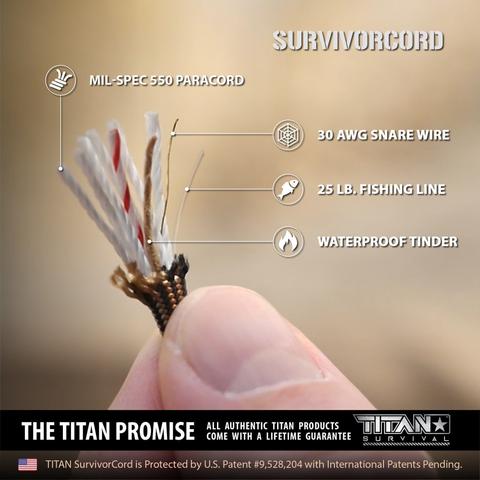 TITAN SurvivorCord 500 FT Spool (BLACK) | Patented Military Type III 550
SURVIVORCORD IS THE ULTIMATE

 

SURVIVAL TOOL!
NOTE:  This product is the 500 foot SPOOL version of our patented SurvivorCord.
SurvivorCord is the culmination of 18 months of back and forth collaboration between Special Forces operators in Afghanistan and TITAN Survival.  The result is our patented MIL-SPEC 550 paracord, with 3 potentially life-saving survival strands added to the inner core during manufacturing: Snare Wire, Fishing Line, and Waterproof Fire Tinder.
This specific color variation is a subdued forest or woodland camouflage, perfect for camping, tactical, hunting, and survival uses.
Are you wondering who uses SurvivorCord and what is it for?  Well, since SurvivorCord was designed to be the ultimate replacement for standard paracord, it's carried by Active Military, Veterans, Survivalists, Bushcrafters, and Outdoor Aficionados all over the world.  From our Special Ops brethren, to our men in Blue, to Boy Scouts all over the U.S.A.…they all carry it in their vehicles, packs, and emergency kits so that they always have easy access to incredible cordage. 
And as a replacement for paracord, SurvivorCord can be used for any of the normal paracord uses: Crafting, Utility Line, Emergency Cordage, Trail Markers, etc.   So, what makes it so good?
We use high-quality MIL-SPEC Nylon to achieve a tensile strength of > 620 lbs. Our 7x 3-Ply Nylon strands are UV resistant, mold resistant, and pre-shrunk to make sure that there is no shrinkage or deterioration in the elements.

The outer sheath of our SurvivorCord also exceeds MIL-SPEC strength requirements, and is fabricated with a proprietary twist to minimize the risk of our inner components punching through the wall.

The included Fishing Line is a clear, 25 lb., high-strength mono-filament that can be used to not only fish in both fresh water and salt water, but can also be used to bind rudimentary tools.

Our Snare Wire is a 30 AWG (0.25mm) proprietary Brass alloy with an impressive tensile strength of ~7lbs, that can also be used as an emergency antenna, a trip wire, an electrical wire, and so many more things.

The waterproof fire tinder is made from paraffin-impregnated jute fiber, and it is completely odorless! We soaked it underwater for 4 hours, and we were still able to start a roaring fire with it, with just a few quick sparks from our SurvivorSteel.
PRODUCT SPECS
SIZE (SPOOL): 

 

6

 x 

6

 x 

8

 inches

LENGTH: 500 Feet (150 m)
TOTAL WEIGHT: 4 lbs, 4 ounces (1.9 kg)
WAXED JUTE DIAMETER:  1 mm
FISHING LINE STRENGTH:  25 lbs
SNARE WIRE METAL:  Brass
SNARE WIRE GAUGE:  30 AWG
SNARE WIRE STRENGTH:  8 lbs
That's why we truly believe SurvivorCord is simply the best paracord around.  Give it a try today, and you won't be disappointed!  And remember, all TITAN products come with a LIFETIME guarantee!
SurvivorCord is protected by U.S. Patents 9,528,204 & 9,926,652, with other International patents pending. There simply isn't a better paracord available.