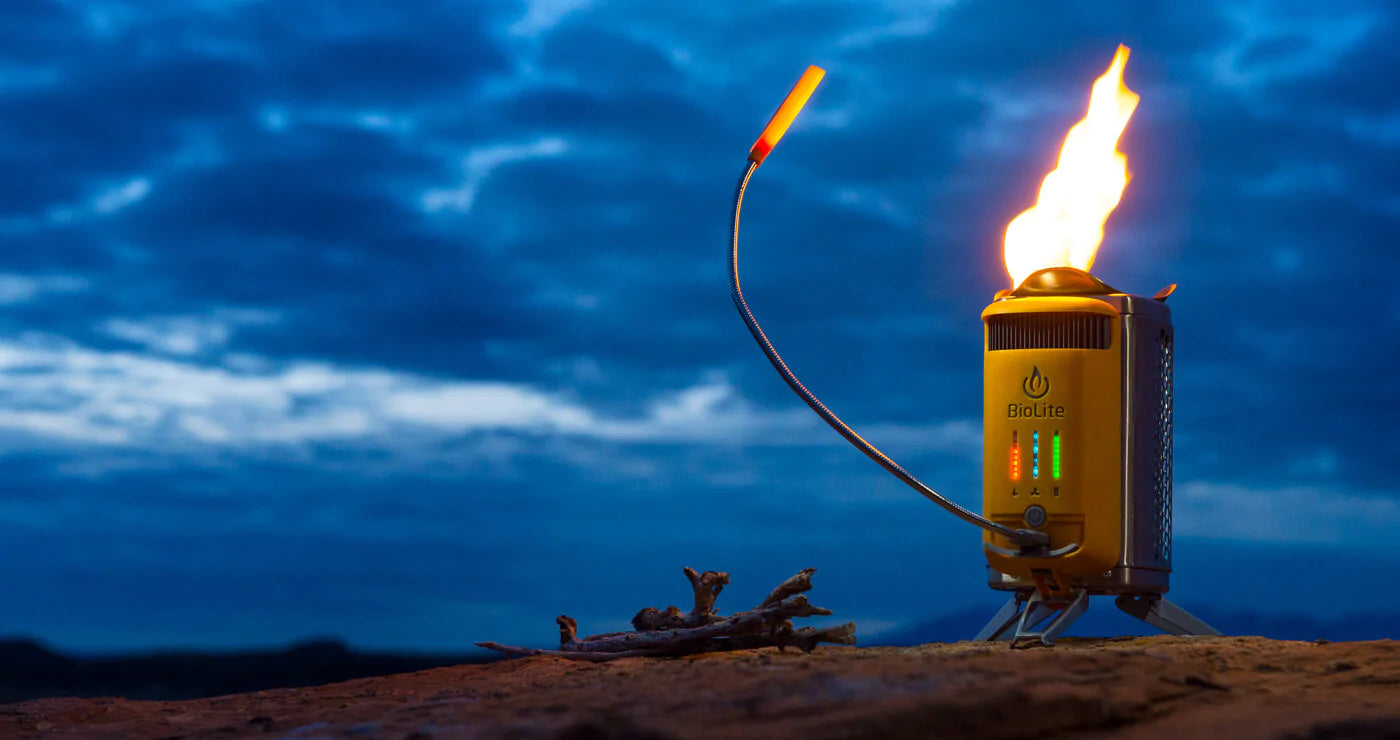 Biolite: portable wood burning cooking stove - the most reliable camp stove for your pack
Ultralight camp stoves are great for backpacking or when you need to bug out. Similarly, the typical propane camp stove is awesome for car camping trips and setting up a base camp where you'll be doing a lot of cooking. Both of these systems have one major limitation – their fuel source is a canister of propane. Propane is not only limited to what you have on hand but could be hard to find in a pinch. Don't worry, there is a solution that has you covered with a superb wood fuelled camp stove: the BioLite FirePit+
Biolite is more than a campfire, it's a backcountry necessity.
I bet you're probably thinking, "anyone can start a fire, what on earth do I need a fancy firepit for?" That's a valid question, and we have the answer. Building a fire that depends on your environment is challenging. Whether you dig a Dakota Fire Hole or rely on campground firepits, we primarily depend on messy infrastructure that can give away our location or are subject to neglect. The Firepit+ gives you predictable and consistent fire control with a stainless steel grill that is easy to clean. The Biolite system is perfect for heat and cooking because the system is contained for efficiency and ember management. The system also includes a precision-controlled fan that makes starting your fire easy and allows you to fine-tune your flames via a 51 jet air management system and get the perfect temperature to cook your meals or heat your space. The FirePit+ also collapses for easy packing. The best part? You're no longer dependent on access to proprietary propane cylinders! Break out your Hultafors Aby Forest Axe to split some of your deadfall or firewood, and you're off to the races.

The BioLite charges necessary survival devices such as GPS

You can control the BioLite fan manually or via Bluetooth from your mobile device (no network connection is needed so long as you have the app already installed on your iOs or Android device) so long as you are within signal range of your Firepit+. The fan housing also doubles as a rechargeable powerpack to give you 30 hours of the fan running time on a single charge or to double as a power bank for topping up your phone and other rechargeable devices. You never know when you need to add a little juice to your BioLite rechargeable headlamp! Having a built-in power pack helps reduce the need for extra power sources and ensures you always have one at the ready.


Solar charged cooking capacity is a survivalist must-have.
What if you need more than 30 hours of fan run time or use some of your powerpack to charge a mobile device? You can also keep your Biolite Firepit+ powerpack topped up with a little help from the sun itself! The Biolite stove is fully solar panel compatible, so you can pair it with your Powerfilm solar panels for unlimited charging in any situation. 
Survival technology meets bushcraft self-reliance.
With the Biolite Firepit+ and an accompanying solar accessory to recharge your batteries, you have all the fuel you need without any reliance on proprietary cylinders or propane supplies. No more need to stop at the local camp store for fuel, and no more reliance on public firepits. The bonus of a built-in Rechargeable Powerpack also ensures you have the electricity you need when you need it.  If you're planning to settle in for the long haul, a solar panel system will help you stay fully charged and never depleted. The Biolite Firepit+ is the perfect precision-controlled wood fire at your disposal for cooking at base camp, the local campground or wherever you need to call home.