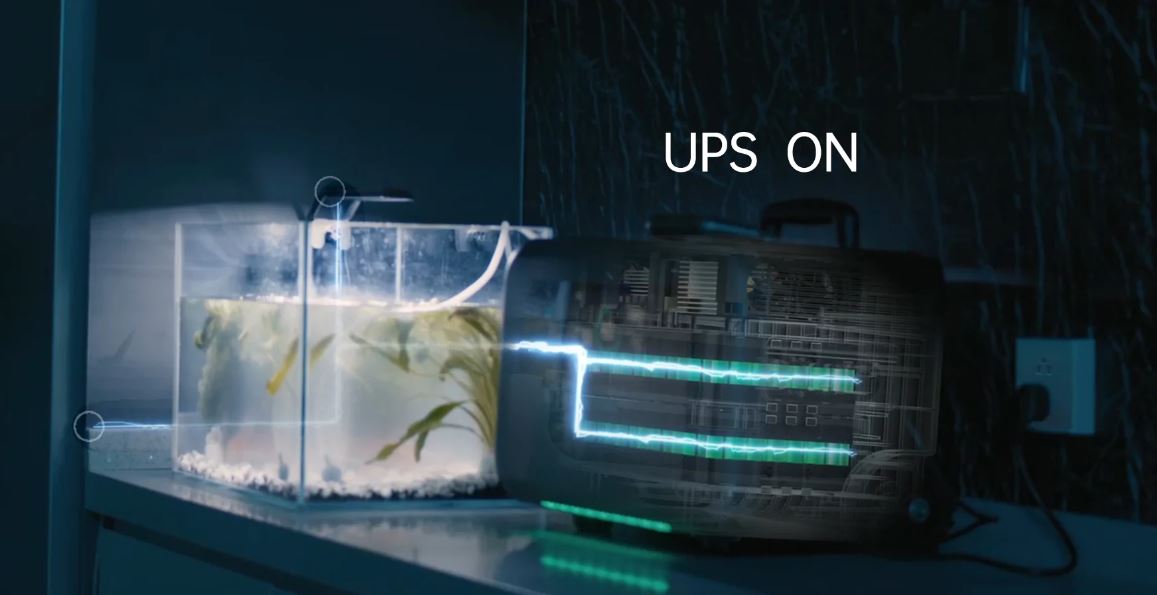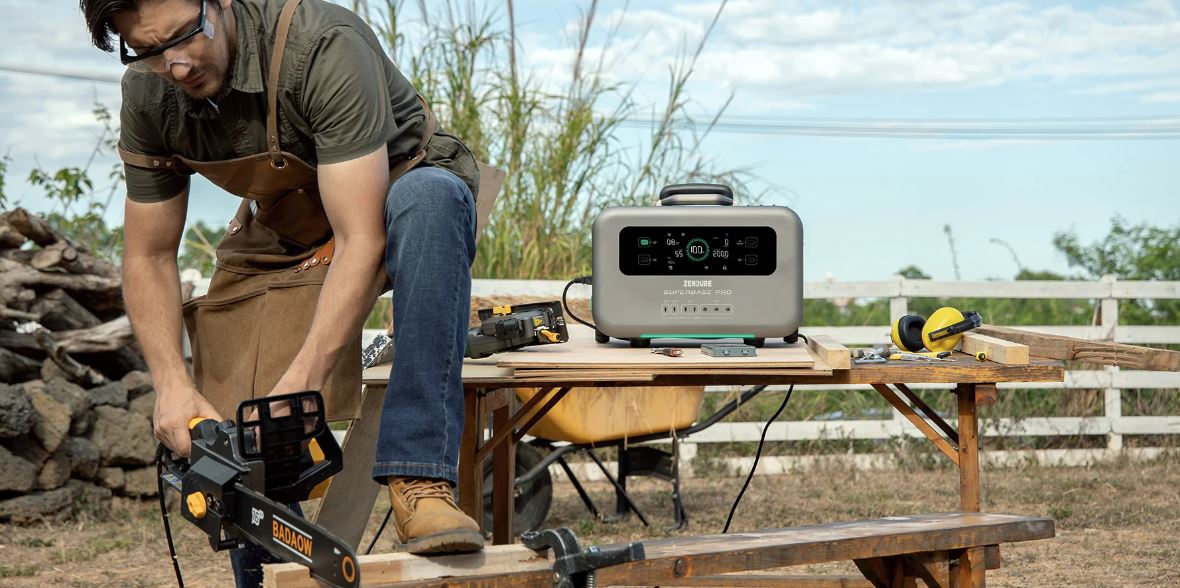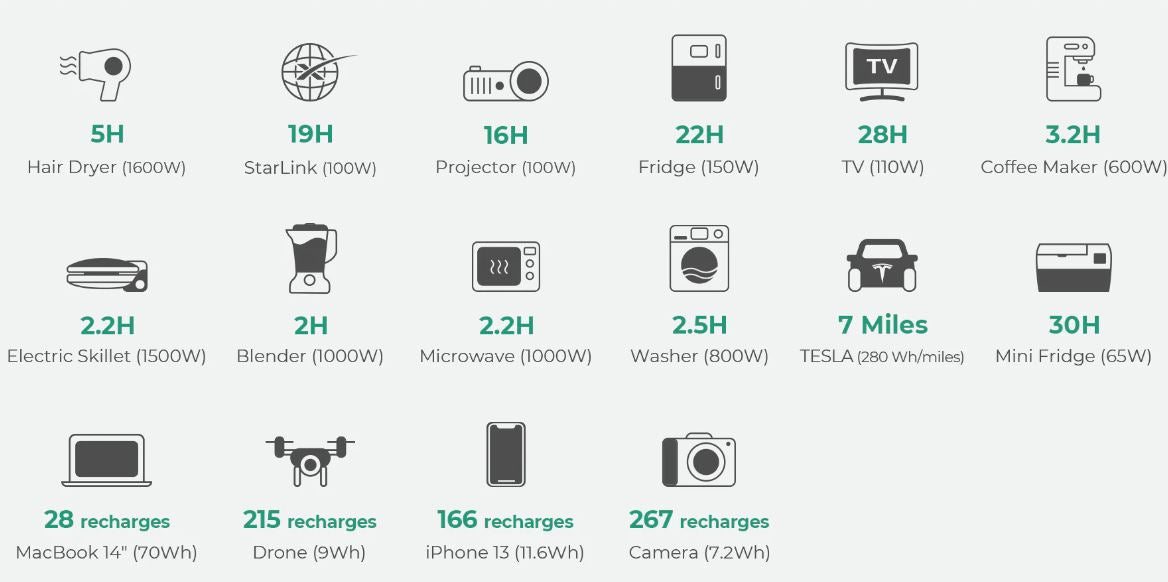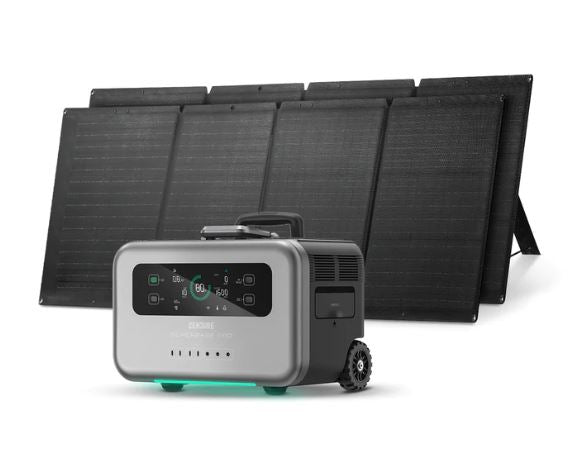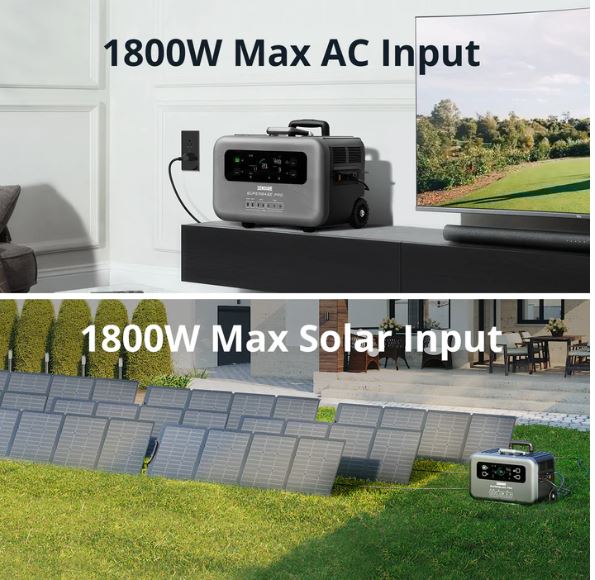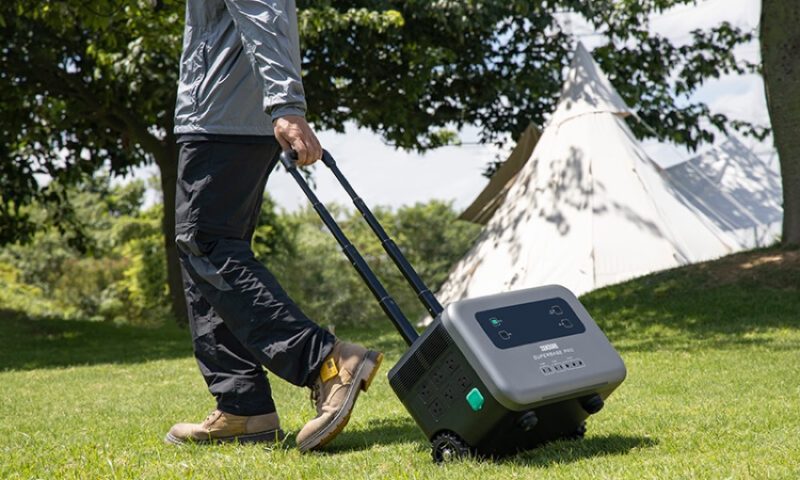 Zendure SuperBase Pro 2000 Portable Power Station (3000 Recharge Cycles)
If you're camping, or preparing for a power outage, and you need a simple way to charge over a dozen products, including heavy-duty appliances, situations like this should be just as easy to navigate. SuperBase Pro is designed for portability and peace of mind.

It's Built to Move 
With industrial-grade wheels, a telescopic aluminum handle, and a low center of gravity, SuperBase Pro is designed with "anytime, anywhere" in mind. And as you're rolling it across the terrain, you'll find that it's sturdy enough to stack another item on top if you need to.
Recharge to 80% in ONE hour
No one likes waiting around for their power station to charge up before going on an adventure. SuperBase Pro can be charged up to 80% in just one hour.
With our patented GridFlow technology, you can charge SuperBase Pro 2000 at up to 1,800W from an adequate AC outlet or generator. A full charge is just two hours away.
2,096Wh Capacity
If you like camping, you'll love SuperBase Pro 2000's 2,096Wh capacity. Use your off-grid camping gear for hours on end. SuperBase Pro 2000 is the perfect power solution for on-the-go events. Devices such as laptops, led lamps, drones, mini fridges and projectors can be powered by it for a prolonged period.
2,000W AC Output, Ampup to 3000W
At home, SuperBase Pro 2000 has you covered. With 2,000W of AC output and 3,000W Ampup* capability, you can power your microwave, washing machine, coffee maker, or other essentials around the house, worry-free.
*AmpUp is our patented Dynamic Voltage Output technology. When power-hungry devices need a high starting current, AmpUp can lower the output voltage to compensate, allowing for higher current at the same output power. And since a pure sine wave output is maintained, it's completely safe.
*AmpUp is enabled through SuperBase Pro 2000's companion app. Device compatibility may vary.
Equipped With UPS
An unexpected blackout can be a huge headache. If you're working on your computer, you could lose important progress. Even worse, a sudden power interruption can actually damage sensitive electrical equipment.
That's why SuperBase Pro has household grade Uninterruptible Power Supply (UPS*) functionality built right in. And it's super easy to use. Just connect SuperBase Pro 2000 to a power outlet, connect your essential devices to SuperBase Pro 2000, and you're done. If the power goes out, SuperBase Pro will switch over to battery power automatically.
*UPS is applicable to electrical appliances below 2,000W.
Go Green with 1800W Solar Charging
If green energy is your thing, SuperBase Pro 2000 can handle solar arrays of any size up to 1,800W. Our patented PVMax* tech means your solar setup can charge SuperBase Pro 2000 with the same superfast performance you'd get from conventional charging. That's one hour for an 80% charge, and two hours for a full charge.
*PVMax is a patented protocol utilizing High Voltage Solar Technology (HVST) conversion to deliver up to 1,800W from solar arrays that provide 60-160V. SuperBase Pro 2000 comes with an MC4 to AC female cable, so setup is really simple.
3,000 Cycles Battery Life
SuperBase Pro 2000's battery can run 3,000 cycles to 60% capacity (1,500 cycles to 80% capacity).
Integrated AC Direct Charging
GridFlow unlocks superfast charging potential by taking advantage of Integrated AC Direct Charging (IACDC) using a Texas Instruments processor. Thus, you don't have to carry a super heavy cable with adapter on it.
Got a Really Cool App
Amazing hardware deserves equally amazing software. Theft protection and remote status updates are just the tip of the iceberg. Our companion app for SuperBase Pro gives you remote control, location services, and access to lots of advanced features.
Specification
| | |
| --- | --- |
| Net Weight | 21.2kg |
| Dimensions | 17.56 × 10.51 × 13.86 inch |
| Temperature | Discharge -20°C to +60°C (-4°F to 140F) / Charge 0°C to 45°C (32°F to 113°F) |
| Capacity | 2,096Wh |
| Cycle Life | 3,000 |
| AC Output | 2,000W |
| AC Outlets | 6 (4 in EU Version) |
| Recharging Time | 2 H |
| Built-In Adapter | 1,800W |
| Accessories In Box | AC Cable, MC4 to XT60 Cable, MC4 to AC Female Cable, Accessory bag, USB-C to USB Adapter |
| USB Ports | 2 x PD 100W each 2 x PD 20W total Total 220W |
| Solar Input | 1,800W, 60-160V, AC Input 600W, 12-60V, XT60 |
| Display | 6.1" Large Display |
| Battery Cells | Li-NMC |
| Input | AC Charging: US Version 1,800 Max, 100-120V Solar Charging: XT60, 600W Max, 12-60V AC Input, 1,800W Max, 60-160V Car Charging: Supports 12/24V |
| Output | 6 x AC: 2,000W Max(100-120V) 2,000W Max(220-240V) 1 x Car Outlet: 13.6V/10A Max 3 x DC5521: 13.6V/10A Max USB-C(1): 5V-20V, 100W Max USB-C(2): 5V-20V, 100W Max USB-C(3)(4): 5V-12V, 20W Max Total |