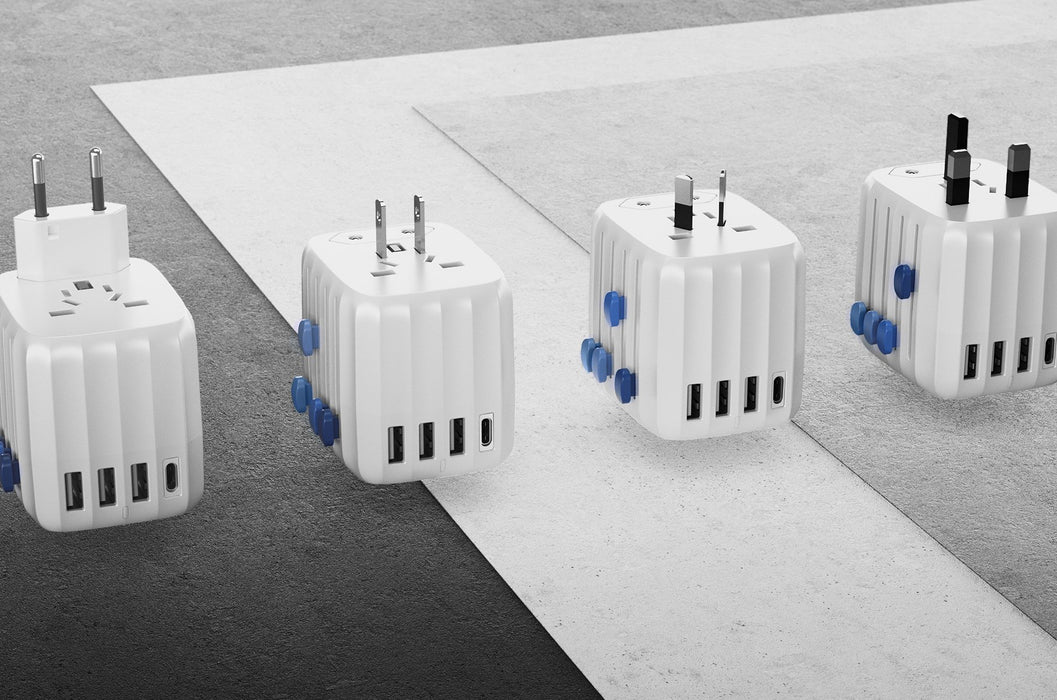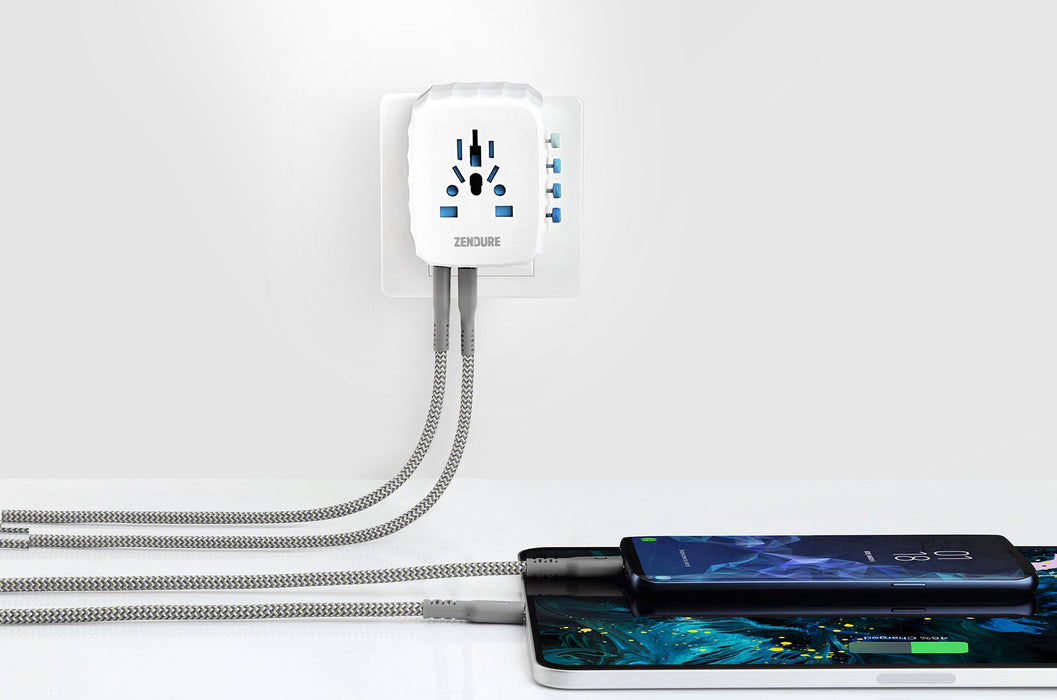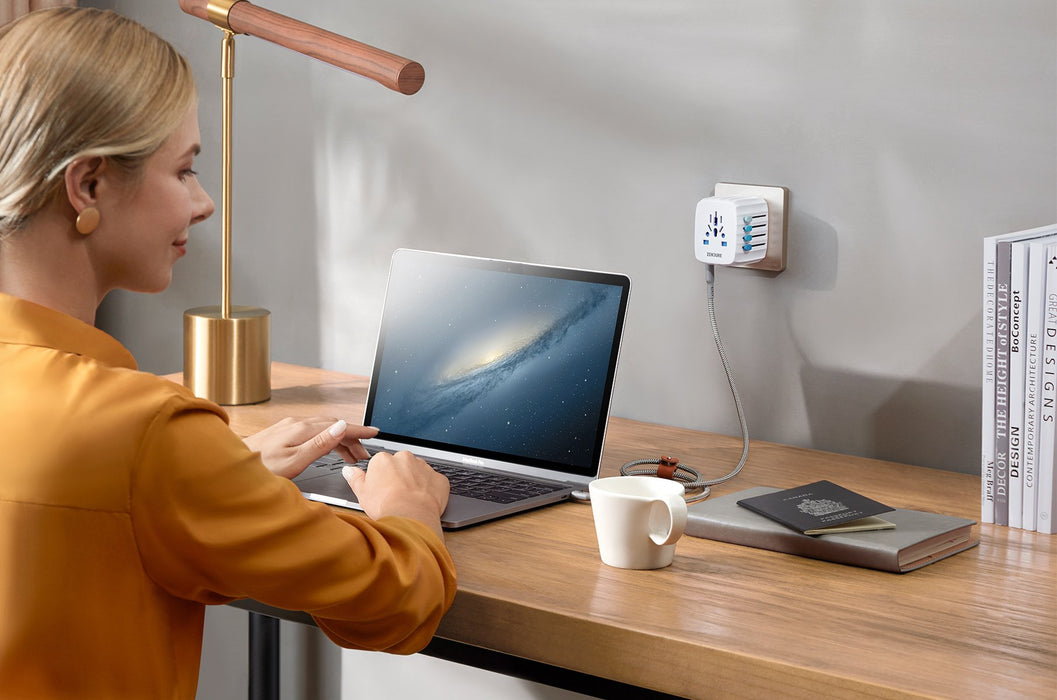 Zendure Passport 30W Travel Adapter
Zendure Passport Worldwide Universal Travel Adapter:

Passport is beautifully designed and includes built-in power adaptors for nearly every region of the world.

Parameters:

Dimensions: 2.24"*2.8"*2.5"/57mm*72mm*64mm
Weight: 5.6oz/159g
Total USB Output: 5V/5A (max)
Input: 100-240V/AC 50/60Hz Max Load 6A
Max AC Power: 660W at 110V/AC or 1380W at 230V/AC
Traditional international adapters always have a spare fuse built-in. When the fuse burns out, you sometimes have to use a tool to replace it. If you forget to buy a spare fuse (which is hard to find on the market), and you burn the only fuse left, it'll be a nightmare. With the Passport, you don't ever have to worry about accidentally breaking your international travel adapter by overloading it, or having to change the fuse, or worst of all, having no fuses left at all.

Easy "Push and Slide" One-handed Control:

With traditional travel adapters, you have to push a button with one hand, and use your other hand to push one of the country sliders to release the prong. With the Passport, you just need to use one of your hands to push the country button, and slide to extend the power connector directly. It's much more convenient.

Compatible Devices:

Zendure Passport's USB Ports have a total of 5A/25W (highest among travel adapters) output and can charge any USB devices, such as cell phones, iPhone, iPad, Power Bank, MP3/4/5, GPS, Cameras etc. Share 4 USB ports when traveling with family and friends or use as a Multiple USB charger at home or office. With the AC output, you can also charge any electronic devices below 660W at 110V/AC or 1380W at 230V/AC. Note: Zendure Passport doesn't convert voltage.

AUTO-RESETTING FUSE: Zendure Passport is the World's First Global Travel Adapter with Auto-resetting Fuse. The Auto-resetting fuse (patent pending) allows Passport to recover from overloads without service or replacement. (WARNING: Please read before purchase. This is a travel adapter, NOT a CONVERTER. It does not convert voltage and it should NOT be used with any high wattage electrical appliances or devices such as hair dryer or hair straightener.)
EASY "PUSH AND SLIDE" BUTTIONS: With the Passport, you just need to use one hand to push the country buttons, and slide to extend the power connector directly.
4 USB PORTS & 4 PLUGS: Zendure Passport is the smallest international travel adapter with 4 built-in multi-plugs and 4 USB ports (5A/25W max) which prong plug outlets grounded or ungrounded devices charging at the same time.
WORLDWIDE UNIVERSAL CHARGER: Passport travel adapter covers more than 150 countries with USA/UK/EUROPE/AUS/CA/JP plugs, which and be worked in USA, UK, Europe, Canada, Japan, Mexico, Brazil, Central America, South America, Asia, the Middle East etc...
WHAT'S INCLUDED: Zendure Passport Global Travel Adapter, Thank you card, 18-month warranty and friendly customer service.

Specs:
| | |
| --- | --- |
| AC INPUT | 100-250V/AC 50/60Hz |
| AC OUTPUT | 6A Max (600W at 100V or 1500W at 250V) |
| USB-C | 5V/3A, 9V/3A,12V/2.5A, 15V/2A, 20V/1.5A, 30W Max (USB PD) |
| USB-1/2/3 | 5V/2.4A, 12W (ZEN+) |
| DC OUTPUT | 30W Max |
| FUSE RESETTING | 10,000 times |
| DIMENSIONS | 2.2"x 2.8" x 2.5"(57mm x 72mm x 64mm) |
| WEIGHT | 5.6oz / 159g |
| COLOR | Black, White |