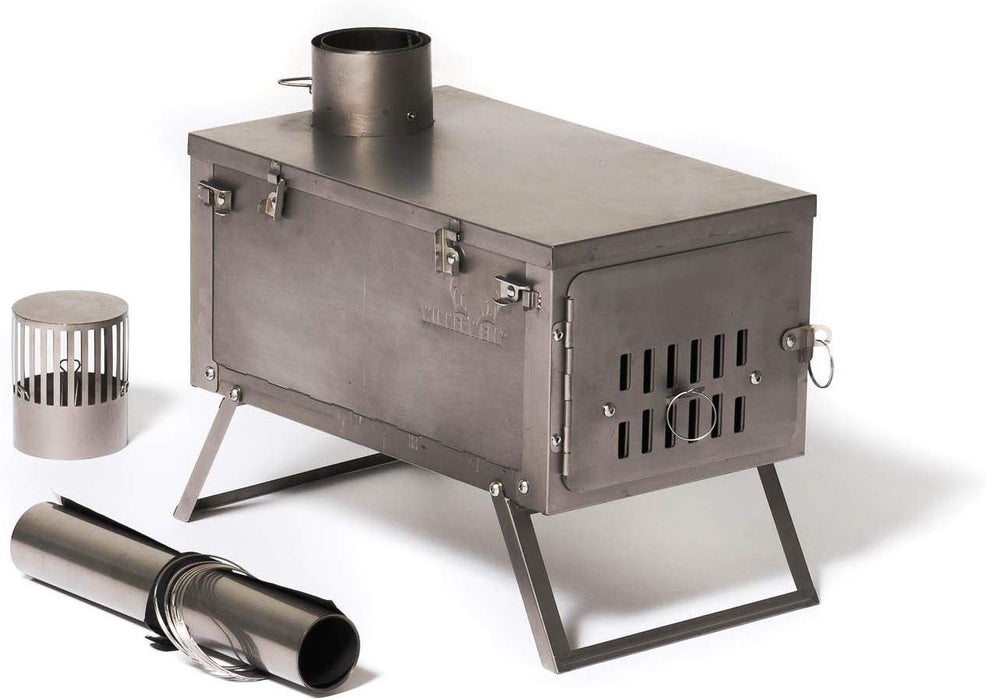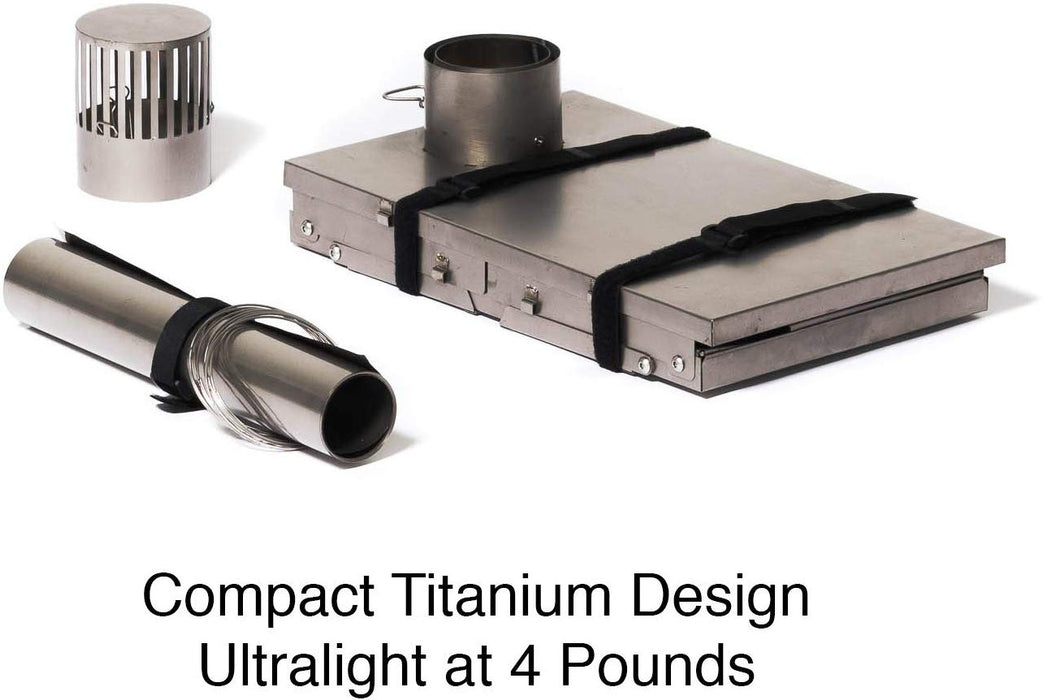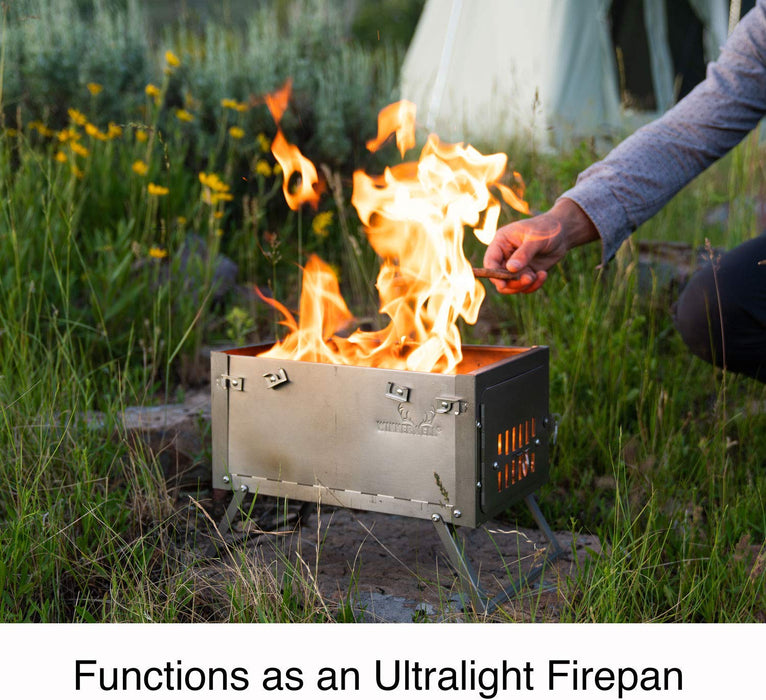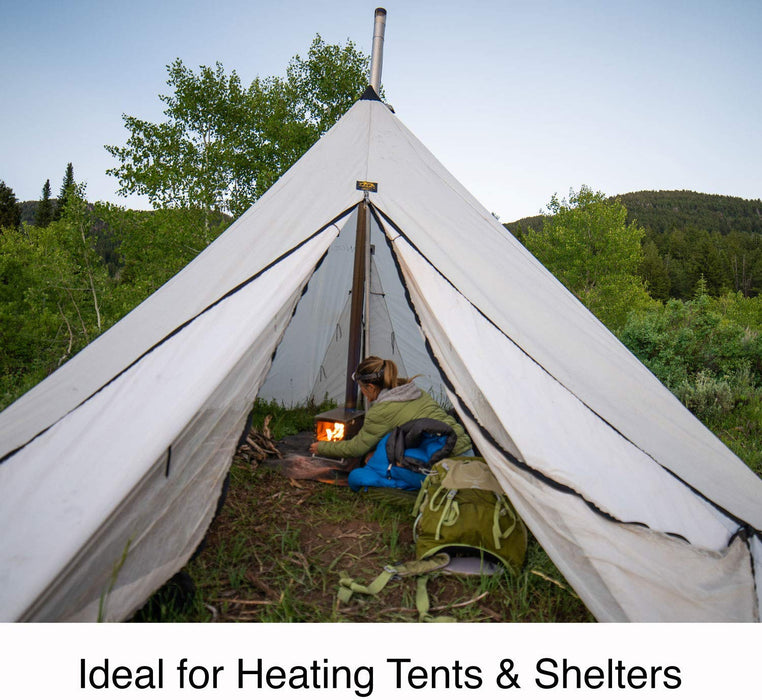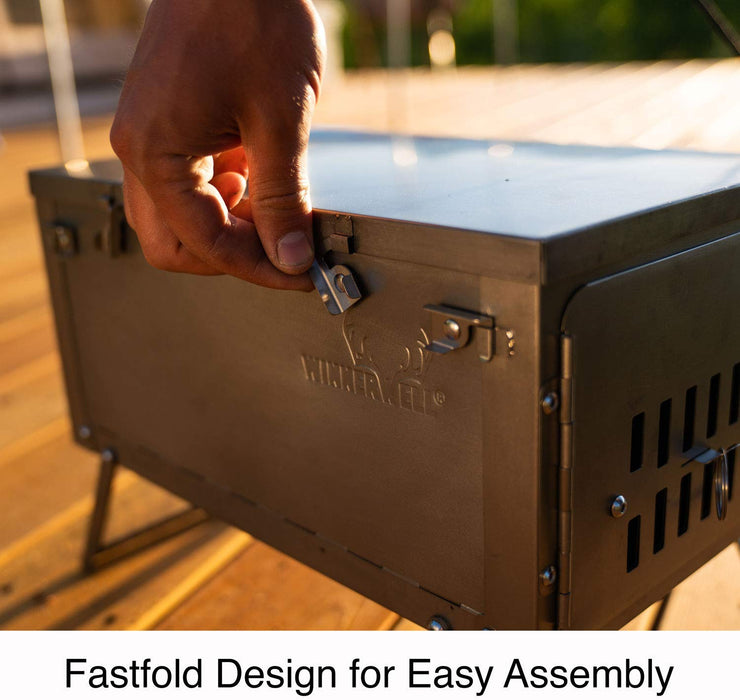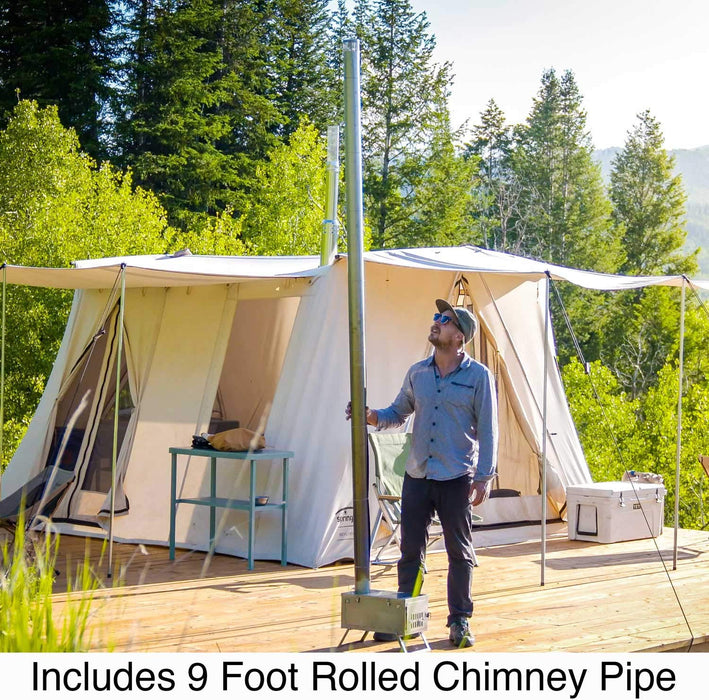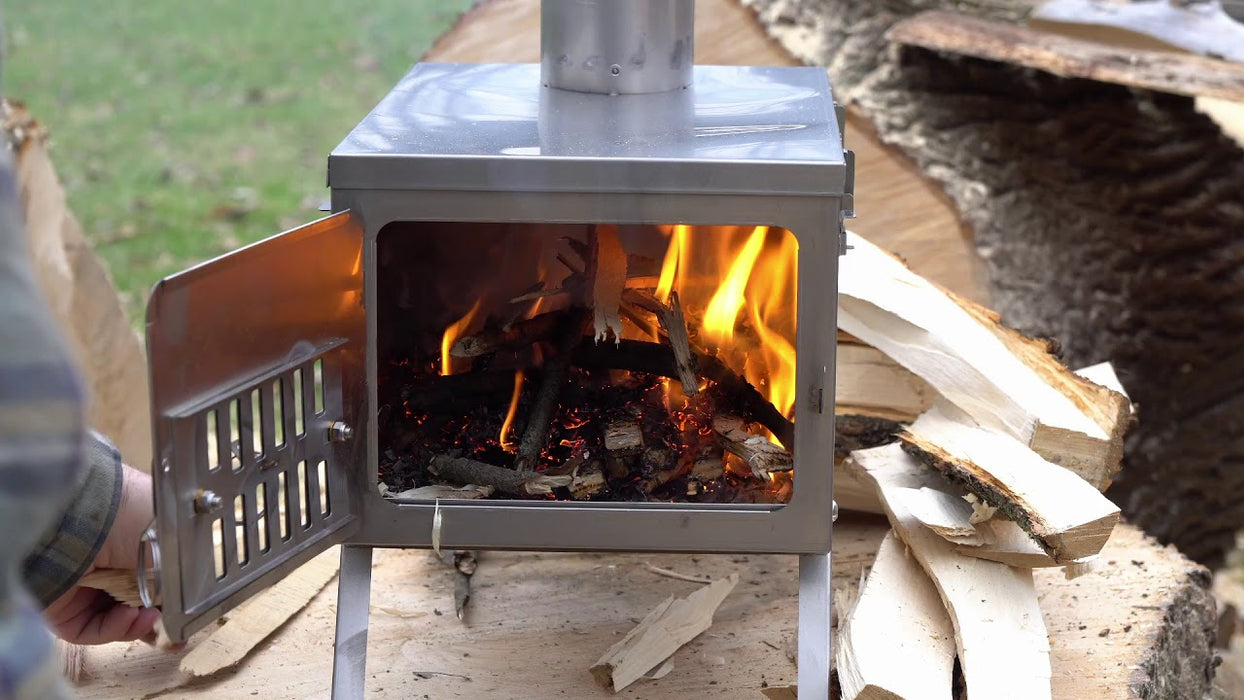 Winnerwell Fastfold Titanium Tent Stove (ONLY 4 LBS)
VIEW THE NEW AND IMPROVED ALTERNATIVE HERE
The most durable, easy to set up, and lightweight option on the market. 
ULTRALIGHT TITANIUM construction allows this tent stove and chimney to weigh only 4 pounds; heat transfer efficiency of titanium means this stove can heat a shelter in very cold conditions and hold coals for hours
INCLUDES 1 Fastfold Titanium stove body, 1 rolled titanium 9-foot chimney pipe with rings, 1 tent protector, 1 spark arrestor, 1 carry bag
DIMENSIONS 15" x 9" x 2" (Packed); 15" x 9" x 7" (Assembled); Chimney pipe 3-inch diameter, 9-foot length, rolls into 12" x 1" x 1" tube for storage; 900 cubic inch firebox
FASTFOLD DESIGN makes assembly quick and easy with no hardware parts to lose, simply fold the walls into place and secure with the integrated clasps; stove folds flat for very compact pack size
IDEAL FOR use in lightweight stove compatible teepee and pyramid shelters and for backcountry hunters and skiers on cold weather excursions; with lid removed this stove also functions well as an ULTRALIGHT FIREPAN for river runners and backpackers
Ideal for backcountry hunters, skiers, and hikers traveling in shoulder season and winter weather, the Winnerwell Fastfold Titanium Tent Stove is the premier ultralight titanium tent stove at just 4 pounds total weight. Recommended for use in stove compatible tents and shelters. The innovative Fastfold design eliminates hardware parts and pieces that can be lost or fumbled by cold hands. Simply fold the legs, stove walls, and lid into place and secure with the integrated clasps. The stove folds flat for compact storage and packing while the chimney pipe rolls into a compact tube.
The Winnerwell Fastfold Titanium Tent Stove includes a 3-inch diameter chimney pipe that's 9 feet long when fully assembled. The chimney pipe is made from a single sheet of very thin titanium that rolls length wise for compact storage and width wise into a pipe. The first time you roll the pipe into shape can be tricky, we recommend using a length of PVC pipe as a form and have someone help you. However, after the first time you burn wood in the stove, the fire will heat set the shape of the pipe into the titanium. On subsequent uses the chimney will have memory of the shape and essentially roll itself into shape.
The Winnerwell Fastfold Titanium stove also features a damper in the door and in the lid for controlling airflow and burn rate, and the spark arrestor has tie points for guy lines to stabilize the chimney in windy weather. With the lid of the stove removed, this stove functions quite well as an Ultralight Titanium Firepan for river runners and backpackers traveling in sensitive wilderness areas where a firepan is required.