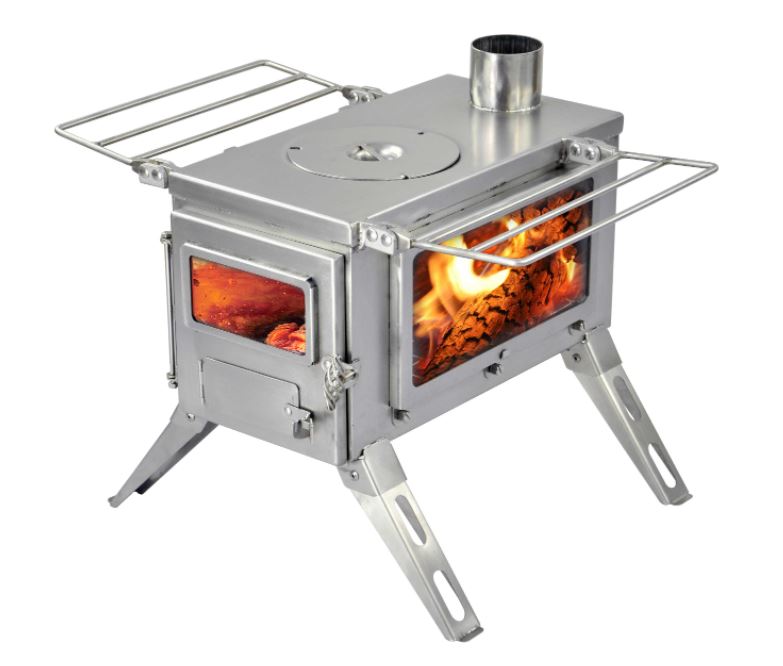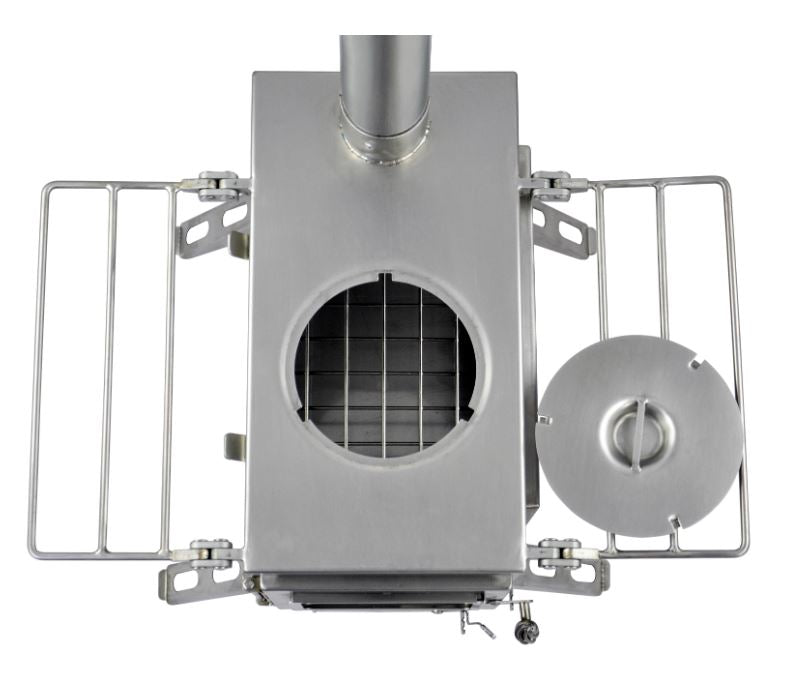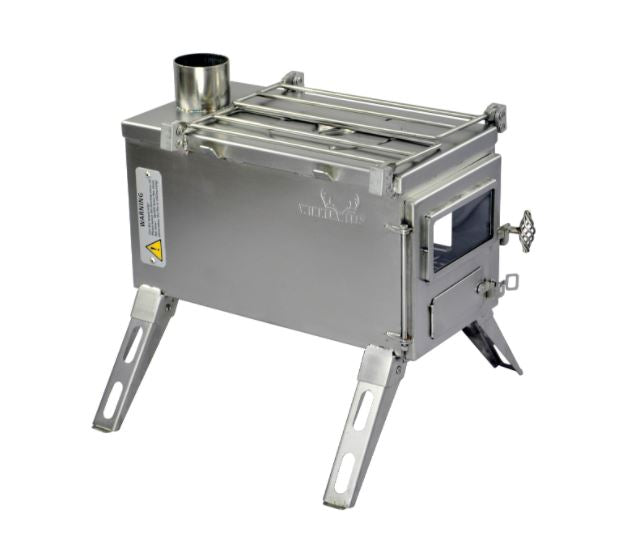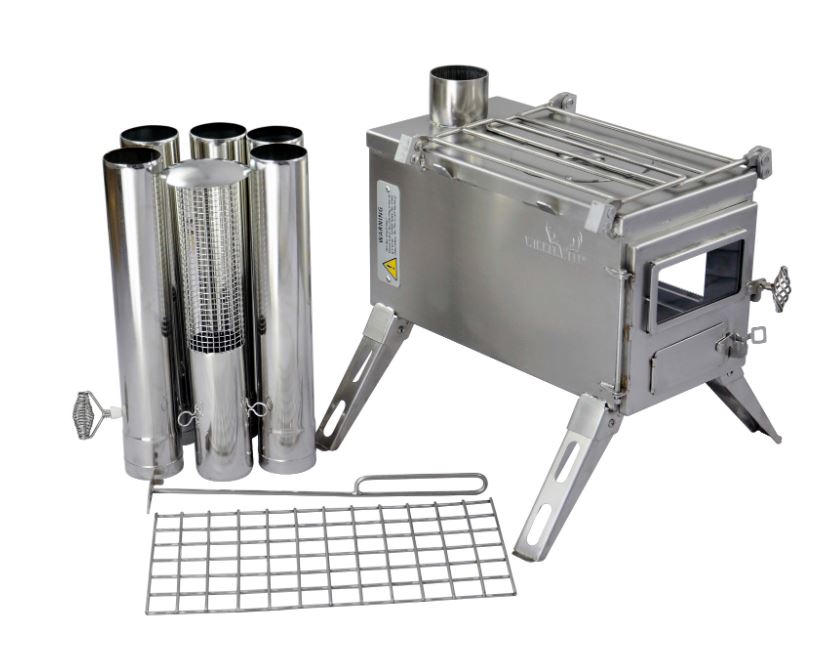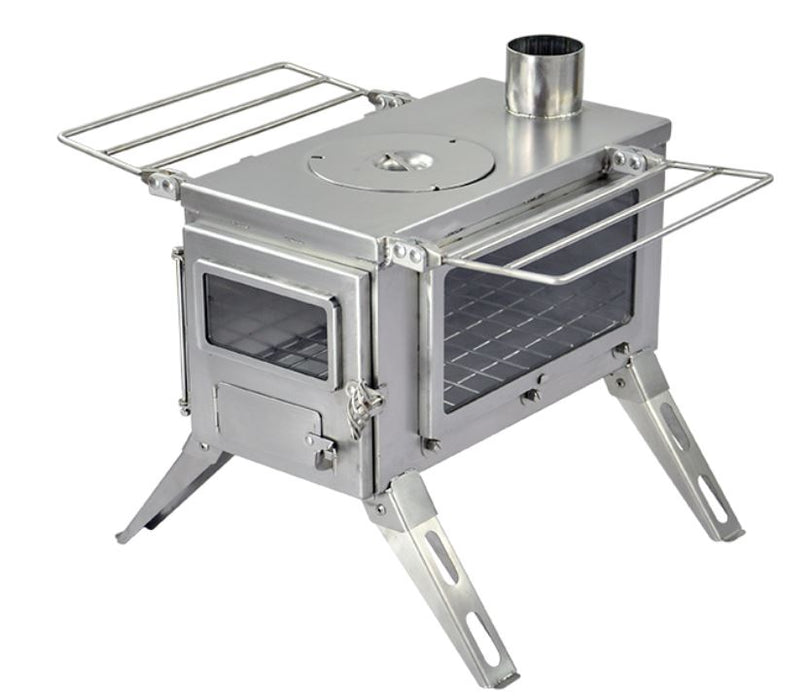 Winnerwell Nomad VIEW 1G Medium Wood Stove (IN STOCK)
Precision-crafted in 304 stainless steel,  Winnerwell® Wood Burning Stove is highly portable, easy to use, and built to last. From canvas tents and teepees to recreational shelters such as yurts, tiny homes, and vans,  this stove is a dependable heating and cooking solution. 
With its rectangular firebox, two viewing windows, and nesting 4-leg design, the Winnerwell Nomad View Medium Wood Burning Tent Stove is truly unique in the world of portable wood stoves. Made with quality 304 stainless steel, the Nomad View is an excellent heating and cooking solution in compatible canvas tents and a range of recreational shelters. The nesting 4-leg design gives the Nomad a smaller footprint than the Woodlanders, making it a good option for small spaces where a fireproof hearth area is used to reduce required clearances.
Ideal for Heating & Cooking in Compatible Tents, Recreational Shelters, and for General Outdoor Use
Durable 304 Stainless Steel Construction
Will Never Rust or Corrode
Compact & Portable
Easy Setup, No Tools Required
Easy to Clean & Maintain
Level Side Shelves for Cooking Versatility
Glass Window for Fire Management and Ambiance          
Not Intended for Residential Use
High efficiency for heating, suitable for 2-4 people 
Includes 1 stove body, 5 sections of straight chimney pipe (2.5" diameter, 14.4" length), 1 spark arrestor, and 1 ash scraper
Specs:
| | |
| --- | --- |
| Stove Body Dimension: | 380 (L) × 200 (W) × 210 (H) mm |
| Assembly Dimension: | 430 (L) × 525 (W) × 2290 (H) mm |
| Pipe Diameter: | 63mm/ 2.5in |
| Pipe Length: | 365mm/ 14.4in |
| Net Weight: | 10kg / 22lbs |
| Fuel: | Dry Wood |
Materials: Made entirely from 304 stainless steel, using 1/8" thick material for the cooktop and 1/16" thick material for the body, Winnerwell stoves are unique in the world of portable wood burning stoves. Good quality stainless steel lends several distinct advantages: It does not rust or corrode—a huge advantage in harsh outdoor environments; It can functionally withstand higher temperatures than mild steel, allowing thinner material to be used on the stove body which significantly reduces weight, ultimately making the stove more portable; And lastly, after the first burn, the stainless steel starts to take on a very nice patina color.
Accessory Recommendations: For added cooking utility, we recommend the Medium Water Tank and the 2.5'' Pipe Oven. The water tank is excellent for melting snow and ice for drinking water, and when the stove is burning efficiently the tank will boil water in minutes thanks to its location at the back of the cooktop and the base of the flue pipe where heat is concentrated. The 2.5" Pipe Oven is large enough to cook biscuits, cookies, baked potatoes, and more. Using a large skillet or dutch oven on the cooktop in conjunction with the Pipe Oven provides a very functional camp kitchen set up.