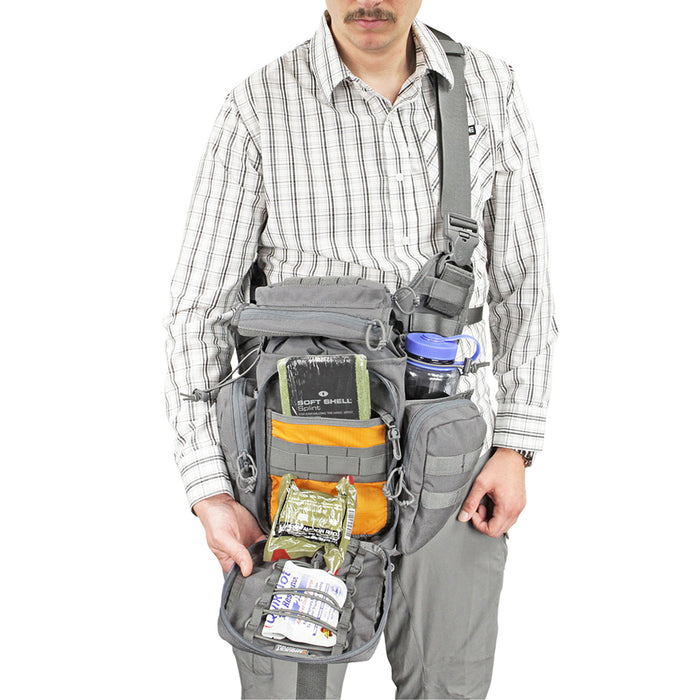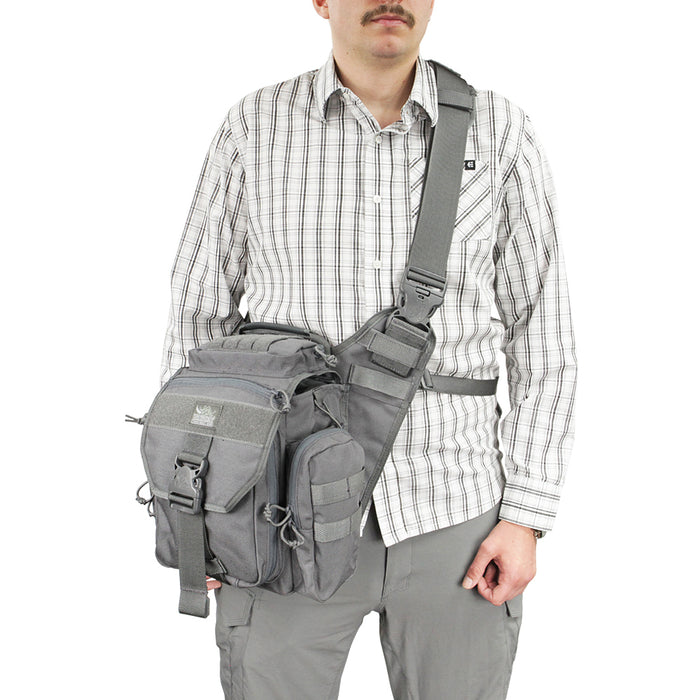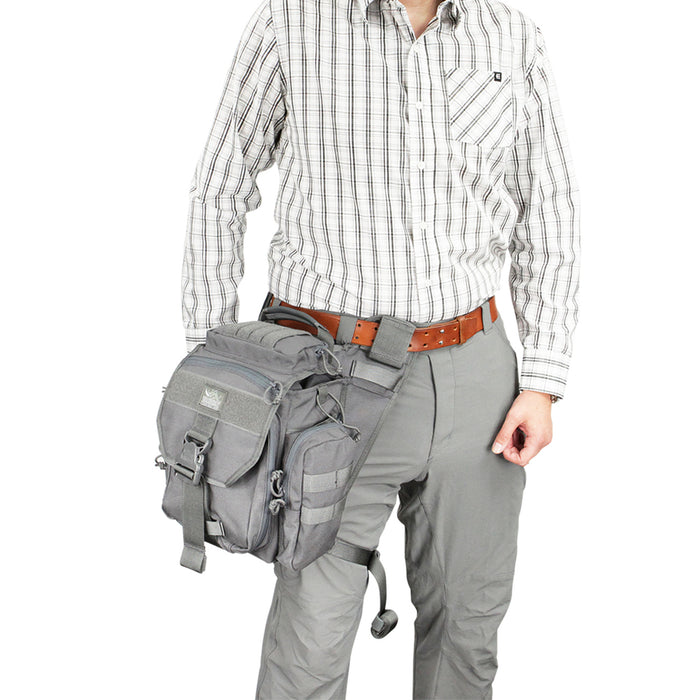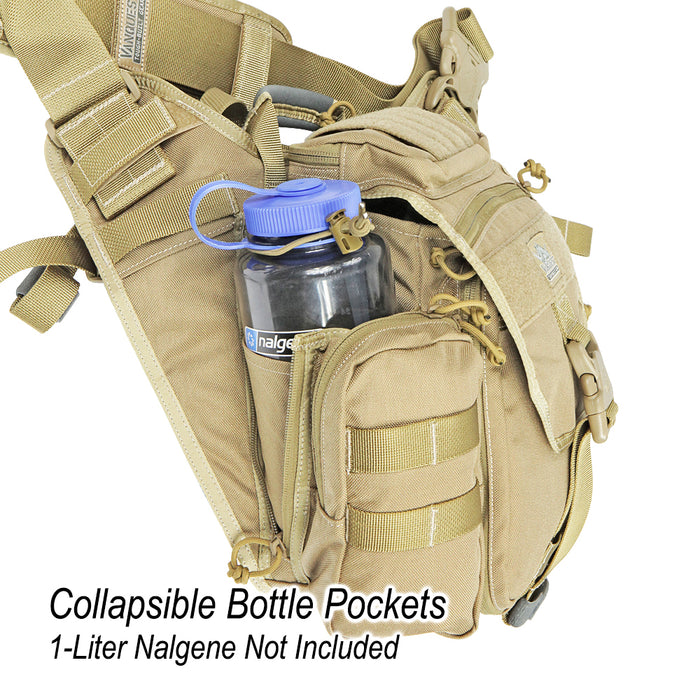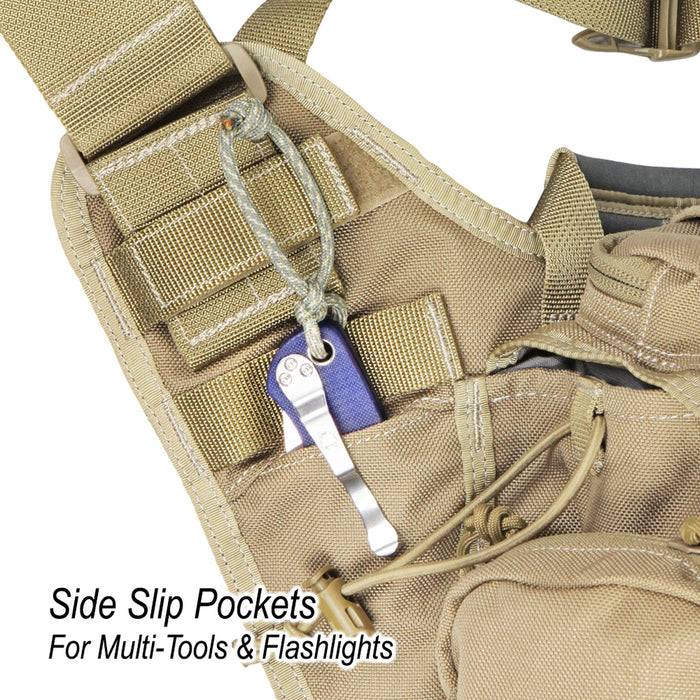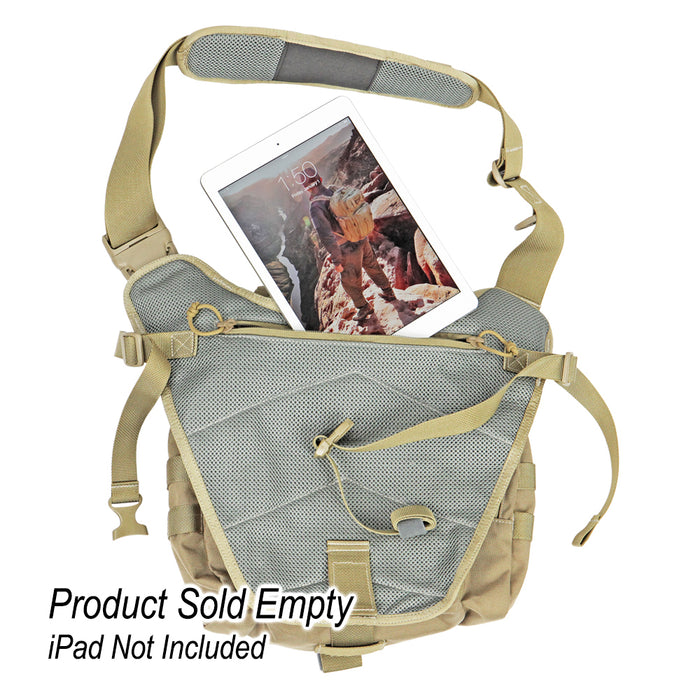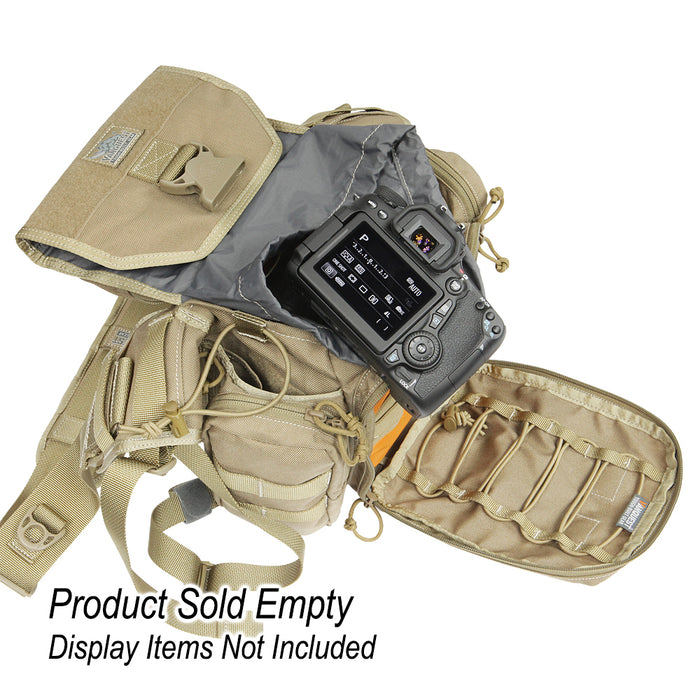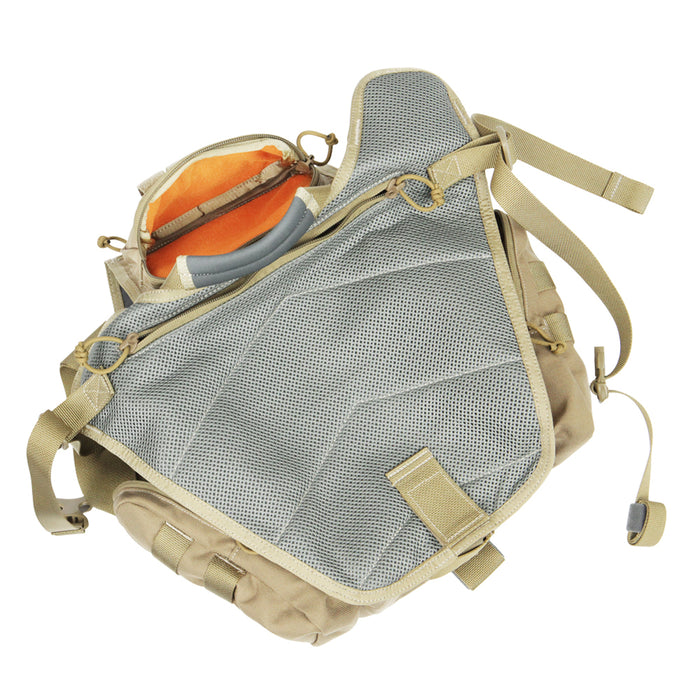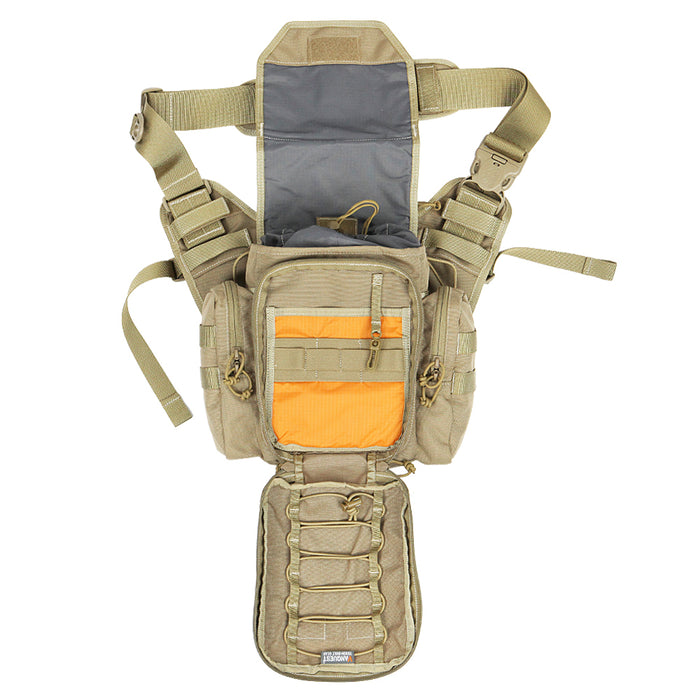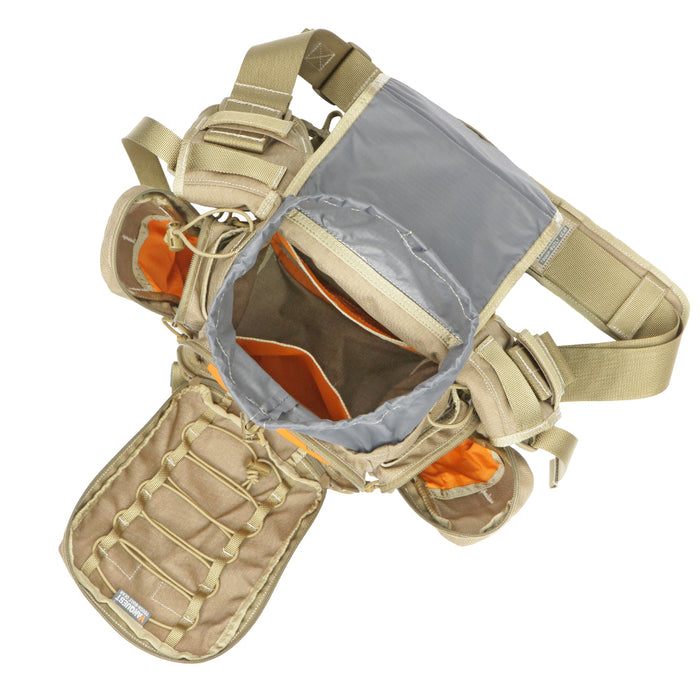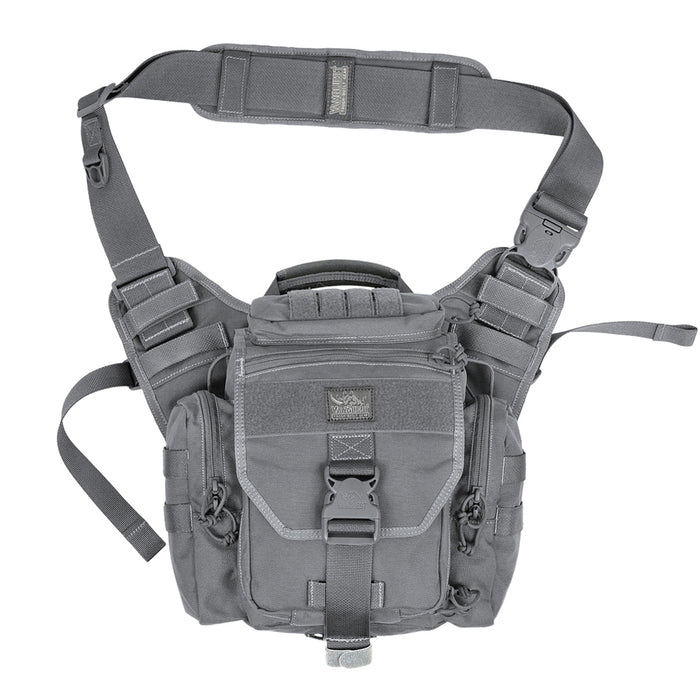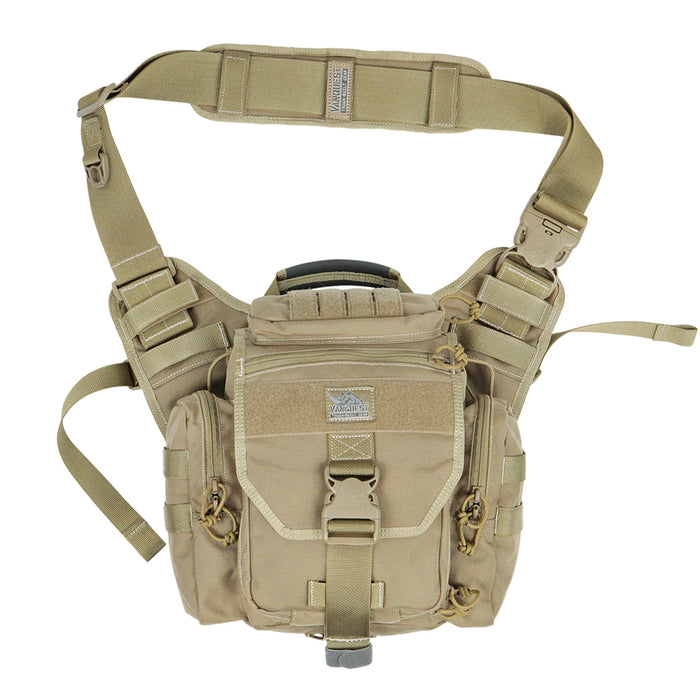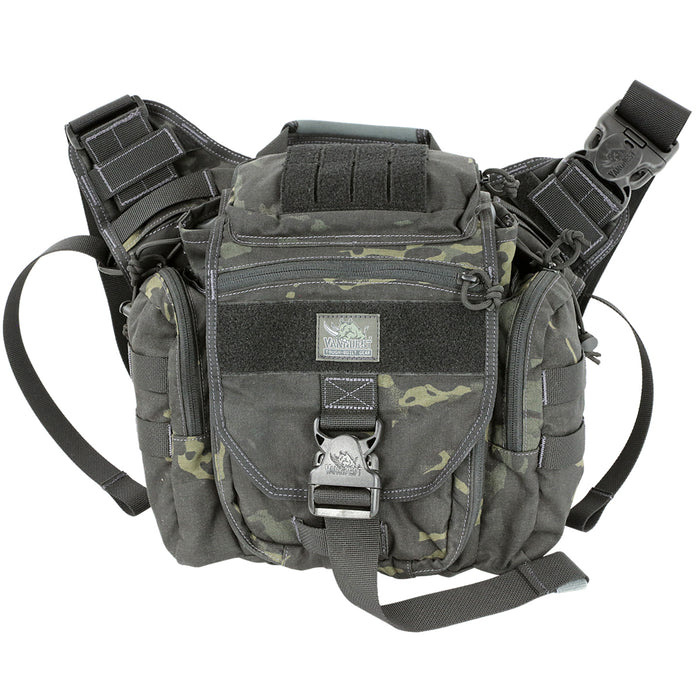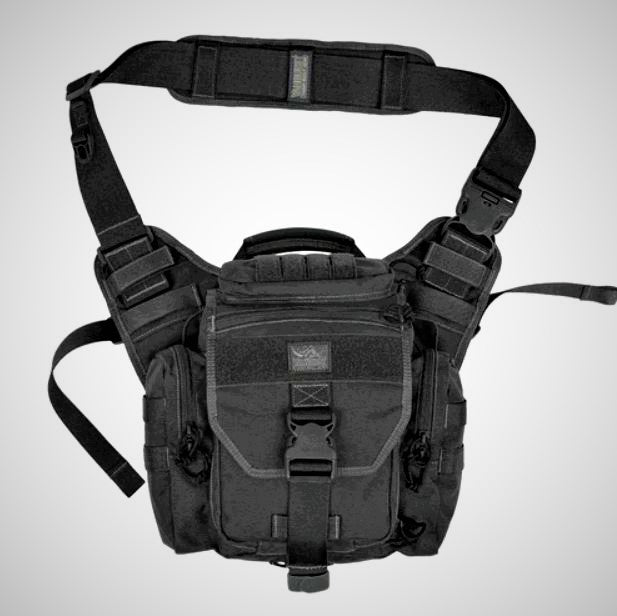 Vanquest Mobius 2.0 Vpacker Gear Bag
MOBIUS 2.0 improvements: (1) 15% larger than the original MOBIUS, (2) ambidextrous design with removable/reversible shoulder strap for user-friendly right- or left-carry, (3) out-of-sight CCW compartment with enlarged opening (can store an iPad), (4) built-in collapsible bottle holders on both sides for 1-L Nalgene, (5) built-in medical organization.
The upgraded VANQUEST® VPacker™ 2.0 series is your next generation gear bag: Ambidextrous construction for comfortable right or left-carry, CCW and hydration-compatibility, plus improved design for faster access to your gear with medical organization.
Spacious, yet well-organized: One 10" (H) x 8.25" (W) x 5" (D) main compartment with a weather-resistant ripstop storm cover that can cinch-close. Two 4.5" (L) x 7" (H) x 2" (W) double-zippered side pockets with high-vis slots. Two collapsible water bottle holders with elastic retention fits 32oz (1L) Nalgene bottles. A front pocket with elastic ladder organization for medical supplies, a lockable CCW compartment with enlarged opening (can store an iPad), plus plenty of high-viz ripstop organization. The hidden CCW compartment keeps your CCW out-of-sight, and can be kept open for lightning-fast access. Total 27 slots and pockets to maximize your carry capability!
For optimal ergonomics, the MOBIUS™ VPacker naturally contours around your body. A removable waist strap further stabilizes the MOBIUS, and helps support the weight on your shoulder. Its 2" shoulder strap can be removed, and reversed for comfortable right or left-side carry. It features a Duraflex double-lock security buckle, an accessory D-ring, and a 1/2"-thick shoulder pad for maximum comfort.
FAQ: I am right-handed, but I want to wear the VPacker on my left side occassionally, what should I do?
Answer: The new Vanquest VPackers™ are designed to solve your right or left-side carry dilemma. The new Vpackers are ambidextrous with removable/reversible shoulder strap. If you want to carry on your left side, simply remove and reverse the shoulder strap. Make sure the 2" side-release buckle is accessible at your front when you wear it. You can also choose which side(s) to carry your water bottle(s).
Specs & Features
NEW: 15% larger than original Mobius VPacker
NEW: Ambidextrous design with removable shoulder strap for left or right-side user-selectable carry.
NEW: Ambidextrous & collapsible bottle pockets fits 1-Liter Nalgene bottles with elastic cord retention
NEW: Top compartment with high-visibility soft fleece lining, fits iPhone 6 Plus or similar smartphones (depending on protective casing)
NEW: Built-in elastic cord medical organization & Maximizer elastic webbing inside front compartment. Added hook & loop closure in front exterior pocket
NEW: Out of sight rear CCW compartment with loop attachment and enlarged opening (Also fits the latest iPad & iPad Air)
NEW: Loop-Faced MOLLE-Air structure for MOLLE accessory & morale patch attachment
NEW: Two gusseted slip pockets for quick access to multi-tool, flashlight, etc.
Net Weight: 2.20 pounds (1000-D Cordura®)
Net Weight: 2.10 pounds (500-D MultiCam & MultiCam-Black Cordura®)
Total Capacity: 11.5 Liters
Overall Exterior Size (Fully Extended): 15" (H) x 16" Top / 8" Bottom (W) x 6" (D)
Main Compartment (Interior): 10" (H) x 8.25" (W) x 5" (D)
Front Compartment (Interior): 8.5" (H) x 7" (W) x 1.75" (D)
Top Compartment (Interior): 4" (H) x 6.5" (W) x 1" (D)
Side Compartments (Interior): 7" (H) x 4.5 (W) x 2" (D)
Collapsible Side Bottle Pockets (Interior): 8" (H) x 4" (W) x 2" (D)
Rear CCW Compartment (Minimum): 10.25" (H) x 14" Top / 7" Bottom (W) opening with lockable zipper and loop attachment area (Fits iPad & iPad Air)
Lightweight 210-D Ripstop Nylon storm cover in main compartment
Neoprene handle for comfortable hand carry
MOLLE/PALS webbings for accessory attachment
Materials: 1,000-D Mil-grade Cordura® fabric treated with Durable Water Repellent (DWR) for moisture resistance (500-D on MultiCam & MultiCam-Black Cordura®)
Genuine MADE-IN-USA MultiCam® & MultiCam-Black Cordura® by Crye Precision™
Lightweight & moisture resistant 210-D Ripstop nylon
Durable RC-Class YKK® lockable zippers, reversed for protection
MOLLE-compatible attachment system with PALS webbing
Lightweight MOLLE-Air structure for MOLLE accessory attachment
Mil-grade ITW® and UTX-Duraflex® hardware made from high tensile strength Acetal polymer
Circular zipper loops made of paracord
High tensile strength nylon webbings and binding tapes
Finished with high tensile strength bonded nylon thread