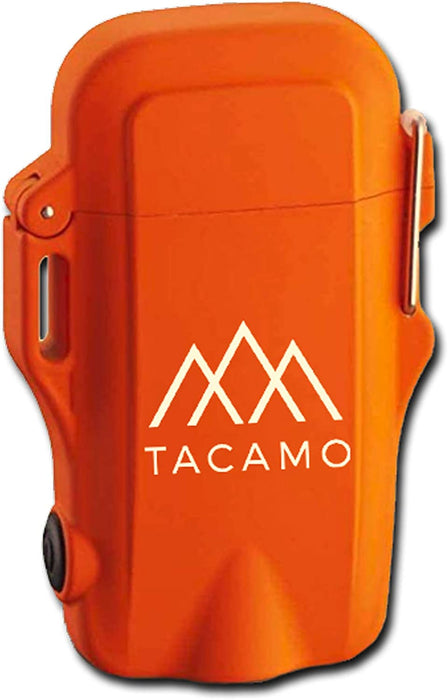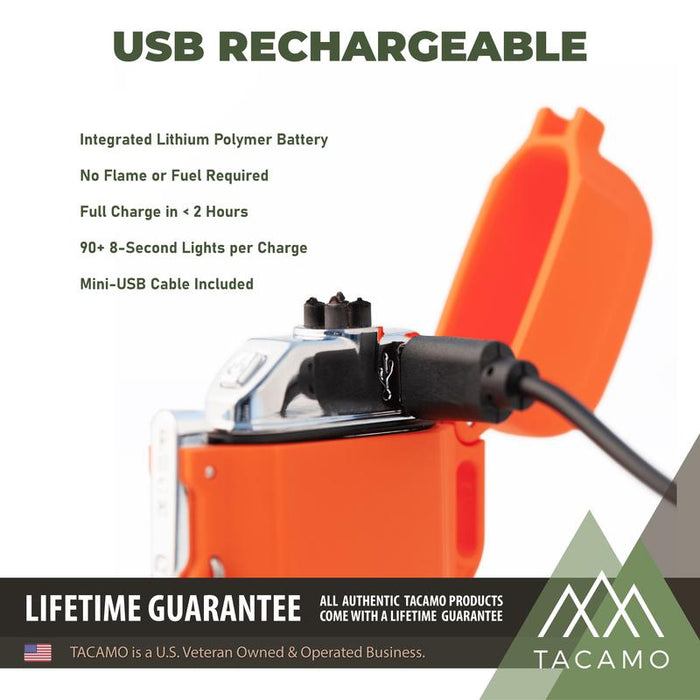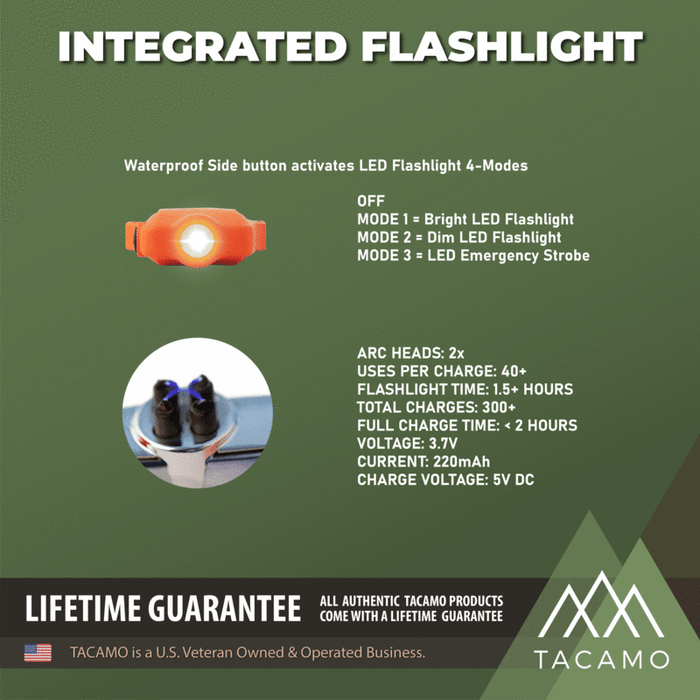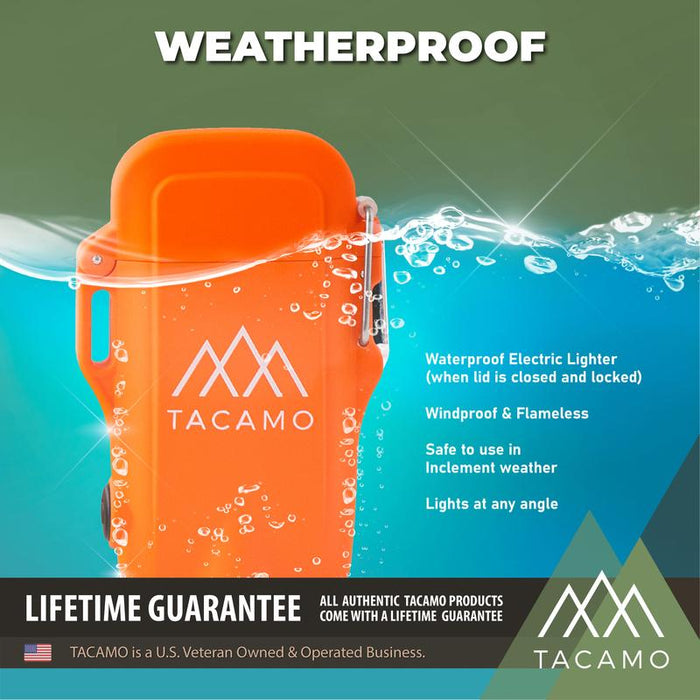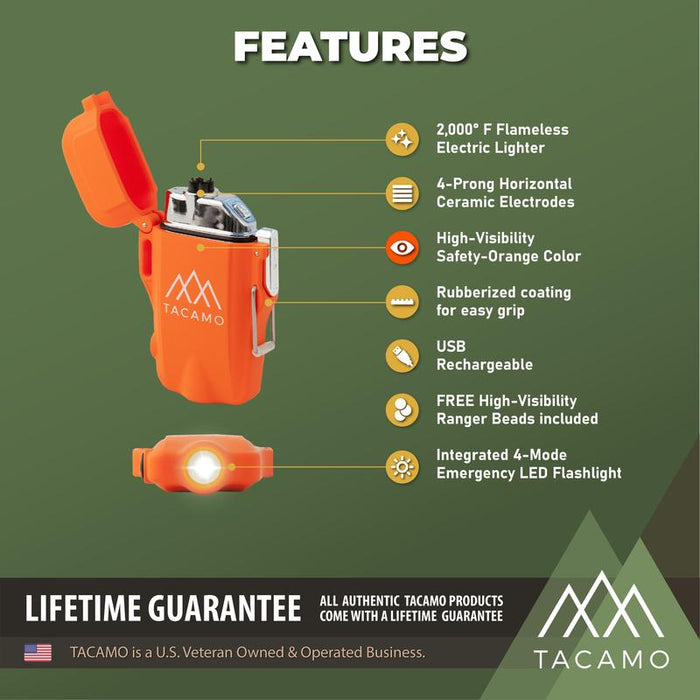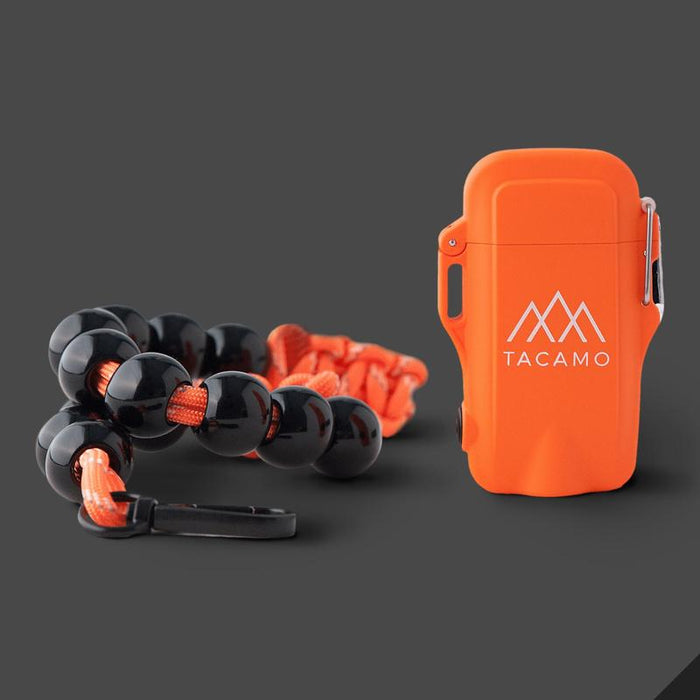 TACAMO ARC Lighter & LED Flashlight
CANNOT SHIP OVERSEAS
This TACAMO H2 Plasma ARC Lighter (aka Tesla Lighter) is the perfect companion for both indoor and outdoor use. The Dual-Head Flame-less Tesla torch allows you to create an Instant-On 2,000 Degree Tesla Arc Flame that can be used to light your campfire, fireworks, or even seal paracord.  
Try our products today! You won't want to shop anywhere else after you do.
🔥 THE PERFECT WEATHERPROOF LIGHTER - The TACAMO H2 Plasma ARC Lighter is an advanced, dual-head plasma torch that creates an Instant-On 2,000 Degree Tesla Arc Flame with the press of a button. The built-in rechargeable Li-ion battery includes a mini-USB charging port, offering endless usage cycles. You can charge it using your computer, car, power bank etc. WARNING!: DO NOT TOUCH ARC PLASMA WITH YOUR HANDS AS IT IS VERY HOT!

🔦 INTEGRATED LED FLASHLIGHT - Since you'll always have your H2 Plasma ARC Lighter with you, we've integrated a very bright, 3-Mode Emergency Flashlight (Bright / Normal / Strobe) into the base of the Lighter. Utilizing the same battery as the ARC flame, you'll never be left without emergency light again!

🔒 DESIGNED FOR SAFETY FIRST - The TACAMO H2 ARC Lighter includes a safety cap and lock to keep children away from the hot plasma, a 10-second auto-shut off feature, and both an over-charging and over-current protection circuit to prevent high temperatures from damaging the device.

🥾 PORTABLE, VISIBLE, CONVENIENT - The TACAMO H2 ARC Lighter is both lightweight and windproof, comes in Hunter-Orange to remain visible on the ground, and included a High-Visibility Ranger Bead lanyard, made from patented SurvivorCord. This Lighter is perfect daily indoor and outdoor use. Can be used to light campfires and candles, seal paracord, sterilize needles, light fireworks, and so much more.

👍 OUR PROMISE TO YOU - We're an American Veteran-Owned business, and all of our products have a LIFETIME GUARANTEE. If you're unhappy with our products in any way, we will completely refund your purchase. No questions asked.