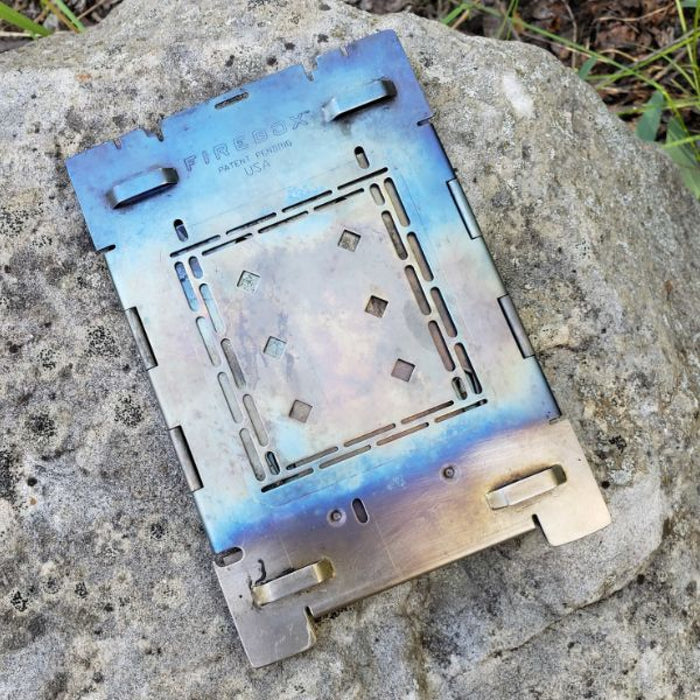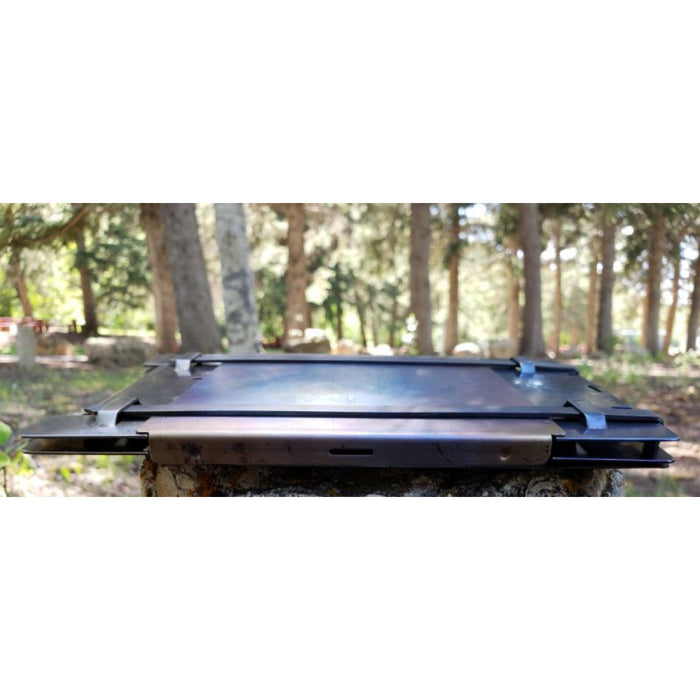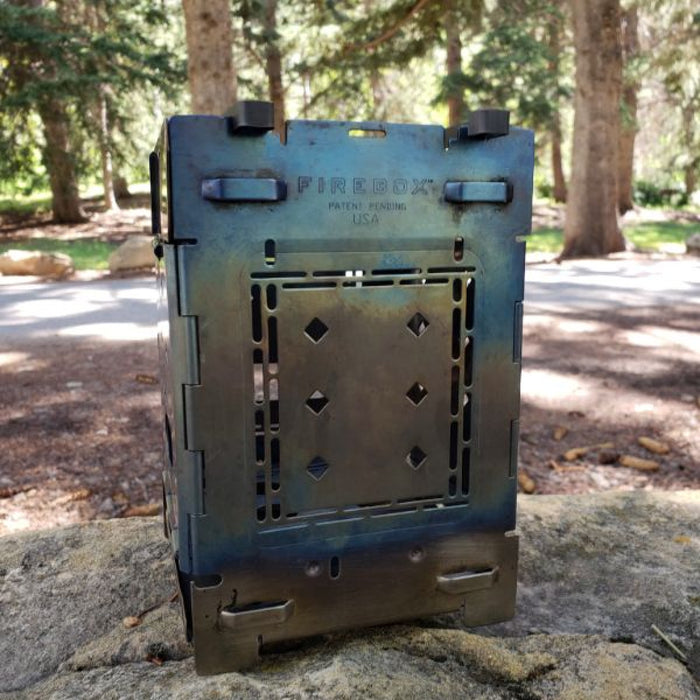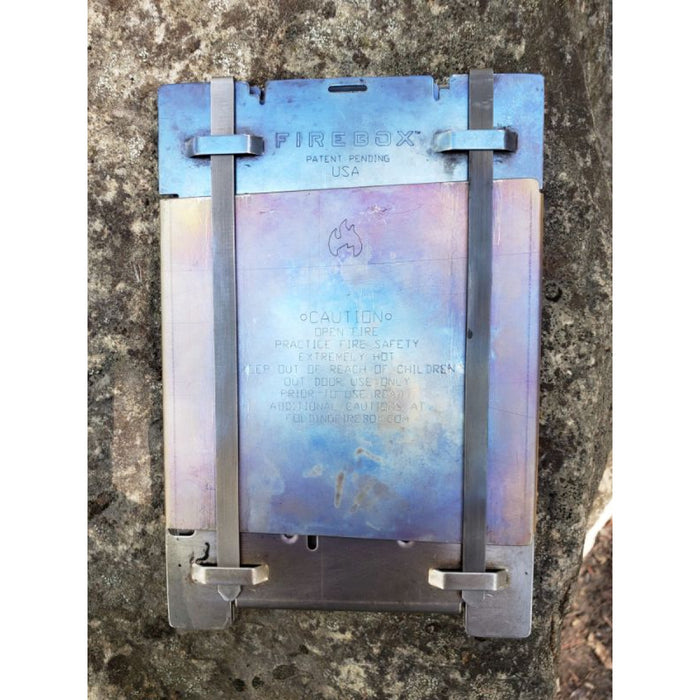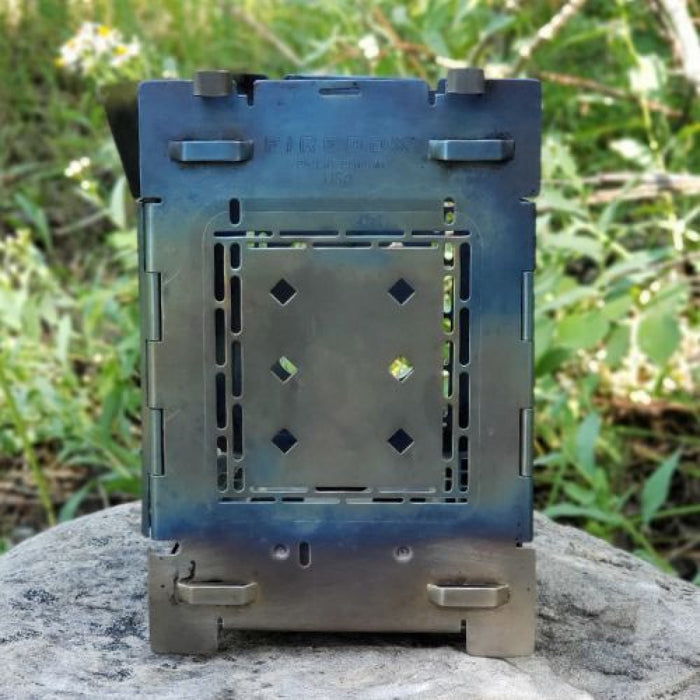 Firebox 5" Stove- Gen 2 (Titanium)
Description
Half the weight of the Stainless Steel G2 5" Firebox Stove.
Cools much faster than Stainless Steel.
Low conductivity (See below.)
Much higher corrosion resistance.
Multi-fuel versatility.
No assembly, hinged construction (A true folding stove.)
Multiple cooking configurations and multiple accessories (All SS accessories will fit Ti stove.)
At half the weight, the Titanium G2 5" Firebox Stove is very specialized for those wanting the larger size, burn performance, and amazing versatility of its heavy duty big brother which is made of Stainless Steel.
This multi-fuel cook stove is able to utilize wood and other fuels found in nature. Solid fuel tablets, alcohol burners, iso-butane gas burners, gel fuels (Sterno), wood pellets or charcoal briquettes. The Titanium Firebox Stove is also easy to set up. It effortlessly opens into position, and when it's time to go it folds flat - ready to slide into your pack. I've been testing this stove all camping season and have increasingly felt that its performance seemed a little better than the original Stainless Steel Firebox. It's especially evident when camping at 11K ft. It took a few days of thinking "I must be crazy" before I realized that perhaps Titanium's much lower conductivity means more heat gets reflected back into the fire for an even more efficient burn. There's enough of a difference that I'm sure you'll see it too. Please, someone, confirm my theory so I'll know I'm not nuts!
Because this stove is so specialized I wanted to make sure that it was a good fit for the market--that there were enough enthusiasts who appreciated its pure awesomeness. Therefore, we're starting with a limited (numbered) production run of 100 stoves so we can measure demand and collect customer feedback.
NOTE: Please watch the video. There's a lot of information that I want to share about the Ti Firebox Stove which I've covered in the informational video below.
Special Instructions:
1. Burn In Procedure- In testing this stove, I started with small fires and worked my way up to larger fires. In the past when heat testing Ti Firebox Stove prototypes I always started with a very big fire which didn't yield satisfactory results. I don't know why or even if it really makes a difference, but I think there may be advantages to taking it slow. You can see by watching the video that I've put my Ti Firebox Stove through its paces. By only using cooking fires, no bigger than necessary, you may yield even better results than me.
2. Don't tamp your fire- While Ti has a much higher melting point than SS it actually becomes just as soft from the heat as SS so placing downward pressure on the Fire Grate may cause it to yield (This is true with the SS FB as well.) Regardless, I don't recommend tamping your fire in a FB Stove since it breaks up the hot coals and blocks air flow choking out the fire. If you're trying to get the last flames to go out prior to grilling it may make sense to tamp a fire. If that's the case, do it very carefully.
-Steve Dimensions: Weight of stove alone: 14.6 oz.  Ashpan: 2.2 oz.  Firesticks: .07 oz. (prototype wt. actual wt may vary.) Ti Firebox, Ashpan and Firesticks (2) weight: 17.5 oz. Width: 5.0" (12.7 cm) Height: 7.5" (19 cm) Folded: .375" (.95 cm) Made in USA