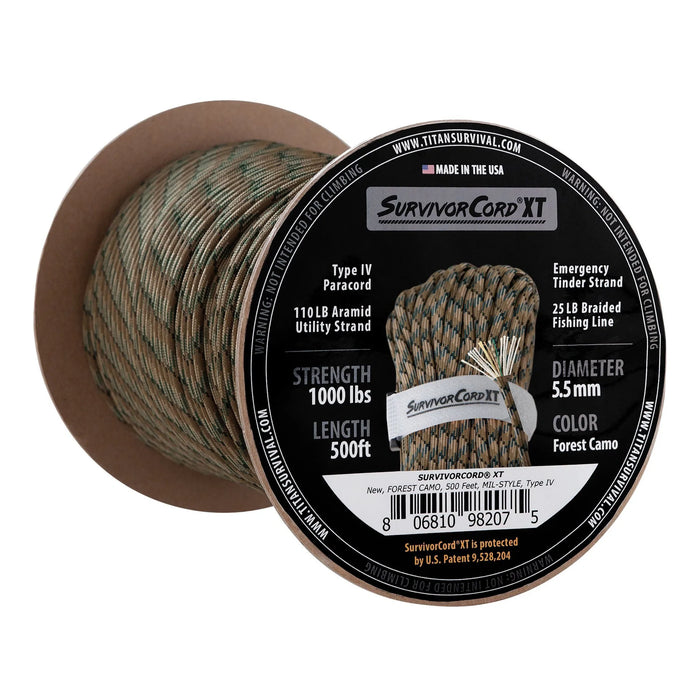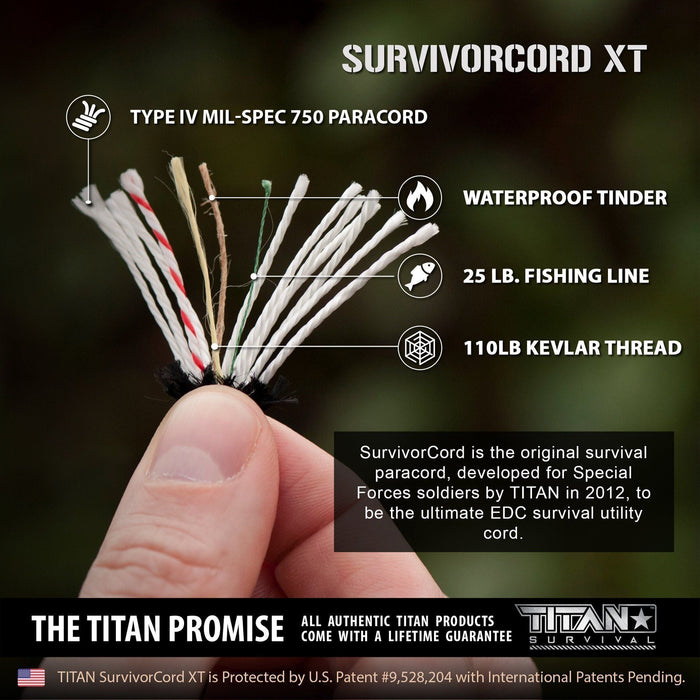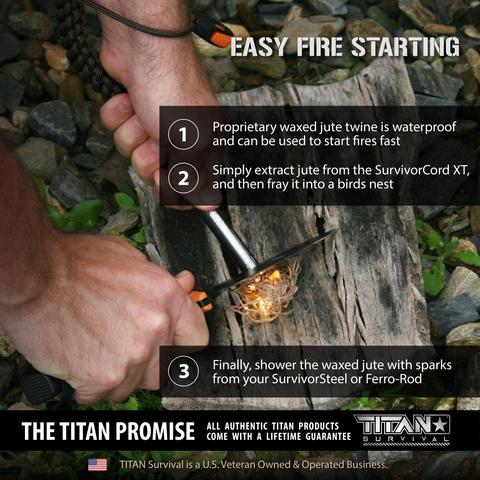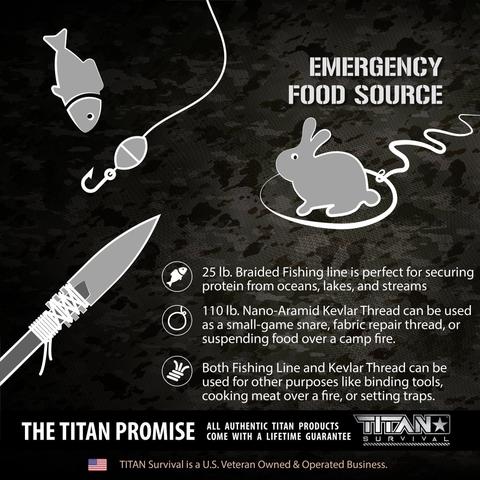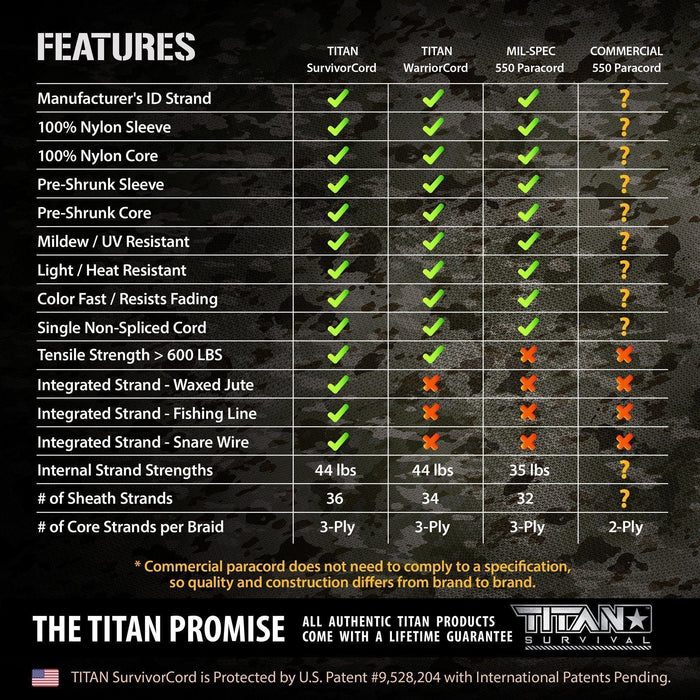 Titan SurvivorCord XT 500 FOOT SPOOL- Forrest Camo
THE ULTIMATE

 

SURVIVAL TOOL!
The culmination of 18 months of back and forth collaboration between Special Forces operators in Afghanistan and TITAN Survival, Our patented SurvivorCord XT integrates 3 potential life-saving survival strands into our popular Military-Style, Type IV 750 Paracord. The paracord itself meets or exceeds MIL-C-5040 Standards for Type IV parachute cord strength and durability, is pre-shrunk, 5.5 mm in diameter, and contains 36 individual strands, braided into twelve seriously-strong 3-strand yarns. We've then included a single strand of our proprietary waxed jute for starting fires, a 25 lb. braided fishing line, and a super-strong, 110 LB nano-aramid Kevlar thread that can be used for snares, repairing clothing and tarps, hanging food inside a campfire, and many other emergency needs. SurvivorCord XT is our 3rd-Generation Survival paracord, and is the ultimate paracord replacement!
Are you wondering who uses SurvivorCord XT and what is it for?  Well, since SurvivorCord XT was designed to be the ultimate replacement for standard paracord, it's carried by Active Military, Veterans, Survivalists, Bushcrafters, and Outdoor Aficionados all over the world.  From our Special Ops brethren, to our men in Blue, to Boy Scouts all over the U.S.A.…they all carry it in their vehicles, packs, and emergency kits so that they always have easy access to incredible cordage. 
And as a replacement for paracord, SurvivorCord XT can be used for any of the normal paracord uses: Crafting, Utility Line, Emergency Cordage, Trail Markers, etc.   So, what makes it so good?
MILITARY-STYLE TYPE IV 750 PARACORD - We use high-quality triple-braided yarns to achieve a tensile strength of over 1,000 lbs. Our 12x 3-Ply strands are UV resistant, mold resistant, and pre-shrunk to make sure that there is no shrinkage or deterioration in the elements.

110 LB KEVLAR UTILITY LINE - We've integrated a super-strong, 900° F fire-resistant Kevlar strand into the core of the SurvivorCord XT that can be used as a friction saw, a way to bind tools together, or even to secure your food over a camp fire. In the end, this Nano-Aramid fiber WILL NOT BURN or BREAK EASILY!

WAXED JUTE TINDER

 

- Our proprietary, waterproof, twisted jute fiber strand is designed to quickly start fires in an emergency. This is the best fire-starting strand on the market. Even in a downpour or after soaking in water for 8 hours, a couple sparks from your favorite SurvivorSteel and you'll have an instant fire.
BRAIDED FISHING LINE

 

- Includes a single braided strand of 25 LB, high-strength fishing line that can be used to catch your dinner, as thread for emergency sutures, dental floss, or even as a snare for small game animals. This filament can also be melted and used to patch holes or used to bind tools together.
PRODUCT SPECS
OVERALL TENSILE STRENGTH:  > 1,000 LBS.
SIZE (RETAIL PACKAGE):  3.5 x

 

3.5

 x 9 inches
SIZE (BUNDLED): 

 

3.5 x 

3.5

 x 

9

 inches

LENGTH: 500 Feet (30 m)
TOTAL WEIGHT: 15.9 ounces (450 g)
KEVLAR THREAD STRENGTH:  110 lbs
FISHING LINE STRENGTH:  25 lbs
WAXED JUTE DIAMETER:  1.5 mm
CORD DIAMETER:  7/32" (5.5 mm)

We truly believe SurvivorCord XT is simply the best paracord around, so please give it a try today - you won't be disappointed!  And remember, all TITAN products come with a LIFETIME guarantee!
* SurvivorCord XT is manufactured and sold exclusively by TITAN Survival, and is protected by U.S. Patent #9,528,204.