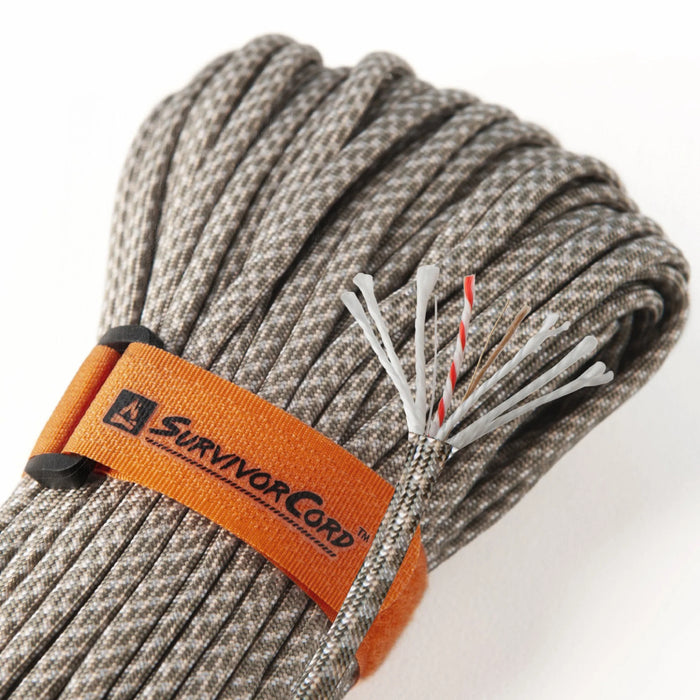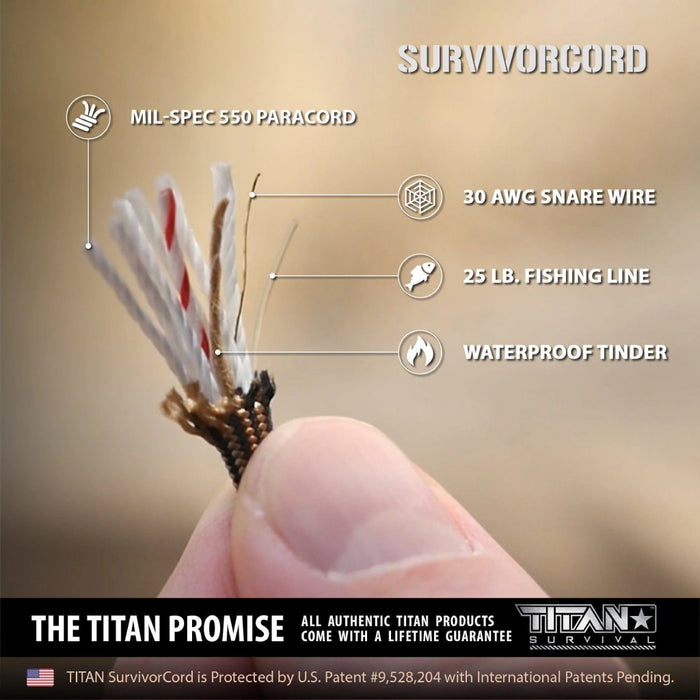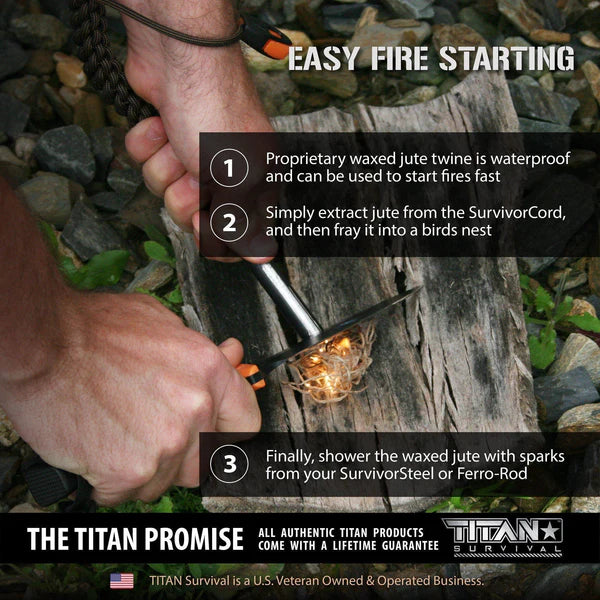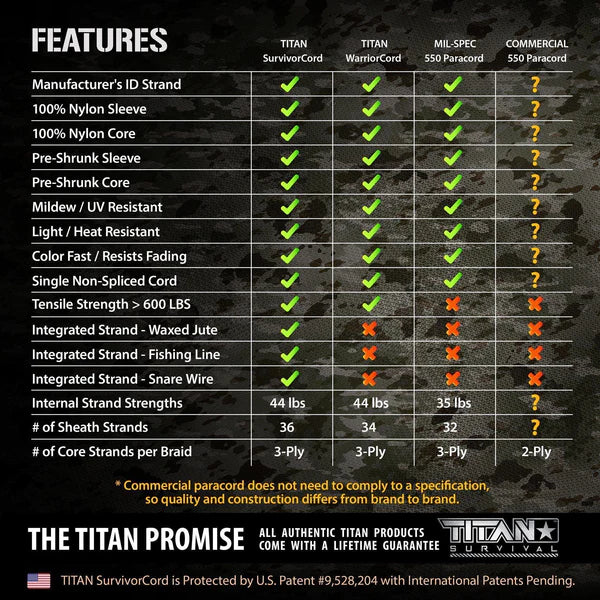 TITAN SurvivorCord (ACU GRAY) | 100 Feet | Patented Military Type III 550
Our ACU Gray SurvivorCord® Paracord is the culmination of 18 months of back and forth collaboration between Special Forces operators in Afghanistan and TITAN Survival. The result is our patented MIL-STYLE 550 parachute cord, with 3 potentially life-saving survival strands added to the inner core during manufacturing: Multi-Purpose Utility Wire, Fishing Line, and Waterproof Fire-Tinder.
Product Features:
EXCLUSIVE PATENTED PARACORD - Originally designed at the request of Special Forces in Afghanistan, our SurvivorCord is a 620 LB tensile strength paracord that integrates 3 life-saving survival strands into TITAN's trusted MIL-STYLE 550 Paracord. Available only from TITAN Survival, SurvivorCord is protected by U.S. Patents 9,528,204 & 9,926,652. There simply isn't a better paracord available.
25 LB FISHING LINE - Includes a single transparent, 25 lb. test, high strength mono-filament fishing line that can be used when critically needed food is just yards away. This filament can also be melted and used to patch holes or used to bind tools together.
WATERPROOF FIRE-STARTER - Our proprietary, paraffin-impregnated, twisted jute fiber strand is designed to quickly start fires in an emergency. This is the best fire-starting strand on the market. Even in a downpour, a couple sparks from your favorite SurvivorSteel or ferro-rod, and you'll have an instant fire.
MULTI-PURPOSE UTILITY WIRE - Our strand of proprietary 30 AWG metallic alloy is strong, conductive, and non-magnetic. Perfect for small animal snares, HAM Radio antennae, camp-fire food wraps, and any other ingenious survival ideas that you can think up.
THE ONLY PARACORD YOU'LL EVER NEED - Trusted by outdoor aficionados and military units worldwide, SurvivorCord® is designed to replace any and all parachute cords in your backpack, vehicles, or emergency kits. It is stronger and more functional than normal MIL-SPEC paracord, and seals just as easy when cut and used. Invented, patented, and sold by a service-disabled U.S. Army Combat Veteran.
Product Specifications

Color: Acu Gray
Length: 100 Foot Hank
Weight: 14 Oz
Diameter: 4.5 - 5.0 Mm
Fishing Line Strength: 25 Lbs.
Utility Wire Metal: Brass
Utility Wire Gauge: 30 Awg
Utility Wire Strength: 8 Lbs.
Waxed Jute Diameter: 2 Mm