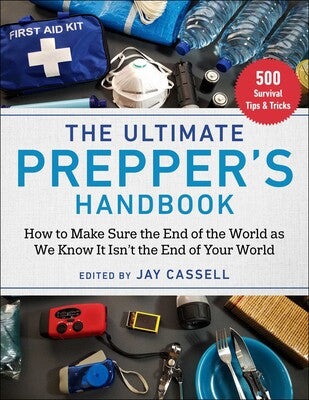 The Ultimate Prepper's Handbook
How to Make Sure the End of the World as We Know It Isn't the End of Your World
It can be all too easy to think of disaster as something that happens to others. But the world is a volatile place, and despite our best efforts we can quickly find ourselves in dangerous or even deadly situations. Proper preparation can ensure that, when that does happen, we have the tools and knowledge necessary to survive. This guide is the ultimate reference on how to prepare for disaster and how to respond when it strikes. Through it you will learn the basics of how to survive and how to reduce your reliance on modern conveniences so that, no matter what happens, you won't be caught unprepared.
 
The information gathered in this volume includes knowledge and advice from experienced preppers, outdoorsmen, and survival experts. It will help everyone from the beginner trying to start a food pantry to the seasoned veteran who is looking for a few extra tips and tricks to become more self-reliant. The Ultimate Prepper's Handbook contains information and techniques concerning:

Starting a food pantry
Home and self-defense
Emergency first-aid
Carrying a concealed firearm
Dealing with specific disasters
Medical assessments
Bug out bags
Survival shelters
Foraging, hunting, and trapping
Finding water
Reducing energy use
Growing your own food

This book will not just get you ready beforehand—when a disaster happens, it will provide ideas for surviving, coping, and recovering.

Pages: 584 Pages
Editor: Jay Cassell