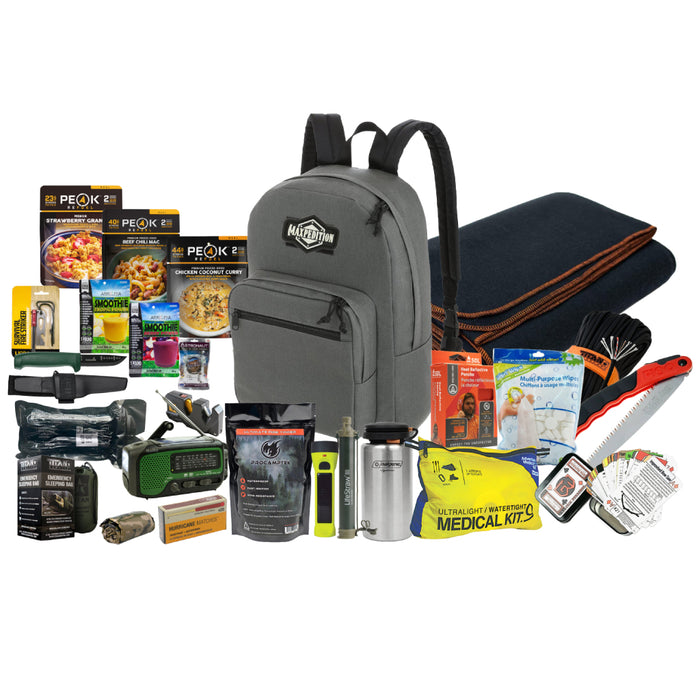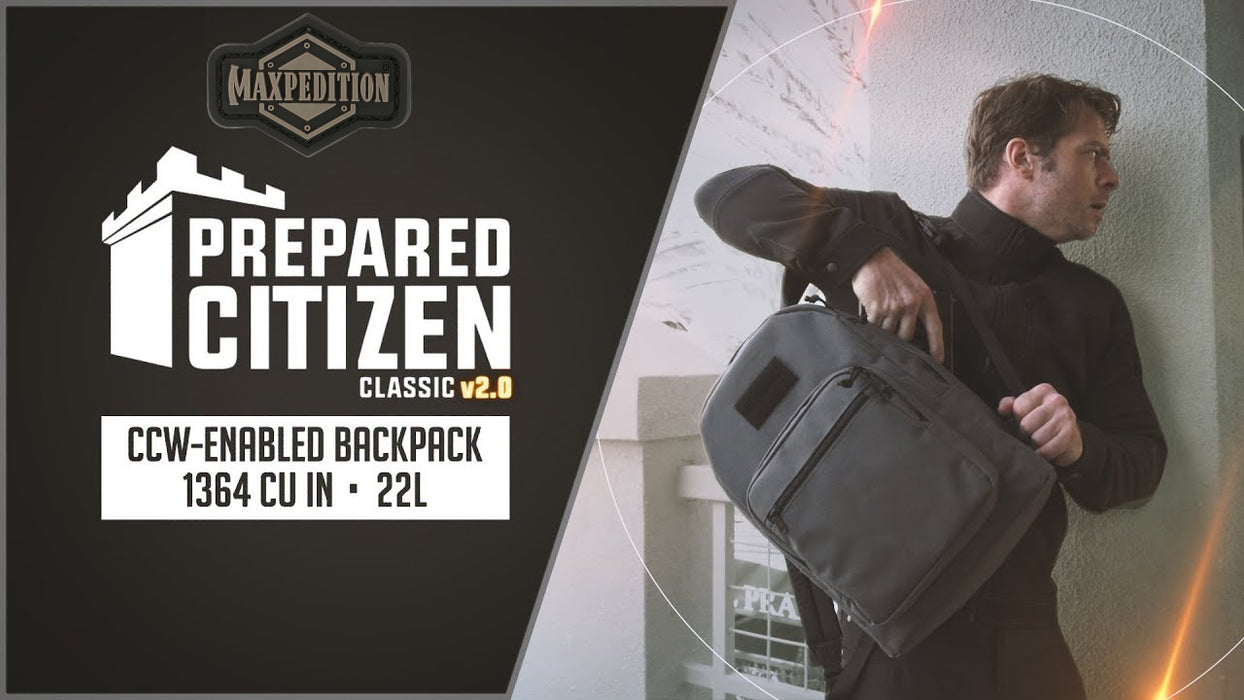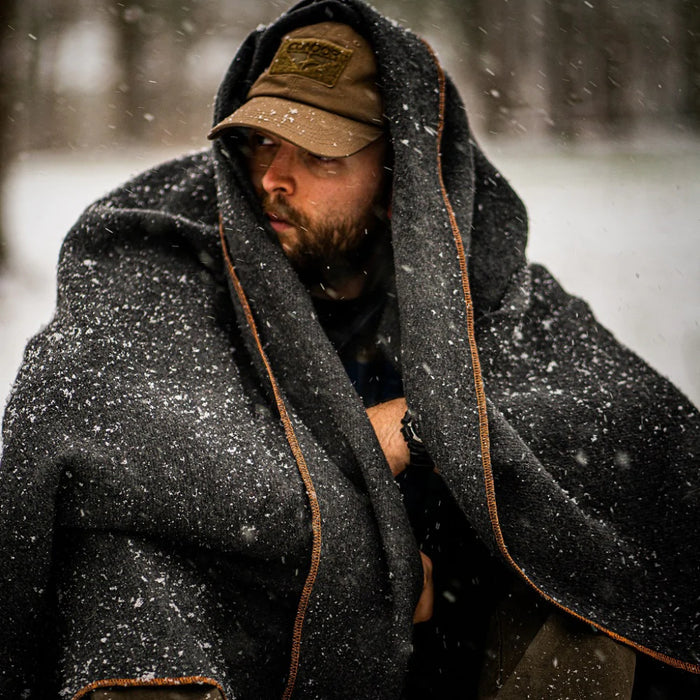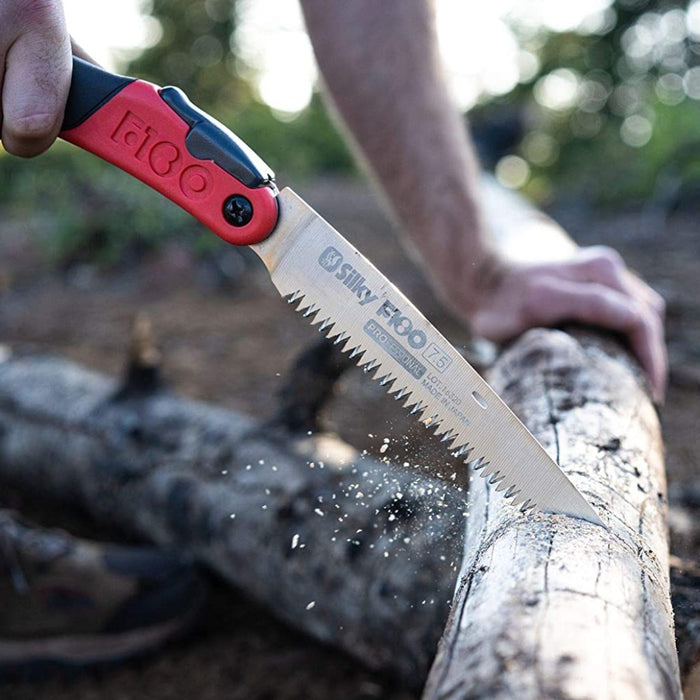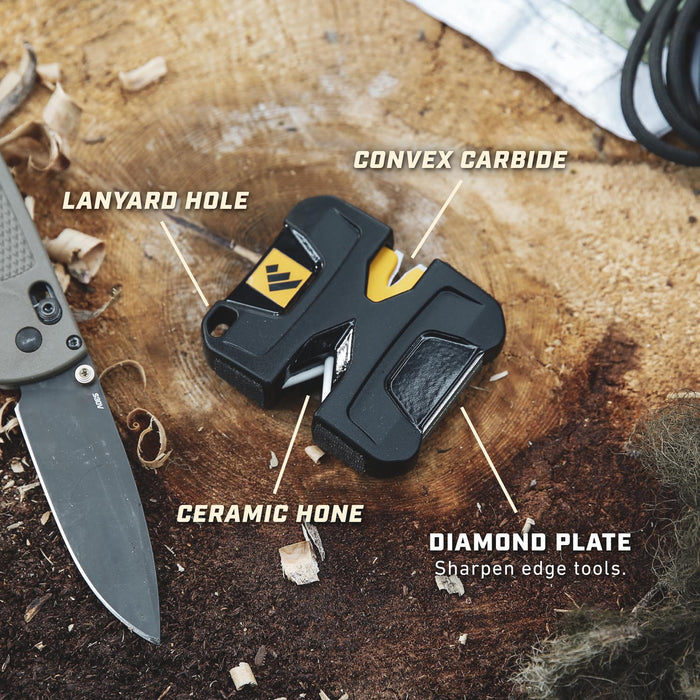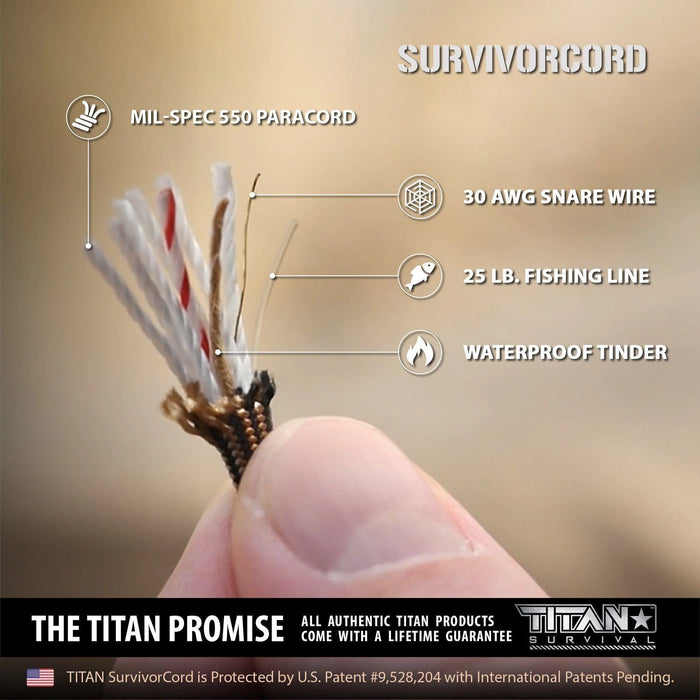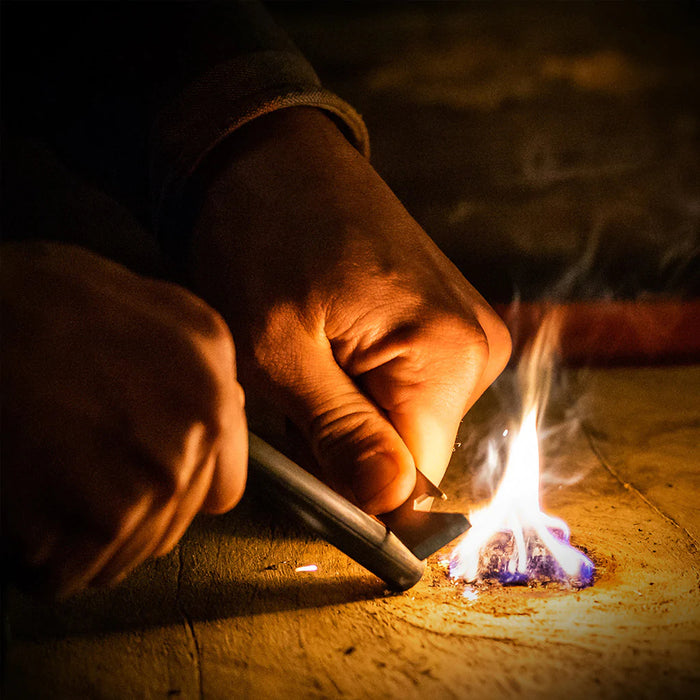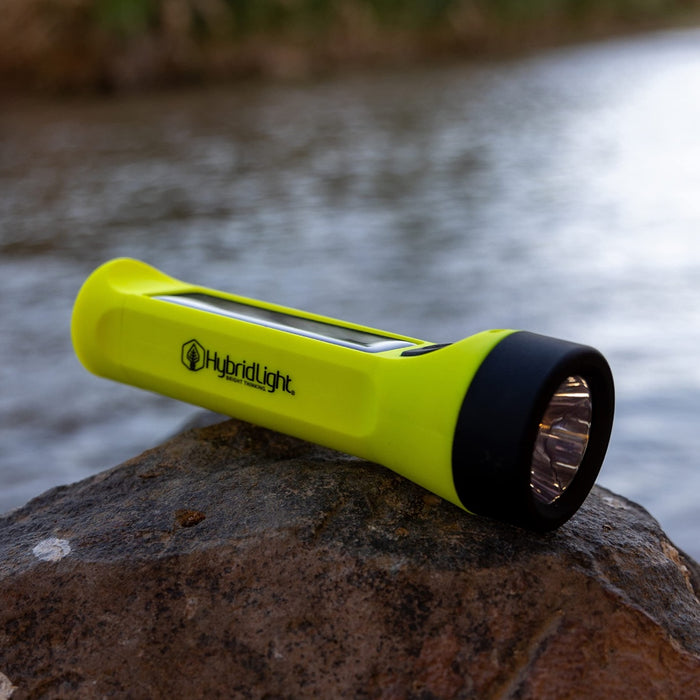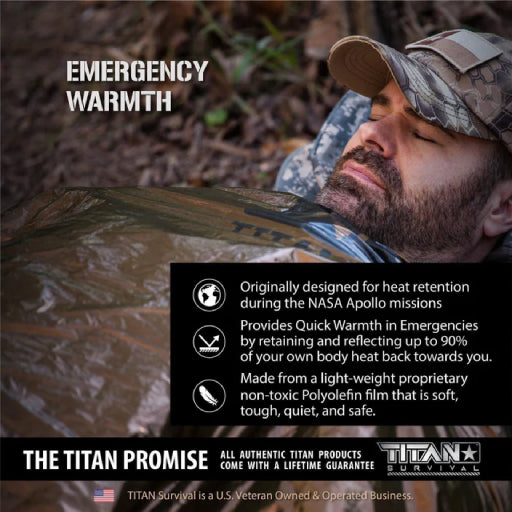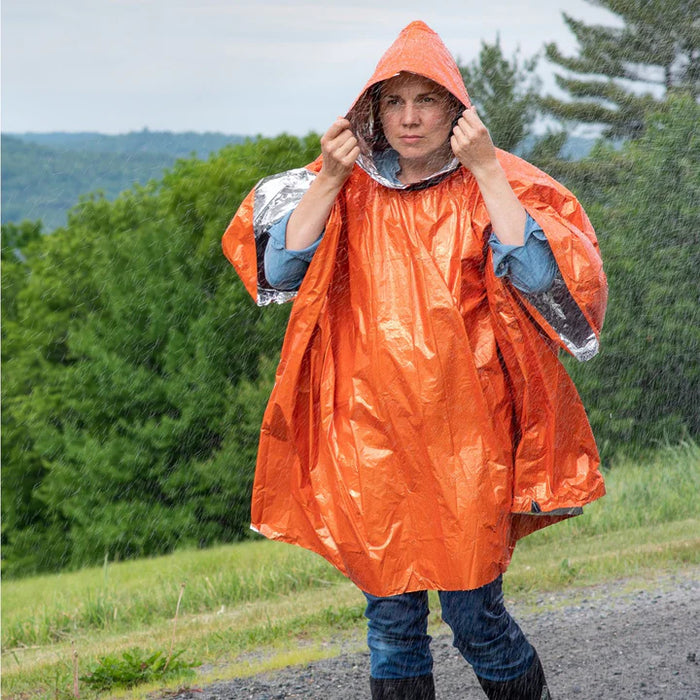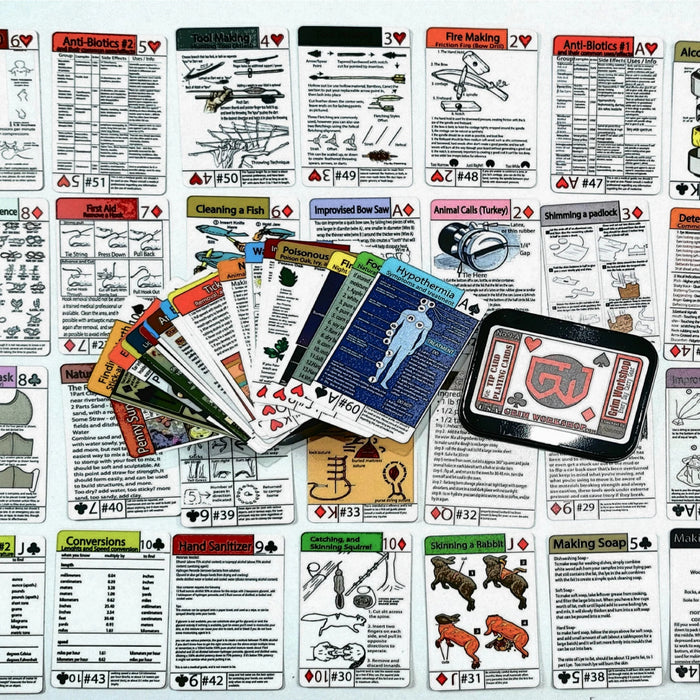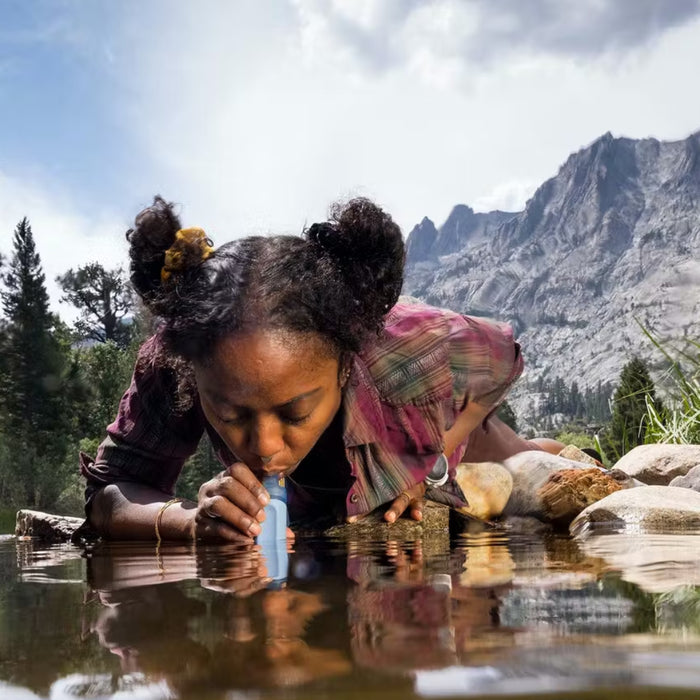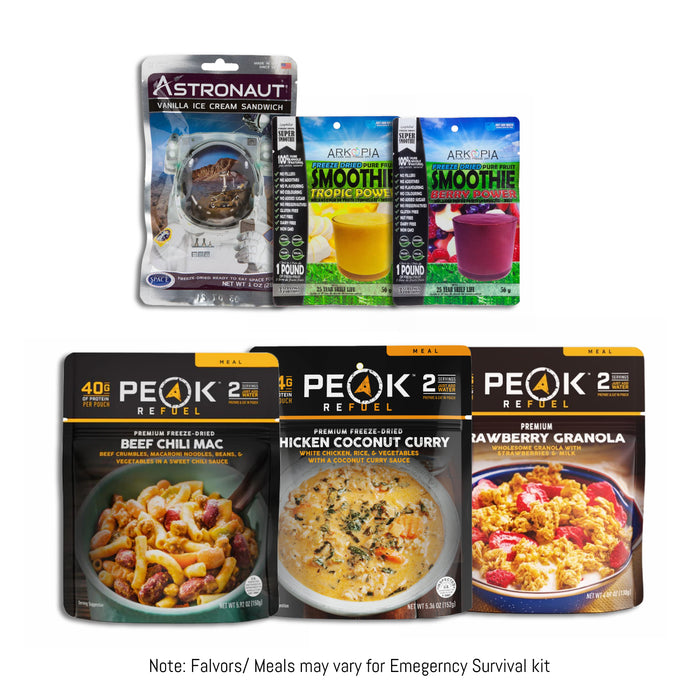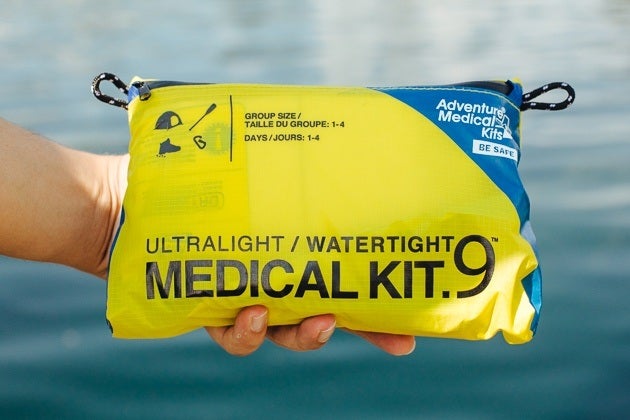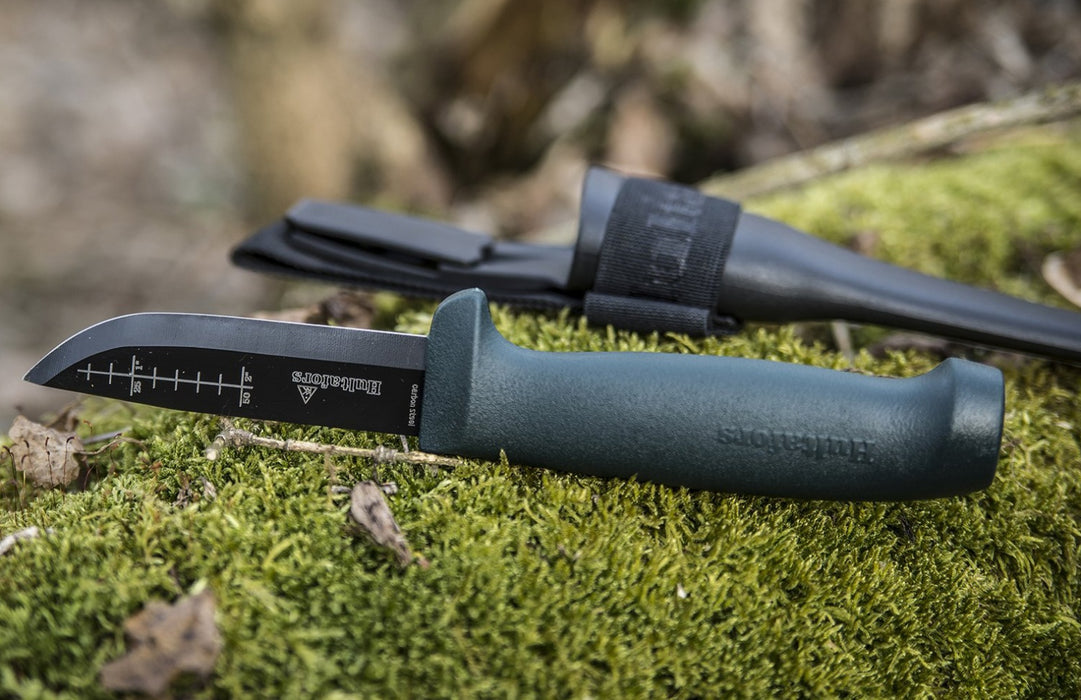 Premium Quality Emergency Survival Kit / Bugout Bag- 25 Items
Shipping only to the US and Canada*
This kit was custom compiled by Canadian Prepper himself. Most emergency kits are made of low quality products that are dangerously unreliable. We believe that nothing in your kit should be disposable and that it should last a lifetime. We created a pack with high quality tools, shelter, first aid, food and water purification systems in order to serve you when times get hard.
STORAGE:
Maxpedition Prepared Citizen Classic V2.0 Backpack
Maxpedition is a premium backpack manufacturer. This discreet low profile pack wont draw unwanted attention but is built durable enough to survive the apocalypse. 
Overall capacity of 1364 cu. in. / 22L with a dual-side accessible
Built extra tough with Teflon-coated 1000-denier nylon fabric, YKK zippers, Duraflex buckles, meticulously reinforced construction and the high degree of quality,
FOOD:
3 x Peak Refuel Premium Freeze Dried Food 
2 x Arkopia Freeze Dried Smoothies- 56 grams 
1 x Astronaut Ice Cream Sandwiches
Note: Flavors/ Meals may vary from the picture** 
SHELTER:
Arcturus Military Wool Blanket- 64" x 88"
Heavy & Warm
Military Grade Long Lasting
80% wool Machine Washable
Titan Survival Emergency Sleeping Bag
Originally designed for Nasa
Extra Thick & Warm
Compact Design
SOL Heat Reflective Poncho
Protection from Wind, Rain, & Snow
90% Heat Reflectivity
Compact, Ultralight Rain Gear
FIRST AID:
Adventure Medical Kits Ultralight .9 First Aid Kit
Designed for Multi-Sport Athletes
2-Stage Waterproofing
Trauma Supplies
Treatment for Wounds & Illnesses
Emergency Gear Repairs
Blister Prevention & Protection
Emergency Bandage– Military AKA The Israeli Bandage
Non-pneumatic trauma bandage
Can apply 30-40+ lbs of pressure to the wound
Sterile, best-in-class 8-year shelf life
WATER:
Nalgene 32 oz Stainless Steel Bottle
BPA/BPS Free
Built to Last
Leak-Proof Guarantee
Lifestraw- Personal Water Filter
Protects against bacteria, parasites, microplastics, dirt, sand and cloudiness
Independently lab tested, durable and BPA Free
HUNTING & SURVIVAL:
Silky F180 Folding Saw- Large Teeth
8 teeth per 30mm (6.77 teeth per inch)
Fiberglass reinforced molded comfort handle
Superior finish quality
Hultafors OK1 Outdoor Knife
High quality blade
Tough polypropylene handle
Holster with belt loop and fire starter storage
Worksharp Pivot Knife Sharpener
Sharpen on convex carbide, hone on ceramic
Compact, packable design
Diamond rod for serrations
TITAN SurvivorCord 100 Feet Patented Military Type III 550 Paracord
Military-Style 550 paracord, with 3 potentially life-saving survival strands added to the inner core:
Snare Wire, Fishing Line, and Waterproof Fire Tinder.
Grim Workshop Waterproof Wilderness Survival Playing Card Deck & Tip Card Set
UV resistant and waterproof survival playing cards
Tear Resistant Wilderness Survival Playing Cards
LIGHTING & COMMUNICATION:
Kaito Voyager Trek KA 350 Handheld Emergency Radio
Dynamo & Solar Powered Radio
5-way powered AM/FM Shortwave & 7-Ch Pre-programmed NOAA Weather Radio
Built-in replaceable Ni-MH rechargeable batteries
Super bright 5-LED Flashlight
HybridLight Journey 200 Flashlight & Charger
Versatile, multifunctional and rugged flashlight that features a fully waterproof enclosure
Up to 25 hours on low beam and 6 hours on high from the 1200 mAh lithium-ion battery
UCO Hurricane Match 25 Pack
Durable, windproof and waterproof
Up to 15 second burn time.
Procamptek- Ultimate Fire Tinder
Extreme weatherproof reliability
Safe to use and store, infinite shelf life
UCO Survival Fire Striker
3,000+ Strike Ferrocerium Rod
Includes 8 Function Multi-tool Striker
Includes Paracord Lanyard
SANITATION:
Wysi Toilet Paper Tablets- pack of 100
Convenient Size, Travel ready
Biodegradable Material
** Substitutions not available. **