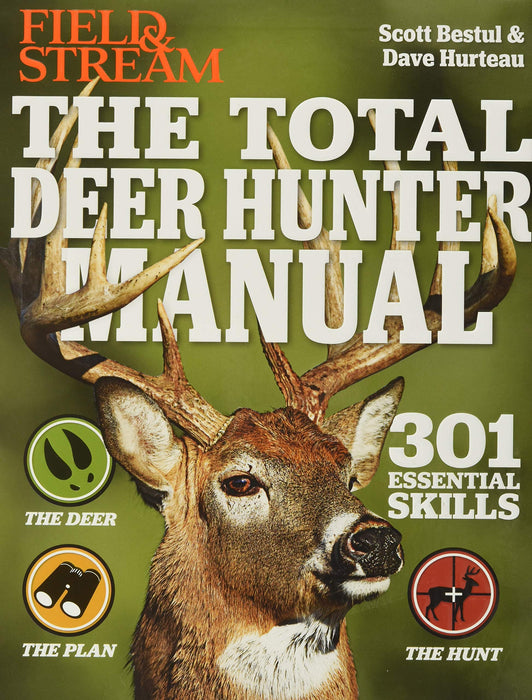 The Total Deer Hunter Manual: 301 Hunting Skills You Need
From Field & Stream magazine's deer-hunting experts, the authors of the Whitetail 365 blog on fieldandstream.com demystify everything the modern hunter needs to know. For bow-hunters, traditional rifle-shooters, shotgun and muzzleloader hunters, and more, this is the one book you need to get the buck of your dreams.

Whether you spend all year plotting and preparing for your ultimate whitetail season, or just enjoy a few hunting trips a year with your buddies, this is the book you need. Hundreds of field-tested tips from Field & Stream's deer-hunting experts cover tips and tricks from America's best hunting guides and their own decades of experience, including:

SHOOT BETTER With detailed exercises and advice for bow-hunters as well as rifle and shotgun users, this book takes you out on the range and into the woods, with what you need to bring home a trophy buck instead of a lame excuse.

PLAN ALL YEAR What do you do when deer season ends? Stow your gear, mount your trophies, and start planning for next year. Here's how to plot your hunting grounds, plant the food deer love, and upgrade your equipment.

TRACK LIKE A PRO Where do deer live? What do they eat? How do they behave during the all-importnant rut season? You may think you know the answers to these questions, but the latest research and unusual historical wisdom will surprise you—and make you a better hunter.

Selected chapters include:
-Get a Grip on Deer Senses
-Track the Rut
-Break Down Your Deer Season
-Be a Mountain Man
-Learn 5 Lockdown Secrets
-Field Dress a Buck in Minutes
-Analyze Whitetail Anatomy

Packaged in a durable, wipe-clean flexicover with metallic corner-guards, this practical manual withstands heavy-duty use indoors and out.
Pages: 256 pages