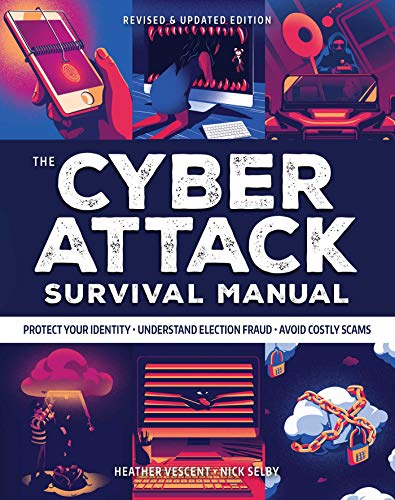 The Cyber Attack Survival Manual
"The Cyber Attack Survival Manual is the rare security awareness book that is both highly informative and interesting. And this is one of the finest security awareness books of the last few years." – Ben Rothke, Tapad Engineering 

Let two accomplished cyber security experts, Nick Selby and Heather Vescent, guide you through the dangers, traps and pitfalls of online life. Learn how cyber criminals operate and how you can defend yourself and your family from online security threats.

From Facebook, to Twitter, to online banking we are all increasingly exposed online with thousands of criminals ready to bounce on the slightest weakness. This indispensable guide will teach you how to protect your identity and your most private financial and personal information.
About the author:
Heather Vescent is a social scientist who studies future trends to help people understand and take advantage of change. She does this through speaking, consulting, research projects, design fictions, and media productions. Her company, The Purple Tornado, has been around since 2006. Prior to The Purple Tornado, she helped build and launch more than 50 Internet products at over 30 startups from 1996 to the 2005 in Silicon Valley and Los Angeles. Recently, Heather completed an assignment with the Swift Innovation Team, Innotribe, based in New York, NY and La Hulpe, Brussels. She is best known for her research on the Future of Transactions, which she presented at SxSW, Sibos, TedxZwolle, The Future of Money,Tomorrow's Transactions and other conferences around the world. She is the producer and creator of 4 short films, including "Fly Me to the Moon;" nominated for the Most Important Futures Award by the Association of Professional Futurists, 2012; "Flowers for Grandma;" "Innotribe Startup Challenge Documentary," and "Slices of Life."

Nick Selby has nearly 20 years of cyber security and intelligence experience. The former Director of Cyber Intelligence and Investigations at the NYPD, he is currently Chief Security Officer at a New York City based trust company. He appears frequently in media including the New York Times, Washington Post, CNN, NPR, and Fox News discussing online security, terrorism, and more. His latest book is In Context: Understanding Police Killings of Unarmed Civilians (CIAI/Calibre Press). Nick is also co-author of Blackhatonomics: An Inside Look at the Economics of Cybercrime (Syngress) and was technical editor of Investigating Internet Crimes (Syngress).
Author: Heather Vescent & Nick Selby
Pages: 224 Pages