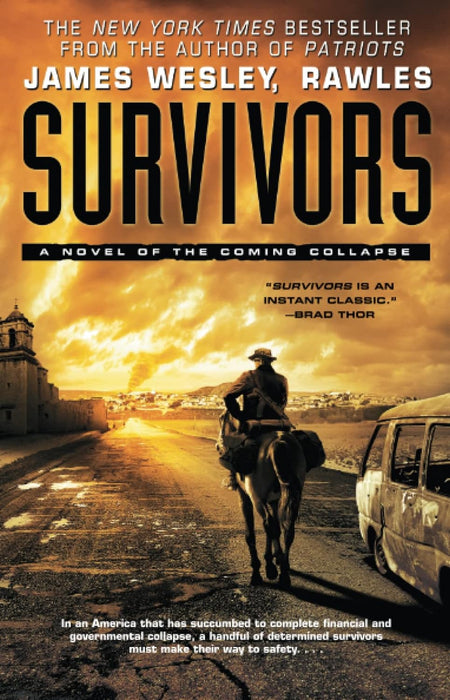 Survivors: A Novel of the Coming Collapse
This lightening-paced instant New York Times bestseller about survival in America after an apocalyptic economic crash asks the question: What if the world as we know it ended tomorrow?
The America we are accustomed to is no more. Practically overnight the stock market has plummeted, hyperinflation has crippled commerce, and the fragile chains of supply and high-technology infrastructure have fallen. The power grids are down. Brutal rioting and looting grip every major city. The volatile era known as "the Crunch" has begun, and this new period in our history will leave no one untouched. In this unfamiliar environment, only a handful of individuals are equipped to survive. The world of Survivors is a terrifyingly familiar one. Rawles has written a novel so close to the truth, readers will forget it's fiction. If everything you thought you knew suddenly fell apart, would you survive?
About the Author:
Former US Army intelligence officer and survivalist James Wesley Rawles is a well-known survival lecturer and author. Rawles is the editor of SurvivalBlog.com—the nation's most popular blogs on family preparedness. He lives in an undisclosed location west of the Rockies. He is the author of the bestselling Patriots: A Novel of Survival in the Coming Collapse and a nonfiction survival guide, How to Survive the End of the World As We Know It.
Pages: 400 Pages
Author: James Wesley Rawles