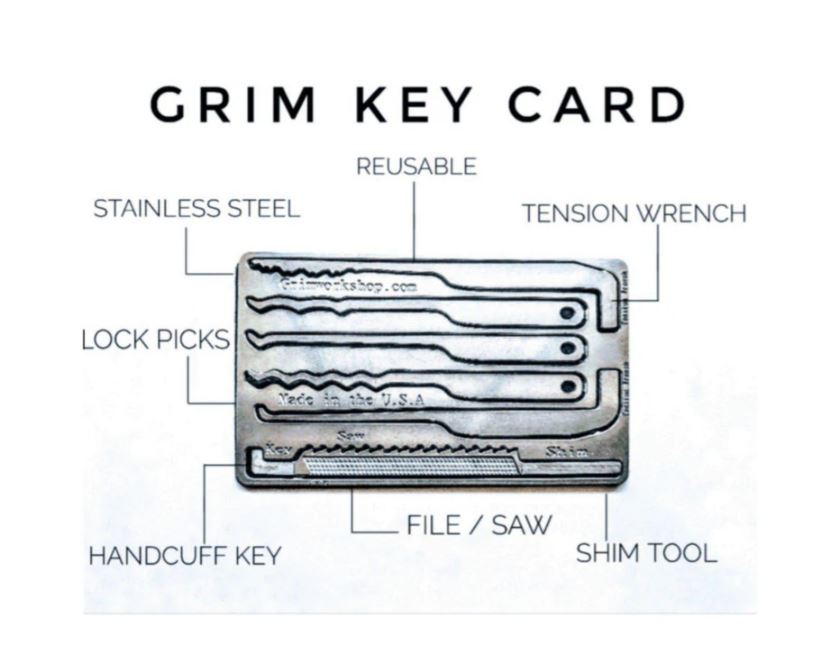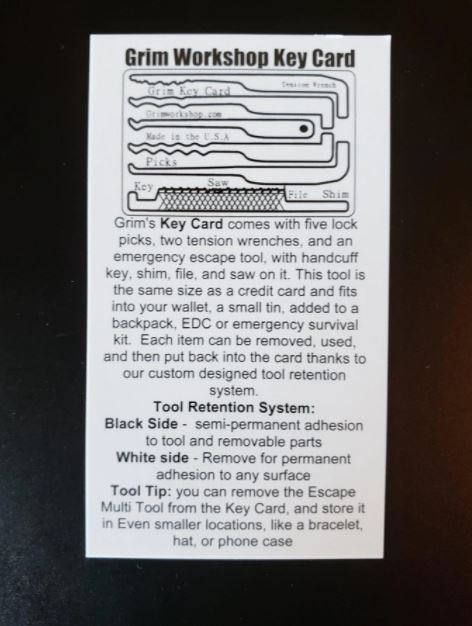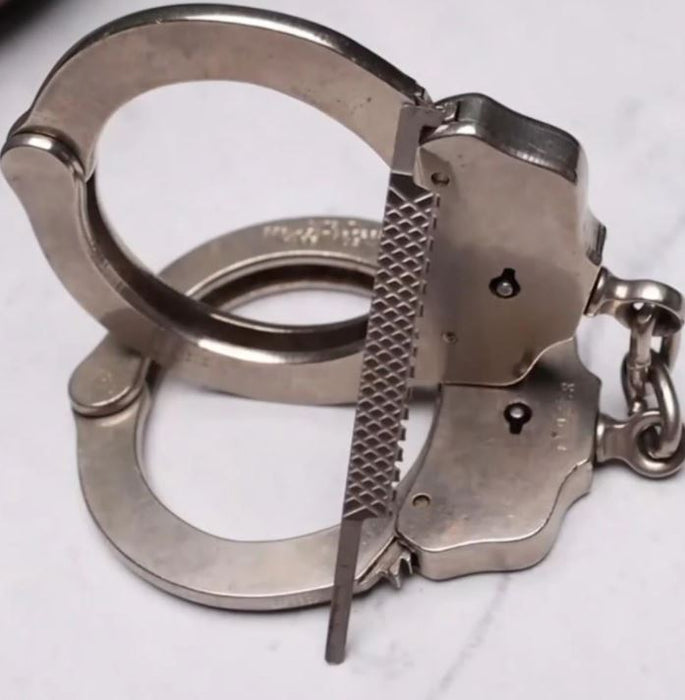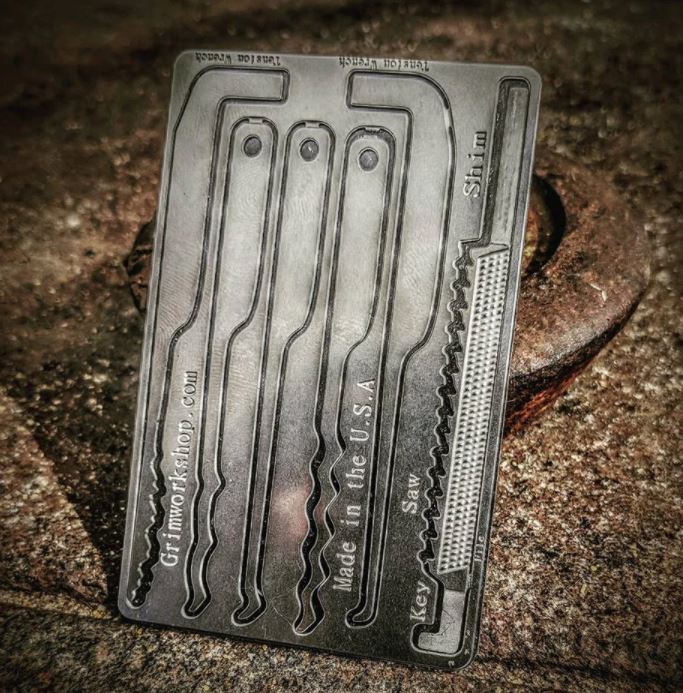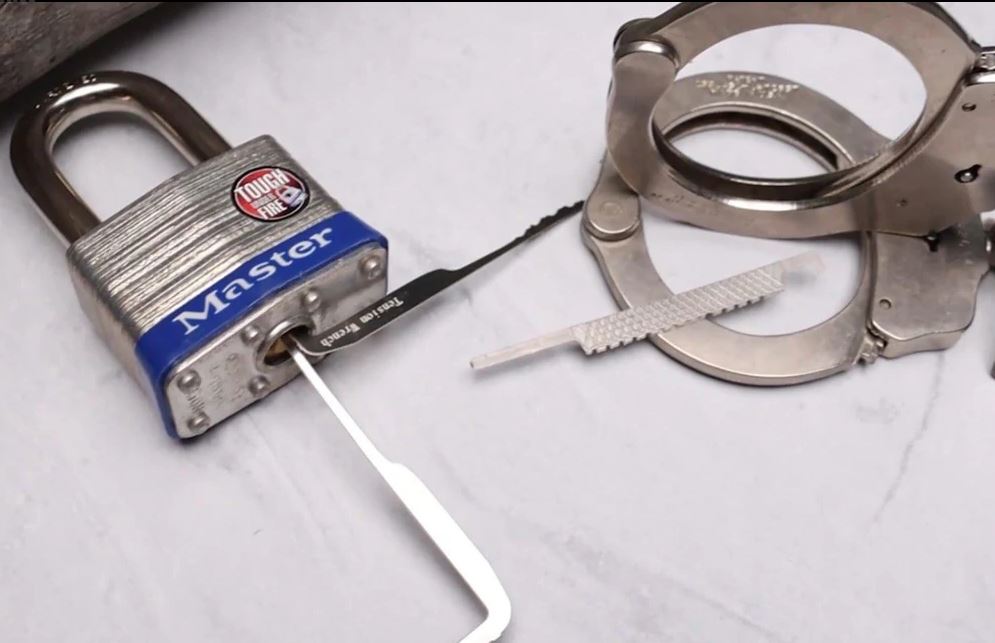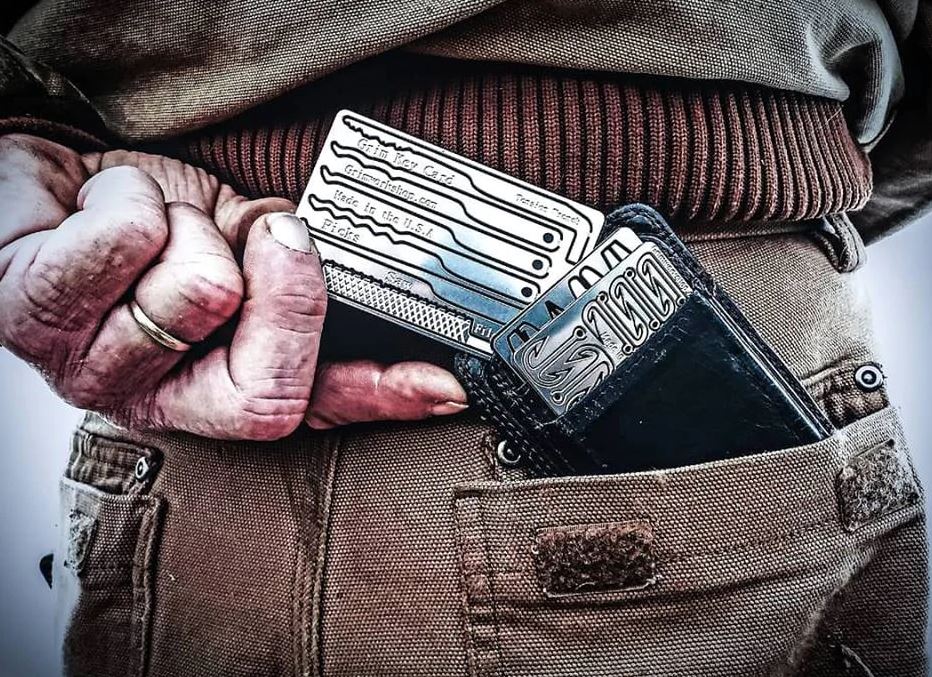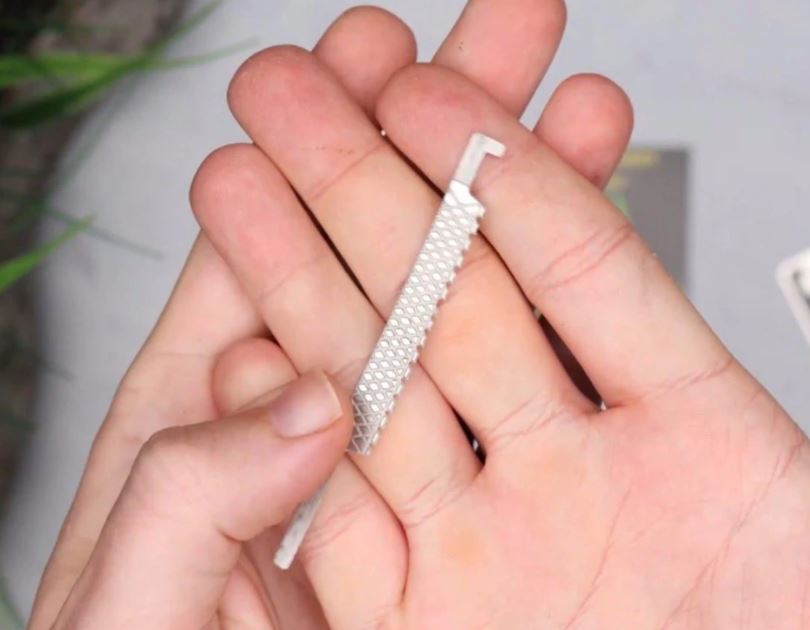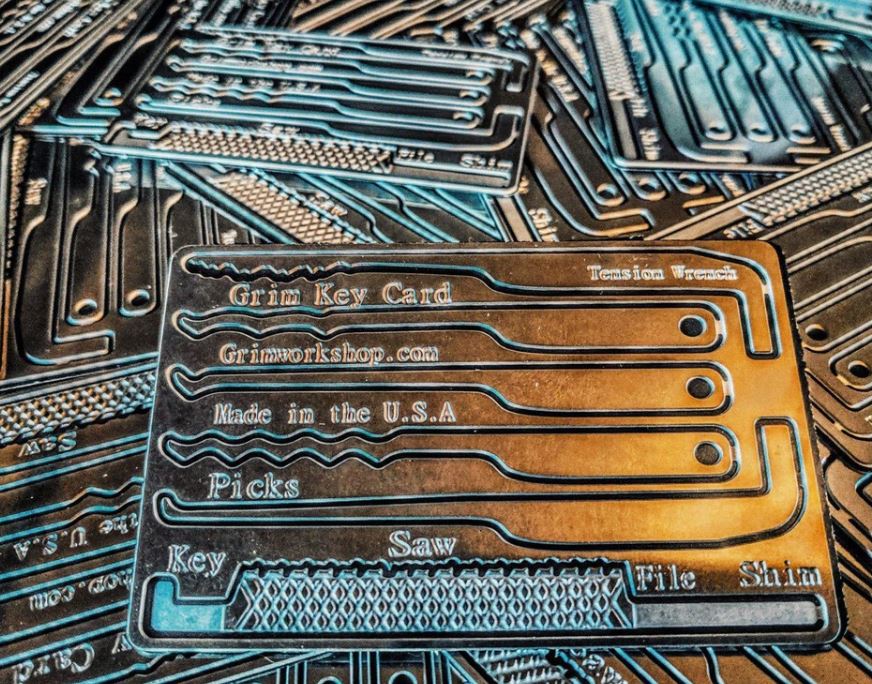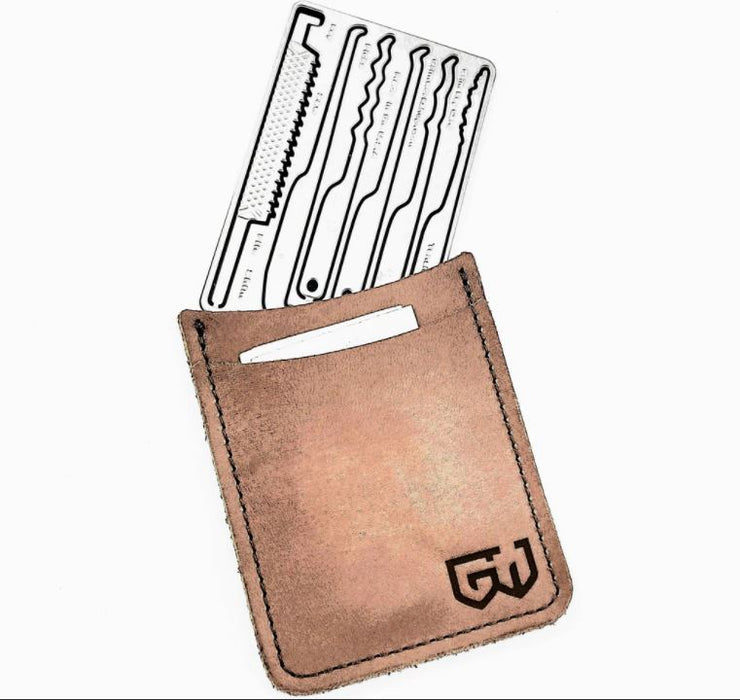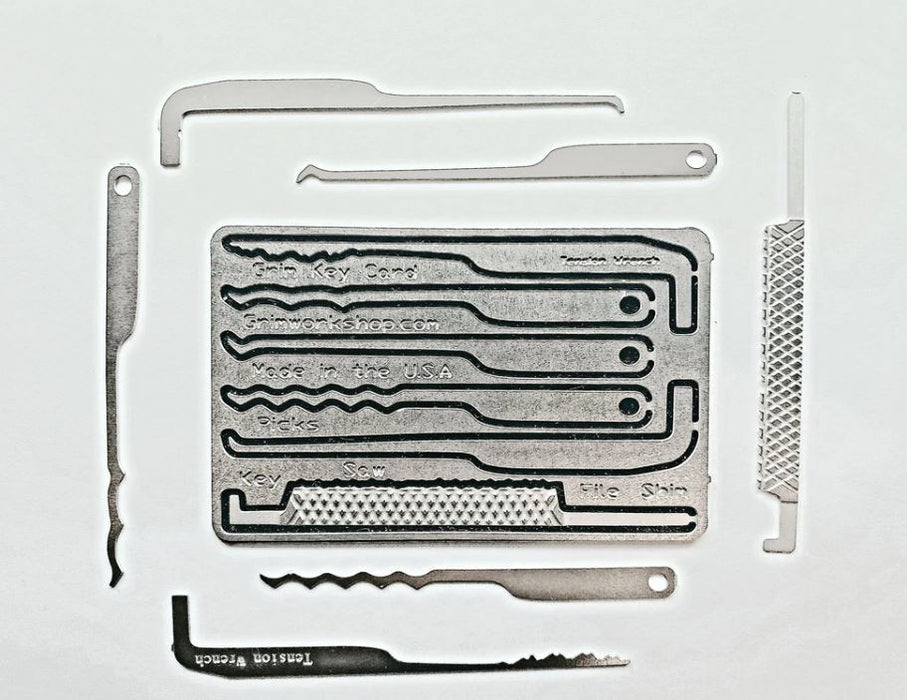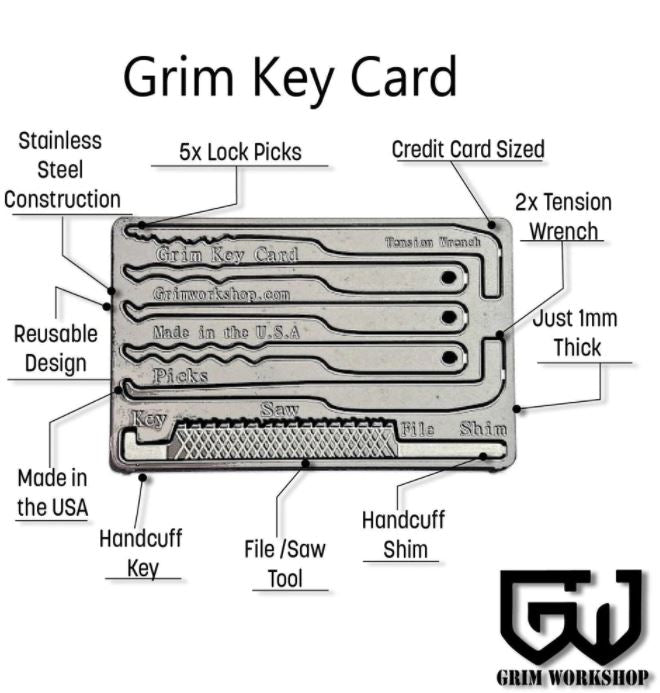 Survival Card- Tool Card (GRIM SURVIVAL TOOLS)
Grim Workshop Key Card Wallet Sized Lock Pick Set with Escape and Evasion Multi Tool
Grim's Key card wallet sized lock pick set is a specially designed tactical lock pick set and escape kit that's great for everyday problems, as well as specialized emergency situations. It doesn't matter whether your trying to figure out how to pick a diary lock, or if you need to know how to pick a file cabinet lock, or how to escape handcuffs the Grim Key Card edc lock pick set has what you need.
Complete with escape gear and an edc lock pick set, as well as a small multi-tool that includes a handcuff key, handcuff shim tool, pocket saw, and file, tool if you need to know how to escape handcuffs this tools got the gear on it to get the job done. We've got whatever you need to escape almost any kind of restraint, rope, zip ties, and more, as well as the tools to open most locks.
A lock pick case isn't necessary as the card itself holds all your lock pick's conveniently in place and ready for use.


Tool Specs:
Credit Card Size

 

- 3 3⁄8 × 2 1⁄8 and Sized to fit into a wallet, small tin, or small pocket
Durable Construction – 1mm thin steel, sharp and durable, in stainless steel, pocket products ready for a lifetime of use!
credit card pick set 

 

- The multifunctional nature of this tool means it's a pocket multi tool  handy for everyday use, for primitive survival experiences, and includes a plethora of bushcraft survival gear.
Tool retention system

 

- one side (black) features semi-permanent adhesive allowing tools to be removed and used again and again, then put back. Non-magnetic and non-sticky. The other side (white) has a permanent adhesive allowing you to stick your toolkits to other objects for unparalleled accessibility.
Proudly Made in the USA - this tool was designed, manufactured, and had its materials sourced here in the U.S.A.
Items Included : 
Lock Picking Tools x5 – Small covert entry tools used for gaining entry to most types of locks including cabinets, doors, lock boxes, and more.
Lock Pick Tension Wrench

 

x2 – The Grim Key Card includes two lock pick tension wrench in two sizes.
Micro SERE Multitool Items:

 

This micro sere kit combines many critical items that would be included in a sere kit, listed below. This micro sere kit is perfect to conceal, it can be woven into a concealed handcuff key bracelet, put into the band of a hat, or concealed in any other number of places.  
Concealed Handcuff key

 

– 

 

The small hidden handcuff key on the end of the emergency escape multi tool
Handcuff Shim Tool

 

– 

 

How to shim handcuffs

 

works by sliding between the ratchet and teeth of a handcuff to quickly release the locking mechanism. Works ONLY when handcuffs are single-locked. Easily works on Smith & Wesson, Chicago, Peerless, Safariland and countless other handcuffs
File – File tool for shaving harder materials.
Saw – Small pocket saw for cutting soft materials like rope, zip ties, and more
Credit Card Pick Set

 

–

 

Wallet Survival Gear
With applications in urban emergencies, sere kits, outdoor exploration, disaster areas, and survival scenarios this credit card survival tool bridges together escape and evasion with cutting-edge manufacturing and materials, resulting in iconic, timeless, high-utility multi tool pocket products.  These credit card size tools create escape and evasion kits no bigger than a credit card

Knowledge can only get you so far without the tools to use it. Knowing how to construct primitive survival gear can be a real-life-saver, especially when its on a tool that's credit card size and fits in your wallet, no worries over where to find your kit, because it's always with you! This tiny survival card multi tool is conveniently the same size as a credit card, lightweight, durable, reusable, and fits straight into your wallet with your other cards and cash. Since it's credit card size, it just slips into your pocket and your ready to go perfect for a travel survival kit.
You can easily fit multiple Grim Survival Cards, literally dozens of pocket essentials, into a traditional wallet without a problem. Since their inception, Grim's card tools have been effectively replacing their heavier, bulkier, traditional multi-tool counterparts in many EDC collections worldwide.
This credit card sized design also means as pocket products, you can not only put them into an Altoid tin sized lock pick set, a favorite of many due to their credit card size shape. You can fit over a dozen Grim Workshop Survival Cards into a tin that size. This compact size gives you the ability to carry hundreds of pieces of lock picking gear, and escape and evasion tools in a palm-sized tin, essentially putting a bug out bag in your pocket.
Reusable Design
Grim's multipurpose pocket survival tools were created to be used, abused, and reused, unlike cheaply made disposable tools. Our incredibly unique TOOL RETENTION SYSTEM is included with any Grim Workshop tool with removable parts makes all of our tools reusable. This allows you to take out any part of the tool, use it, and put it back when you're finished.
There are no one-and-done experiences with Grim Workshop credit card multi tools. Instead, we want you to take our tools out, test them, practice with them and get familiar with them. That way, if the day ever comes when you need to know how to pick a master lock in an emergency, and you need to use these as an edc lock pick set, you'll know how.
Grim's TOOL RETENTION SYSTEM gives the grip you would expect from adhesive or rare earth magnets without the sticky residue or de-magnetized credit cards they could create allowing you to re use all of our credit card tools, and more.
Space, No Longer an Issue
What to put into a EDC lock pick set? What to remove? whats the best lock pick set? Packing a escape and evasion kit together for your bug out bag, mini survival kit, or even just a simple EDC (everyday carry) can sometimes be a daunting task, but with Grim credit card tools, that's not an issue.
Grim Workshop's credit card multi tool cards are cut from 1mm thin stainless steel, and snice its credit card size, it only occupies one slot of your wallet so that you can have it with you at all times without compromises. You don't have to remember to carry it, because it's always there. And there's never any bulk!
If carrying Grim's credit card multi tool cards in your pockets or wallet isn't your style, peel the adhesive backing off the tool's back and stick it onto any flat surface working like multi tool credit card stickers. It has a permanent adhesive on one side so it can be stuck to surfaces like box lids, outside, inside, or anywhere else you can think to put it for a quick access lock pick set.


How to Pick a lock
Simply insert your tension wrench into the key channel, and apply light pressure in the direction you would turn the key, insert your pick of choice, and once all pins inside the lock have been lifted your lock will open. You can grab Grim's TIP CARD #4 HOW TO PICK A LOCK or You can find many videos online that explain exactly how a pick works in detail if you need help understanding how it functions or have never used a pick set.