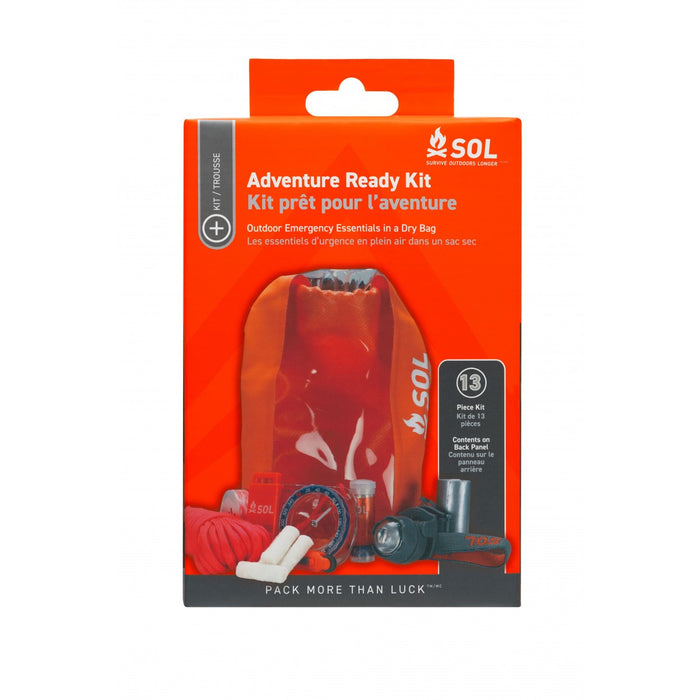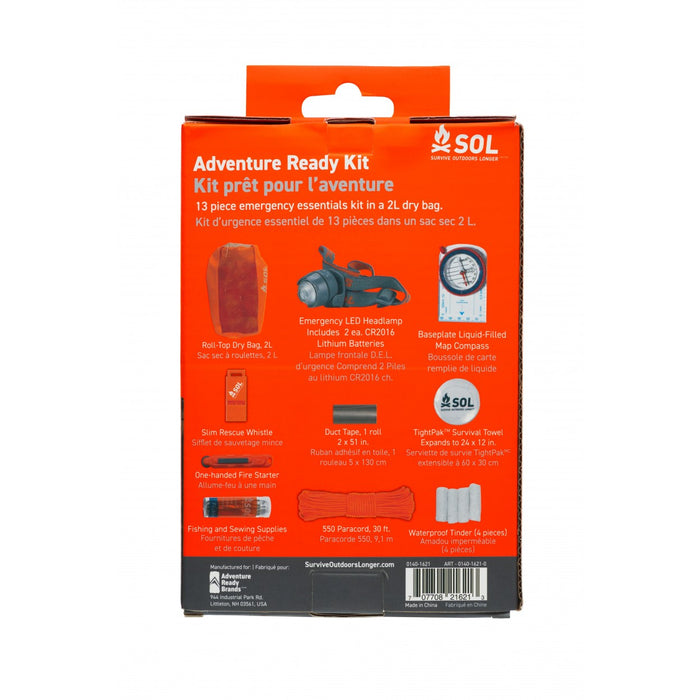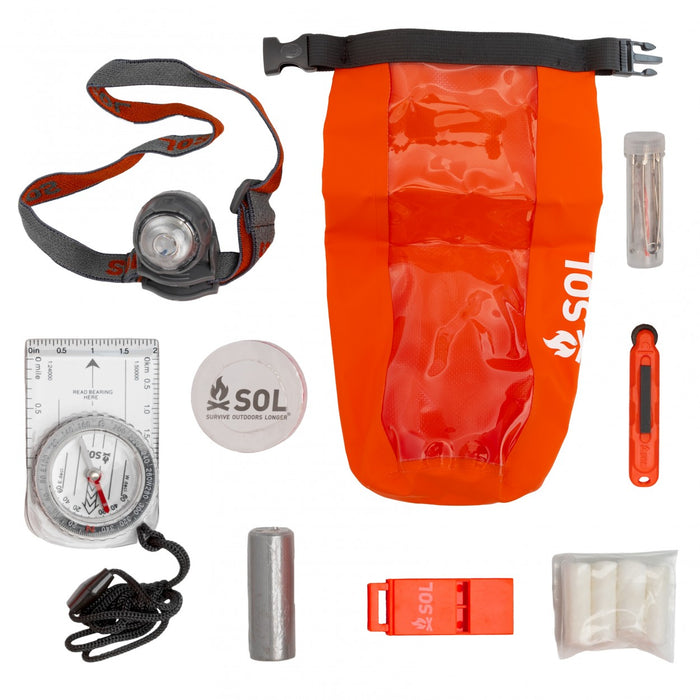 SOL Adventure Ready Survival Kit
Gear up for your next outdoor outing with the SOL Adventure Ready Kit with 13 survival essentials. Now you can always have your emergency essentials at your side. The 2L roll-top gear bag perfectly straps to a pack, kayak, canoe, or a paddleboard with the sturdy buckle or 550 paracord.  The high visibility orange and clear front panel ensures you can find your gear when you need it. When your adventure unexpectedly has you out past sundown, pull out the LED headlamp and liquid-filled compass to help guide you home. Dry and clean off with the SOL TightPak Towel. Start a fire to keep you warm with the Tinder Quik and Micro Sparker. Fix gear and gather food with the sewing-fishing tube kit and duct tape. Signal for help with the slim rescue whistle. Packed with 13 survival essentials, the SOL Adventure Ready Kit ensures you can confidently explore the outdoors.  
13-Piece Survival Essentials Kit – Gear up with survival essentials stored in a 2L roll-top dry bag.

2L Dry Bag – Durable roll-top dry bag keeps all your gear dry and easy to locate with a clear front panel.

Secure Your Gear – Attach dry bag to raft or pack with the secure buckle or 550 paracord.

Light Up the Night - Emergency LED headlamp for adventures after dark.

Stay Warm – Dry off with the SOL TightPak Towel and start a fire with fire-starting tools.

Fix Gear - Sewing-fishing kit and mini duct tape roll patch holes and fix gear.

Navigate to Safety – Baseplate liquid-filled map compass gives stable readings in the northern hemisphere.

Signal for Help – Slim rescue whistle alerts rescuers in an emergency.