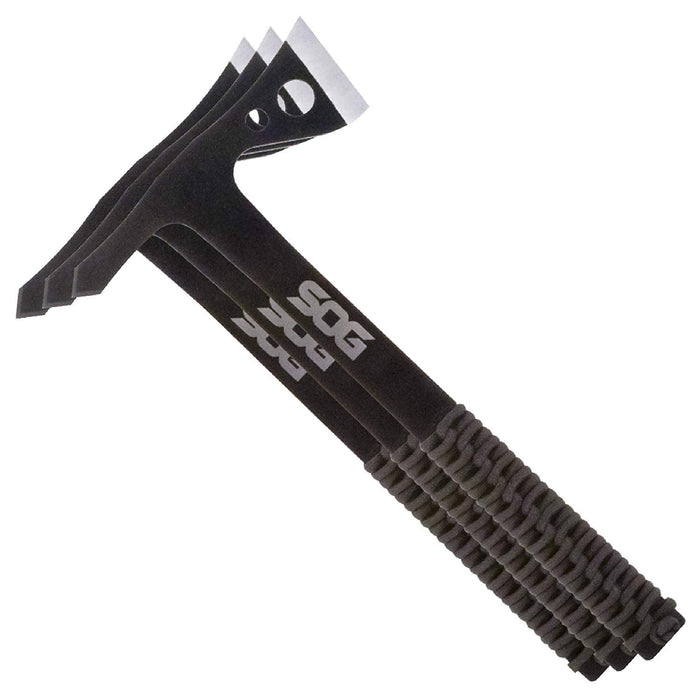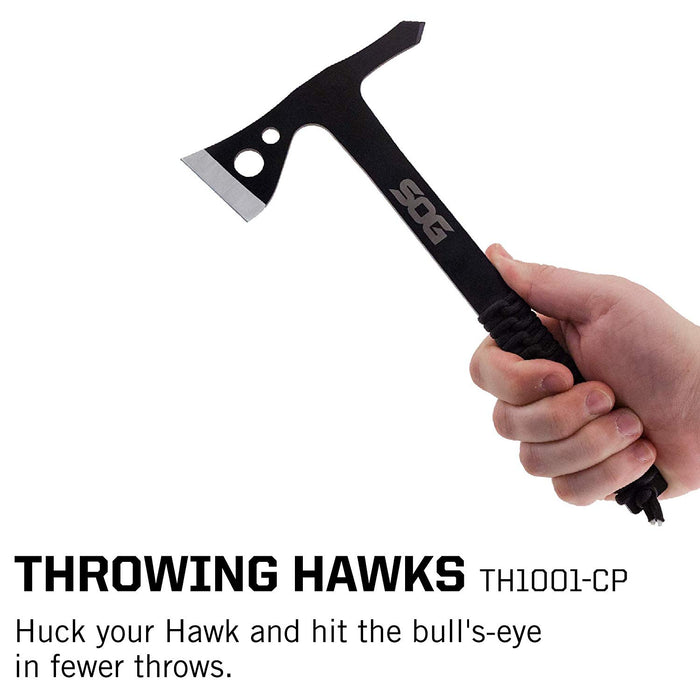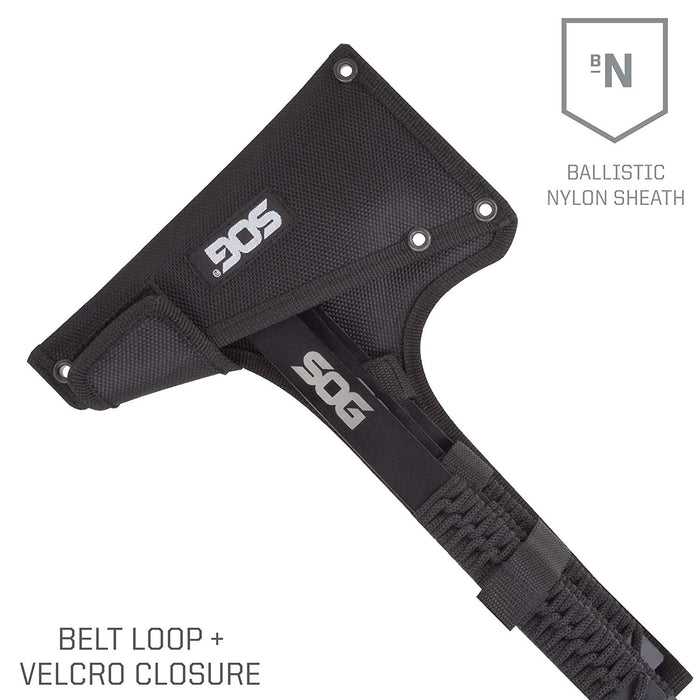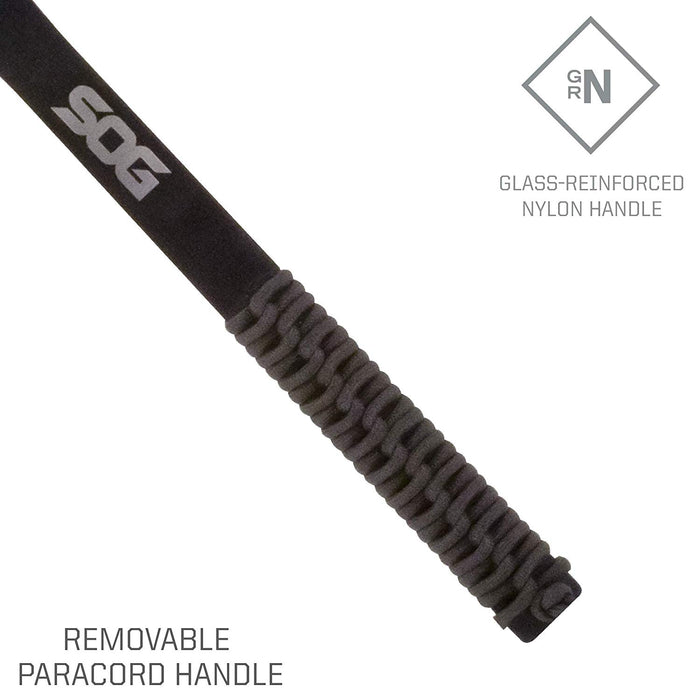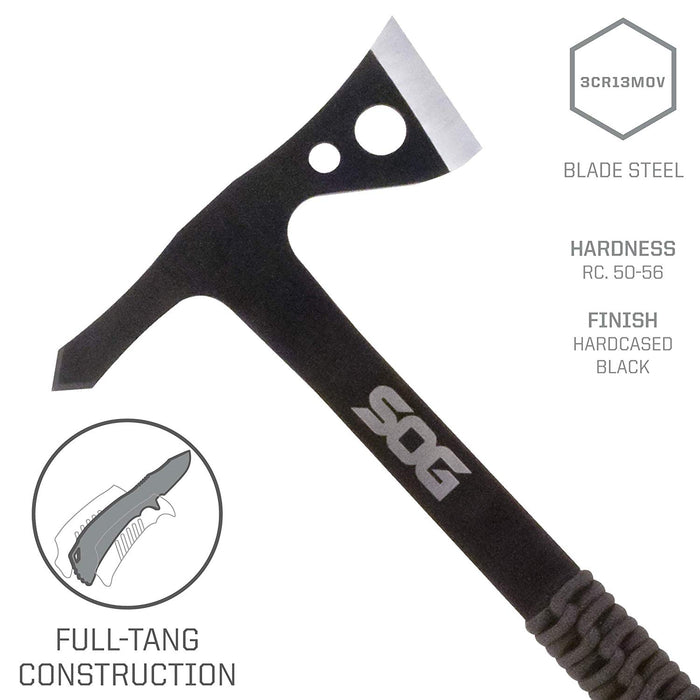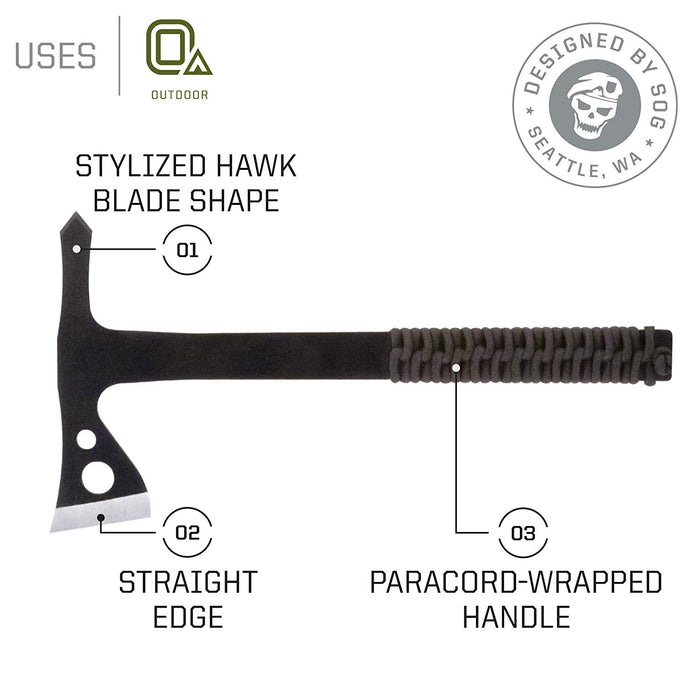 SOG Throwing Tomahawks (3 Pack) w/ Paracord Wrap
A One-Piece Well-Balanced Blade
All Throwing Styles Welcome
Trust SOG Throwing Hawks to stick the landing when your aim is true. SOG, based in Seattle, WA, created these throwing hatchets to deliver long-lasting frontier fun.
11.1" COMPACT TOMAHAWKS: Take your hawks camping, to parties and barbecues; way more fun than the usual yard games

SUPER-TOUGH STAINLESS STEEL: a hardcased black finish and one-piece construction is hard to beat (or break)

STICK IT EASY: Fine balance makes these hawks easy to stick; great for any throwing style, or no style at all

ONE SHEATH TO HOLD THEM ALL: Keep your Hawks sharp and easy to carry in the all-in-one ballistic nylon sheath

SOG COMMITMENT: Take care of your knives and we'll take care of you; SOG tools are built to last, and we're committed to making sure they do
BORN + BASED IN THE USA
SOG STRONG. SOG, short for MACV-SOG, is a U.S. tool and knife company founded in 1986 and named in honor of the Military Assistance Command, Vietnam - Studies and Observations Group, a spec ops outfit that valued quick, quiet solutions.
SOG SUPPORT. Our knives and tools are built to last, and we always stand ready to assist you when needed.
U.S. DESIGN + QUALITY CONTROL
SOG STEEL. Your SOG Throwing Hawks are crafted in 3Cr13MoV hardcased black finish stainless steel for added durability and corrosion resistance.
SOG BLADE SHAPE. Each Throwing Hawk is designed with an ultra-sharp 2.4" blade that bites deep on every throw. The beard drops low to provide a larger cutting edge that makes for easier throwing and sticking. Caution, however, is advised.