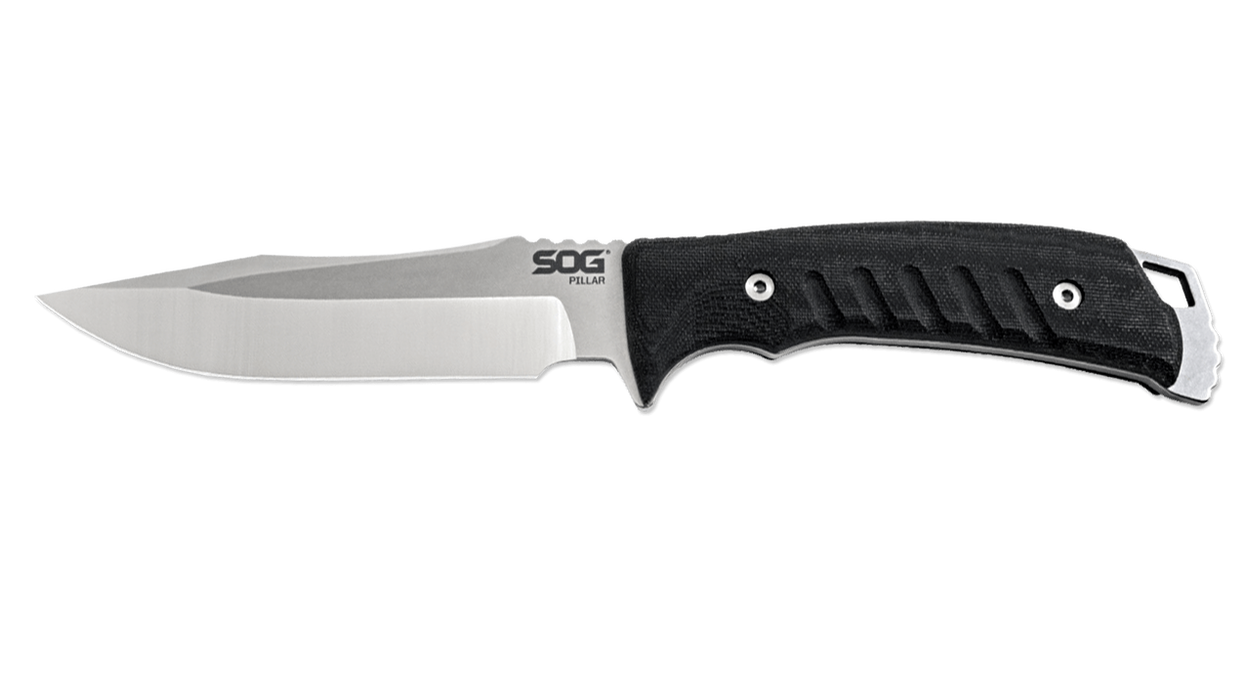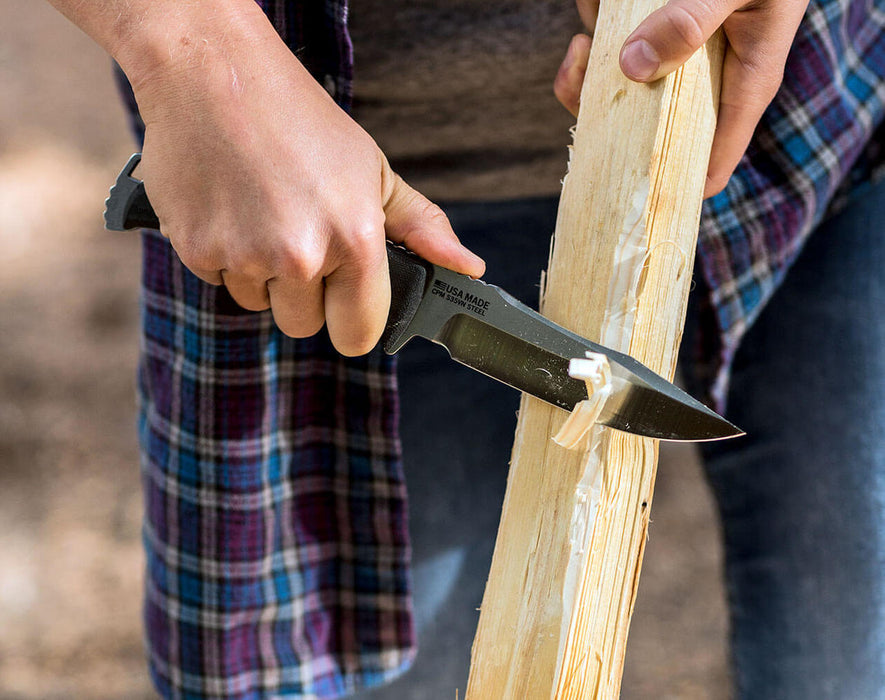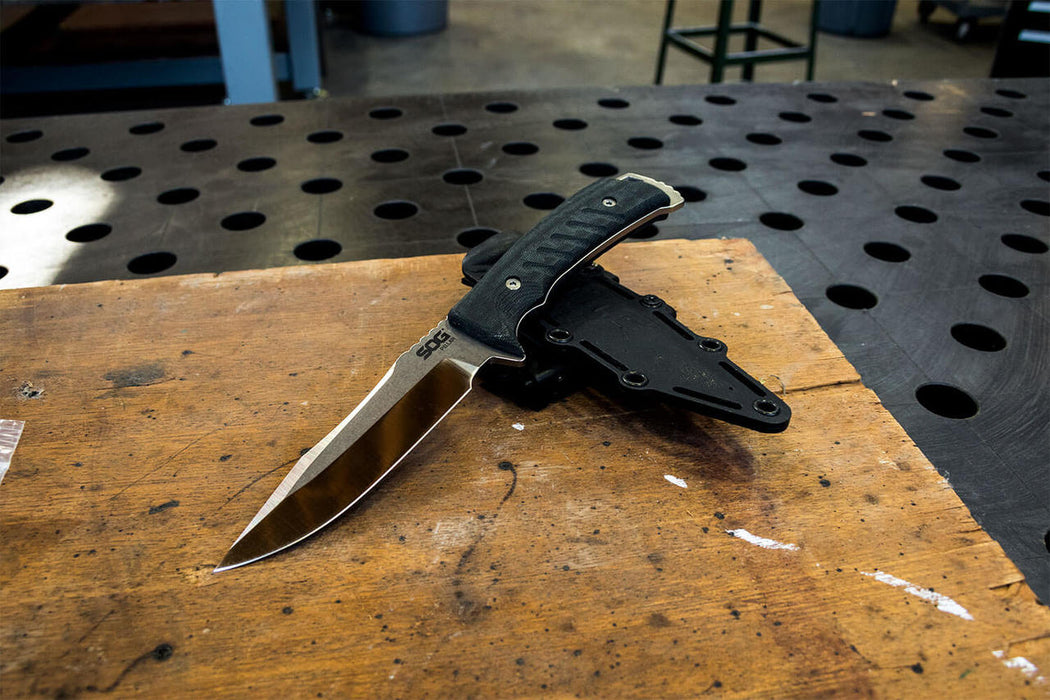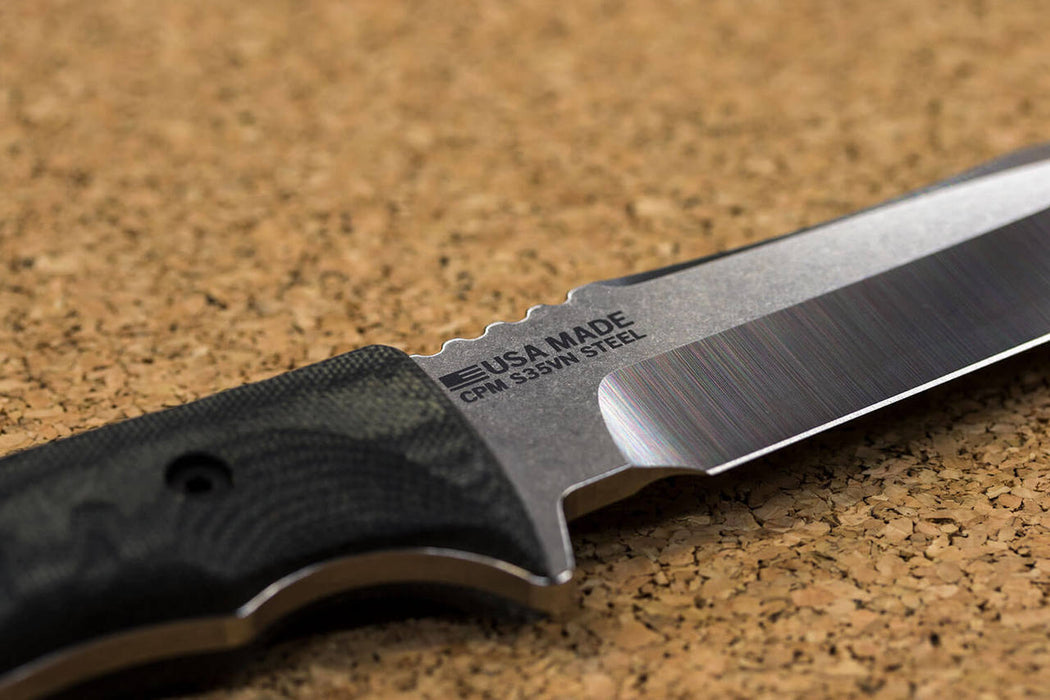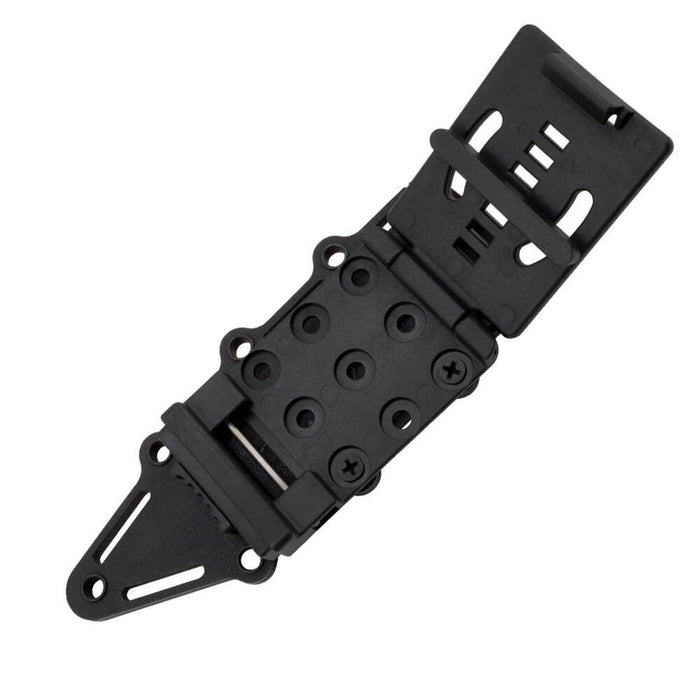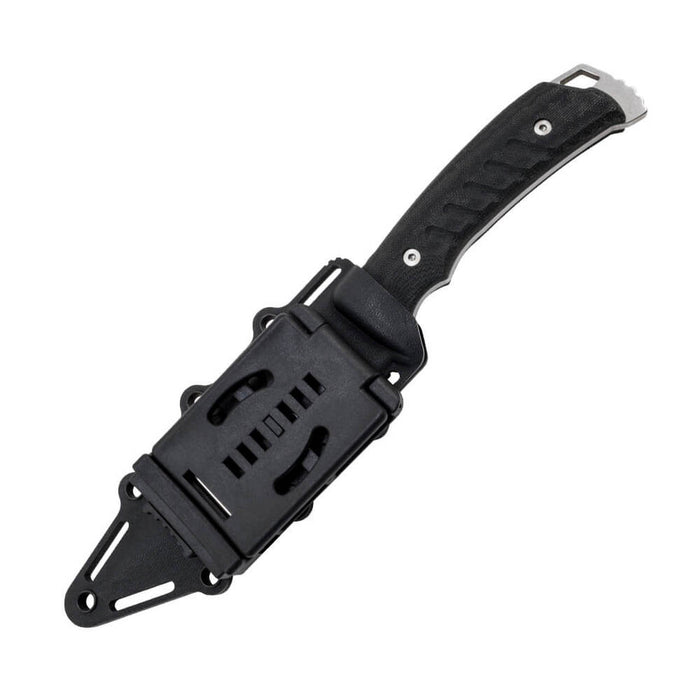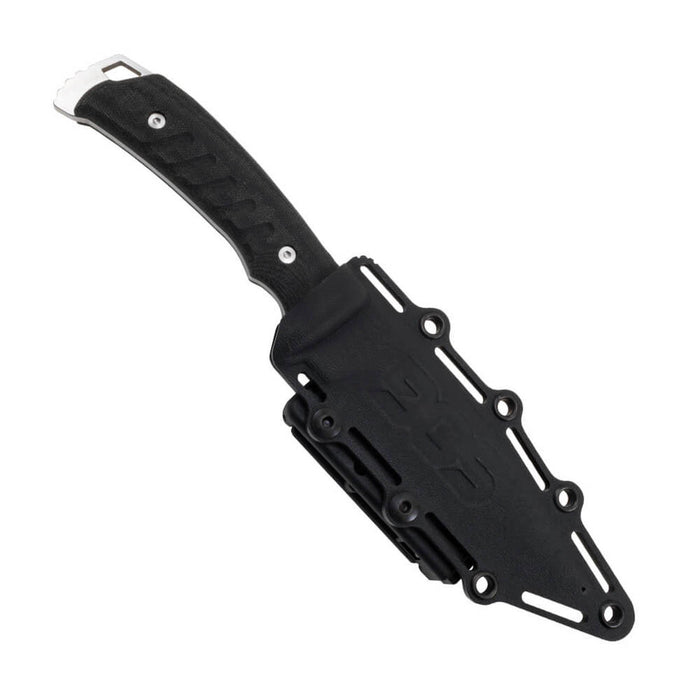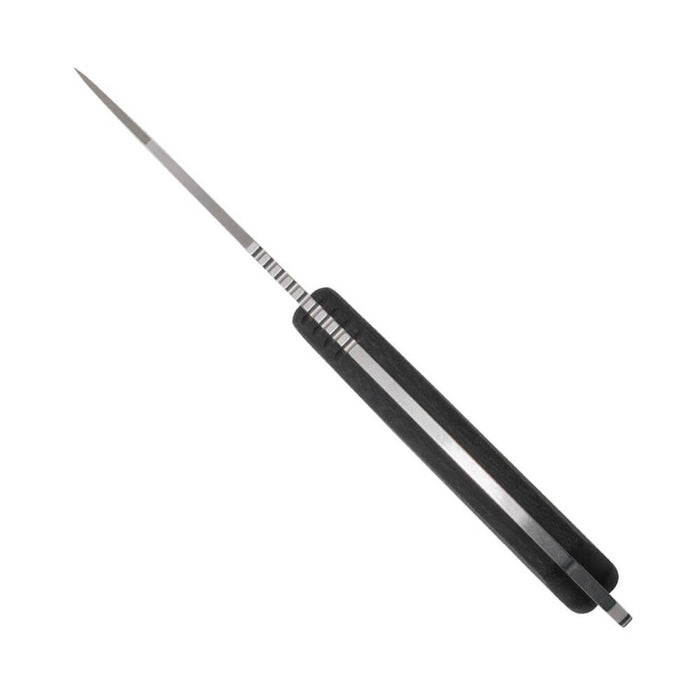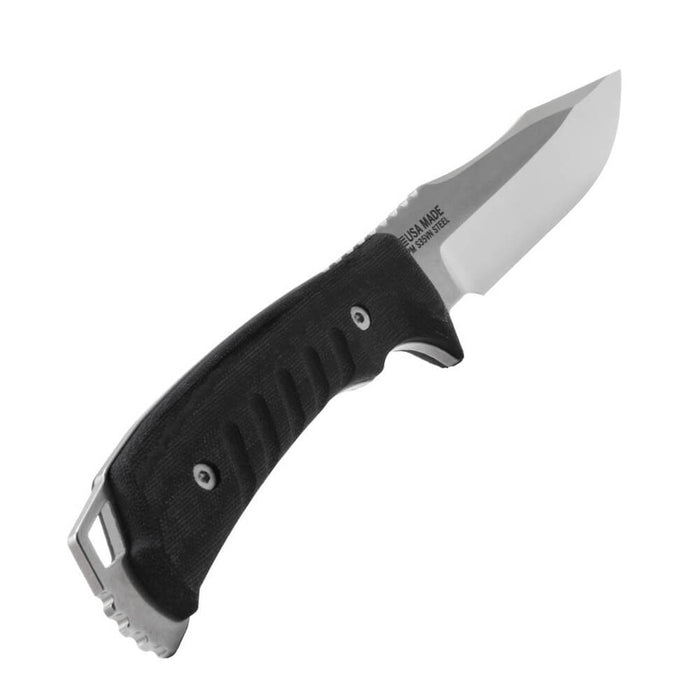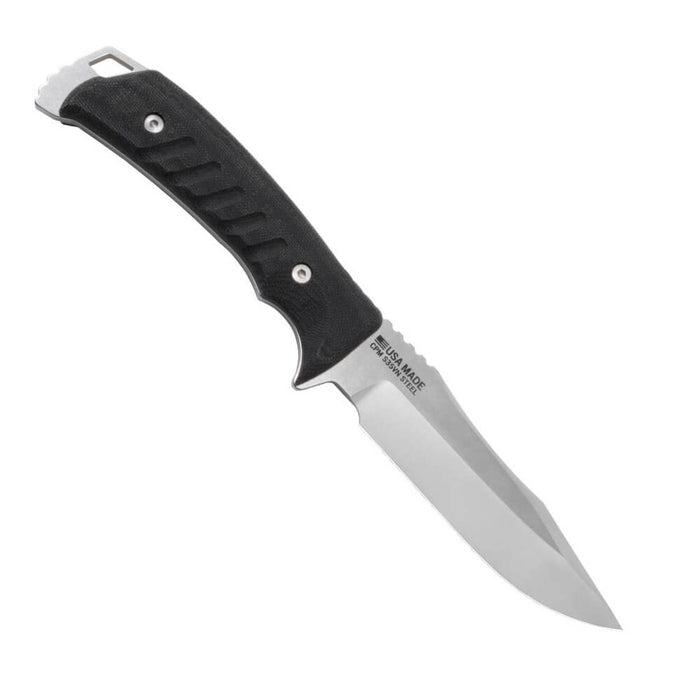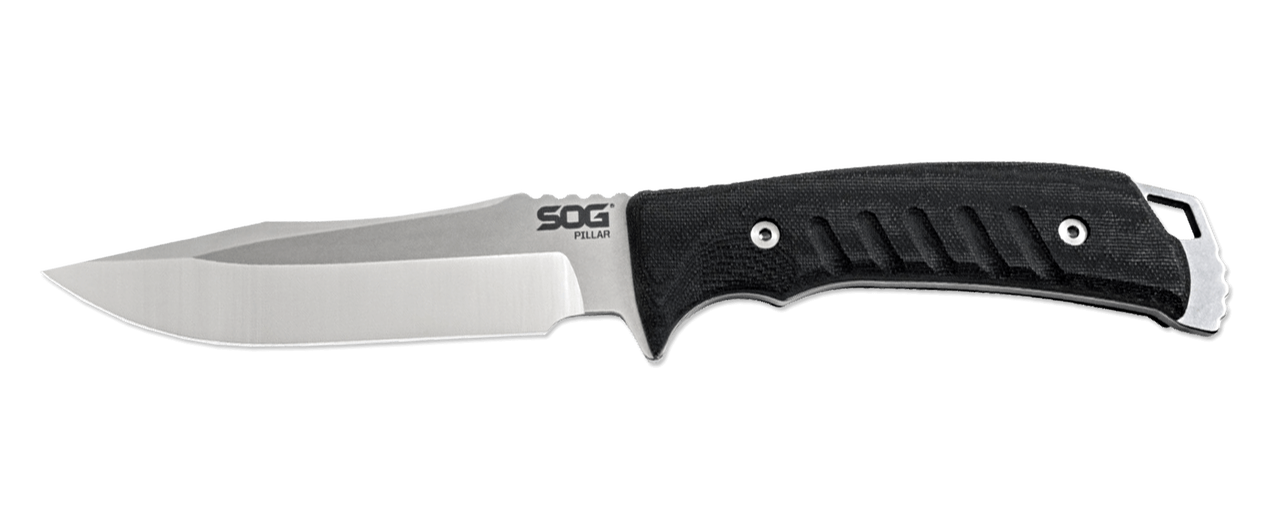 SOG Pillar Satin S35VN w/ Kydex Sheath
Based around superior CPM S35VN steel, SOG's USA produced knives offer improved toughness, better edge retention, higher resistance to wear and edge chipping while maintaining ease of sharpening. The USA-made Pillar is fully-equipped with a full tang CPM S35VN steel blade with a stone wash and machine ground finish, canvas Micarta handle, and Kydex sheath with an adjustable low-profile, locking mount. This workhorse fixed blade is built to handle any task. The canvas Micarta handle offers superior grip in wet or dry conditions and looks better the more it is used. Combining all these features with a versatile Kydex sheath make it a perfect choice for your carry.
There's Nothing Like American-Made Steel
It's Meaner Than Other Metal
Trust the SOG Pillar to give whole new meaning to the phrase Made in the USA. SOG, based in Seattle, WA, created this knife with American-smelted steel to be the best fixed blade you've ever owned.
SUPPORT U.S. CRAFTSMANSHIP: Pay for a Pillar and you give back more than you get, which is a flawless American fixed blade knife

5" CPM S35VN STAINLESS STEEL BLADE: The Pillar's full tang packs punch into a 7.3 oz. knife that measures 9.9" from point to glass-breaking butt

CANVAS MICARTA HANDLE: Micarta, originally developed in early 1900s, is a linen composite that gets better the more your grip it

VERSATILE KYDEX SHEATH: Carry it anywhere you want in any way you like with this adjustable low-profile locking mount

SOG COMMITMENT: Take care of your knives and we'll take care of you; SOG tools are built to last, and we're committed to making sure they do
Close Shave: Expert jimping, a Micarta handle and generous finger choil provide leverage for any task.
BORN + BASED IN THE USA
SOG STRONG. SOG, short for MACV-SOG, is a U.S. tool and knife company founded in 1986 and named in honor of the Military Assistance Command, Vietnam - Studies and Observations Group, a spec ops outfit that valued quick, quiet solutions.
SOG SUPPORT. Our knives and tools are built to last, and we always stand ready to assist you when needed.
U.S. DESIGN + QUALITY CONTROL
SOG STEEL. Your SOG Pillar is made in the USA with American-smelted CPM S35VN stainless steel. It ranks among the strongest in the world due to rebalanced vanadium and niobium carbides that dramatically boost corrosion resistance, edge retention and overall toughness.
SOG STRAIGHT EDGE. The Pillar features a stone-washed straight-edge blade with a machine-ground satin finish. Its unique clip-point design moves the point closer to the center line for better piercing-style cuts.
CONTENTS
SOG Pillar Fixed Blade Knife (UF1001-BX)

Tek-Lok Compatible Kydex Sheath