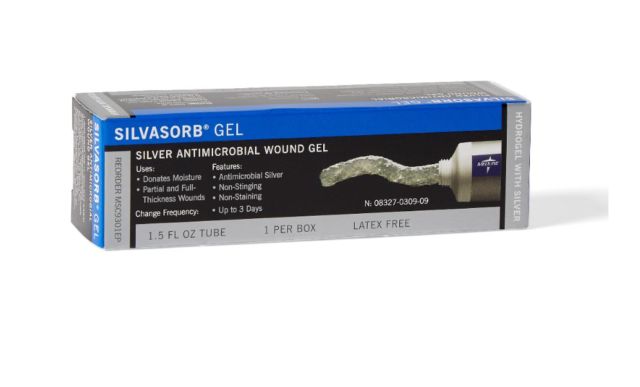 Silver Antimicrobial Wound Gel
Medline Silvasorb - Hydrogel Silver Antimicrobial Wound Gel is a wound dressing for lightly draining wounds that are in need of an antimicrobial barrier. Silvasorb harnesses the power of ionic silver. This wound gel releases silver at a controlled level for broad spectrum antimicrobial action, without harming tissue cells. The ionic silver is suspended in the Silvasorb gel to control its release for up to three days. Silvasorb gel creates an ideal moist wound healing environment by absorbing moisture. This non-stinging, non-staining formula. Silvasorb will not harm new granulation tissue. 
Ideal for use with pressure injuries, partial and full-thickness wounds, leg ulcers, diabetic foot ulcers, graft wounds and donor sites, skin tears, surgical wounds, lacerations and abrasions, and first and second-degree burns. This hydrogel dressing offers antimicrobial protection over abroad spectrum of bacteria and fungi, including MRSA and VRE. Silvasorb works well for both partial and full thickness wounds. Tube Size : 0.25 oz, 1 1/2 oz, 3 oz.
Dressing change frequency will depend on amount of drainage. For specific changing instructions please verify with your physician.
Not recommended for people who have a sensitivity to silver. 
Case prices are available through our customer service. To order by the case, please call 800-633-2139.
Medline Silvasorb - Hydrogel Silver Antimicrobial Wound Gel Features:
Latex-free
Effective for up to 3 days
Tube Size : 0.25 oz, 1 1/2 oz, 3 oz.
For partial and full thickness wounds
Non-Stinging and Non Staining wound healing gel
Antimicrobial Silvasorb wound gel with ionic silver
SPECIFICATIONS
| | |
| --- | --- |
| Dressing Change Frequency/Use | Max: 3 Day: As Needed |
| Dressing Type | Gel |
| HPIS Code | 740_150_0_0 |
| Latex Free | Yes |
| Primary or Secondary Dressing | Primary Dress |
| Size Ounces | 1.5 oz, 0.25 oz, 3 oz, 8 oz |
| Sterile | No |
| UNSPSC | 42311504 |
| Wound Condition Type | Shallow/Deep,All Drainage Type |