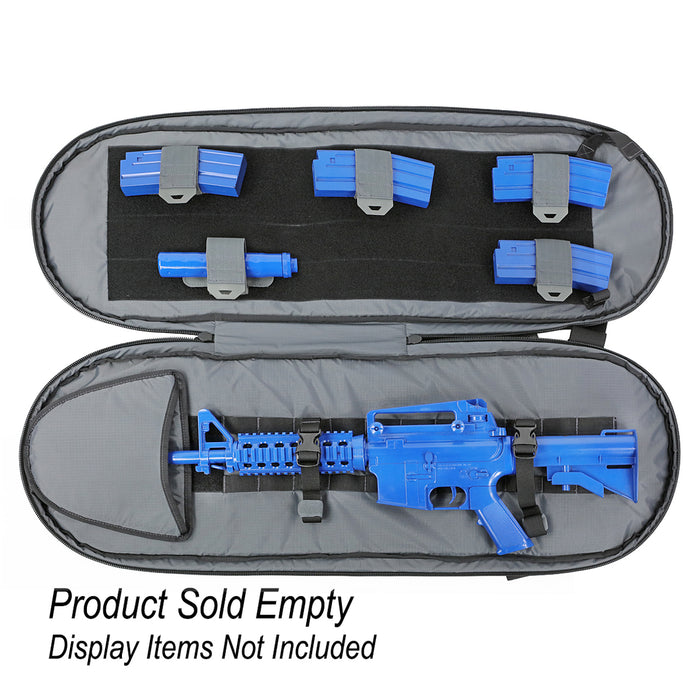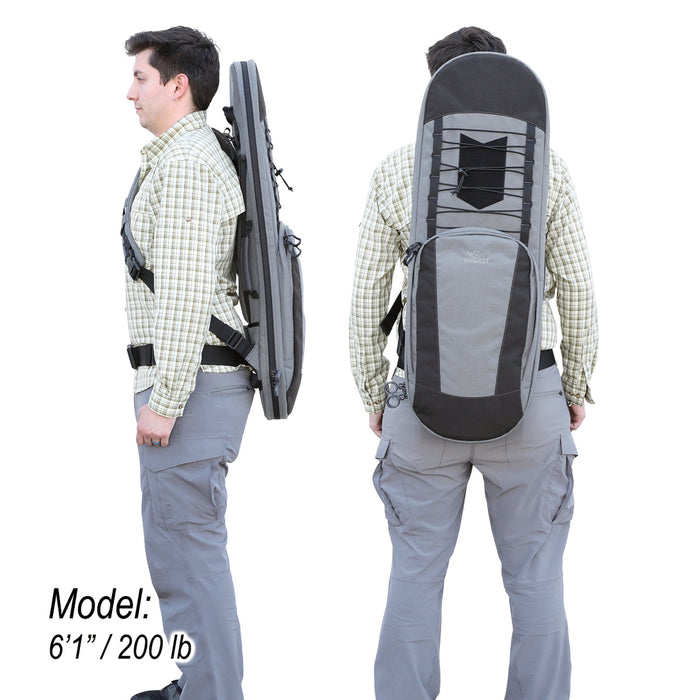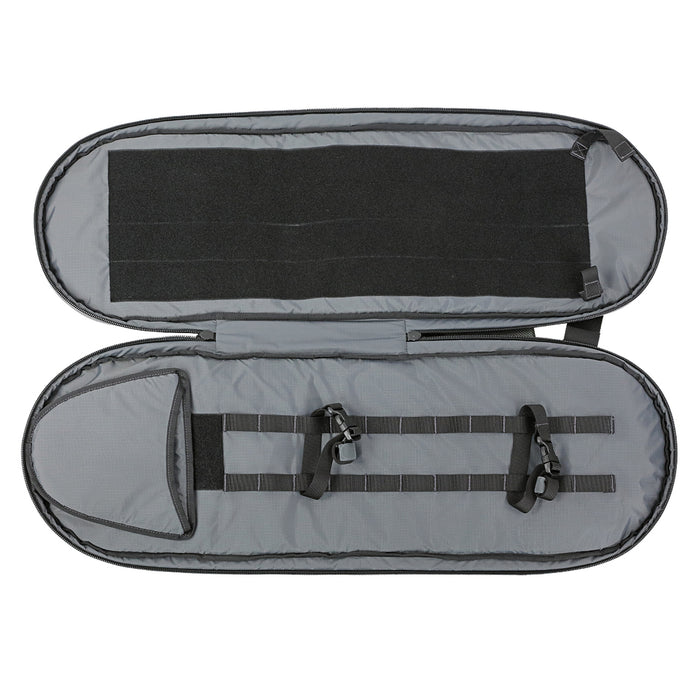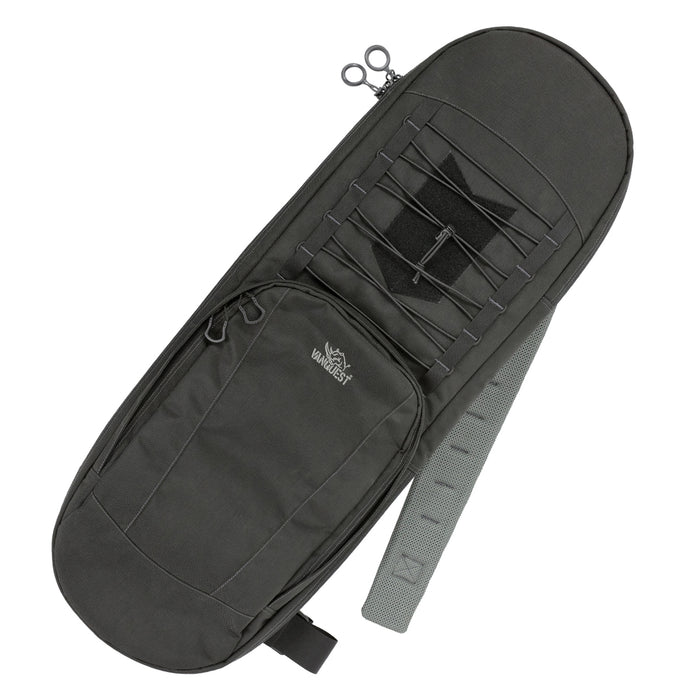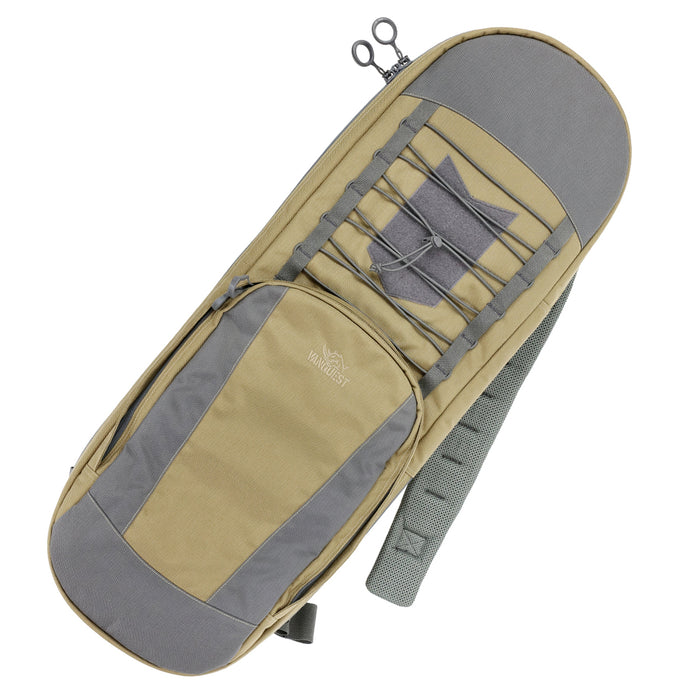 RACKIT-36 (Gen-2) Covert Rifle Pack
Description
New Features: (1) 0.5" longer internal space. (2) More loop-faced MOLLE-Air attachment area in the front pocket. (3) More loop attachment area in the main compartment*
Designed for covert operations and urban settings, the RACKIT-36 (Gen-2) covert rifle pack provides discreet and secure transportation of your carbine with a rapid deployment capability.
Unlike any other sling-type rifle packs, the RACKIT-36's shoulder strap is fully adjustable for both right- and left-shoulder-carry. Supported by a removable waist strap, the RACKIT-36 gives you full range of motion with ultimate comfort.
Our FASTab™ system gives you lightning-fast access and deployment: Simply sling the pack to your front and pull the FASTab™ to quickly open and grab your gear.
The padded main compartment (36" x 2" x 12") is made of ultra-durable 1,000-D Cordura® with Teflon® coating, and lockable #10 YKK zippers with military-grade ITW ZipLine loop-pulls to protect your rifle from outside elements. Inside, a large (27.75" x 9.5") hook and loop field provides extra space for modular accessories. Dual retention straps with an 11-position fastening system and adjustable muzzle cup tightly secures many different arms (carbine, SBR, Bullpup, etc)*
A large front pocket (19" x 2" x 12") with a loop faced MOLLE-Air panel for attaching either traditional PALS/MOLLE or hook and loop vital accessories** such as magazines, holsters, optics, and medical/field/cleaning kits. The optional CCW Holster, CCW-Plus-Mag and Double Mag Holder can be used for handgun and/or magazine carry. Additional roll-down ID loop panel and zipper pocket display and store any documents or patches you may carry.
Also as a bonus, the padding significantly reduces the "print" or "profile" of your rifle and magazines stored in the RACKIT.
Available in Black, Wolf Gray + Black trim, and Coyote Tan + Wolf Gray trim, the RACKIT-36 is the ultimate covert rifle pack for you to load up, put on, and blend in.
*Main compartment fits: 
M4 Carbine w/ 14" barrel, 31" OL
M4 Carbine w/ 16" barrel & A2 style flash hider (1.75"), 32.5" OL
M4 SBR w/ 10.5" barrel, 26.75" OL / AR15 Pistols – 7.5" and 10.5" barrels
M4 Carbine 16" barrel w/ aftermarket 3" flash hider, 33.75" OL (tight fit)
Steyr Aug bullpup w/ 16" barrel, 28.25" OL
IWI Tavor bullpup w/ 16" barrel, 27" OL, 11" height w/ optic.
FNH SCAR MK16 CQC w/ 10" barrel (31" OL, extended stock), w/ 14" barrel (35" OL, extended stock)
FNH MK 17 CQC w/ 10" barrel (35" OL extended stock), FNH PDW 6.75" barrel (25" OL, extended stock)
HK G36K 12.5" barrel (w/ folding stock closed 24.25", open 39")
HK G36C 9" barrel (w/ folding stock closed 20.0", open 28.5")
HK 417 w/ 12" barrel, OL 32" closed stock, 35" open stock (16" barrel, OL 35.6" possible tight fit)
HK 416 w/ 10.3" barrel (OL 27.6"), 14.5" barrel (31.65"), 16.5" (33.6") barrel (stock collapsed)
HK MP5-series (all models including MP5-SD), UMP & MP7A1
Kel-Tec SUB-2000, SU-16A & B (closed), SU16C, SU16CA (closed), SU-22, RFB Carbine, KSG shotgun.
Kriss Vector Carbine 45ACP (OL open 34.8", closed 26.5") Height 7", SBR & SMG model (24.3" open)
UTAS UTS-15 Shotgun (28.3" OL), Saiga-12S & Saiga 12-K (32.3" stock folded)
Mossberg 500 (most 18.5" barrel) – Thunder Ranch, 500 JIC, Chainsaw, Rolling Thunder, Road Blocker, Blackwater
Remington 870 Express Pistol Grip models (30" OL)
"OL" = Overall Length
**Front pocket fits up to 12 30-rd mags (double stacked)
Specs & Features
NEW: Loop faced MOLLE-Air panel for MOLLE/PALS or hook and loop accessory attachment
NEW: Large loop field in main compartment for accessories
NEW: Spartan molded zipper pulls with secure grip
NEW: Hypalon webbing
Net Weight: 3.75 pounds | 1700 grams
Main Compartment: 36" (W) x 2" (H) x 12" (D)
Front Compartment: 19" (W) x 2" (H) x 12" (D)
Ambidextrous design for left or right shoulder carry
Adjustable & removable shoulder strap with comfortable padding
Removable 2" wide waist strap, adjustable for height with lumbar pad
Dual retention straps with 11 positions for securing items
Padded muzzle cup, adjustable for position
Two FASTabs with hook-and-loop retention for quick opening
Fully padded main compartments prevents 'printing'
Flag/ID patch holder on exterior front and inside front compartment
*Optional CCW Holster, CCW-Plus-Mag & Double Mag Holder available (not included)
Materials:1,000-D Mil-grade Cordura® fabric with Durable Water Repellent (DWR) fabric protector
High-visibility, lightweight & moisture resistant 210-D Ripstop nylon interior.
Durable, abrasion resistant & lockable RC-Class #10 YKK® zippers, reversed for protection.
Mil-grade UTX-DURAFLEX® hardware made from high tensile strength Acetal (Delrin®) polymer.
Circular zipper loop (Zipline Orbit) made by ITW-Nexus
Neoprene rubber padded grab handles for extra comfort
High tensile strength nylon webbings and binding tapes
Finished with high tensile strength bonded nylon thread