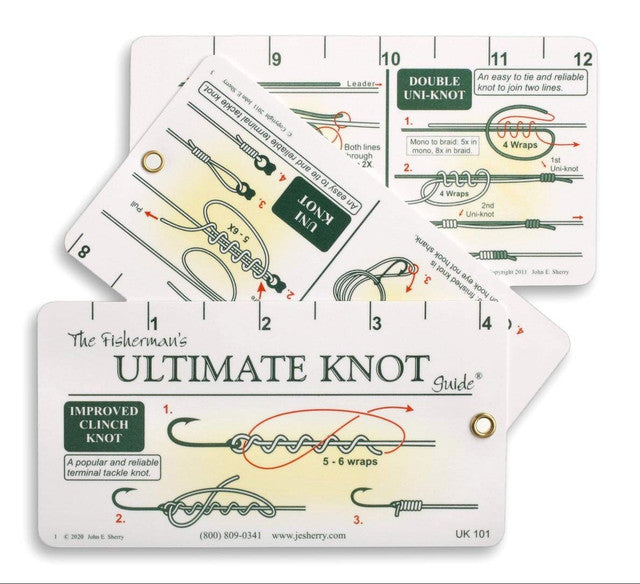 Fisherman's Ultimate Knot Guide
America's favorite fishing knot reference with over 350,000 sold! This Fisherman's Ultimate Knot Guide will serve you well whether you are a beginner to the sport of fishing or you would just like to have a portable how-to guide with you while out on the water. And being completely waterproof solid plastic means you can take them with you anywhere without worry - even in saltwater fishing. Plus, the handy fold-out twelve inch ruler feature can help settle arguments as to who's fish was bigger!
This 3 card set is easy to understand with clear illustrations for the ten best knots for fishing. If it's on this card, it is a proven and trusted fishing knot! There are easy to follow simple step-by-step instructions for joining lines, tying lines to hooks, flies, etc., making loop knots and tying leader knots - every knot you need for a great day of fishing. Waterproof plastic cards attached with no-rust brass grommets. 10 most trusted fishing knots with easy to follow instructions. Portable, pocket size: 4¼ x 2¼ x 1/8 inch and durable solid plastic design. Most popular fishing knot reference in history.A great fisherman gift idea!
The ten best fishing knots include: Improved Clinch Knot, Palomar Knot, Uni Knot, Surgeons Knot, Double Uni Knot, Nail Knot, Surgeons End Loop, Dropper Loop, Blood Knot and Perfection Loop. Every angler should have a set of these little fishing knot cards in their tackle box!