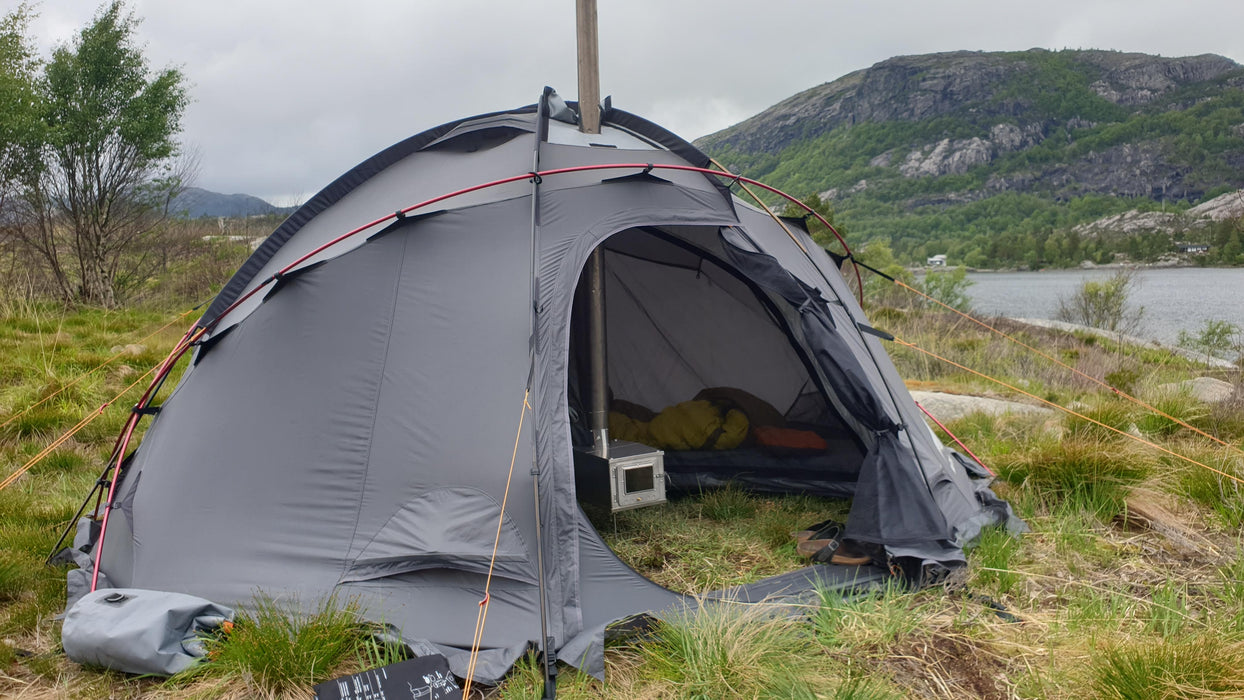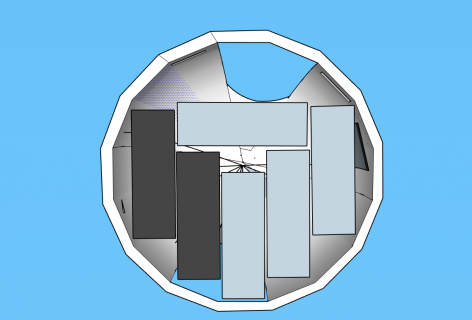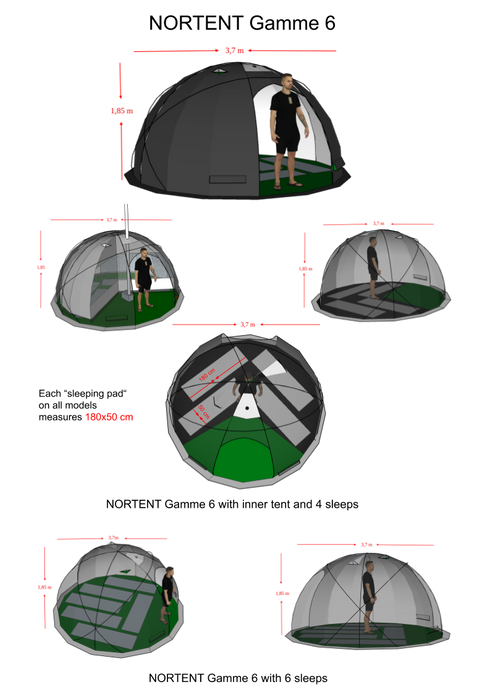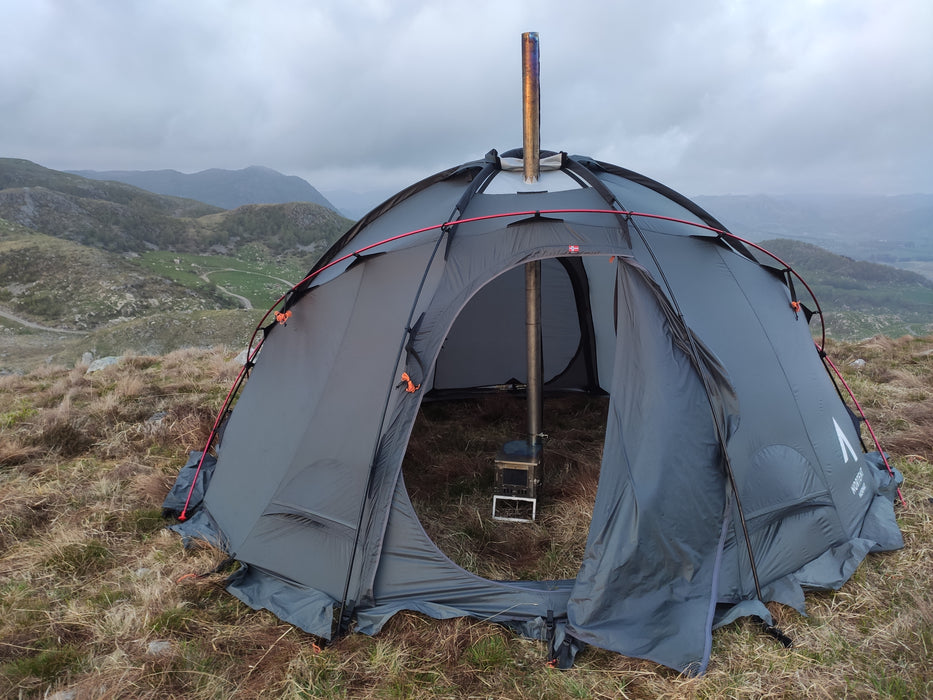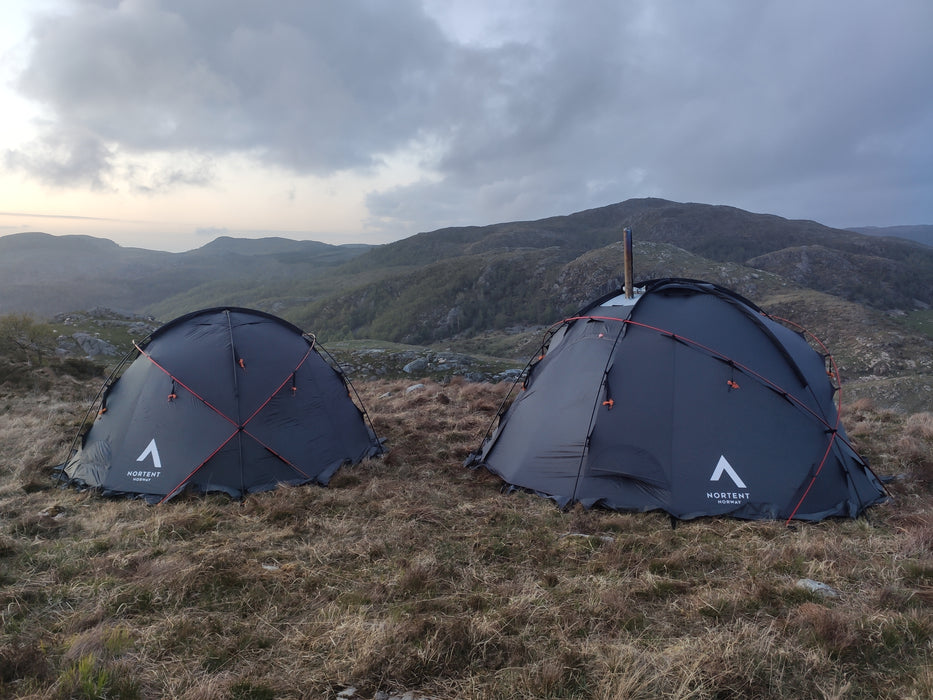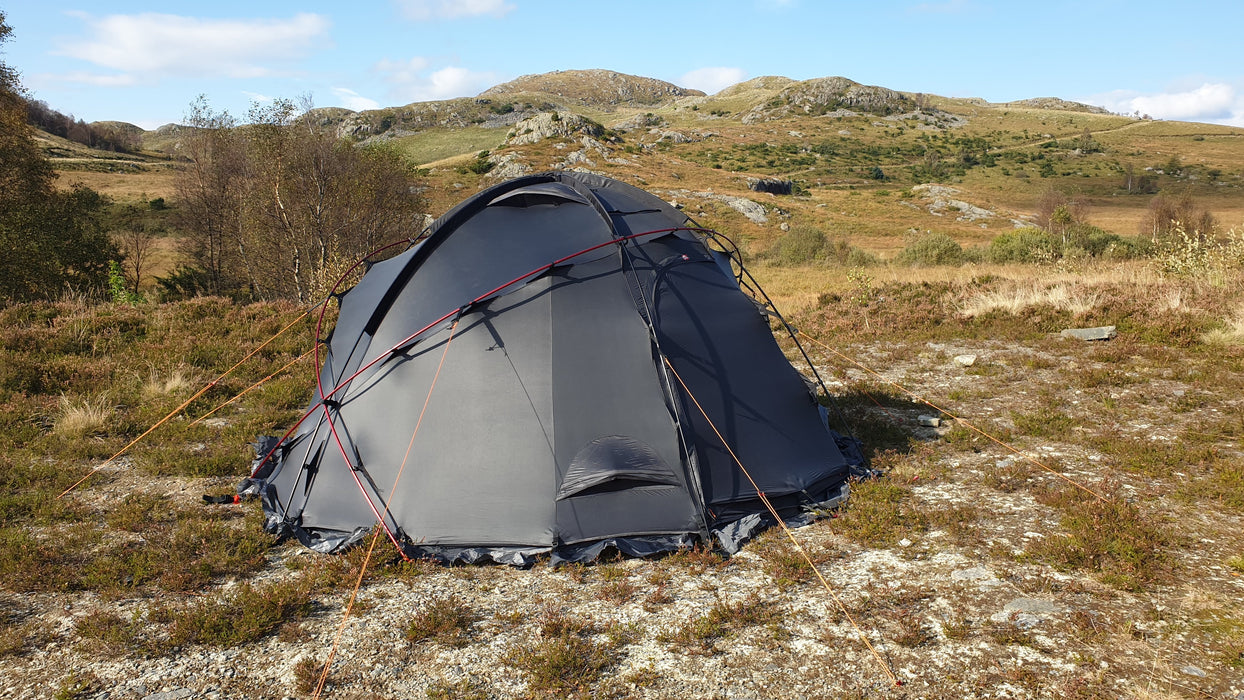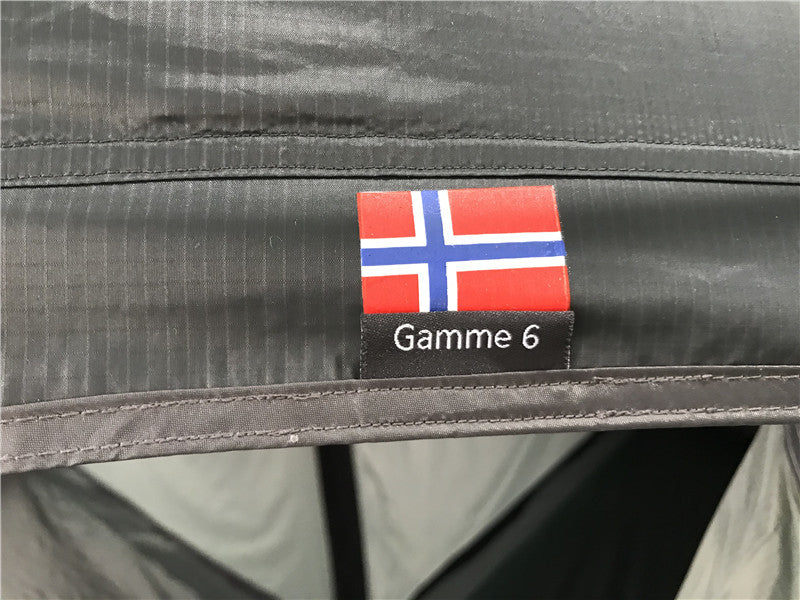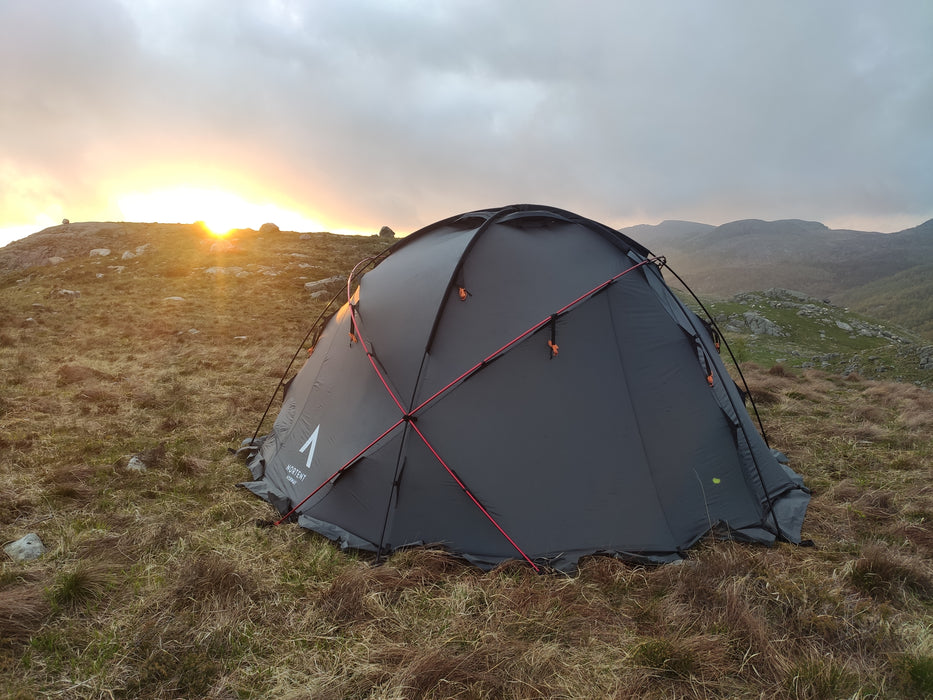 NorTent Gamme 6 - Winter Hot Tent for 6 People
*Designed in Norway/ imported to North America (our price difference with manufacturer is based on high import fees associated with this item, you only pay a fraction of that cost at our price). 

*Price includes Floor and Ground Stakes / Does not include the inner tent (Gamme 6 Inner Tent sold separately)
Specifications:
4 seasons
Capacity:

 

6 persons, 4 persons with inner tent
Flysheet:

 

Ripstop silnylon 70D, 260T, 3000mm
Plugs/ stakes:

 

24 aluminium Y-peg
Guylines: 10
Weight:

 

Tent with stakes and poles: 7,6 kg
Hight: 185 cm
Diameter: 370 cm
NorTent Gamme 6 is a spacious and solid tent. A big "home" for 6 people with 2 entrances. When using the inner tent, there is room for 4 people with space for luggage. Gamme 6 is designed for the most inhospitable conditions. Spacious but at the same time mobile and light in relation to what this tent has to offer. Gamme 6 has a total of 5 poles that crosses at seven different points. In addition to the fact that this tent is free-standing with five aluminum poles, Provides a hugely strong construction that can withstand severe weather and heavy snow-load. A "cabin" to carry in the bag.  Our inspiration for this tent comes in fact from an ancient Norwegian form of a hut. The Gamme has been used since the first people came to Norway and used by the Sami until today. The Gamme gave shelter and security to the indigenous people over centuries. Like all our tents, it also has storm-flaps all around the tent to make the tent even more stable with snow, sand or stones over the flaps. A 4-season tent that provides shelter and protection in most conditions - summer and winter. Even without the guylines, the tent stands firmly in the wind. But when needed, the tent has a total of 10 guylines. A truly versatile 6 man tent for the vast majority of adventures and expeditions.
Although Gamme 6 is a spacious tent with a height of 185 cm and a diameter of 370 cm, the weight is only 7,6 kg. Not an ultralight tent. But light compared to size and construction. This because of the flysheet which consists of ripstop nylon coated with silicone on both sides. This combination provides an exceptionally light yet robust and strong fabric. We could of course make the tent even lighter with thinner aluminum poles and a thinner flysheet. But would compromise what we want to achieve in relation to stability and strength.
Although this is a spacious tent with sleeps for 6 people, the tent is quickly and easily to set up if you are alone, even in bad weather. If you choose the inner-tent (purchased separately) this can be fitted together with the tent itself and carried mounted in the backpack. However, if one wishes to carry inner tent and outer tent separately to distribute weight and space, this can easily be dismantled / mounted and carried separately in separate backpacks. An important design-detail to notice is that we have designed the poles on the outside of the tent where the poles carry the outer tent, not the inner tent as with many other tents. This means that the outer tent can be set up without an inner tent and consequently also set up before the inner tent if these are separated. We believe it is important to mount the inner tent in the shelter of rain and wind.
We know when leaving for an adventure, you have a lot of gear packed down. Equipment that one needs to keep track of. This is why we have equipped the inner tent (which is purchased separately) with 4 pockets that should be able to hold and keep track of most of your small gear. In addition, it's possible to hang up cords and lanterns in both the inner tent and the tent itself.
The flysheet is 100% waterproof, but like every other quality tent with this type of fabric, the seams have to be lubricated with a special mix of silicon to become fully waterproof. But a sealed tent isn't a perfect tent. It has to have good ventilation as well. Circulation of air inside the tent is essential. Without circulation, you will experience condensation on the inside of the outer tent. Ventilation is a key factor to avoid condensation. This is why the Gamme 6 is equipped with a total of 6 air-valves. 4 in the top of the tent where moist air is able to escape out of the tent, and 2 large air vents further down the tent for suction of air into the tent while providing plenty of oxygen if using a stove. All exposed areas on the outer fabric are reinforced with Dyneema fabric, considered the worlds strongest fabric. It is therefore perfectly appropriate that we have added this fabric to our tents.
For cold days, you may seal the doors in the inner tent completely (If you have an inner tent) For hot days you can open them, but still and at the same time have sealed mosquito nets that protect against insects. In addition, you will find mosquito nets in both entrances of the outer tent.
Gamme 6 is designed, thought and designed around a stove. Being able to have a warm, pleasant, and cozy tent is something we believe lifts adventure to completely new levels. While the storm rages outside with ice-cold winds and rain, one can enjoy indescribable comfort inside the tent with 20-30 degrees Celcius.