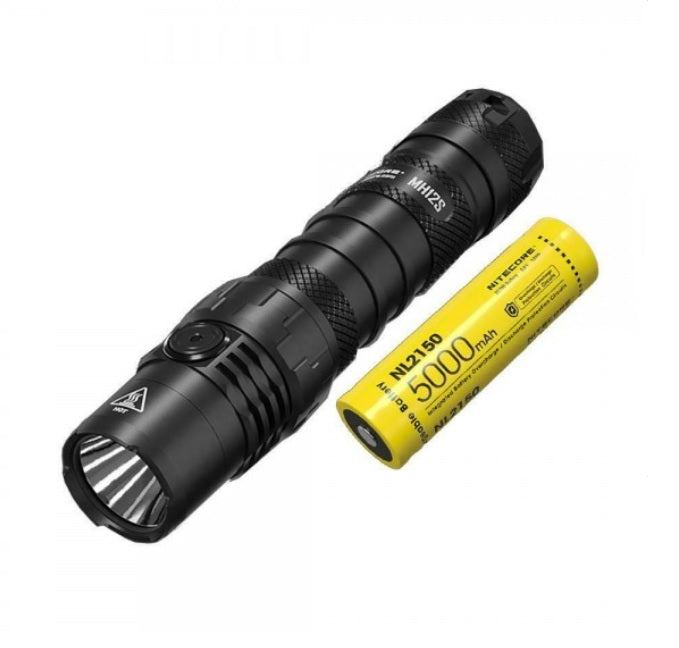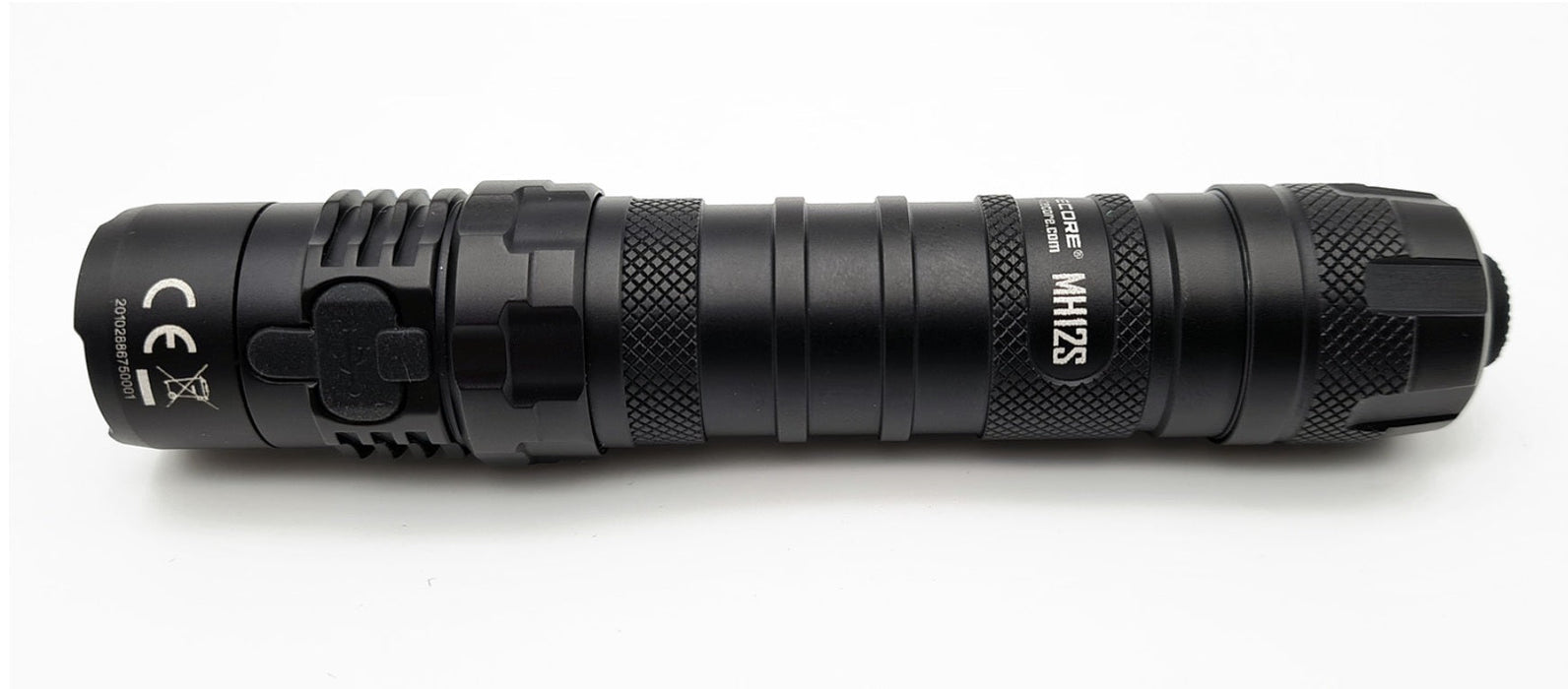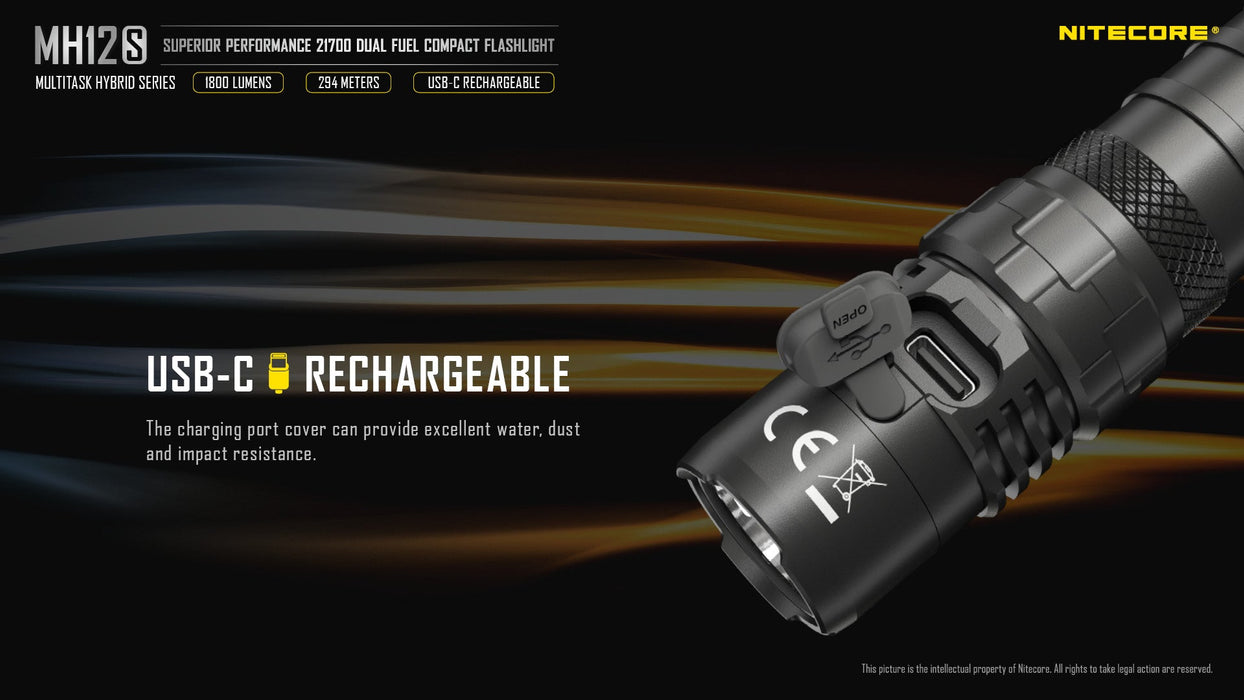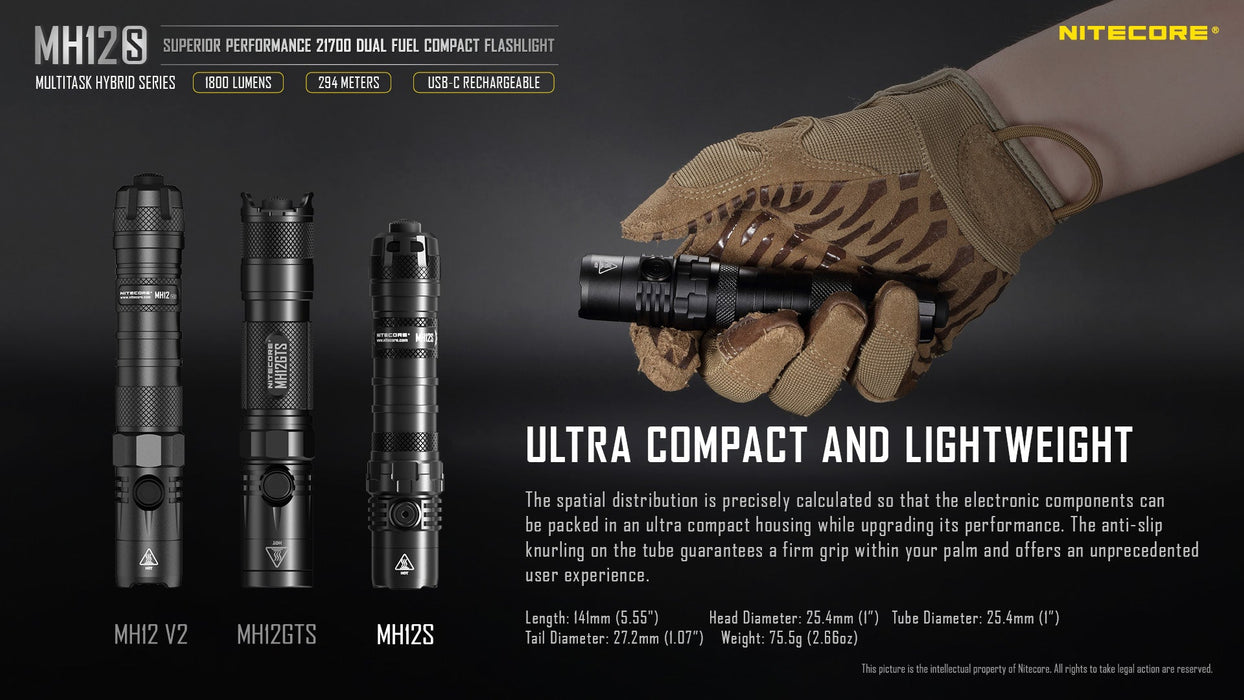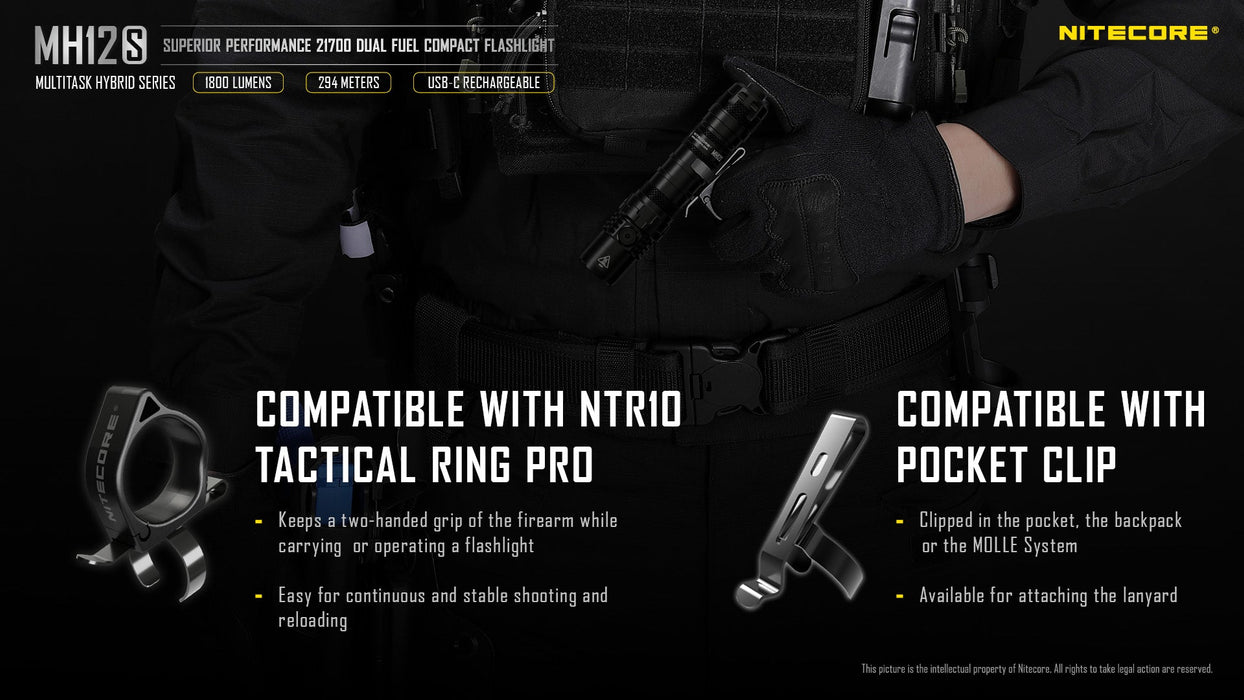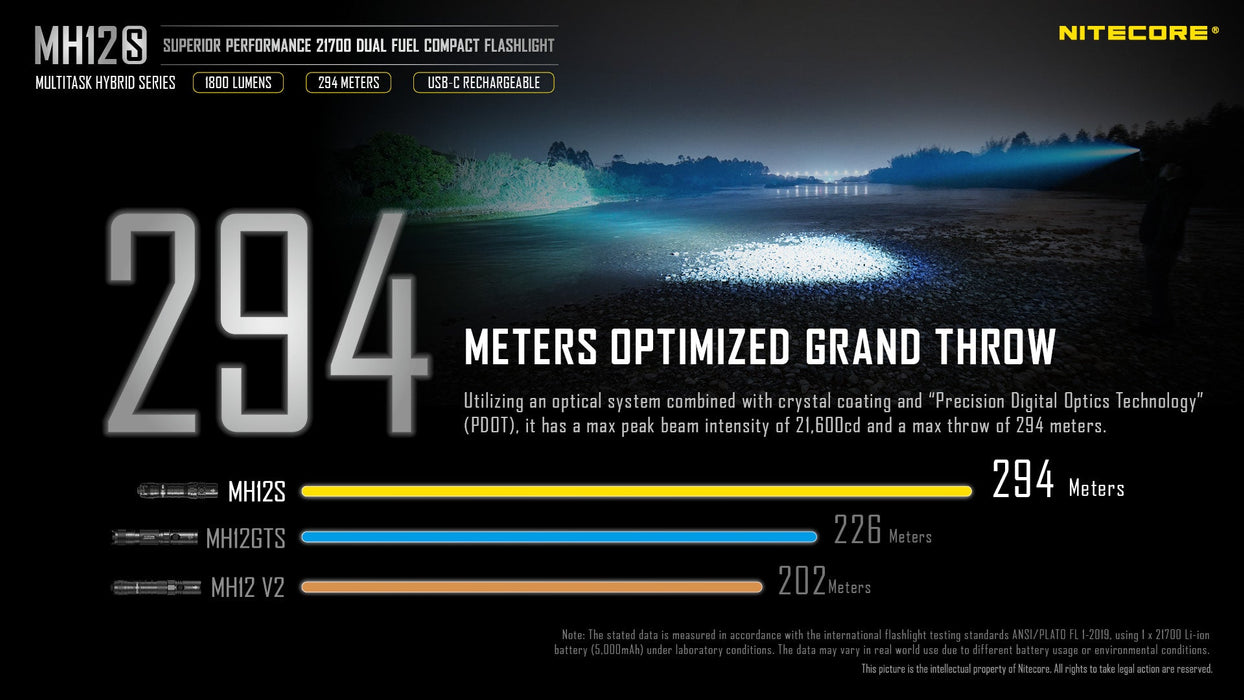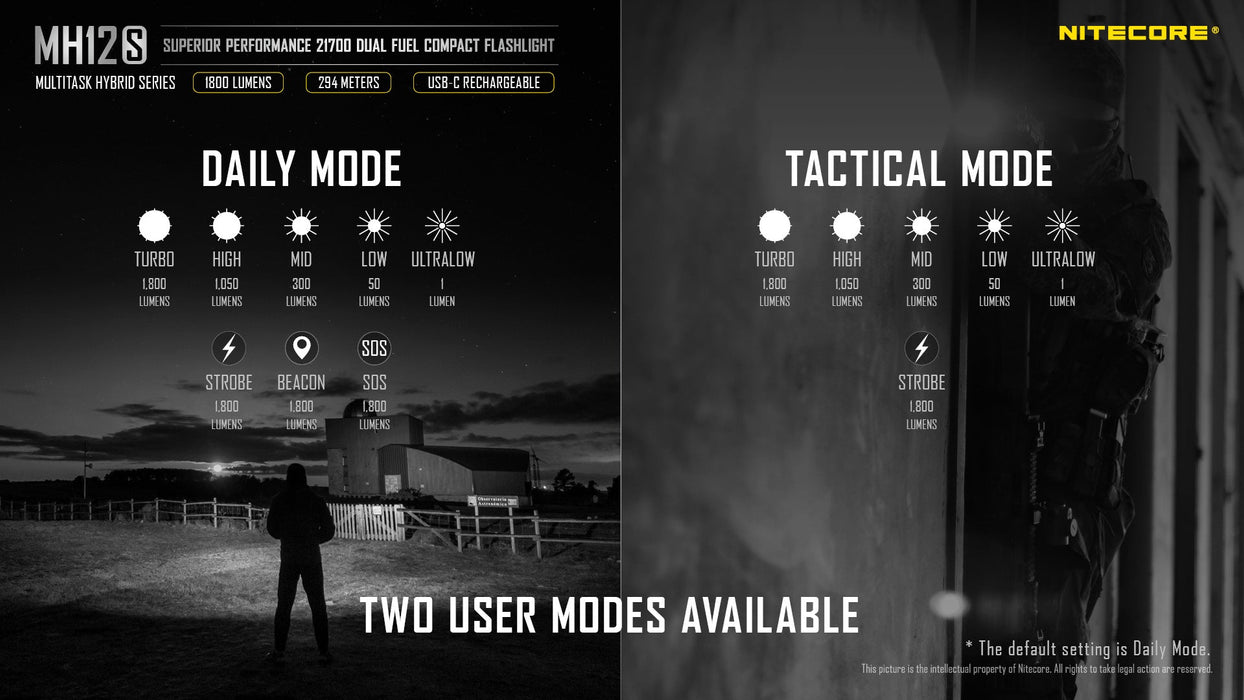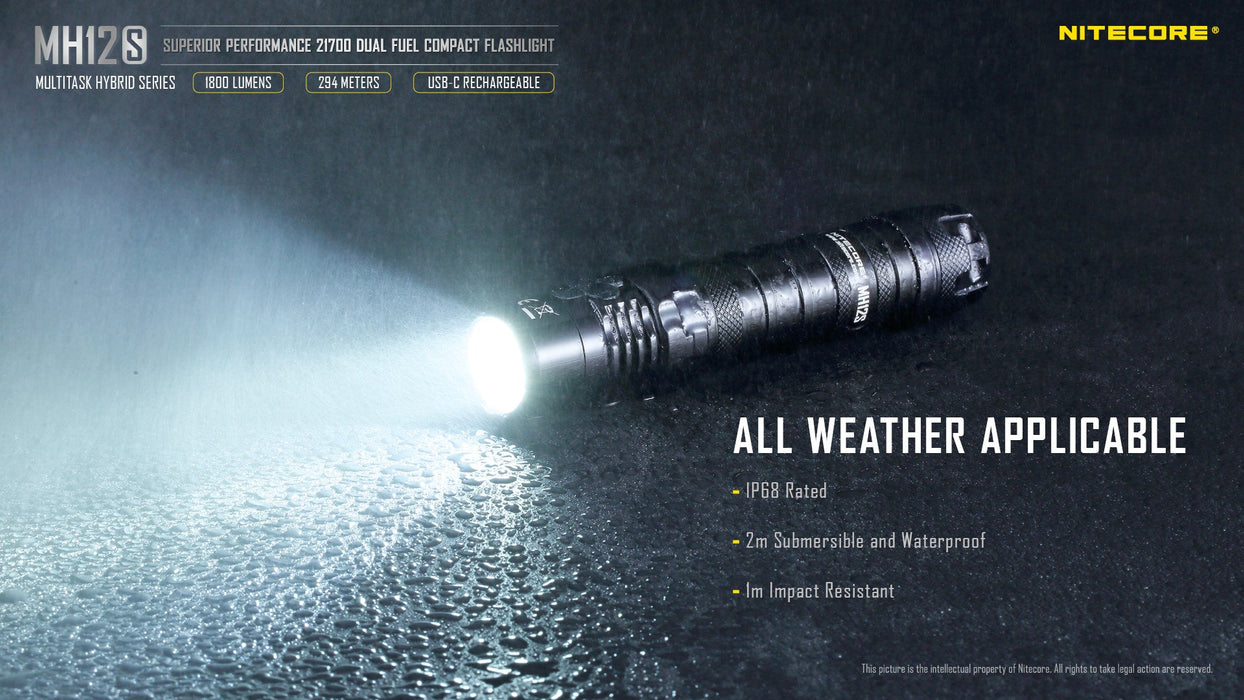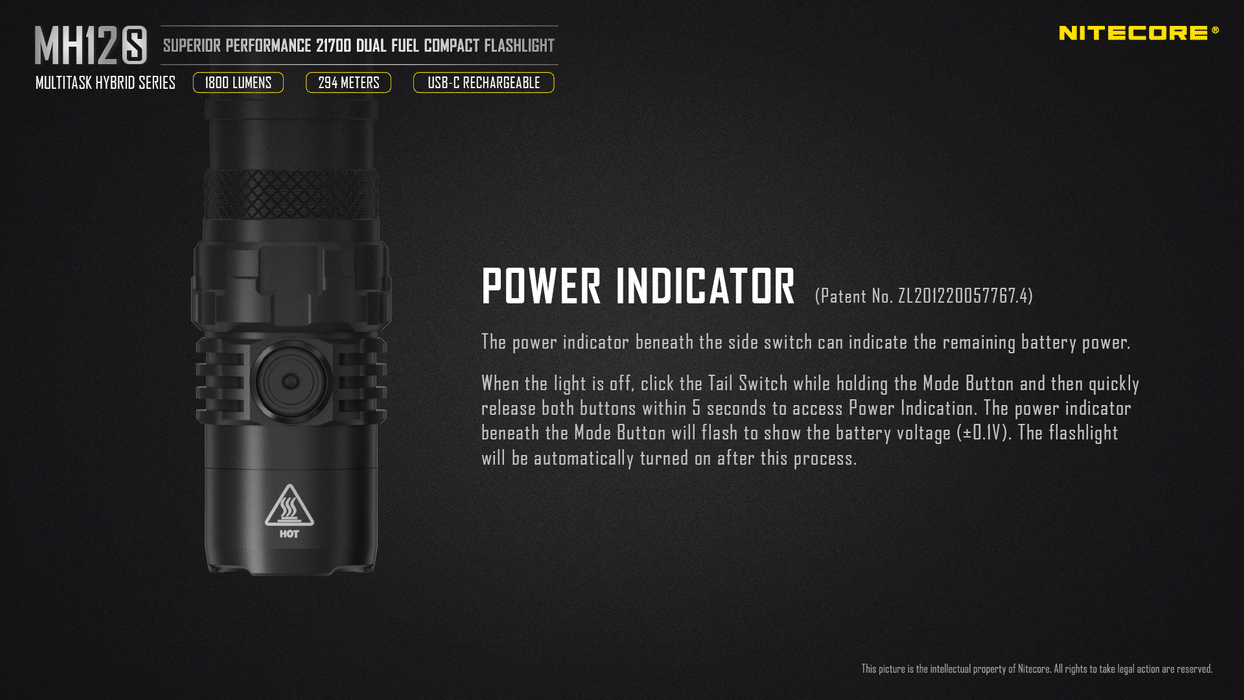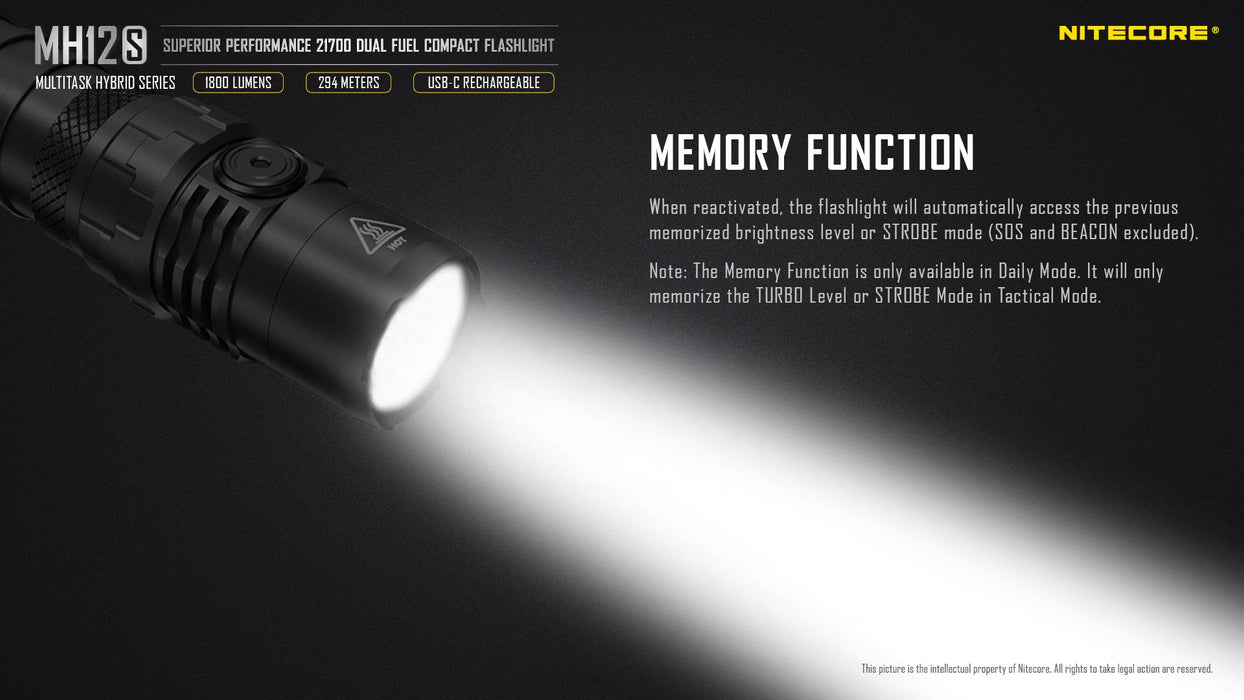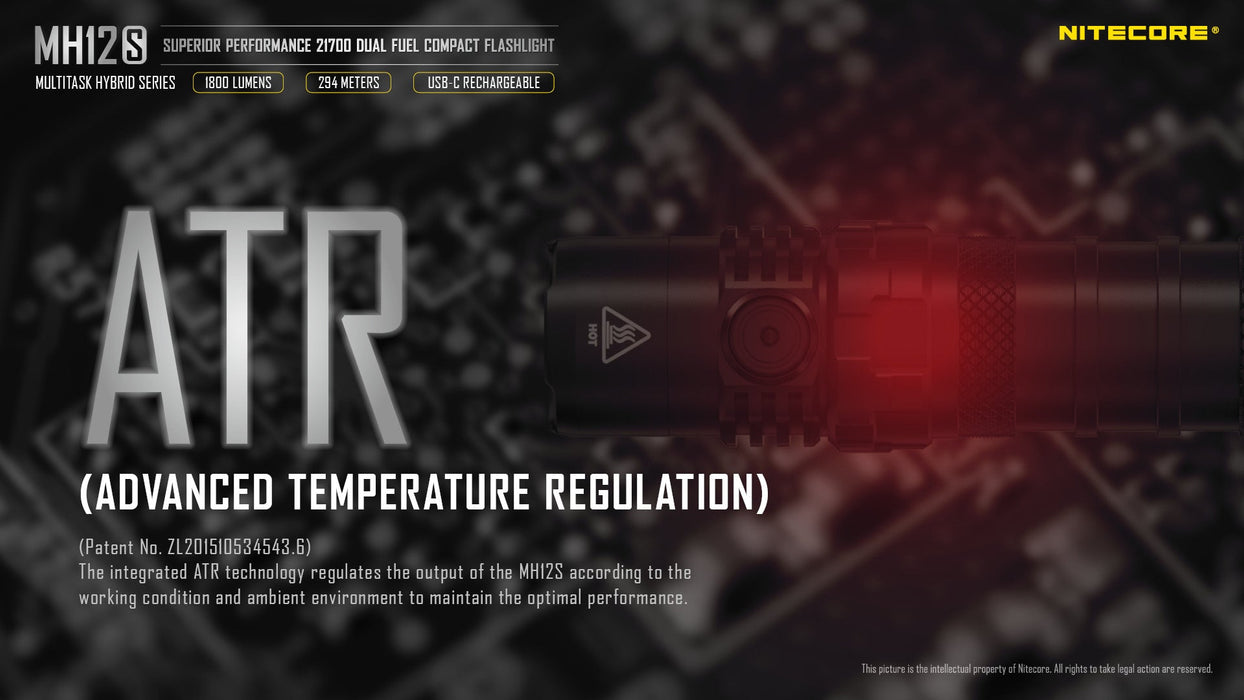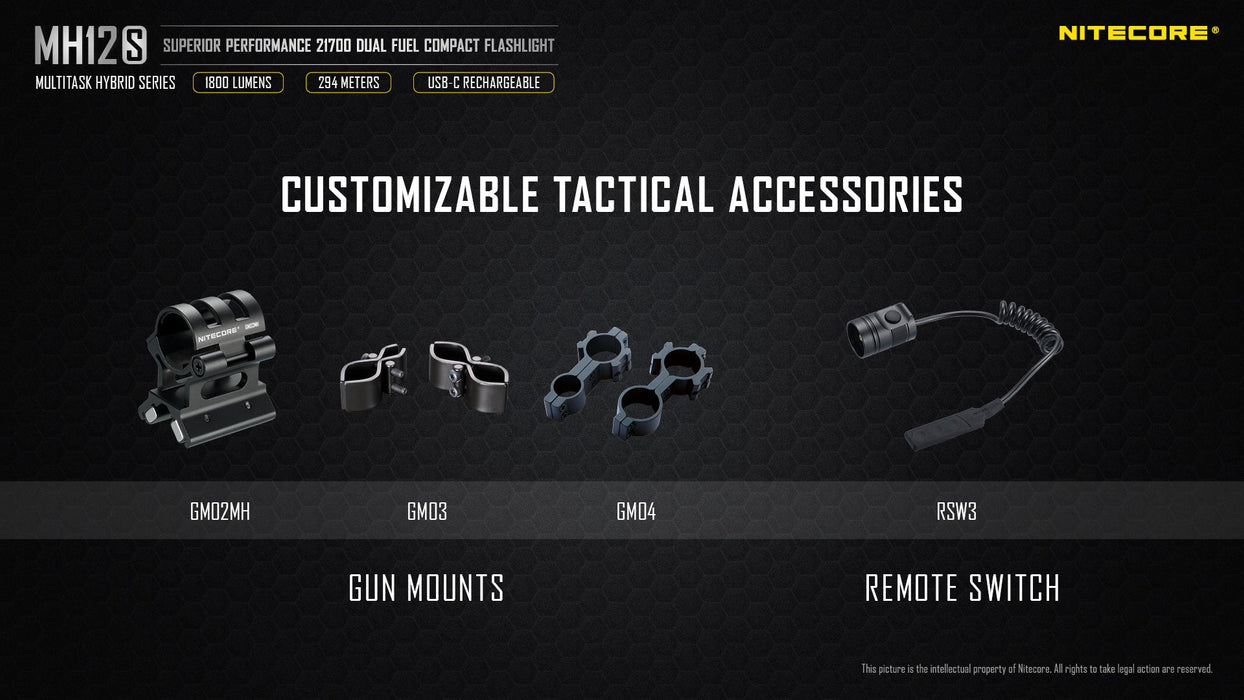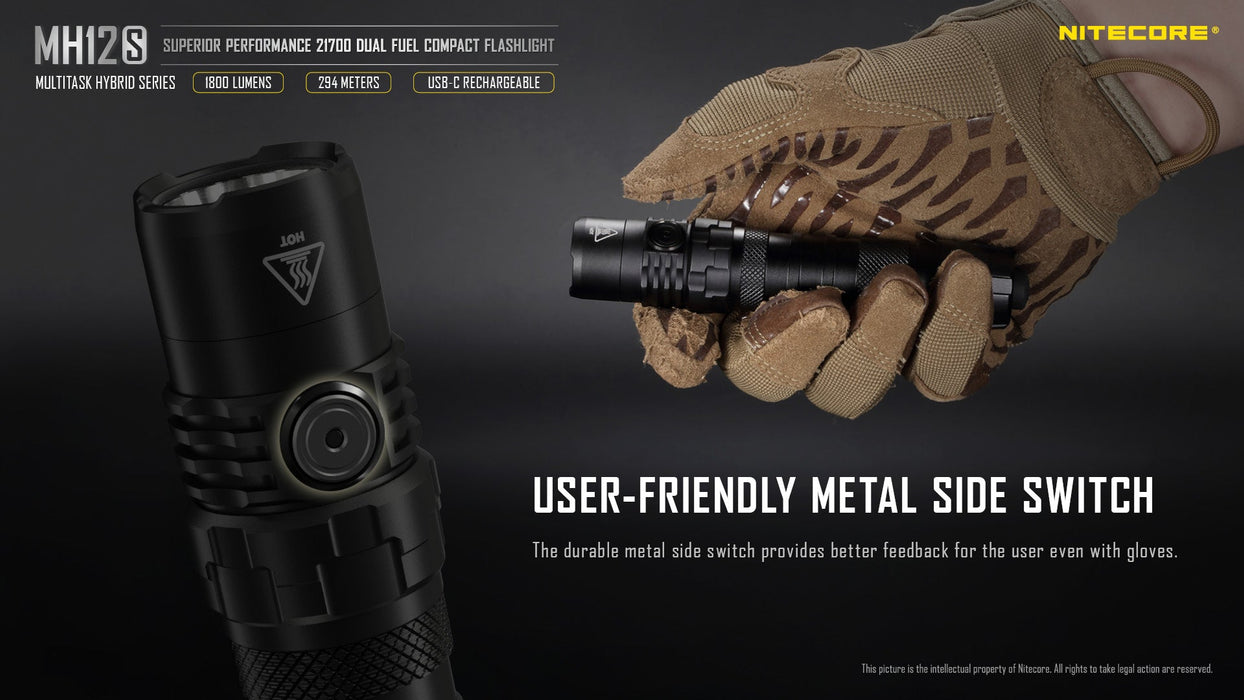 Nitecore MH12S Dual Fuel Compact Flashlight
Utilizes a Luminus SST-40-W LED with a max output of 1,800 lumens
Max peak beam intensity of 21,600cd and max throw of 294 meters
An optical system combined with crystal coating and "Precision Digital Optics Technology" (PDOT)
Powered by a 21700 high capacity Li-ion battery while compatible with 18650 and CR123 batteries, to provide a runtime up to 1,500 hour
Tactical Mode and Daily Mode available
A power indicator beneath the side switch indicates the remaining battery power (Patent No. ZL201220057767.4) STROBE Mode uses randomly changing frequencies for stronger dizzying effects
The tactical tail switch and the metal side switch control 5 brightness levels and 3 special modes
The power indicator can display the battery voltage (±0.1V)
Intelligent Li-ion battery charging circuit with a USB-C port
NITECORE 21700 Li-ion battery included (NL2150 5,000mAh)
Highly efficient constant current circuit provides a stable output
Incorporated Advanced Temperature Regulation (ATR) module (Patent No. ZL201510534543.6)
Electronic reverse polarity protection
Electronic reverse polarity protection
Optical lenses with double-sided scratch resistant coating
Constructed from aero grade aluminum alloy
HA III military grade hard-anodized finish
Waterproof and dustproof rating in accordance with IP68 (2 meters submersible)
Impact resistant to 1 meter
Equipped with a Luminus SST-40-W LED and an optical system combined with crystal coating and "Precision Digital Optics Technology" (PDOT), the MH12S is able to emit a max output of 1,800 lumens, a max peak beam intensity of 21,600cd and a max throw of 294 meters available with 2 user modes, 5 brightness levels and 3 special modes, ideal for emergency, self defense, outdoor activities, maintenance checks, patrols, law enforcement and more.
Recommended to be powered by 1 x 21700 battery while compatible with 1 x 18650 battery or 2 x CR123 / RCR123 batteries, the MH12S has full compatibility of battery sizes while USB-C rechargeable. It has 1,500 hours ultra long runtime which enables a consistent usage of 60 days on ULTRALOW. The integrated ATR technology regulates the output of the MH12S according to the working condition and ambient environment to maintain the optimal performance.
The MH12S is compatible with the NTR10, a tactical accessory to enable a unique and flexible way of carrying or operating a flashlight. It can be mounted on one of its slots according to the size of the user's hand. Specially designed for law enforcement, the included NTH10 Tactical Holster is a compact and flexible tool to enable a quick draw of the flashlight. The included detachable clip enables additional carrying ways to be clipped in the pocket, the backpack or the MOLLE System. The MH12S is all-weather applicable as IP68 rated, 2m submersible and 1m impact resistant.
Included
Nitecore 21700 Rechargeable Li-ion Battery
Clip
NTH10 Holster
Nitecore NTR10 Tactical Ring
Lanyard
Spare O-ring
18650 / CR123 Battery Magazine
USB-C charging cable