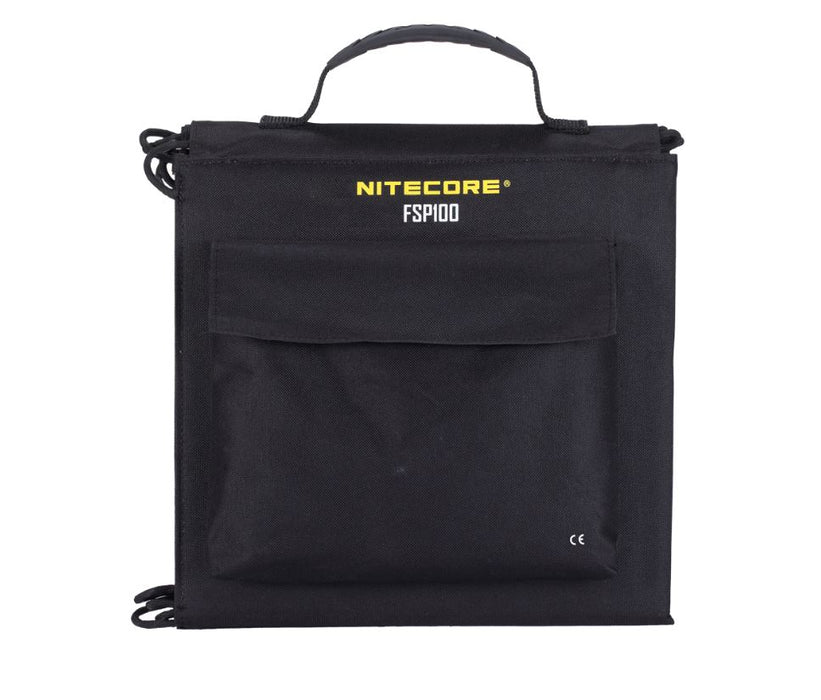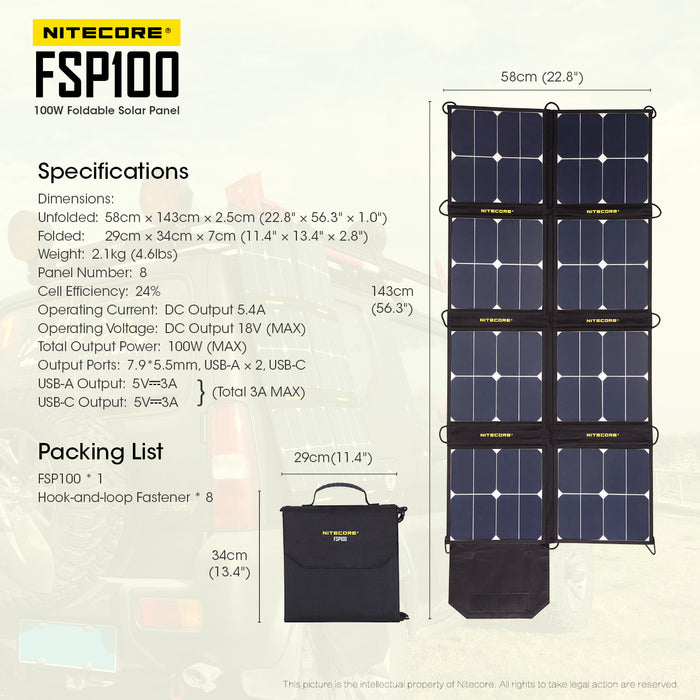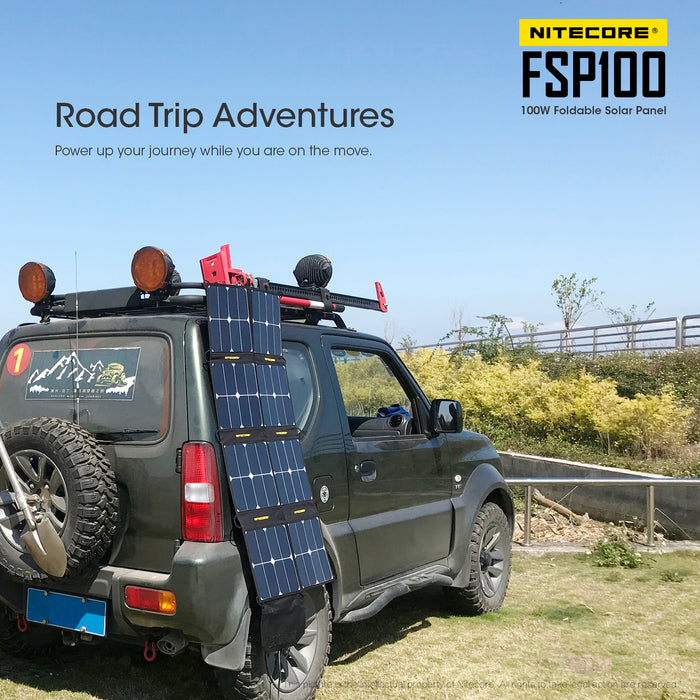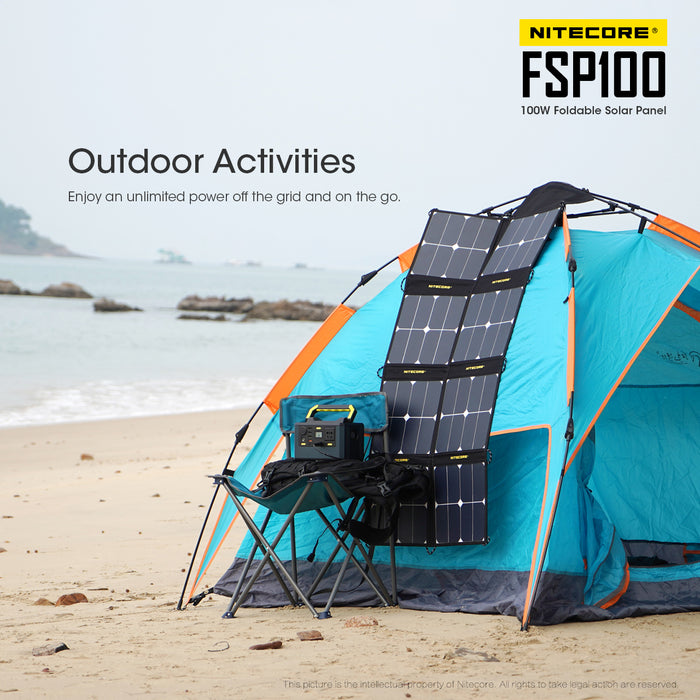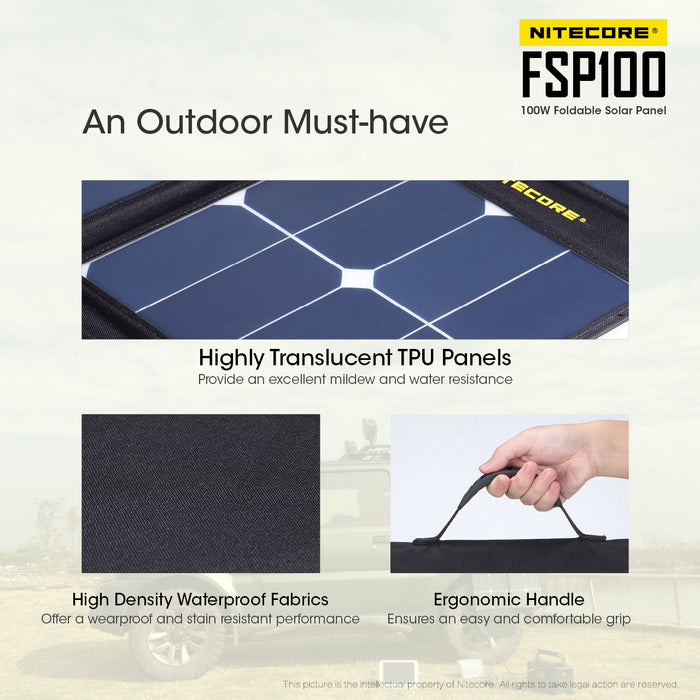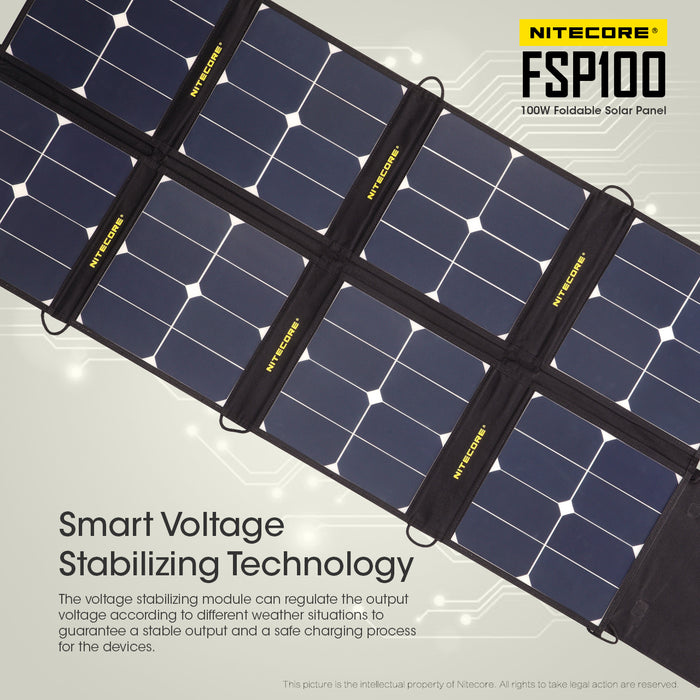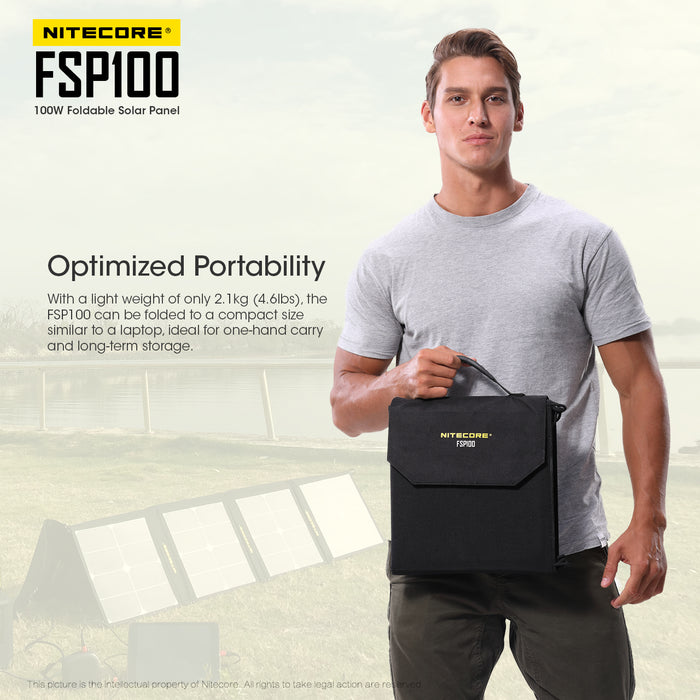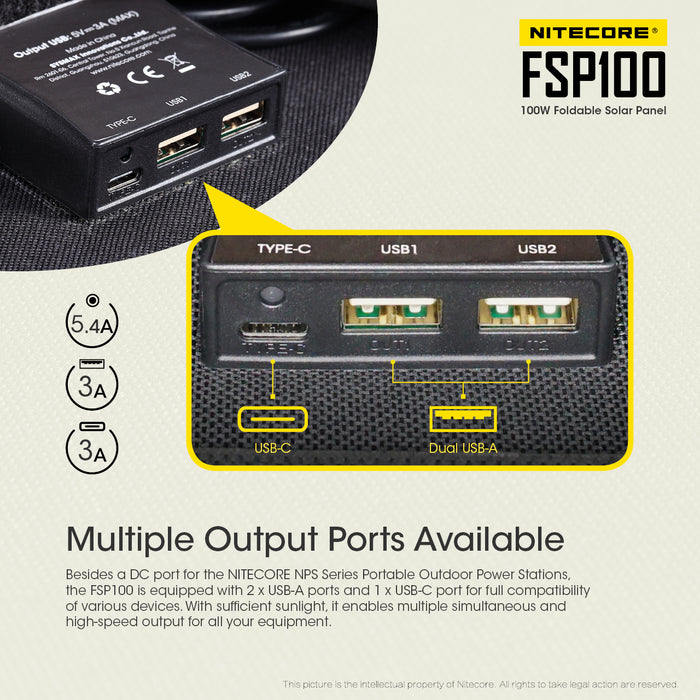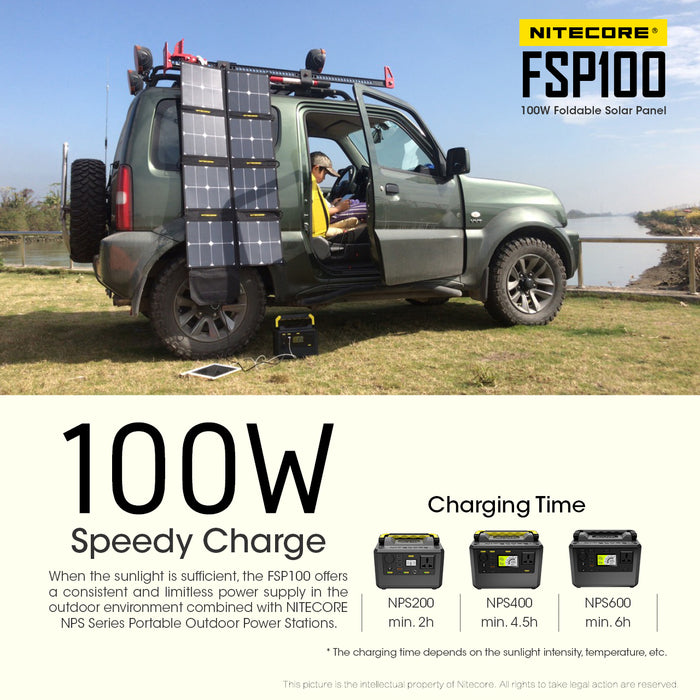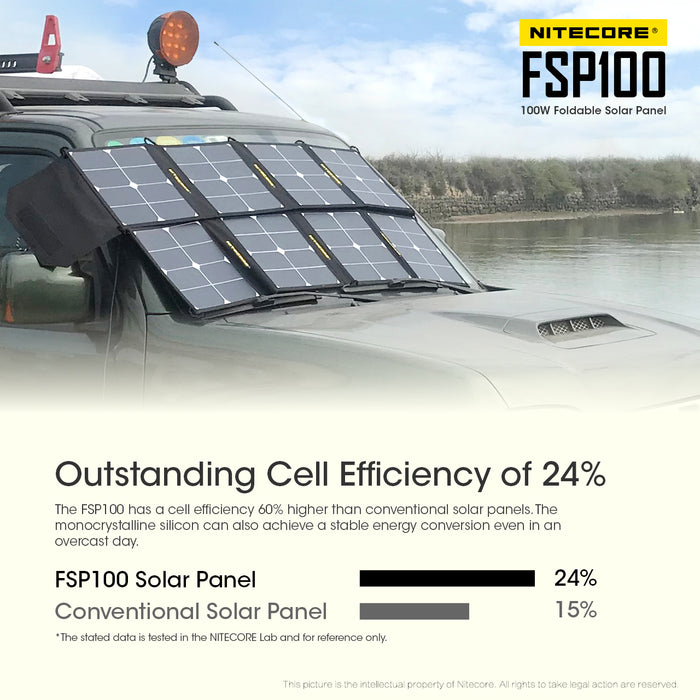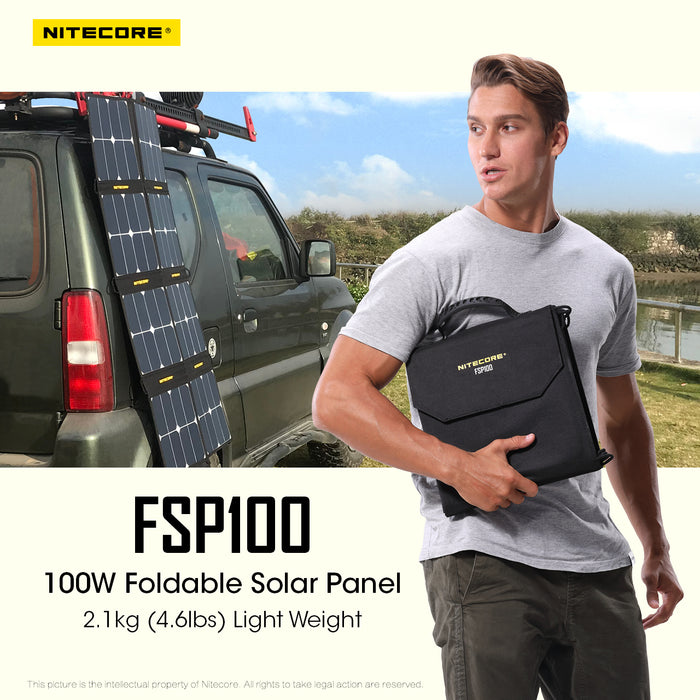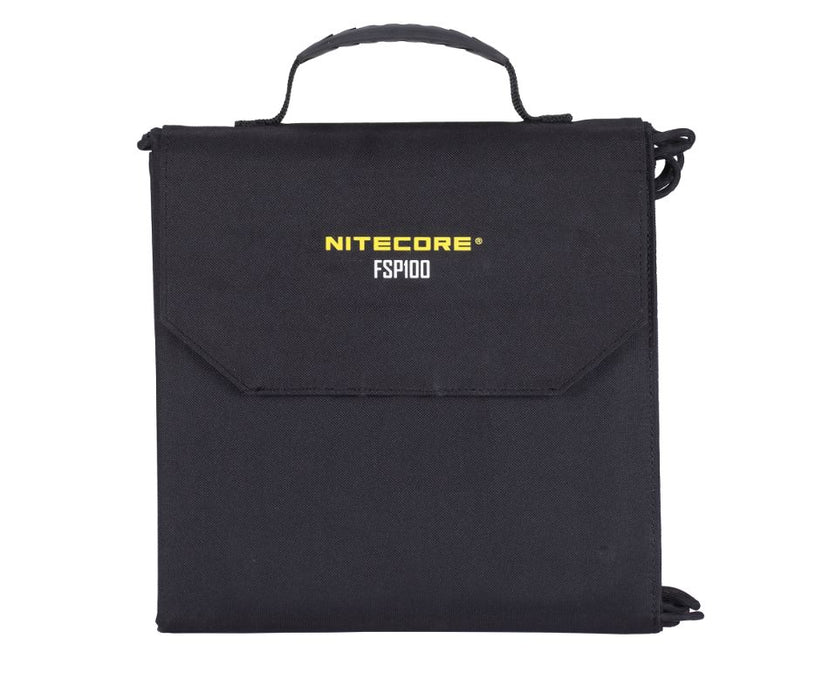 Nitecore FSP100 Foldable Solar Panel - 100W
The NITECORE FSP100 is now released as a foldable solar panel with a max output of 100W, aiming to provide an unlimited outdoor power off the grid and on the go.
The FSP100 has a cell efficiency of 24%, which is 60% higher than conventional solar panels. The monocrystalline silicon can also achieve a stable energy conversion even in an overcast day. When the sunlight is sufficient, the FSP100 offers a consistent and limitless power supply in the outdoor environment combined with NITECORE NPS Series Portable Outdoor Power Stations.
Besides a DC port for the NITECORE NPS Series Portable Outdoor Power Stations, the FSP100 is equipped with 2 x USB-A ports and 1 x USB-C port for full compatibility of various devices. With sufficient sunlight, it enables multiple simultaneous and high-speed output for all your equipment. The voltage stabilizing module can regulate the output voltage according to different weather situations to guarantee a stable output and a safe charging process for the devices.
With an optimized portability and a light weight of only 2.1kg (4.6lbs), the FSP100 can be folded to a compact size similar to a laptop, ideal for one-hand carry and long-term storage. It can be the must-have in your outdoor activities or on your road trip
Specifications
Unfolded: 58cm x 143cm x 2.5cm (22.8" x 56.3" x 1.0")
Folded: 29cm x 34cm x 7cm (11.4" x 13.4" x 2.8")
Weight: 2.1kg (4.6lbs)
Panel Number: 8
Cell Efficiency: 24%
Operating Current: DC Output 5.4A
Operating Voltage: DC Output 18V (MAX)
Total Output Power: 100W (MAX)
Output Ports: 7.9*5.5mm, USB-A x 2, USB-C
USB-A Output: 5V⎓3A
USB-C Output: 5V⎓3A
(USB Output: Total 3A MAX)