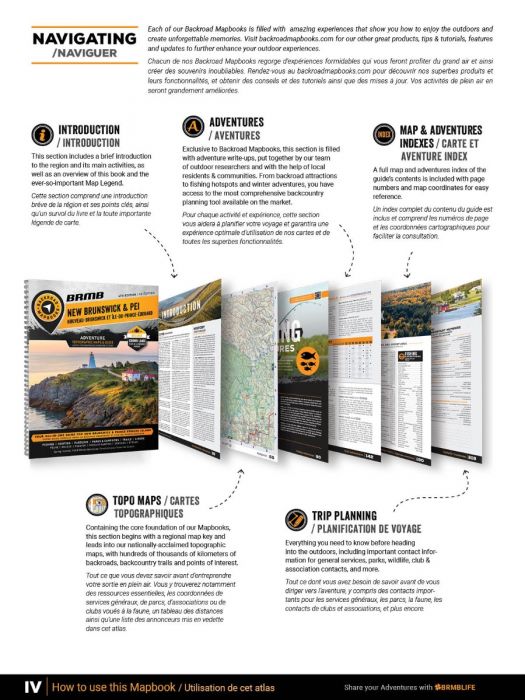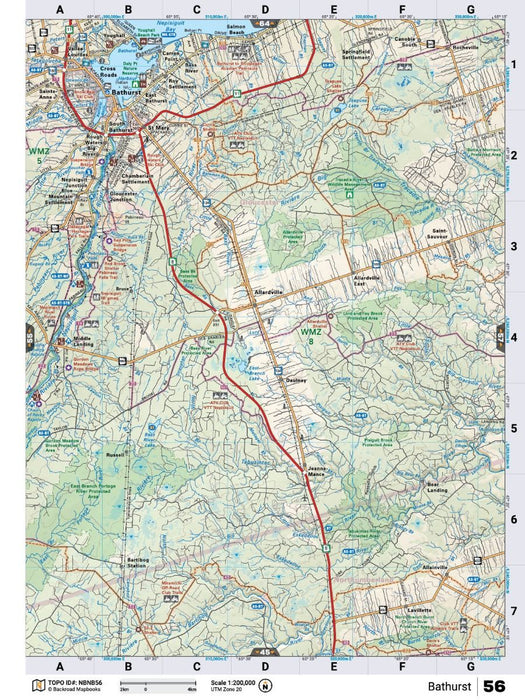 New Brunswick & PEI Mapbooks- 4TH Edition | BRMB
The province of New Brunswick is known for its sweeping forests, rolling mountains, beautiful maritime coastline and a unique culture that blends centuries of French and English tradition. From the historic cities of Moncton, Fredericton and Saint John to the undisturbed coastal wilderness of Fundy National Park and the pristine lakes of Mount Carleton Provincial Park, New Brunswick is a land of diverse opportunity for explorers of all kinds. New Brunswick's coast offers spectacular rock formations shaped by the world's highest tides, while centuries-old lighthouses present irresistible photo opportunities. Located a short ferry ride or drive away and bordered on all sides by ocean, Prince Edward Island offers stunning beaches, undeniable rural charm and one of the most exciting sport fisheries in Canada.
In the 4th Edition we have updated and expanded all of the Adventure sections along with several new cartographic updates including new symbols for readability. We have also added and updated recreation features including multi-use trails, ATV trails, snowmobile routes and paddling systems, as well as refined thousands of Points of Interest to help you choose the adventure that is just right for you. New features include added fish species to the maps, new Adventure sections, and much more.
The printed version of the mapbook comes in the convenient 21.5 x 28 cm (8.5 x 11 inch) mapbook format with a heavy-duty spiral-bound cover. The 208 page book includes 66 maps at 1:200,000 scale, along with 11 Outdoor Adventure sections, a Service Provider Directory, Map and Adventure Index, Trip Planning tools and more. With over 170,000 kilometres of roads to view including the most complete logging and industrial road coverage available, the books are ideal for navigating on road trips and planning from home.
Print Features
Map Key & Legend
Topographic Maps

66 @ 1:200,000 Scale Maps

Detailed Adventure Section

Backroad Attractions
Fishing Locations
Hunting Areas
Paddling Routes
Parks & Campsites
Trail Systems
ATV Routes
Snowmobile Areas
Wildlife Viewing
Winter Recreation
Backcountry Hut & Cabin
New Bonus Adventures featuring Beaches, Rock Climbing, and Surfing

Service Directory

Accommodations
Sales & Services
Tours & Guides

Index

Adventure Index
Map Index

Trip Planning Tools