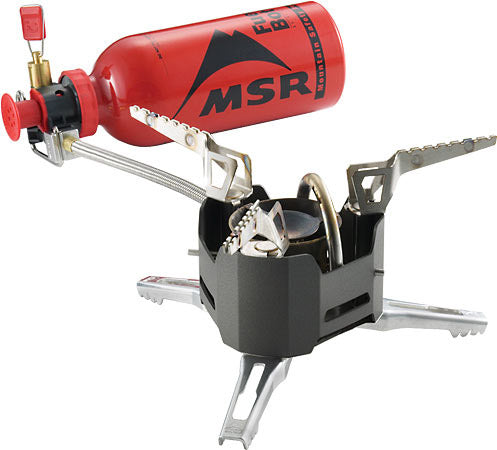 MSR XGK- EX Extreme Condition Multi-fuel Stove
This product can only be shipped within Canada*
For over 35 years, the MSR® XGK™stove has been the world's most reliable extreme-condition stove; trusted by mountaineers everywhere. The XGK EX stove continues that legacy with unrivaled performance, dependability and better multi-fuel burning capabilities than any other stove on the market. It features a flexible fuel line that allows it to pack smaller than ever, as well as stable, retractable legs and pot supports, and a powerful flame that melts snow and boils water incredibly fast. No matter where you're headed, with an XGK EX stove along, you'll find fuel to burn and the absolute dependability that has made it the first choice in liquid fuels stoves on expeditions for decades.
Proven:

 

No. 1 choice on expeditions worldwide.
Multi-Fuel:

 

Reliably burns more liquid fuels than any other stove.
Dependable:

 

Easy to field maintain; Shaker Jet™

 

cleans fuel jet with a simple shake.
Compact:

 

Flexible fuel line allows stove to fit in a 1.5-liter MSR pot.
Superfast:

 

Boils 1 liter of water in just 2.8 minutes (using kerosene fuel).
Extra-Stable:Retractable legs and pot supports provide a secure platform.
Includes:Fuel pump, windscreen, heat reflector, small-parts kit, instructions, and stuff sack. (Fuel bottle not included.)
Specs:
Width (Standard)
4 in
Weight (Standard)
13.2 oz
Length (Standard)
4 in
Height (Standard)
6 in
Minimum Weight (Standard)
13.5 oz
Minimum Weight (Metric)
0.38 kg
Packaged Weight (Standard)
1 lbs 1 oz
Packaged Weight (Metric)
0.49 kg
Burn time (white gas) per 600ml / 20 oz. of fuel
109 minutes
Burn time (kerosene) per 600ml / 20 oz. of fuel
98 minutes
Burn time (diesel) per 600ml / 20 oz. of fuel
170 minutes
Boil time (white gas), 1 liter
3.5 minutes
Boil time (kerosene), 1 liter
2.8 minutes
Boil time (diesel), 1 liter
4.5 minutes
Water boiled (white gas) per 100 ml of fuel
4.9 liters
Water boiled (white gas) per 1 oz. of fuel
1.5 liters
Water boiled (kerosene) per 100 ml of fuel
5.7 liters
Water boiled (kerosene) per 1 oz. of fuel
1.7 liters
Water boiled (diesel) per 100 ml of fuel
6.3 liters
Water boiled (diesel) per 1 oz. of fuel
1.9 liters
Country of Origin
Made in Seattle, USA