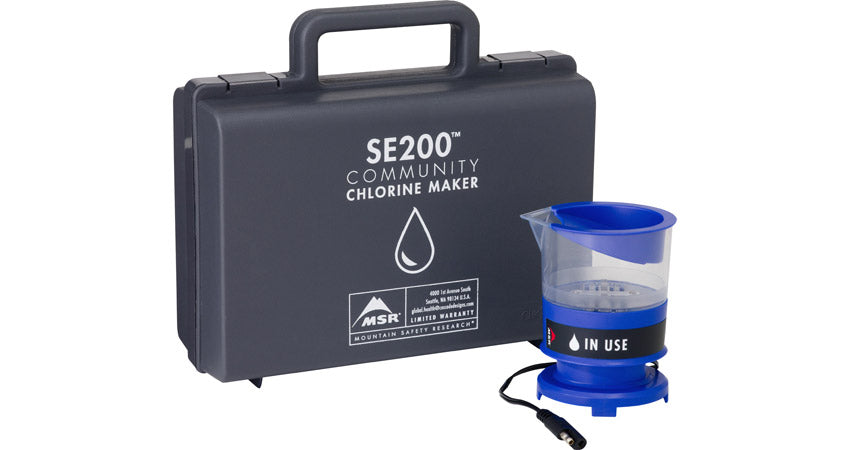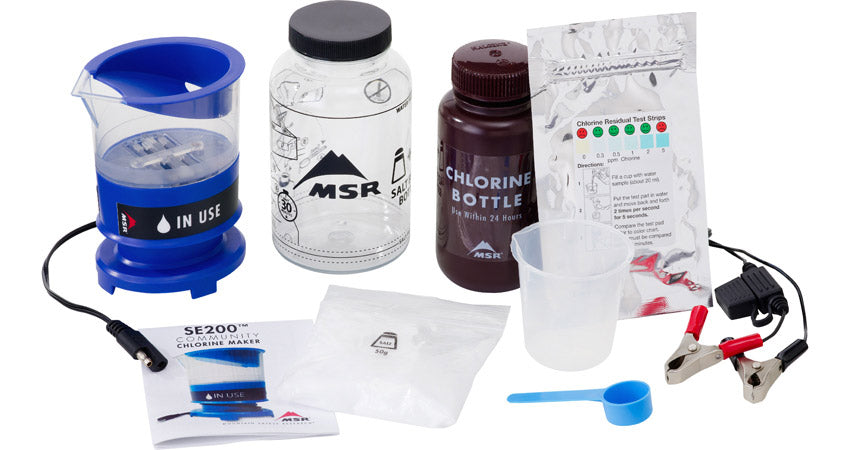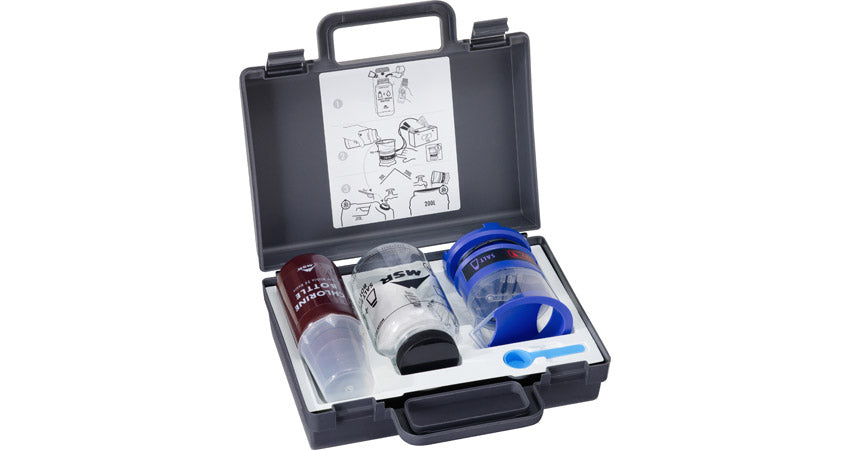 MSR Water Purification Kit (Chlorine Maker SE200)
Creates chlorine with the push of a button to make safe, drinkable water.
The SE200™ Community Chlorine Maker is changing how citizens in low-resource communities around the world are creating safe drinking water. In five minutes, with just the push of a button, the device creates chlorine with water, salt and electricity. Each batch produces enough chlorine to make 200 liters of water that's safe to drink. A supply chain innovation, the chlorine maker lets users treat water on the spot at wells, water trucks and other common sources. Small, portable and easily mastered, it requires only salt brine and electricity from a car battery or mains power. Most importantly, it allows families, leaders and entrepreneurs to control their supply of safe drinking water.

Comes with a one-page pictographic instruction manual.
Easy Operation:

 

Simply mix salt brine, add it to the chlorine maker and push the start button. Indicator lights and sounds signal a successful completion, or trouble-shooting options.
Fast:

 

Takes just five minutes to produce enough chlorine to make 200 liters of safe, drinkable water; and treats 40,000 liters from just one 12V car battery charge*.
Reliable:

 

Smart circuitry produces a consistent chlorine concentration, while durable construction withstands daily repeated use.
Proven:

 

Validated by end users in over a dozen low-resource settings, including communities in Kenya, Mali, Tanzania, Zimbabwe, and Thailand.
We Believe in What We Build
At MSR, we take pride in engineering the highest-quality outdoor gear available, and we stand behind everything we make. MSR gear is built to be exceptionally durable and easily repaired. And we back it up with the best service in the industry, all to keep your gear performing for you—and out of landfills.
Seattle Repair Shop
In our Seattle Repair Shop, our full-time technicians restore thousands of pieces of gear each year. They'll work hard to bring your trusty gear back to life so your adventure can go on.
*Using an 80 amp-hour battery

Color

Blue
Weight (Standard)
1 lbs. 11 oz.
Width (Standard)
9.75 in
Length (Standard)
11 in
Height (Standard)
4.25 in
Effective against bacteria
yes
Effective against protozoa
yes
Effective against viruses
yes
Country of Origin
Made in USA (Foreign Parts)