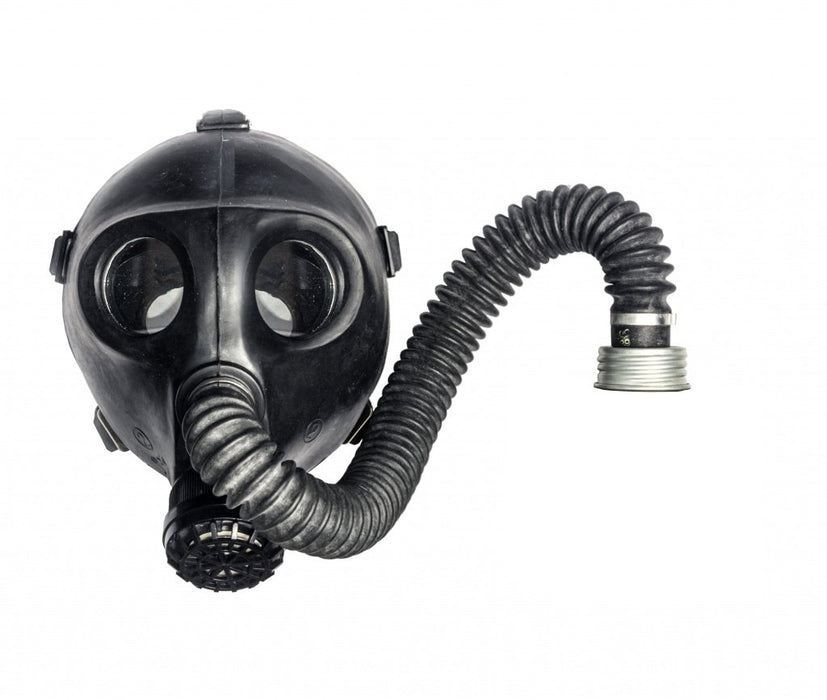 MIRA Safety CM-2M KIDS Protective Gas Mask - Full-Face Respirator for CBRN Defense
CM-2M CBRN Full Face Child Gas Mask / Respirator
This is the only true children-sized full-face gas mask/child respirator on the market on the market today that's designed to filter out the full spectrum of CBRN (Chemical, Biological, Radiological & Nuclear) and help your child survive serious disasters without the threat of respiratory illness to their growing bodies. The predecessor to these masks was utilized to protect children from fallout in the aftermath of the 1986 Chernobyl meltdown, saving countless lives.
The CM-2M Children's Mask is available in 2 sizes:
Size 1 - Kids from 1.5 years to 6 years old.
Size 2 - Kids from 6 years till 15 years old.
Designed to protect children against:
Poisonous substances, biological aerosols, radioactive dust, iodine radionuclides and its organic compounds, aerosols (dust, fog, fume).
Key Features of the CM-2M Children's Full Face Gas Mask
Manufactured in 2019 with a 10-year shelf life

Features durable, PMK-S rubber construction—the same type of rubber used in Russian military masks for maximum reliability

Built with STANAG 4155 (EN 148-1) compliant 40mm x 1/7" filter threading

Uses the same 40mm canister filters as larger gas masks for interchangeable supply

Comes with anti-fogging film for enhanced visibility during prolonged use

Utilizes a hose & backpack system to reduce the weight on a smaller child's face (by putting the filter in the backpack) and reduce resistance for easier breathing

Designed to fit children as young as 18 months old

Built in the same facilities by the same experienced workers that have been producing gas masks since the Cold War

Slips over child's and secures with flexible straps for full-face protection

Features an integrated speech diaphragm for easy communication

Engineered to functionally filter out all CBRN contaminants for maximum preparedness in case of emergency
Technical Specification
Nothing in life is more important than the health and welfare of our children. And yet, there's been no available protection for them in the event of a fire, major natural disaster, nuclear event or terrorist attack … until now.
These special-issue CM-2M child gas masks/child respirators were created specifically for MIRA safety to utilize the same 40mm NATO-threaded gas mask filters that your larger adult masks use, allowing you to rely on a single supply of canisters using cutting-edge filter technology (like our MIRA canister filters, which feature an extended 20-year shelf life) to ensure maximum survivability in the event of any natural disaster.
Where the vast majority of gas masks and respirators on the market today were designed originally for military use or disaster cleanup, these masks are designed for child-friendly performance, utilizing a hose-and-backpack system to greatly reduce the weight of the mask while also reducing resistance for smooth and easy breathing.
Built from the same ultra-durable PMK-S rubber that's used for Russia's cutting-edge military gas masks, these respirators are even ideal for use as baby gas masks or with toddlers in the event of a serious emergency.
Based on Russian gas mask designs that have been rigorously tested and used in the worst possible disaster—the aftermath of the 1986 Chernobyl meltdown—these child gas masks are proven and extremely reliable lifesavers when you need them most.
Proper respiratory protection is especially vital for young children since their lungs and systems are still growing as they age. They can be far more susceptible to airborne contaminants and respiratory damage could have a lifetime of consequences. This is doubly true in the case of radioactive contaminants, which can dangerously increase the risk of cancer or life-threatening diseases.
These masks are engineered to address the full range of chemical, biological, radioactive and nuclear threats to ensure your child's safety and well-being through whatever crisis you may be facing.
Applications:
Emergency preparedness

Accident management

Industrial accidents

Fire/smoke

Natural disasters

Technology-related accidents accompanied with hazardous substances emission
Sizing:
In order to determine the correct size for your CM-2M child gas mask / baby gas mask, measure your child's head from the top of the back of their head around their cheeks and chin, the same way a helmet chin strap would fit. Round to the nearest 5th mm and use the table below to determine whether you need size 1 or size 2:
Position of
head harness
straps
protrusions

4-8-8

4-7-8

3-6-7

3-5-6

4-7-8

3-6-7

3-5-6

3-4-5

3-3-4

3-2-3

Vertical head
circumference
, mm

Up to
515

520-
530

535-
545

550-
560

565-
575

580-
590

595-
605

610-
620

625-
635

640-
650
REMEMBER that MIRA safety offers free returns and exchanges, so test fit your CM-2M child respirator when you receive it. If it doesn't fit perfectly, just send it back and we'll replace it with a different size.
Technical Data
Kit includes: CM-2M Gas mask
Dimensions:
Weight: 850 g maximum (without bag)
Size: Size one (1) for toddlers and smaller children aged 18 months to 6 years, Size two (2) for older children and adolescents aged 7 to 15 years.
Material: PMK-S Rubber construction
Filter Connection Thread: EN 148-1 Standard 40mm x 1/7"
STORAGE
Standard CM-2M child gas masks must be stored in a dark, cool, and dust-free place free from sudden temperature changes. The storage room should be ventilated regularly. Temperatures may vary between 10°C and 25°C within relative humidity up to 65%. The stored products may not be exposed to radiant heat and sunshine. Fuels, solvents, lubricants, and other inflammable substances, including chemicals, must not be stored together with masks. Moreover, there may not be any electric machines or appliances that produce electric sparks and discharges during their operation (ozone creation).
Avoid any deformations of the rubber parts of the facepiece and internal mask when storing the masks. Inspect gas masks regularly to ensure they're able to effectively seal as needed.