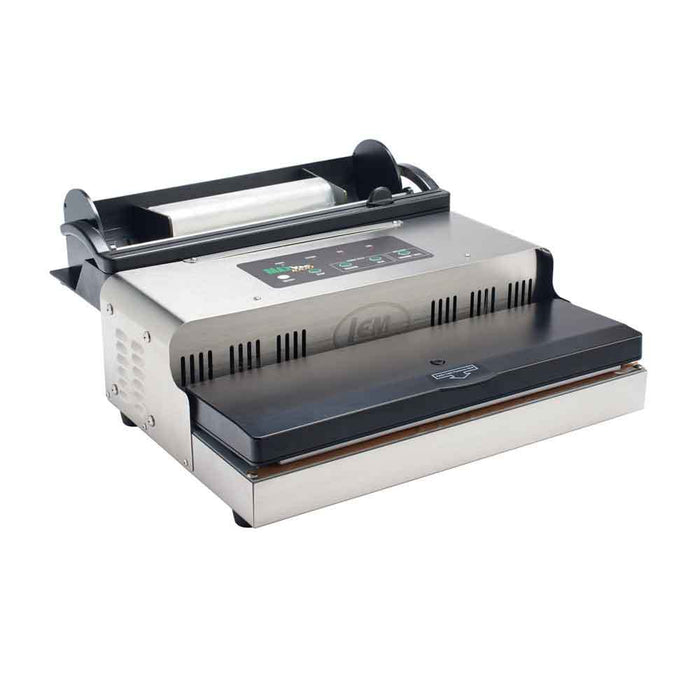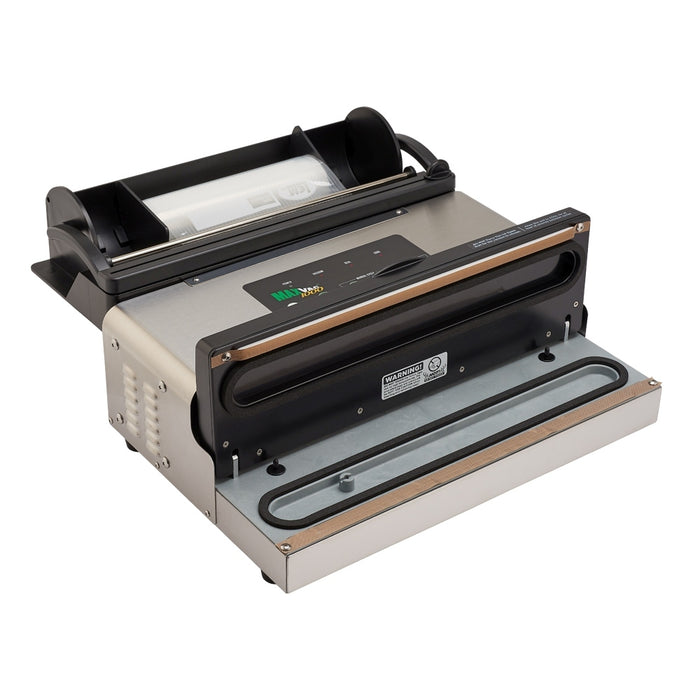 LEM MaxVac 1000 Vaccum Sealer
The LEM MaxVac® 1000 Vacuum Sealer comes standard with a roll material holder and cutter, with 8 in x 25 ft bag material, so your vacuum sealing is easier than ever before.
Powerful and Easy-to-Use:

 
Extend the freshness and freezer life of your favorite foods with our powerful, easy to use, commercial grade vacuum sealer. Removes air and automatically seals for an amazing storage solution. Protect your meat, fish, vegetables or fruits from freezer burn and seal in the nutrients, all while lowering your grocery bill.
10 Hours of Continuous Use:

 
A built-in continuous run cooling fan allows the LEM MaxVac® 1000 to keep sealing for 10 consecutive hours making 1000 seals without stopping or cooling down.
Hands-Free Design:

 
With a manual vacuum control function and a weighted lid to engage, you can vacuum "hands-free" every cycle! It is perfect for at-home usage while still maintaining commercial-grade quality.
Durable Construction:

 
Stainless steel construction means this unit is built to last and will blend in well with other kitchen appliances.
Customizable Bag Size:

 
Includes a roll material holder and cutter to customize your bag size. Includes 8" x 25' roll of bag material. Material holder and cutter can be removed for standalone use.
Versatile:

 
Reduce marinating time or keep valuables safe and dry. The uses are endless. The LEM MaxVac® sealer does not work with "chamber style" vacuum bags but is compatible with most national brand heat seal vacuum sealer bags.
Specs:
Rear bag holder/cutter
Dimensions: 17 1/8" L x 11 5/8" W x 5 7/8" H
Weight: 23.8 lbs.
24Hg Pump
14" Seal bar with 5mm seal
880 Watts
Spill trough 15 1/2" 1 1/4" x1/4"- which will hold about 2 1/2 fluid oz.
Seals at 104.2 degrees C or 219 degrees F
Accepts bags up to 14" wide
10 hours run time
One 8" x 25' roll of vacuum bag material
Cord length is 6 ft.
5-Year Warranty
ETL approved
View 1088B Product Manual View MaxVac User & Troubleshooting Guide How to Use and Attach:
Insert 2 baffles into the base of the holder, fitting to roll size.
With material coming off the bottom of the roll, feed material under the fixed rod and cutting bar.
Attached the MaxVac Roll Holder & Cutter to your MaxVac Vacuum Sealer