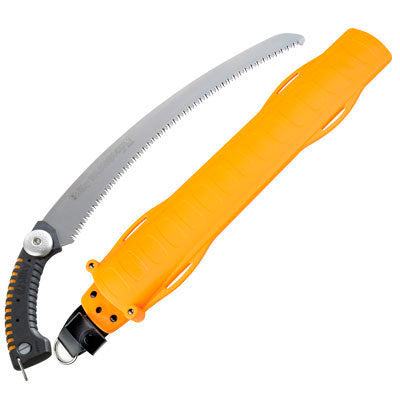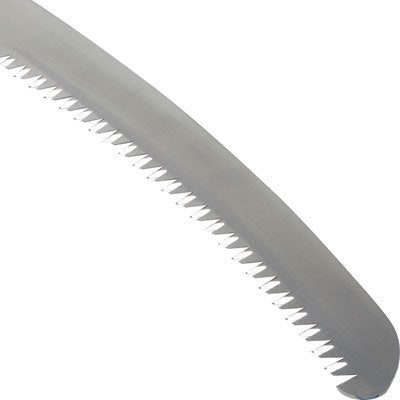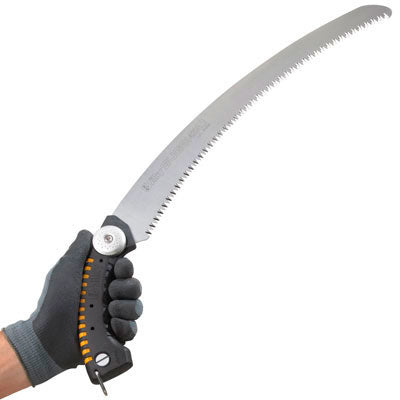 Silky Saw - EXTRA Larger Sugoi (420mm) with 5.5 teeth per inch!
The most popular of the Silky Saw lineup, the Sugoi 420mm is a razor-sharp, fast cutting, mono constructed blade with the intent to out-perform. Constructed with a well-balanced weight of 1.6 pounds and 5.5 teeth per inch, this larger Sugoi saw is sure to get the job done quickly. The MIRAI-ME technology of the blade provides 4 cutting angles to ensure fast, clean, smooth, and stable cutting. Features a molded-rubber grip to not only fit the hand but protect it from fatigue during long usage sessions. Ideal for pruning, clearing bush, and a fine replacement to Chainsaws.
-Silky SUGOI is available in two blade lengths: 14-1/5-inch (360 mm) and 16-1/2-inch (420 mm). 
Technical Features
16-1/2-inch (420 mm) blade length 

5.5 teeth per inch (6.5 teeth per 30 mm) teeth configuration 

0.85 pounds (380 grams) operating weight; 1.6 pounds (720 grams) weight with sheath 

Custom high-visibility yellow plastic sheath with belt clip is included 

Product applications include pruning & trimming, lawn & garden 

Limited lifetime warranty against defects in material and workmanship