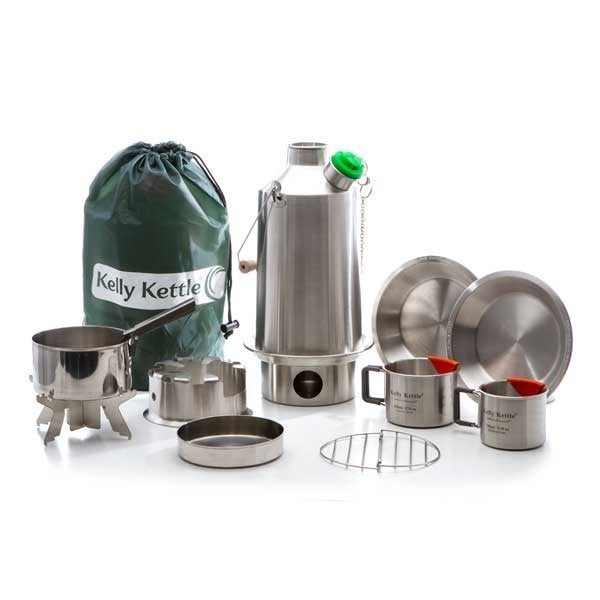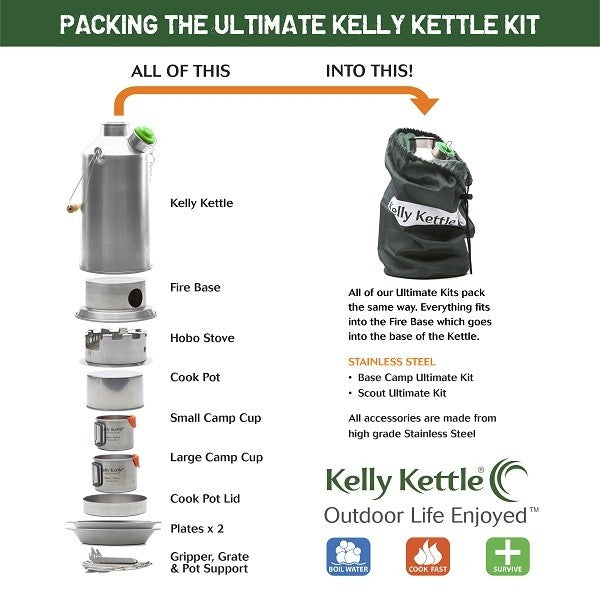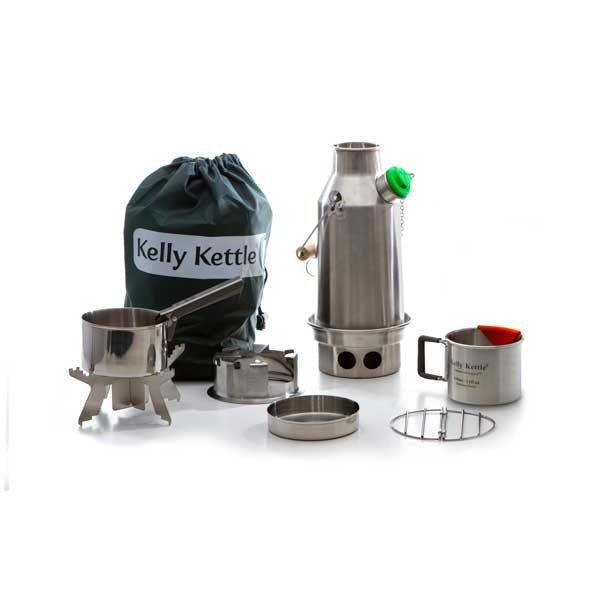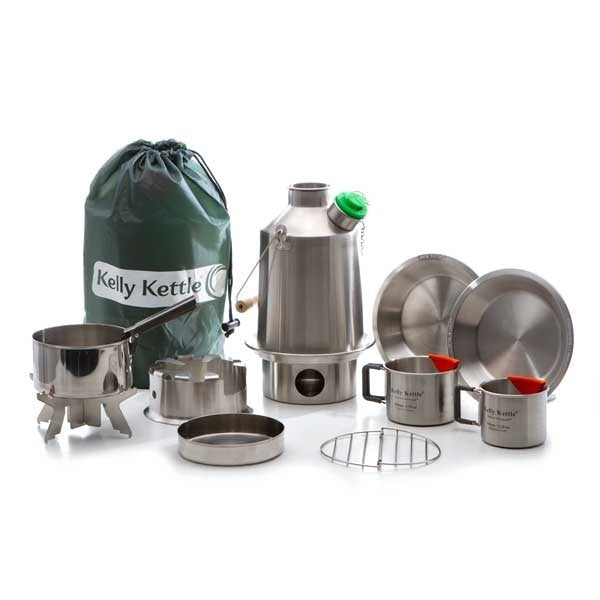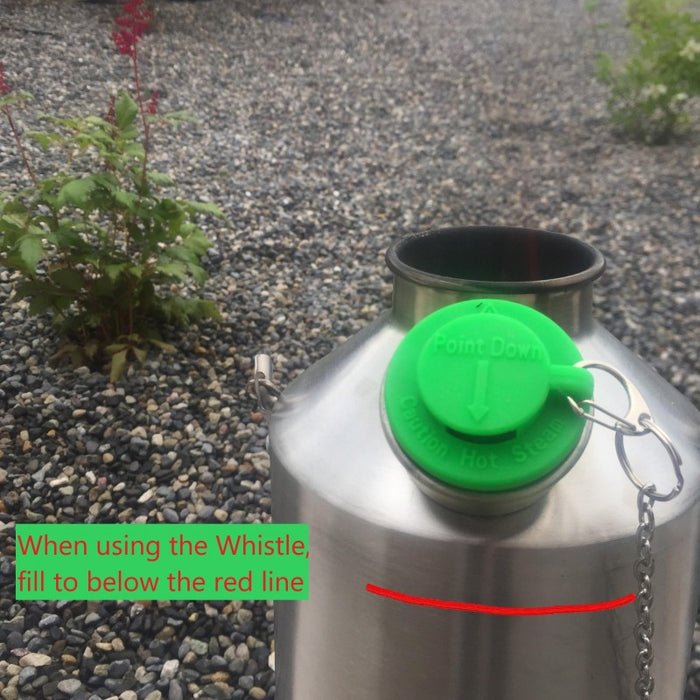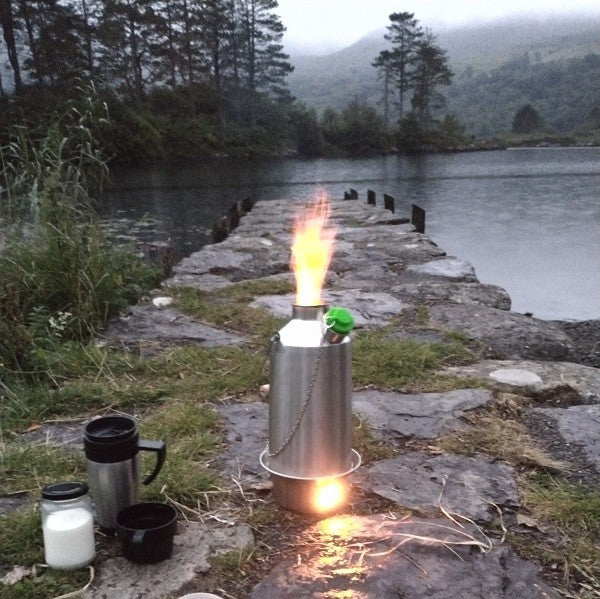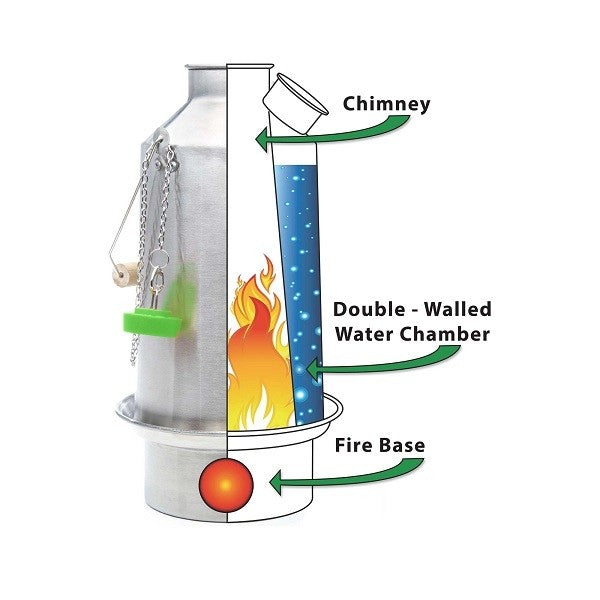 Kelly Kettle Camp Kit- Stainless Steel (Complete KIT)
Please allow 1-2 weeks for order processing*
BASE CAMP Stainless Steel Version
Our Large 'Base Camp' Kettle in Stainless Steel. Includes Kettle + Fire Base + Whistle + Bag.
Boils 1.6 liters of water quickly using just Sticks, Pine Cones, Dry Grass, Bark, etc. Works in ALL weather conditions.
Perfect for Families, Groups, Scouts, Base Camping, Outfitters, Family Fun, Fishing, etc.
Great Preparedness Item for Power Shortages, Storms & Emergency Kits.
A popular 

Green Whistle

 has replaced the Orange stopper on this Kettle and will let you know when the water has boiled.
Lightweight - Never carry fuel again!  33cm tall. Only weighs 1.16 kg
Now Comes With Upgraded Steel Fire-Base. Historically, the fire-bases were Aluminium which softened, warped and burned out quite quickly.
This Stainless Steel kettle & steel fire-base boils 1.6ltrs (approximately 6 cups) of water at a time. This size is ideal for Anglers, Car Camping, Scouts, Picnics, Hunters, Garden Allotments, Caravaning Camping gear, Wilderness Survival kits, Humanitarian Aid, or anyone who works or plays in the outdoor.
A popular Green Whistle has replaced the Orange stopper on this Kettle and will let you know when the water has boiled.  
Strong with nothing to fail or break, our kettles work extremely well in both good and harsh weather conditions.  They are a vital piece of camping equipment for any outdoor person. Using whatever natural fuel is lying around (twigs, dry grass, heather, Birch bark, Pine cones, dry animal dung, etc) our kettles will bring water to the boil within a matter of minutes. Never carry fuel again.
Our kettles are cost-FREE to run, eco-friendly as they operate on carbon neutral fuels, and are great fun to use. Note: Add our Pot-Support & Cook set to prepare small amounts of food (Noodles, Rice, Oatmeal, hydrate food, etc) over the kettle while your water boils. Boil and cook at the same time using only a handful of fuel!
Better still, add our Hobo Stove accessory to turn the fire base of your kettle into a stand-alone wood fuelled Camping Stove.
Fire Base & Drawstring carrying bag are included as Standard with each Kelly Kettle. The durable steel fire base inverts up into the bottom of our kettles to make the unit as compact as possible for transport and storage.
Please note: The Kettle has been designed to boil water extremely fast in all weather conditions using very little fuel. When filled with water, the Kelly Kettle should always be carried upright to avoid any spillage/leakage from the water spout or chimney top.
Older Kettles may have an Orange Rubber or Cork Stopper. These MUST ALWAYS be removed before using the kettle. The Kettle must never be boiled with these older stoppers in the spout.  
SCOUT VERSION stainless steel
This Ultimate 'Scout' Kit is the best camping kettle for small groups or families, Car Camping, Fun Family Picnics, Scouts, Fishing, Bushcraft & Outdoor Education, Hunting, Emergency Preparedness & Off-Grid Survival Kit etc. See Product Description below.
Kelly Kettle Ultimate Kits are the best value when purchasing Kelly Kettle products! This Kit includes:
'Scout' Kettle

 

Includes 1.2 liter stainless steel kettle, fire base and green whistle.
Hobo Stove -

 

Place this onto the fire-base of your kettle to create a stand-alone wood-fueled stove. Takes up no extra space .... it fits neatly inside the fire base of your kettle for storage.
Cook Set -

 

includes 0.85 liter Pot with pan/lid, grill set and gripper handle. Place the grill pieces on the fire-base to grill over the coals or, to simply create a base for the Pot/Pan to sit on.
2 x Cups - 500ml & 350ml.

 

Single walled Stainless Steel. Compact: Cups have folding handles & pack inside each other. Drink, eat or cook in these cups!
2 x Plates -

 

Dishwasher Safe, Stackable, Durable and tough. Suitable for outdoor or indoor use. Rim around the edge protects fingers from getting burned when plate contents are hot. Can be used as a Pan for cooking
Base/Pot Support (New Model) -

 

Use this to a) Cook fast-cooking items like Rice, Oatmeal, Noodles, Soup etc. over the chimney of your kettle, while your kettle boils. Note: Keep the kettle full with water when using the pot-support over the chimney. Or b) Use it to level uneven ground under the fire-base or simply to eliminate scorch marks to lawns, timber decking & picnic tables.
Storage Bag
Please see images of the various items in use.
All items are stainless steel and fit neatly within the kettle itself for transport / storage.
Total Kit weight: 2.1kg / 4.6lb (excluding packaging)
TREKKER Version Stainless steel
NEW FROM APRIL  'Trekker' Kit .... for the Solo Camper!  Perfect for Trekking, Hill Walking, Backpacking, Scouts, Kayaking, Picnics or Emergency Preparedness & Bug-Out Bags. Boil Water & Cook Fast Outdoors.  This kit contains: 
Trekker Kettle (0.6 liter), fire-base & green whistle.
Cook set - which includes 0.45ltr Pot
Frying Pan (pot lid)
2 Piece Grill - place on the fire-base to grill over the coals or, simply create a secure base for the Pot to sit on.
Gripper Handle.
Small Hobo Stove - turns the fire-base into a stand-alone wood fueled camp stove for easy cooking.
Pot/Fire-Base Support - use to either cook items over the chimney as the kettle boils, or use under the fire-base to prevent ground scorch to lawns, decking or picnic tables.
1 x 350ml Camping Cup with silicone Coolip piece and folding handles.
Drawstring Storage Bag.
All items are stainless steel and fit neatly within the kettle/bag for transport/storage.
A popular Green Whistle lets you know when the water is boiled.
Please see product description below for details for the various cooking options that this kit provides ;-)
Total Kit Weight 1.17 kg / 2.57 lb

Note: Plates & large cup are not included.  Prior to April '21 we offered an 'Ultimate Trekker kit' where the large cup and two plates were included. However, as they did not pack neatly into the bag and had to be carried separately, we created this more compact, lighter weight offer for the solo adventurer! :-)