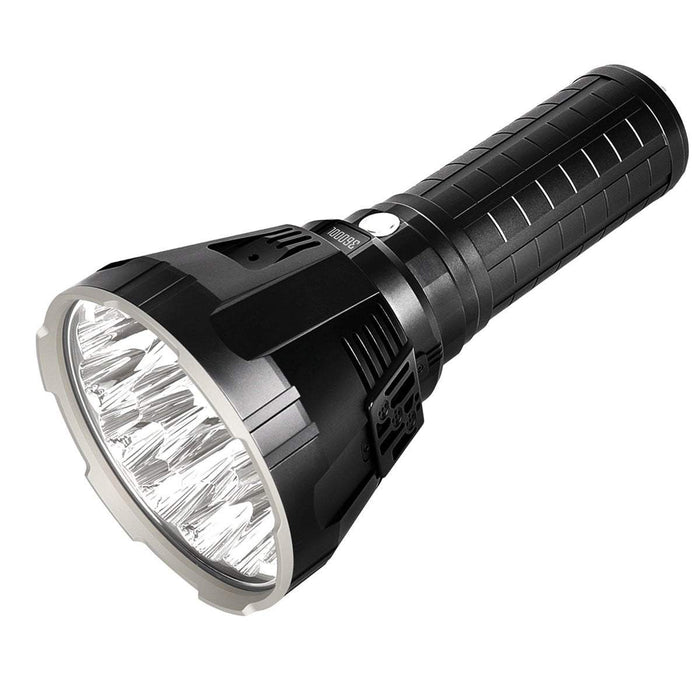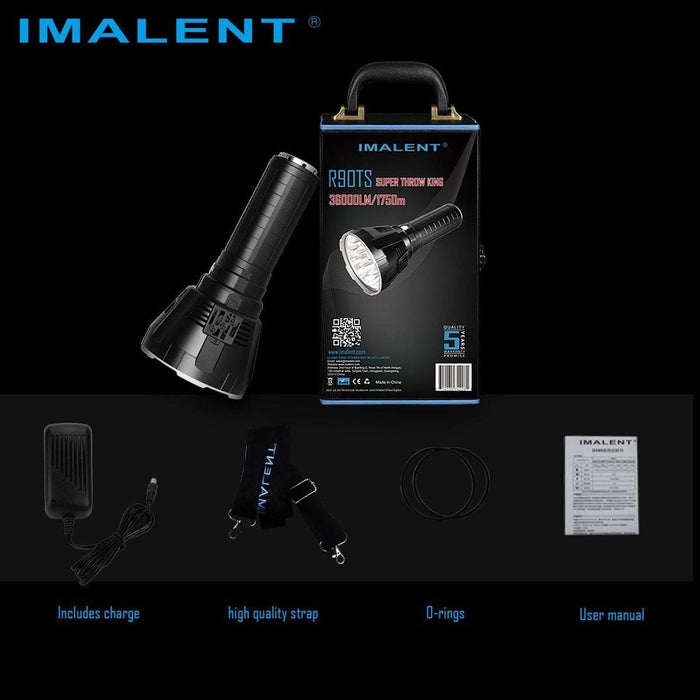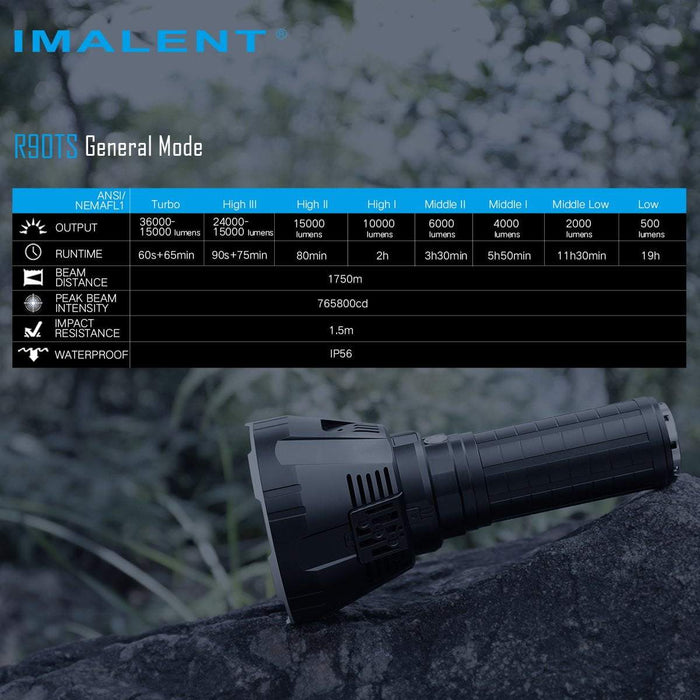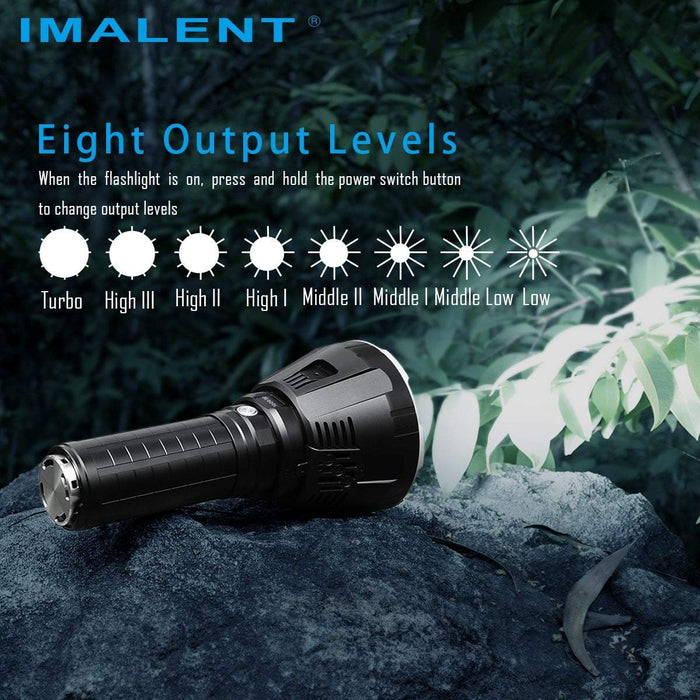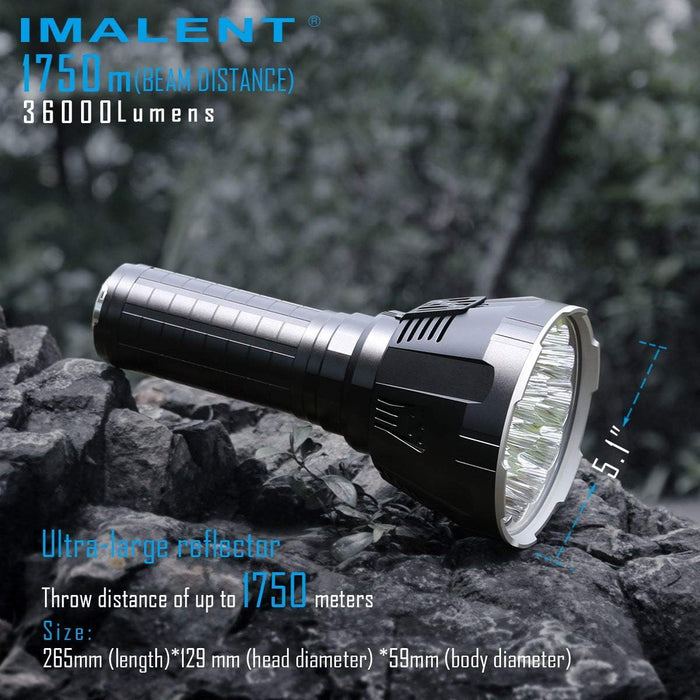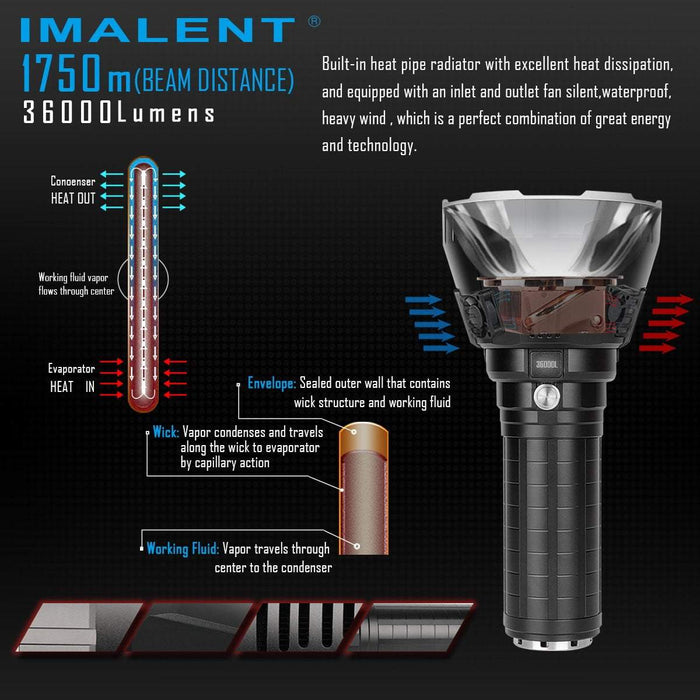 Imalent R90TS 36,000 Lumens (Worlds most INSANE spotlight)
Super Bright: the rechargeable flashlight comes with 18pcs Cree XHP35 HI high lumens LEDs, output up to 36000LM, its lighting distance is up to 1750m. Good for power outage, camping, hiking, caving, exploring etc.
Built-in thermal control module will automatically adjust the brightness output,keep using comfortably
OLED Display: digital screen of the bright flashlight will display its electricity level, then we know clearly how much power of battery is still there.
Power source: led flashlight is made of high performance aluminum alloy, sturdy and durable. Rechargeable flashlight.
Friendly Service: We offer Five-Year warranty and friendly customer service. For first use, please take out the battery protection pcs.(it is between flashlight head and battery pack).
Product Details:
R90TS, "NightSword",utilizes 18pieces of American XHP35 HI LEDs with a maximum output up to 36,000LM and long range up to 1750 meters, R90TS will bring you absolute shock in the night.
R90TS is extremely compact and comfortable to hold, and good for camping, Searching, fishing and more other outdoor lighting experience!
The built-in radiator helps dissipate the heat through the heat-pipes, which are then exhausted and cooled thanks to the integrated fans' strong winds… and all this while being water proof! The ultimate combination of power and technology.
With IMALENT's unique design with bright plating process optical reflector and 18pcs XHP35 HI LEDs,the R90TS delivers a max output up to 36,000lumens and a far reaching distance of 1750meters, push you boundaries day and lights, make it a perfect search and rescue flashlight!
The R90TS features IMALENT's signature high-grade side pressure switch. This ergonomic design provides an unprecedented level of grip. Eight output levels ensure long runtimes with low or high output in any situation. The "hide strobe" feature keeps you safe by starting quickly at critical moments.
Features:
Utilizes 18 pieces of American XHP35 HI LEDs, with a lifespan of up to 50,000 hours and a maximum output up to 36,000 lumens.
Built-in safety self testing intelligent charging circuit, convenient,fast and safe.
Eight levels which can be exchanged quickly and instant Turbo.
Built-in switch indicator lights, easy to find the switch in the darkness
Size: 265mm (length)*129 mm (head diameter) *59mm (body diameter)
Net weight:1950g(battery included)
High efficiency constant current circuit will maintain constant brightness
Built-in thermal control module will automatically adjust the brightness output, keep using comfortably.
Combination of toughened ultra-clear mineral and anti-reflective coating glass Aluminum OP reflector
Aerospace-grade aluminum alloy body, wear-resistant Type III hard-anodized surface treatment
IP56 standard waterproof
Package Included:
1 x Imalent R90TS LED Flashlight
1 x Charge (USA Plug)
1 x Strap
2 x Spare Waterproof O-ring
1 x User Manual