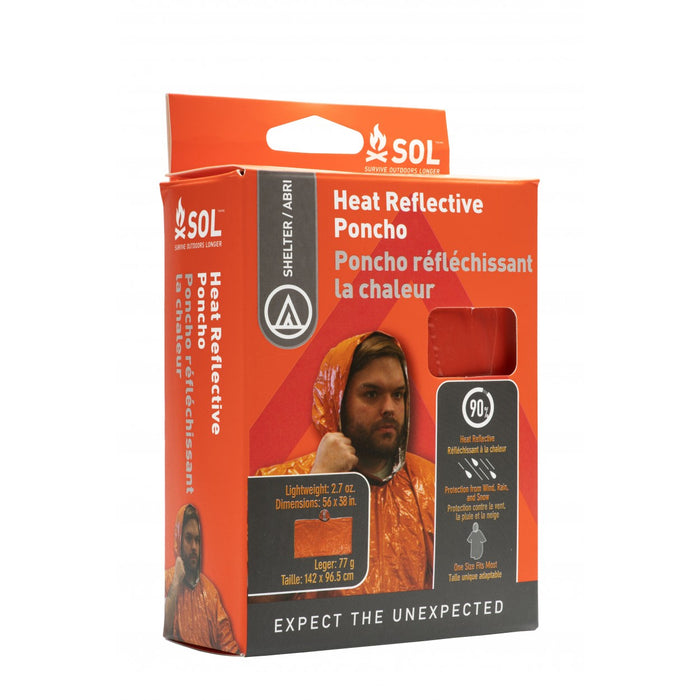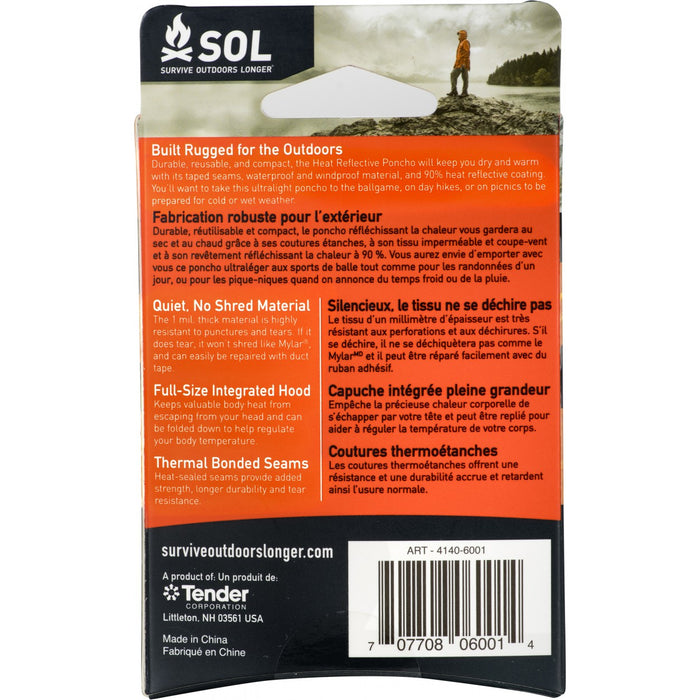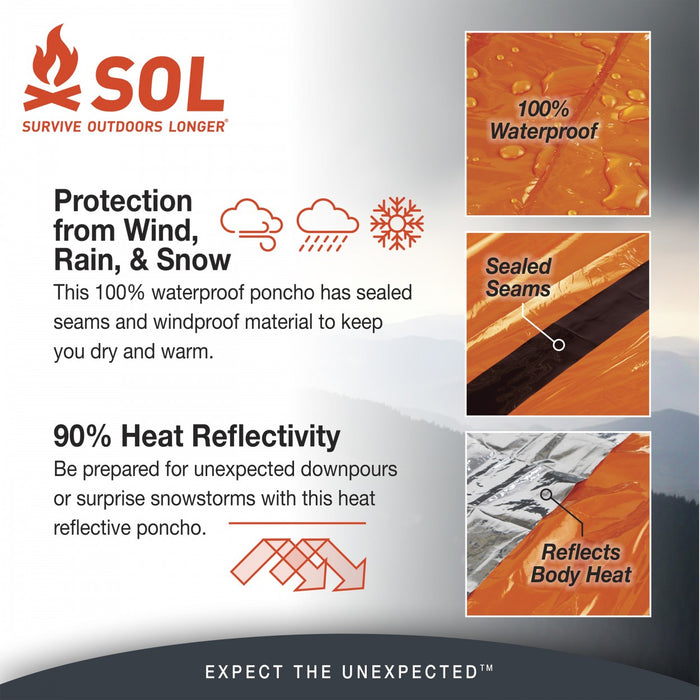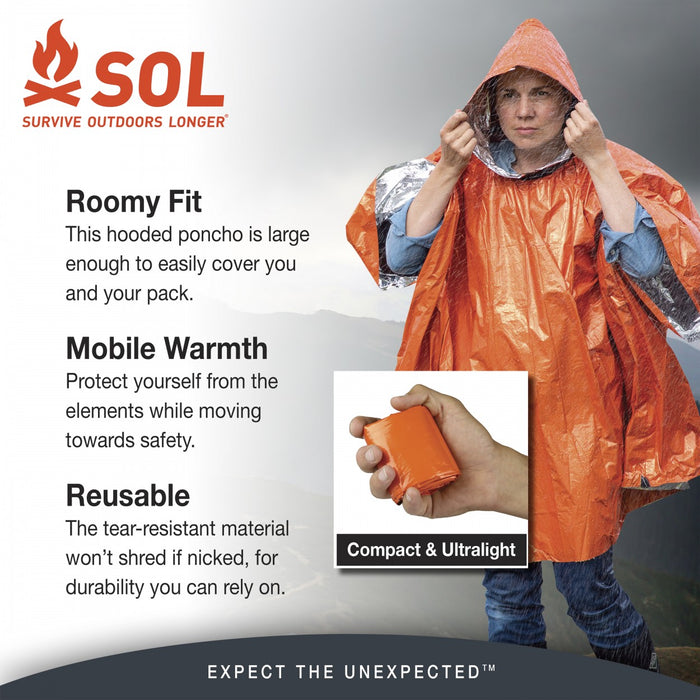 SOL - Heat Reflective Poncho for protection from Wind, Rain, & Snow.
With the Survive Outdoors Longer® Heat Reflective Poncho, you don't have to worry about getting caught in a downpour. Made with a high-performance, 90% heat reflective material, this waterproof rain poncho allows you to keep moving towards shelter while staying dry and warm. The durable material is tear-resistant and won't shred like Mylar®, giving you an emergency poncho or backpacking poncho you can count on for multiple trips.
A great lightweight addition to your backpacking gear, the Heat Reflective Poncho weighs a mere 2.7 oz. and folds up small enough to fit in the side pocket of your backpack. The roomy design can cover you and your pack, making this hooded poncho the ideal ultralight rain gear. Throw this reusable poncho in your glove box for unexpected showers, add it to your emergency gear, or keep it next to your umbrella for warm, full-coverage protection wherever you go. Stay dry and warm whenever foul weather arises with the Survive Outdoors Longer® Heat Reflective Poncho.
Protection from Wind, Rain, & Snow
Protect yourself from the elements. This 100% waterproof poncho has sealed seams and windproof material to keep you and your pack dry and warm when the weather changes unexpectedly.
90% Heat Reflectivity
Be prepared for unexpected downpours or surprise snowstorms with this heat reflective poncho. The warm poncho reflects 90% of your body heat back to you to prevent heat loss and trap warm air.
Compact, Ultralight Rain Gear
Throw this lightweight poncho in your backpacking gear, bug out bag, or glove box. The perfect ultralight rain poncho, it weighs just 2.7 oz. and is about the size of a Ramen noodle packet.
No Shred Construction
Stay warm and dry on multiple trips with this reusable rain poncho. Unlike Mylar®

 

or polyester, this material is tear-resistant and quiet, so it won't shred if nicked or rattle loudly as you walk.
Roomy Fit
Keep you and your pack dry in foul weather. This one-size-fits-all, hooded poncho is large enough to easily cover you and your pack so your hiking gear stays dry.
Mobile Warmth
Keep moving towards shelter without sacrificing warmth. This emergency poncho protects you from exposure to the elements while letting you move towards safety and be visible to rescuers.
KIT DETAILS
Size:

3.86" x 1.63" x 6.25"

Weight:

2.9 oz.

Group Size:

N/A

Trip Duration:

N/A

Item #:

0140-6001