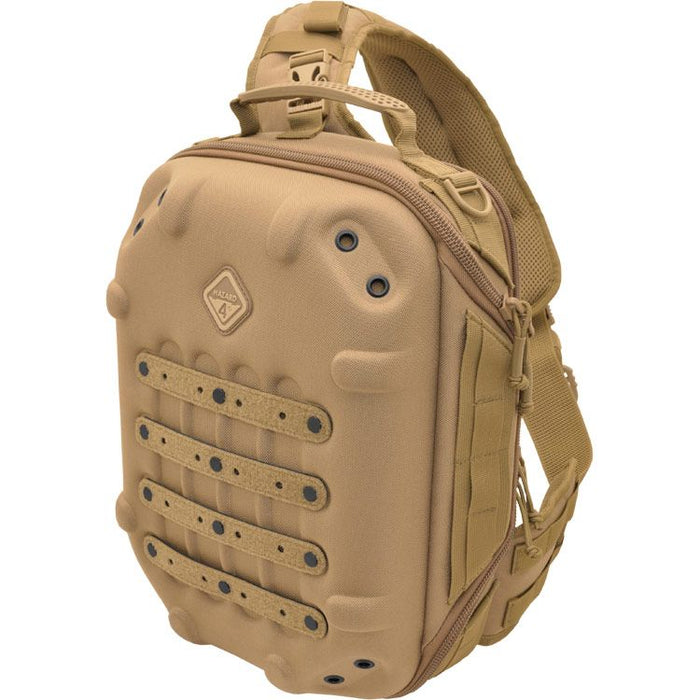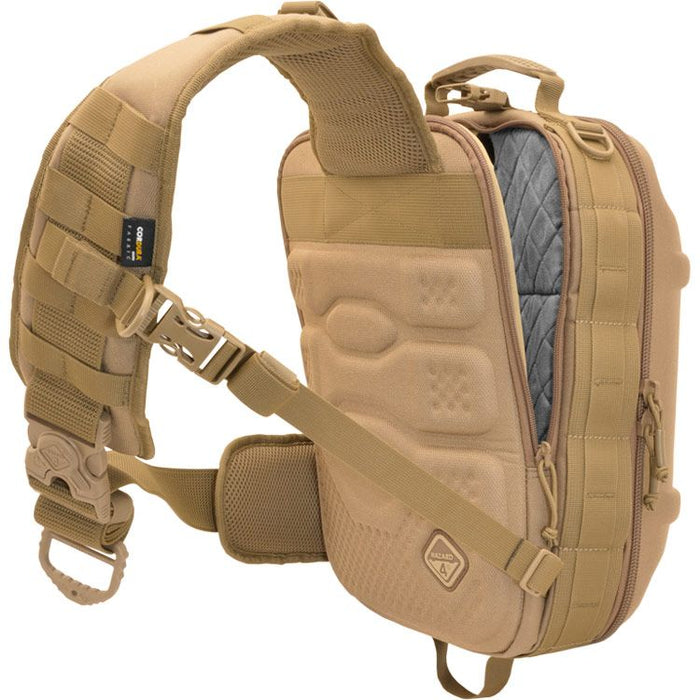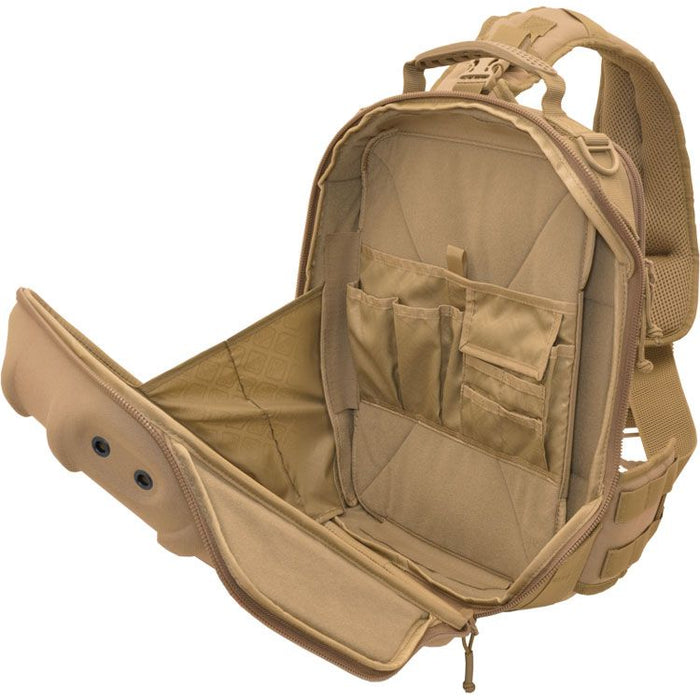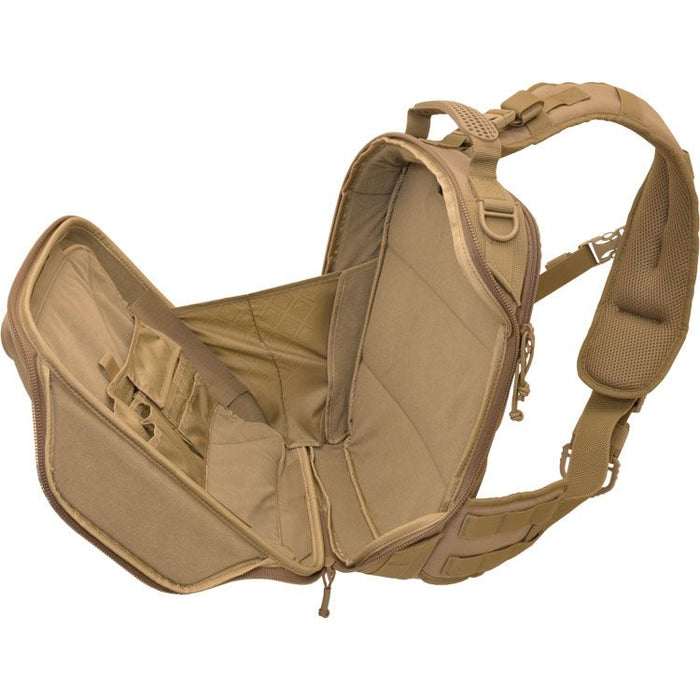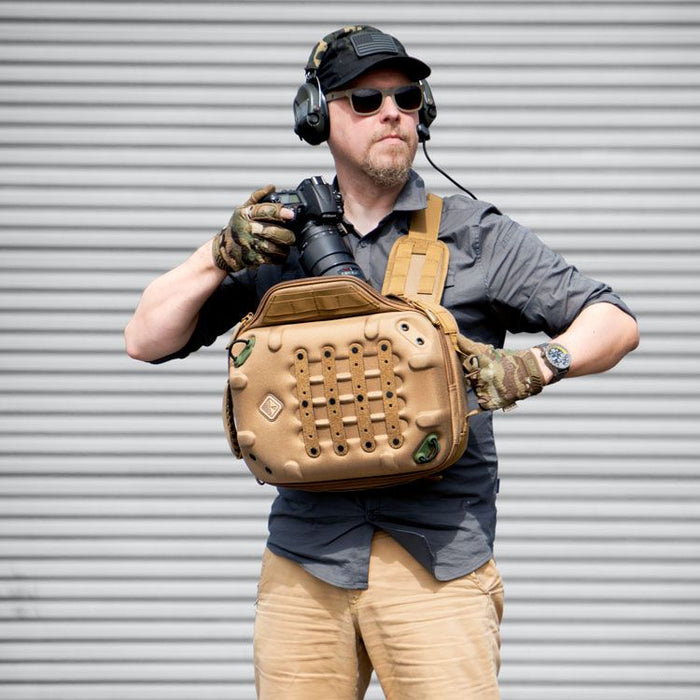 Hazard 4 Hibachi 15 Liter- Coyote
Light shell sling-pack
Molded-foam and 360° padded walls protect gear, and support external load mounts. A sling configuration allows sliding from back to chest for fast access. This model is slimmer and lighter than our similar Grill shell-pack for increased mobility at lower cost. This also makes it ideal for motorcycle use since it guarantees aerodynamics and on-seat bag access. This design omits photo-dividers due to the lower side-wall. But since the interior is not split and fully tricot lined, our hook-backing accessory pouches can be bought separately to add padded compartments for camera systems, drones like Mavic, and military/shooting-gear, etc. The pack instead ships with a unique multi-use divider panel which can be attached inside either lobe, or bridged between them. It allows for separation of bulkier items like jackets, lunch boxes, water bottles etc. And one side has a full organizer for storing smaller items like tablets, card readers, pens, tools etc. The top shell has 4 spots for our patented Hardpoint® parts, allowing optional attachment of loops, lights, bungee systems, etc. (sold separately.) Military modular webbing (MOLLE) is provided on the sides, strap, and hip pad. The lid features our patented hard-molly system which is unique in the industry, allowing mounting of webbing accessories to a solid object. The polymer molle strips are covered in fuzzy lining for adding large i.d. patches, reflectors, etc. Our patented locking roto-buckle is standard, as is our patented photo-d-ring which allows mounting of ¼-20" screw equipment like cameras, mini tripods, etc. and having the main strap serve as a solid retaining strap. ¼-20" screw ports are also provided on the hard-molle polymer strips. See the details below for the rest of the feature set.
Fits up to 15" MacBook Pro, or water bladder in padded/quilted back-pad (also our CCW holsters)
Lightweight shell/pad construction for gear protection & attaching our Hardpoint® hardware for tie-downs, lights, bungees, etc. (optional)
Molded strap-rests on shell for routing retaining straps at right angles (for boards, rifles, ice-axes, etc.)
Fits mirrorless DSLR systems in main space w/ optional hook-backing padded compartments.
Admin-organizer panel for pens, multi-tools, SD cards, etc. on multi-use load splitter (also holds iPad Pro 11")
Multiple MOLLE webbing for pouches, etc. on sides, main strap & hip pad
Also very suitable for motorcycle use w/ "no-flapping" aerodynamics & fast aesthetics
Molded back panel protects contents/wearer, promotes air flow & conforms to your back
Hanger for bladder and cable/hose passthrough included in laptop/bladder area
Movable multi-position divider w/ organizer to split loads & organize small items
3-D air mesh under main strap for comfort and sweat mitigation
Side-access door on main zipper to access items while on chest
Unique gusset opposite access door to keep lid fr dropping while allowing side access
Side-gusset can be adjusted in length or disengaged for full open presentation
Top & bottom grab handles w/ rugged box-tacked stitching for strength (top has 2x d-rings)
Textured SCUBA webbing main strap for slider lock-up & class-leading durability
YKK® zippers, real Cordura® 1000D nylon & reinforcing stitch patterns for lasting quality
Main compartment zipper-pullers marked with plastic tubes to distinguish quickly in dark
Shoulder pad compression-strap w/ buckle to relieve zipper load & for lashing solutions
Hip pad prevents undue twisting of pack & provides perfect pad for bottle case, or a pouch
¼-20" holes in hard-hole polymer strips for screw mounting camera gear, lights, knives etc.
All straps tipped with hook and loop winders for mess-free length adjustment
What's Included:
1x Movable padded divider w/ admin pockets panel
4x Covers (for Hardpoint® double grommets)
1x Removable chest anti-rotation buckle strap
Retail tags for attractive store display and present recipient
Additional Note: Due to the limited space on the side-walls, the modular webbing (MOLLE) there is suited best to adding smaller
pouches like those for flashlights/multi-tools rather than large heavy items like water bottle pouches.
Product Features
| | |
| --- | --- |
| External Size | ~15.7" L x 11" W x 5.9" D (40 x 28 x 15 cm) |
| Main Compartment | ~15.2" L x 10.2" W x 2.2" D (38.5 x 26 x 5.5 cm); Including Top Hardshell: ~15.2" L x 10.2" W x 3.9" D (38.5 x 26 x 10 cm). |
| Laptop Compartment | ~14.4" L x 10.8" W x 0.5" D ( 36.5 x 27.5 x 1.3 cm) |
| Total Gear Capacity | ~15 L (914.7 cubic inches) |
| Product Weight | ~3.1 lbs. |
| Care Instructions | See product tag |
| Main Material | Invista® 1000D Cordura®; PU x2 water repellent coated for superior water resistance. |
| Design | Long Beach, California - In-House Team. |
| Manufacturing | Imported |