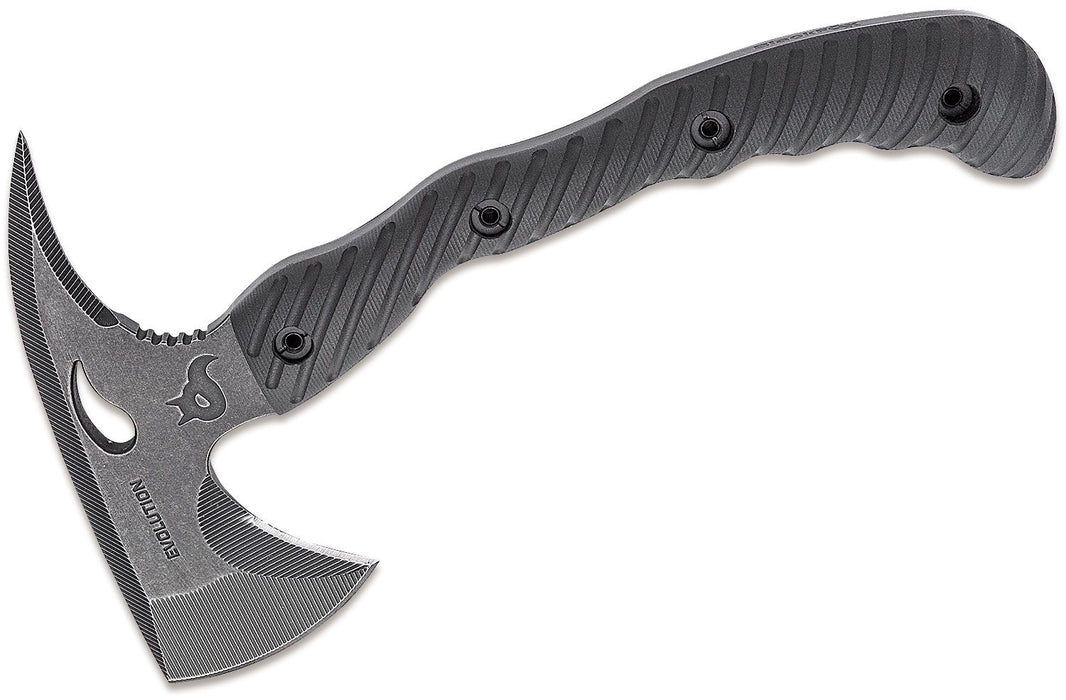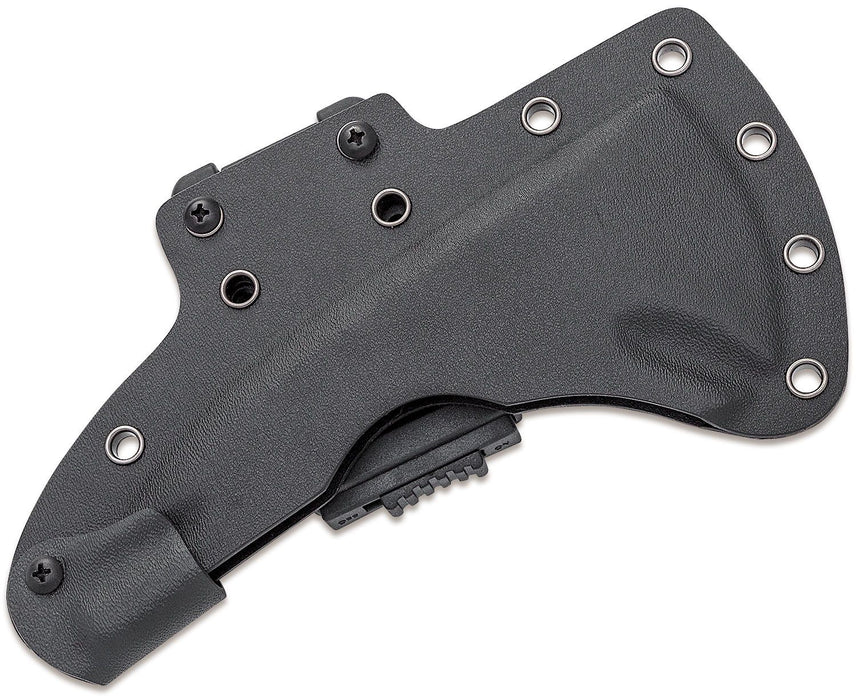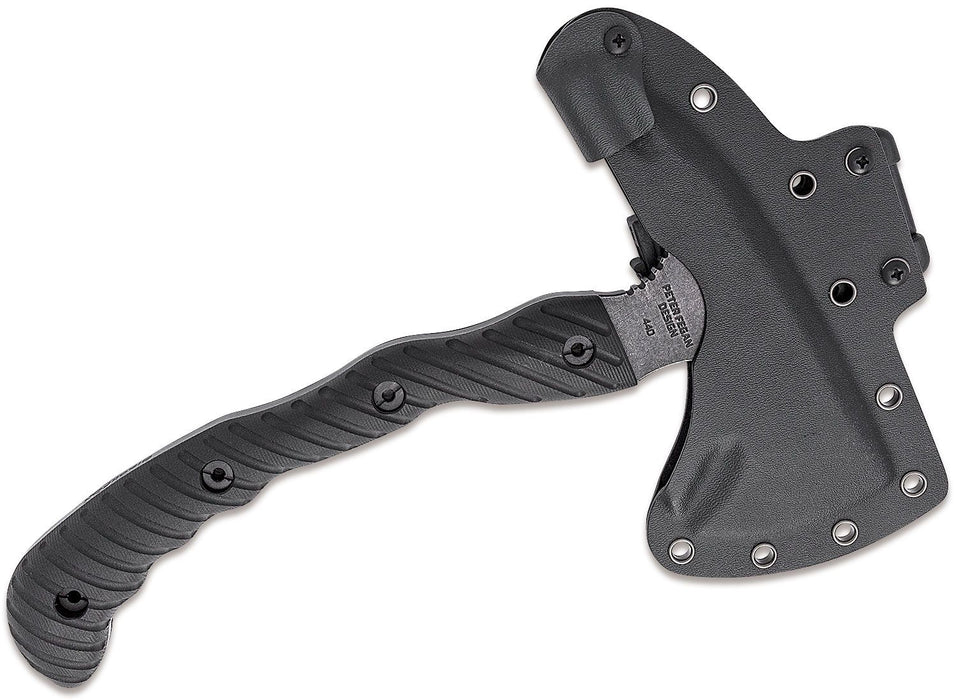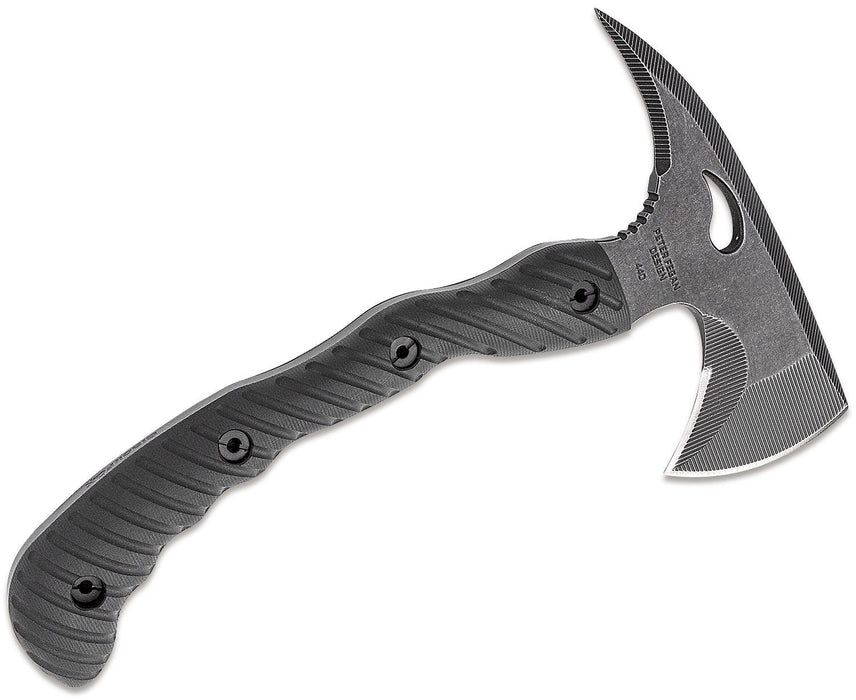 FOX Evolution Axe Peter Fegan (Made in Italy)
FOXBF735: BF-735 BlackFox Evolution Axe
Fox Knives
The BlackFox Evolution Axe by Australian designer Peter Fegan is useful both as an entry tool and around the campfire. A fine groove structure is ground on all bevels of the axe, which reduces surface friction and thus prevents it from getting stuck in wood, for example. The screwed on handle scales are also structured to provide a secure grip and the handle profile is ergonomically designed. For the consistent full tang construction, the tough and shock-resistant 440C stainless steel was selected and given a blackwash finish. The Kydex sheath is equipped with an easy to use belt clip.
440C Stainless Steel
While it was still a high-end steel several decades ago, 440 is a very decent middle-grade steel today. Many users still see it as the perfect "magical trifecta" of edge retention, corrosion resistance and easy sharpening. It is still the first choice for Boker Plus and for many models from our Solingen manufacture.
G10
G10 is a so-called glass fiber reinforced plastic (GRP for short) used for the mass production of handles but also for blades and even entire knives.
As a glass fiber reinforced plastic, G10 is a composite material. This type of material consists of at least two base materials. The special feature of composite materials is that the finished composite still retains the individual structures of the base materials. This means that the base materials also keep their own chemical and physical properties. Compared to traditional materials, composite materials are lighter and more durable.They were first used in those areas and industries in which weight reduction is a priority, such as aircraft or race car construction.
In recent years, however, composite materials have also been used for other products, including knives. The base materials used for G10 are glass fibers and epoxy resin. Glass fibers are produced by melting glass and extruding fine filaments from the melt. Glass fibers are highly resistant to chemical materials and physical influences, which makes them weatherproof and age-resistant. They are also incombustible. In addition, glass fibers possess a high tensile modulus, which means that they are relatively sturdy. Epoxy resin is a synthetic resin that can be cured to form a plastic material.
Cured epoxy resin is extremely hard and strong but at the same time considerably lighter than metals with comparable properties. To produce G10, a glass fiber matrix, i.e. a woven glass fiber structure, is embedded in epoxy resin. The two materials are shaped and cured together. The curing process permanently bonds the glass fiber matrix to the epoxy resin. The glass fibers make the resulting fiber/plastic composite very sturdy and durable, while the epoxy resin makes the material lightweight. Handles, blades or entire knives made from G10 are often black or charcoal gray; handles made from this material often have a rough surface.
Specifications
Blade Length: 3.00"
Cutting Edge: 2.95"
Handle Length: 8.50"
Overall Length: 10.63"
Blade Thickness: 0.27"
Blade Material: 440C Stainless Steel
Blade Hardness: 57-58 HRC
Blade Finish: Black
Handle Thickness: 1.10"
Handle Material: Black G10
Sheath: Black Kydex
Designer: Peter Fegan
Weight: 29.30 oz.
Made in China