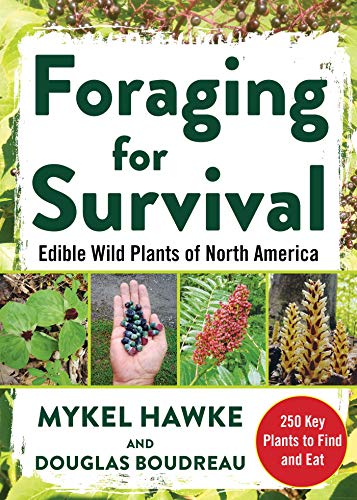 Foraging for Survival: Edible Wild Plants of North America
Whether you're a hiker taking a walk through your local wilderness, or a chef looking for new ingredients to incorporate in your dishes, Foraging for Survival is the book for you.

As consumerism and a meat-heavy, processed diet become the norm and the world's population continues to grow at an exponential rate, more and more people are looking toward a more sustainable path for food. Authors Douglas Boudreau and Mykel Hawke believe that the future of food lies in the wild foods of times spanning back to before the mass-agriculture system of today.

People have become distanced from the very systems that provide their food, and younger generations are increasingly unable to identify even the trees in their backyards. In response, Boudreau and Hawke have provided a compendium of wild edible plants in North America. Foraging for Survival is a comprehensive breakdown of different plant species from bearded lichen to taro, and from all over the United States. There are also tips for growing local native plants in the backyard to facilitate learning and enhance table fare at home. Other information you'll find inside:

A list of different types of edible wild plants

Foraging techniques

Bugs and other grubs that can be consumed

Warning signs of poisonous plants

And much more!
About The Author:
Douglas Boudreau is a self-taught foraging instructor and native Floridian. Poverty forced him to learn about wild food early in life, and he studied edible plant guidebooks while traveling around the country. He is now semiretired and teaches free EDIBLES-4-SURVIVAL classes on local edible wild plants where he lives in Zephyrhills, Florida. Mykel Hawke is a retired US Army Special Forces officer, author, and television and film personality. He is perhaps best known for the television programs he created on Discovery Channel called Man, Woman, Wild and Travel Channel's Lost Survivors. He resides in Miami, Florida, with his family