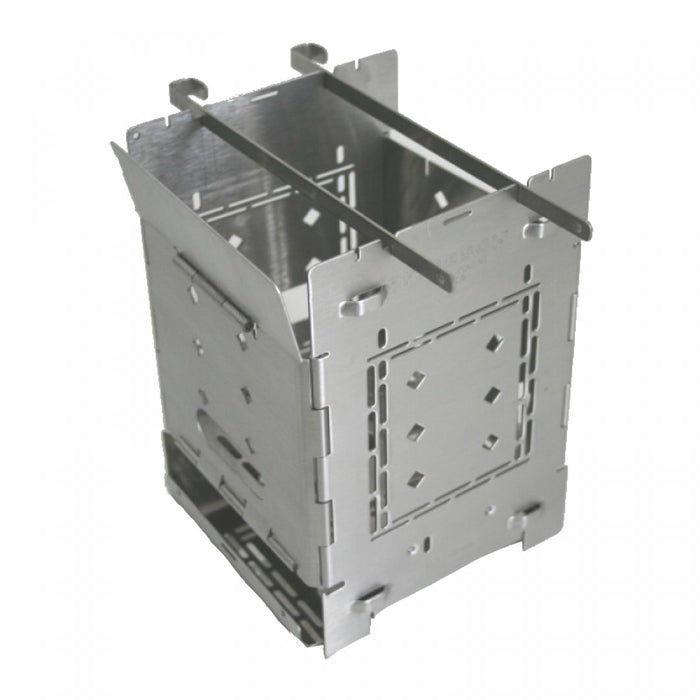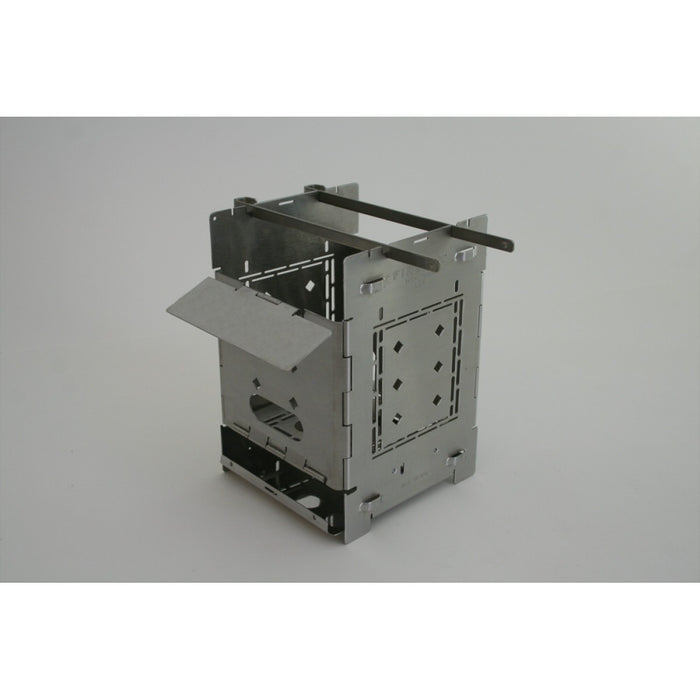 Firebox Stove 5 inch Generation 2 COMBO KIT
MULTI FUEL- Wood, Gas Burner, Any Alcohol Burner, Fuel Tabs, Gel Fuels or Sterno cans can all be used. Options to accommodate any situation or preference.
BURN WOOD 3 WAYS- Side, top or pre-fuel, including the revolutionary Swedish Fire Torch Method (over an hour cook time with no fire management!) 
EASY TO USE- The Firebox is a true folding stove (No assembling of multiple pieces and parts) with positions for mounting accessories and burners for countless fueling, cooking and cookware possibilities!
HIGHEST BTU OUTPUT- Hinged damper for additional exhaust capacity allows more combustion air to support pre-fueling (other stoves with less exhaust capacity are forced to exhaust out the feed hole causing flames to bypass the pan.) Firebox always maintains flame to pan contact. Boil 2 cups of water as fast as 2:40. The Cross Feed Fuel Delivery with upwards angle for flame velocity and crossed sticks for turbulence is the perfect recipe for efficiency.
STURDY & STABLE- Even a Dutch Oven Feels stable on the Firebox Stove. 
A PORTABLE CAMPFIRE- (Competitors warn against this, we encourage it!) For that, true to camping ambiance that brings friends and families together for warm conversation. 
MOST RELIABLE- Critical parts cannot be lost because they are hinged together.
MOST DURABLE- Thicker stainless steel and engineered expansion management make the Firebox the strongest stove on the market with the least amount of warpage. Barrel type hinges are stronger and don't flex or slide like other hinge designs. 
MORE AVAILABLE ACCESSORIES- Grill Plates, a Boil Plate and the Adjustable Fire Grate open a world of outdoor cooking possibilities (not included.) 
The G2 5" Firebox Stove with removable Ash Pan, 4 Firesticks, Boil Plate (Converts the stove into a boiling system for use with space saver cups and 40 oz. stainless steel water bottles), Adjustable Fire Grate (For burning wood pellets closer to the pan or charcoal closer to the grill), Regular Grill Plate, Extended Grill Plate, the generously sized Black D-Ring Stove Kit Case (made of double layer 500 wt abrasion resistant nylon constructed without a seam at the bottom to make this the most durable stove case on the market) and a cotton case liner to keep everything clean and tidy.
With this Complete Firebox Camp Stove Kit you can take full advantage of all the versatility and fun that wood cooking with the Folding Firebox Stove offers. Delicious, flavorful wood fired grilling, roasting, pan frying, shish kabobs or for quickly boiling water.

The G2 5" Firebox Camping Stove is now perfect! Thanks to feedback from our awesome customer base (and me coming to my senses) the king of wood burning stoves has it all. Side feed ports for fueling long sticks, the ability to holster, four Firesticks and an all new Fire Grate designed to stoke the thermal column of a Swedish Fire Torch. The G2 5" Firebox Stove is the ultimate outdoor cooking super tool. It's a multi-fuel cook stove able to utilize wood and other fuels found in nature. Solid fuel tablets, alcohol burners, butane gas burners, gel fuels (sterno), wood pellets or charcoal briquettes. It's larger size and sturdy construction makes it stable enough for a large Dutch Oven yet it can be used with cookware as small as a camping cup. The Firebox Stove is also easy! It effortlessly opens into position, and when it's time to go it folds flat - ready to slide into your pack.

Enjoy the fun that wood cooking with Folding Firebox Stoves offers. Delicious, flavorful wood fired grilling, roasting, pan frying, shish kabobs or for quickly boiling water.

100% stainless steel construction is easily maintained with a light coat of oil between uses. Used world wide since 2011.
Stove Buying Guide by Steve: If you're having a hard time deciding, I hope this helps.
3" G2 Nano Vs 5" G2 Firebox, The 5" Firebox has a larger deeper burn chamber, more BTU output & can hold more hot coals which means high cooking performance. The Nano maintains all the same amazing versatility and capability but in a much smaller, simpler form factor. Think of it as a minimalist version of the higher horse powered 5" Firebox Stove. You can do all the same things, you'll just need to pay closer attention to fuel management with the Nano.
Titanium VS Stainless Steel: SS is the heavy duty option, basically bomb proof. If you like big over the top fires, long into the night. I would recommend the SS 5" Stove (all alloys of SS loose corrosion resistant through wood fire temps. maintain corrosion resistance easily with a light coat of oil between uses). Titanium is 40% lighter, (5" Stove is basically half the weight) corrosion proof and cools down fast. If you're carrying your gear on your back and are focused on cooking you'll be glad to have a 5" Ti Stove (Panel adjustments may be needed, easily done by hand). The 3" Nano's less overall heat potential means it doesn't need much if any of the above mentioned maintenance (applies to both Ti & SS).
The choice comes down to backpacking vs car camping, and cooking performance. SS is more sturdy, Ti feels amazing in your hand. The Nano is a "gem of a stove" for those keeping things simple. The 5" Stove is like having a commercial kitchen at camp. In the end, you can't go wrong, most people want more than one stove because needs change depending on the trip. I've learned that a trip's success greatly depends on having the right gear (right up there with the weather).
Have fun, be safe and love your family, Steve

Dimensions of Stove:
Width: 5.0" (12.7 cm)
Height: 7.5" (19 cm)
Folded: .375" (.95 cm)

Stove Weight: 2 lbs (907 g)
Deluxe Combo Kit Weight: 2 lbs 10.6 oz (1.207 Kg)

Made in PRC