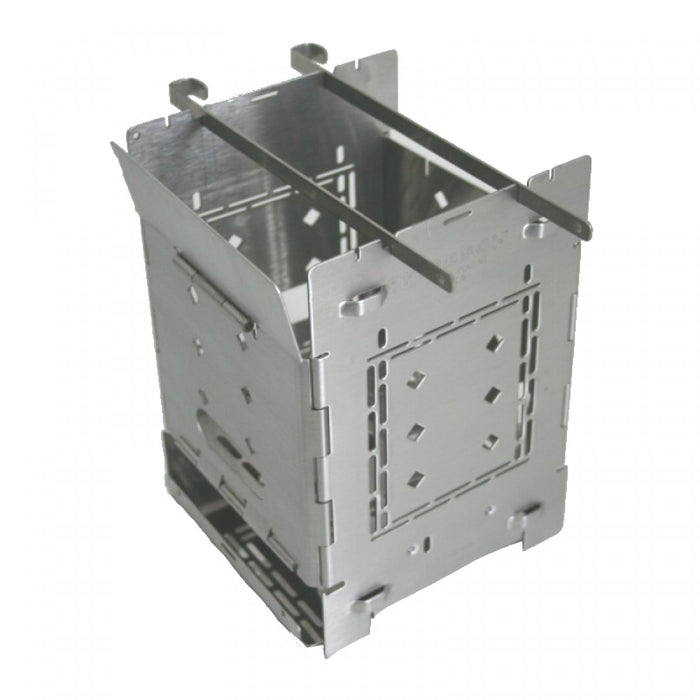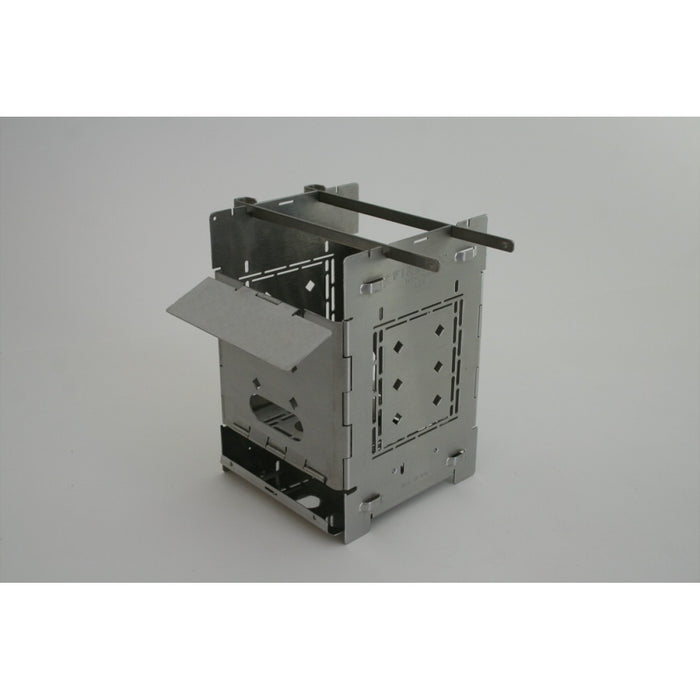 Firebox 5" Stove- Gen 2 (Stainless Steel)
The Gen2 5" Folding Firebox Campfire Stove (patent pending) is a multi-purpose super tool for fire. It's a multi-fuel cook stove able to utilize wood and other fuels found in nature, solid fuel tablets, alcohol burners, iso-butane gas burners, gel fuels (Sterno), wood pellets or charcoal briquettes. The Folding Firebox's larger size and sturdy construction makes it stable enough for a large dutch oven yet it can be used with cookware as small as a camping cup. The Folding Firebox Stove is also easy to set up. It effortlessly opens into position, and when it's time to go it folds flat - ready to slide into your pack.

Highlights:
Multi-fuel versatility
Pre-Fuelable (for less fussing with the fire)
No assembly, hinged construction (a true folding stove)
High heat output (Boil 2 cups as fast as 2:30min)
Multiple cooking configurations, useful accessories
Use virtually any size cookware
Functions as a portable campfire

Made of Stainless Steel Width: 5.0" (12.7 cm)
Height: 7.5" (19 cm)
Folded: .375" (.95 cm)
Weight: 2 lbs (907 g)
*Comes with 1 Ashpan and 2 Fire Sticks
Thanks to the feedback from our awesome customers I've been able to add several new features and improve performance!
Feedback conversation:
"I just wanted to take a moment to thank you and give some feedback. I was expecting a typical "camping stove" when this beast arrived! It's heavy...really heavy. But unlike some of the other feedback you've gotten, I feel weight isn't always a bad thing. In this case, I think it's worth every ounce. I'm always been leery of bending or breaking the other camp stoves I've carried, but not this one. I feel I could toss it anywhere in my pack and drive over it and it would still deliver when needed. Very well thought out design. I've cooked using wood, fuel tabs and spirit burner using this stove and it could not have performed better. Thanks for a great product!!"
Thanks Rich! I'm glad you appreciate the sturdiness of the Firebox! My first prototypes were thinner 304 and were lighter, but they warped and felt flimsy. So I consulted several metallurgists to choose the correct alloy of stainless and made it thick enough to hold up to it's high BTU output. Everyone I showed them to (including myself) liked the thicker version much more, so that's the direction I went.
I don't think people realize how hot a wood fire gets! What I learned was that no alloy of stainless could remain corrosion resistant at well oxygenated wood fire temps but some handled the heat better to last a good long time without getting all warped from the heat cycles. Maintain it like a gun barrel or a carbon knife blade, a light coat of cooking oil (any fat) between uses keeps it nice!
All the best, Steve