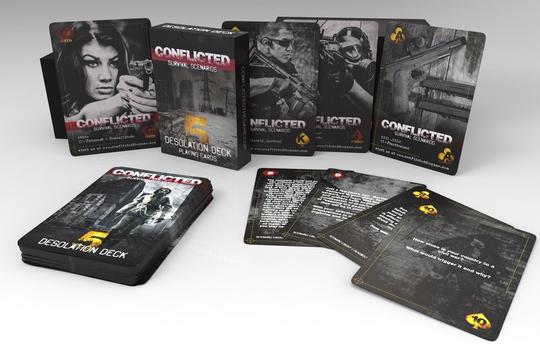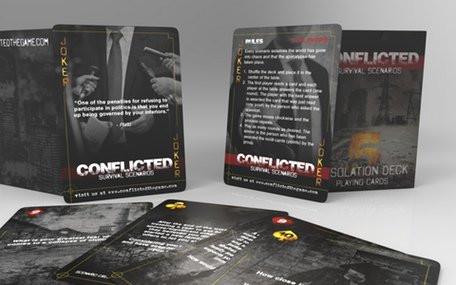 Conflicted Deck 5- Desolation from The Survival Card Game series
INCLUDES MORE SCENARIOS FROM THE PREPAREDNESS COMMUNITY
How far would you be willing to go, in order to survive another day?

If society suddenly collapsed, which one of your friends would lead your group?

Dozens of heart gripping scenarios from the makers of the game, and from the preparedness community.
An adult party game with a post-apocalyptic twist that will give you hours of fun, as you see a side of the other players you wish didn't exist.
A game designed by the author of Dark Ages: 2020 - JD Dutra. This deck can also be used as regular playing cards.
THE CARD GAME PLAYED BY PREPPERS AND SURVIVALISTS AROUND THE WORLD.
ENDORSED BY THE LEADERS OF THE PREPAREDNESS COMMUNITY.
No civilization has ever stood the test of time. When modern civilization collapses, how will you survive?
When there is no rule of law, but you still have a conscience, do you have what it takes to stay alive?
This game will make you question your own beliefs, your moral standards and your friendships. You have been warned. This is deck #5 from Conflicted: The Survival Game.
Conflicted: The Survival Card Game lets you explore your own survival philosophy and that of others. When playing Conflicted, every reaction to a scenario counts, from body language and interpretation of the scenario, to the answer itself.
"You can discover more about a person in an hour of play than a year of conversation." - Plato