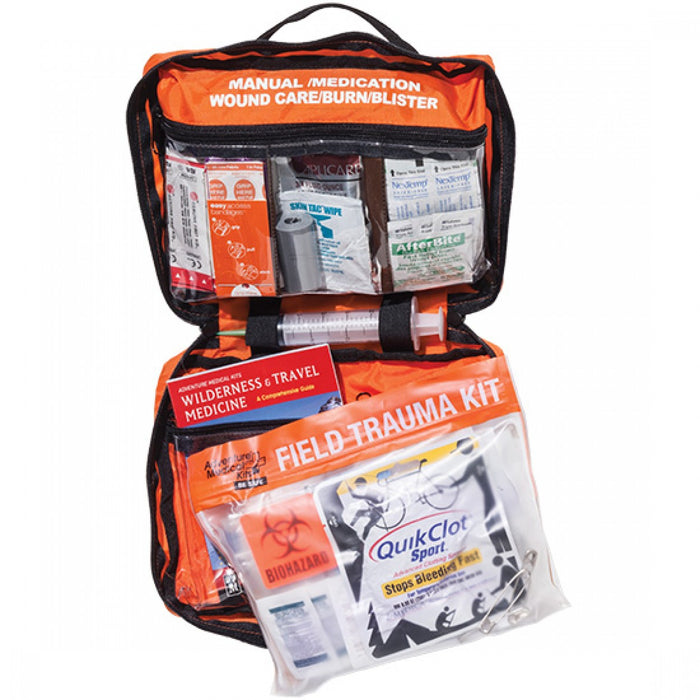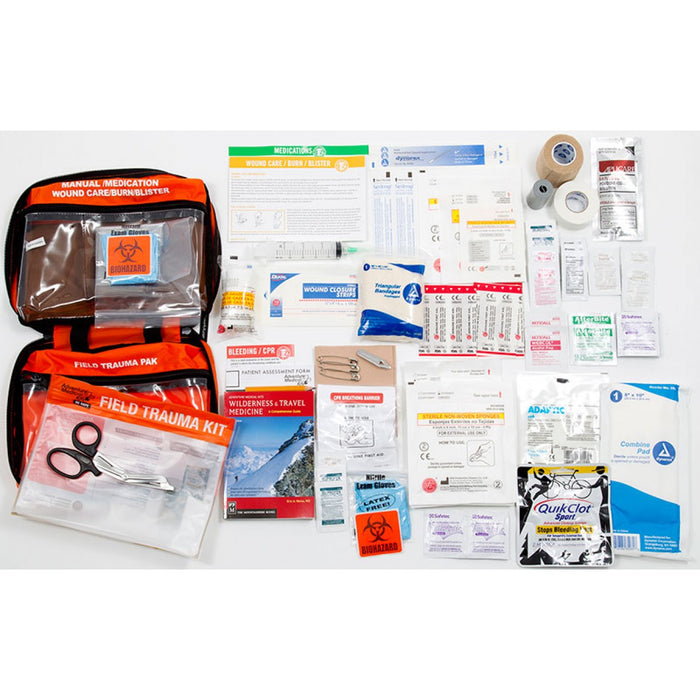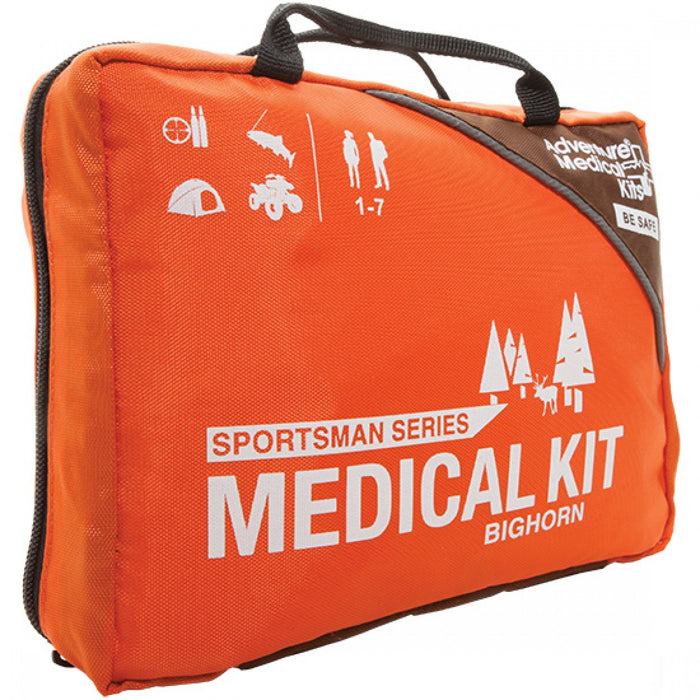 Adventure Medical Kits | Sportsman | Bighorn
The Bighorn Kit is built for the adventurous group of hunters who stray from the beaten path. Fully-stocked with supplies to treat serious injuries when you are far from medical care, the Bighorn is your hospital to go.
This kit features:
CPR Mask for protected mouth-to-mouth resuscitation.
Clean and close wounds with Irrigation syringe and wound closure strips. Includes the Advanced Clotting Sponge with zeolite, self-adhering elastic bandage, and trauma pads to Stop Severe Bleeding.
Removable Field Trauma Pack means you can leave the larger kit at base camp and only carry what you need to treat the most common and serious injuries in the field.
Stabilize Fractures and Sprains with wraps and bandages to immobilize fractures and provide support.
Stop Blisters Before they Start with die-cut Moleskin
Hospital-quality tools, including EMT Shears, precision forceps, and numerous bandages and dressings
Comprehensive Guide to Wilderness & Travel Medicine By Eric A. Weiss, M.D.
Bighorn First Aid Kit Contains:
TRAUMA PAK (Removable)
1 x Easy Care First Aid Card
1 x QuikClot Advanced Clotting Sponge, 25g
2 x Trauma Pad, 12.7cm x 22.8cm
2 x Sterile Gauze Dressings 10cm x 10cm, Pkg./2
1 x Nitrite Glove, (pair)
1 x Elastic Bandage Self Adhering, 5cm
2 x Triangular Bandage
2 x Moleskin, Pre-Cut & Shaped (14 pieces)
6 x Antiseptic Wipes
1 x CPR Faceshield
1 x EMT Shears 4"
1 x Splinter Picker/Tick Remover Forceps
1 x Patient Assessment Form
1 x Pencil
3 x Safety Pin
WOUND CARE/ BURN/ BLISTER
2 x Easy Care First Aid Card
1 x Irrigation Syringe, 20cc. with 18 Gauge Tip
1 x Wound Closure Strip, 6mm x 10cm, Pkg./10
2 x Skin Tac Topical Adhesive Wipe
4 x Antiseptic Towelettes
1 x Nitrite Glove, (Pair)
1 x Triangular Bandage
2 x Sterile Gauze Dressings 10cm x 10cm, Pkg./2
3 x Sterile Gauze Dressings 5cm x 5cm, Pkg./2
2 x Sterile Non-Adherent Dressing, 7.6cm x 10cm
2 x Conforming Gauze Bandages, 7.6cm
1 x Tape, 2.5cm x 9.1m
1 x Duct Tape, 5cm x 1.2m
2 x After Bite Bite & Sting Relief Wipe
2 x Thermometer, Celcius, Single Use
4 x Easy Access Bandages, Knuckle Fabric
6 x Easy Access Bandages, 2.5cm x 7.6cm Fabric
1 x Cotton Tip Applicator, Pkg./2
Weight: 652g
Size: 22cm x 16.5cm x 10cm
We reserve the right to add, substitute, or delete items if necessary.
Please note: Some medications may not be available in products sold outside of the US, additional items may be substituted.