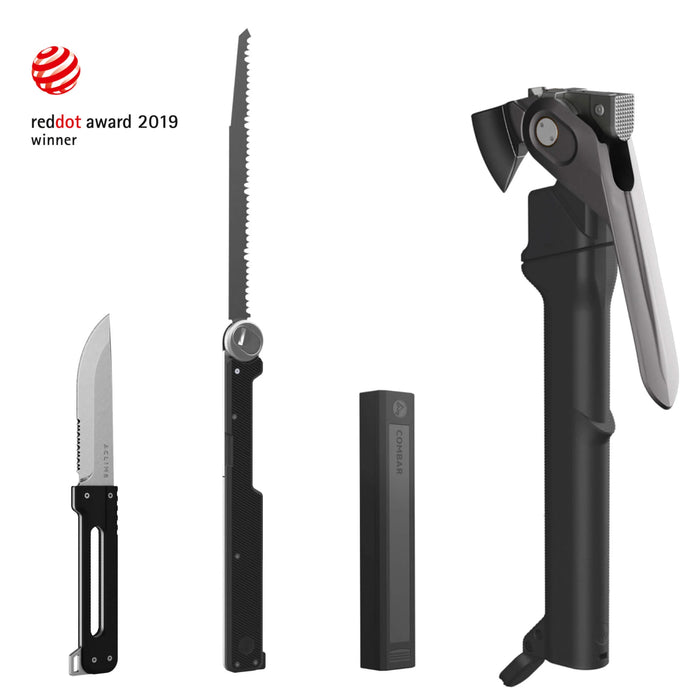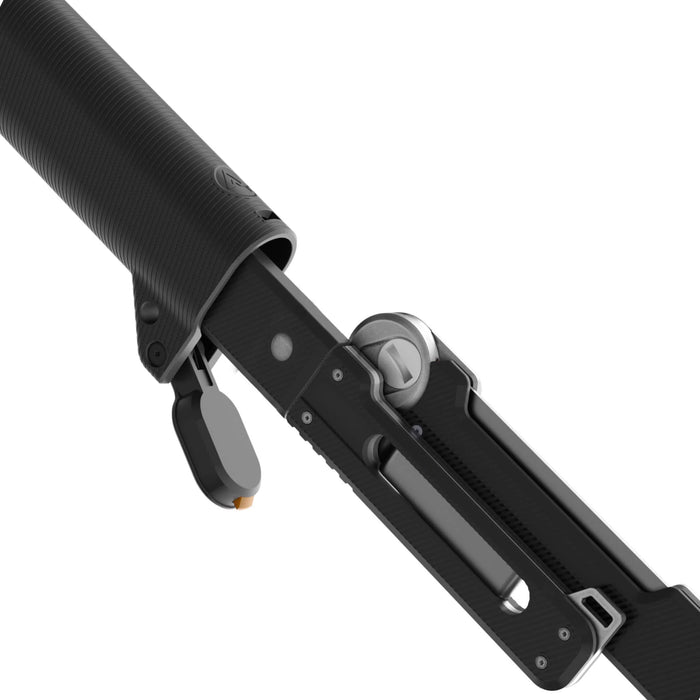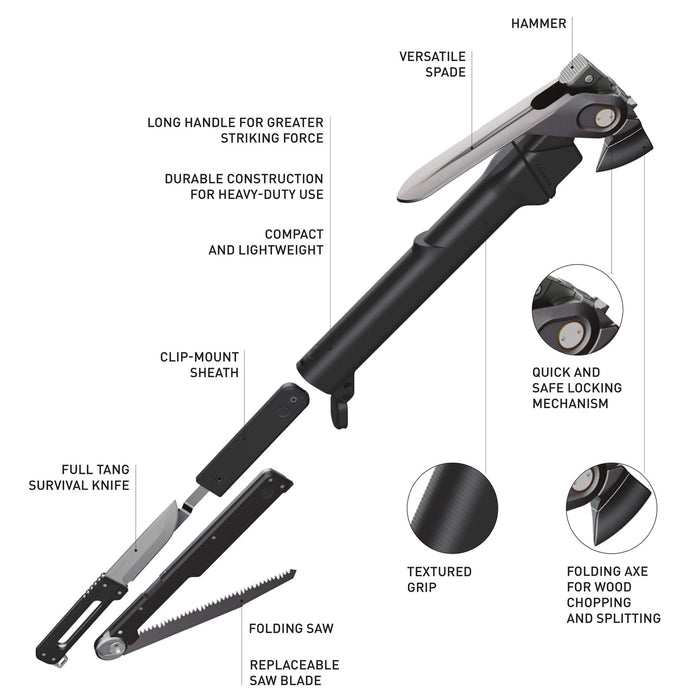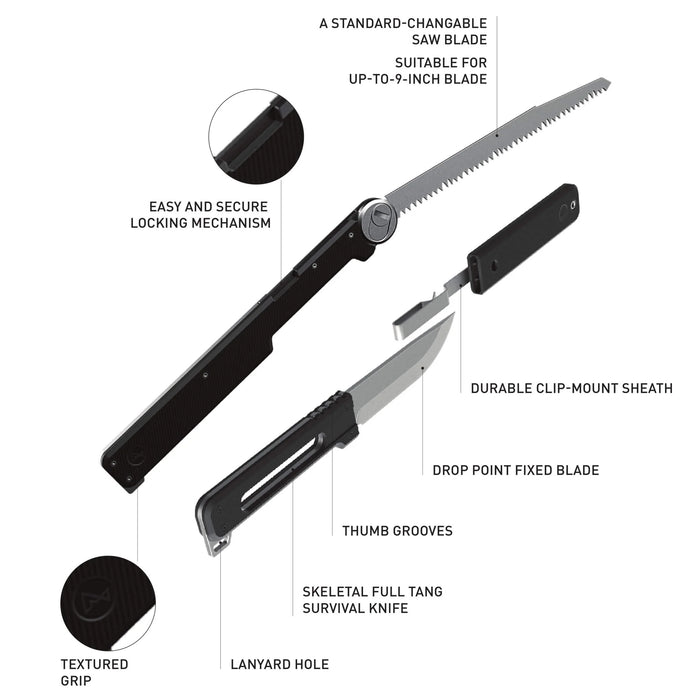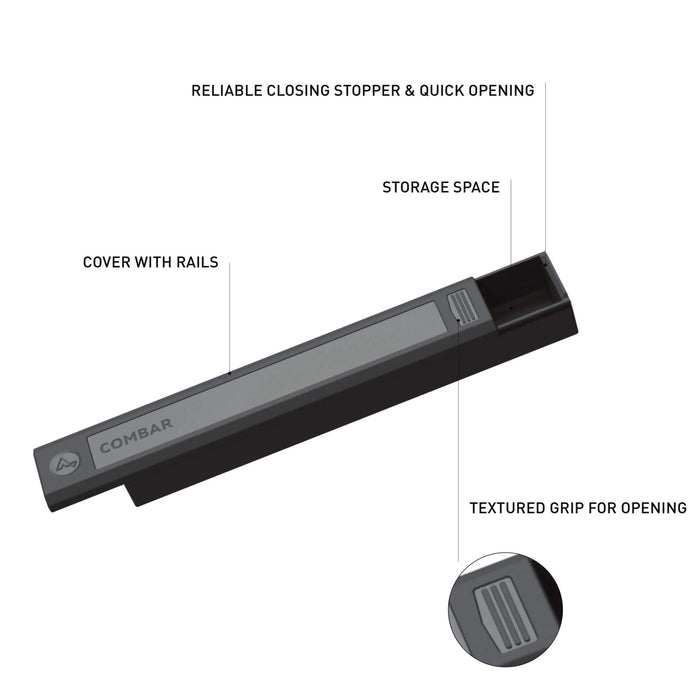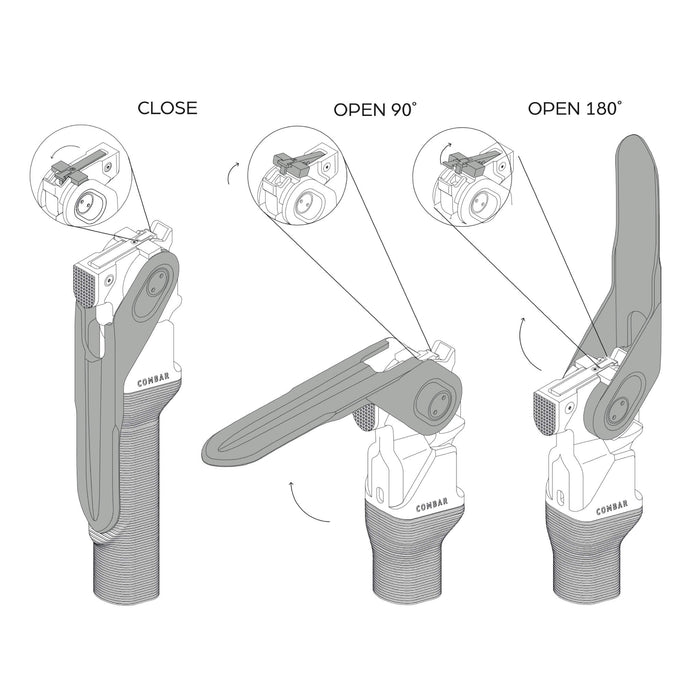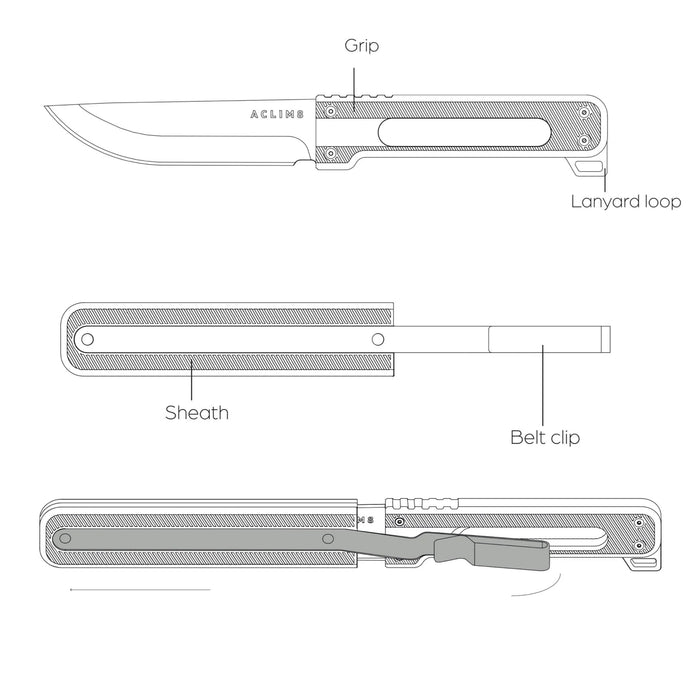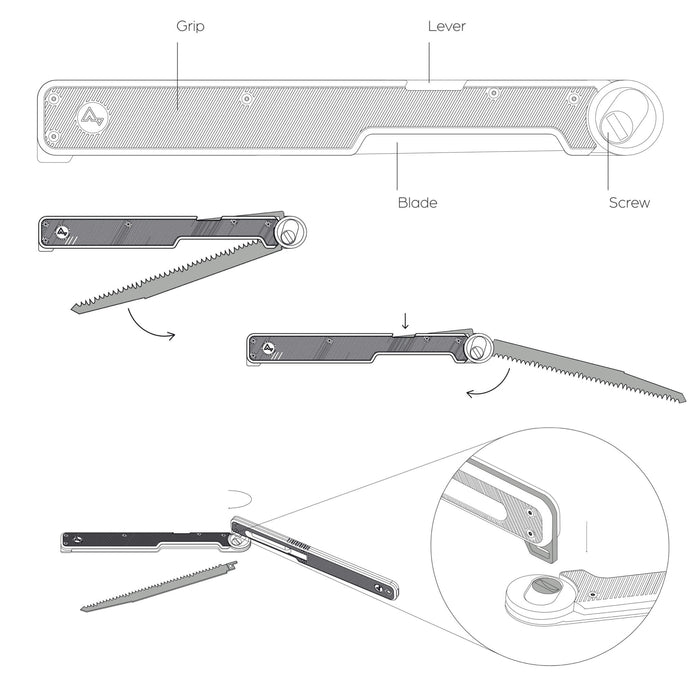 ACLIM8 Combar PRO Titanium Serrated
COMBAR™ Pro, Winner of the Red Dot 2019, is a powerful patented elite tool for chopping, splitting, digging, hammering, and sawing. Combining essential age-old tools with cutting-edge technology, it has a rigid shaft and solid head, which combines a first-of-its-kind folding hatchet blade with a trowel and hammer. In addition, the hollow, glass-reinforced polymer shaft contains a survival serrated knife and a folding pruning saw or storage capsule designed to house personalized, mission-specific kits.
The COMBAR™ Pro is made of an uncompromising selection of materials, including 6AL-4V titanium, hard-anodized aluminum, and 420J2 stainless steel; each element has been crafted expertly. The Pro version was developed based on extensive experience and designed especially for outdoor enthusiasts.

Folded, the COMBAR™ Pro takes less space than a rolled-up newspaper, its lightweight and compact size make it easy to transport and stow. It offers optimal performance for a wide range of uses, be it at home or outdoors. Whether you are an avid outdoorsman or casual camper, the COMBAR™ will become the grab-and-go tool you always wanted.
FEATURES
To meticulously fuse the essential tools into a sturdy unit that can outperform any task, the COMBAR™ shaft has an unbreakable design. The body comprises a high-end glass-reinforced polymer and an over-molded head for the strongest, safest head & shaft connection.
The textured ergonomically shaft offers excellent grip and control while using the hatchet, spade, or hammer and houses the knife and saw, even when swinging with greater force.

The COMBAR™ shaft is long enough for holding it with two or one hand and is ideal for use on your hands and knees. It provides you a feeling of confidence like a full-sized axe or entrenching tool, yet packable enough for toting into the wilderness.

The COMBAR™ engineering has been tested to exceed U.S. standards for striking tools' durability to withstand the most challenging environments.



HATCHET:
A heavy, full-size axe is overkill for most outdoors people, who usually only need a big enough hatchet blade to accumulate campfire kindling, trim small branches, etc. 
When unfolded, the COMBAR™ hatchet is a 5-inch-by-2.5-inch head. At first look, you might think it is a small blade, but you will be surprised. The hardened, sharp as a razor stainless steel blade packs enough power to chop thick wood sticks and split logs due to the wide cheek design. Although it is relatively light, the axe can also fall trees, thanks to its long handle and heavy, elongated head. 

When it's chopping time, the first-of-its-kind collapsible hatchet blade unfolds and locks into place. Then, when the job has been done, it folds to provide safe carrying and room-saving storage. It is advantageous in remote backpacking, where a hatchet is far more practical and less cumbersome than heavy and bigger ones.

SPADE:

The drain spade shape makes it a useful entrenching tool for digging or hoeing, in hard soil, snow or sand. The spade is made of solid Titanium and is highly efficient to penetrate like a pick and easy to dig like a mattock.
You will find this next-generation E-tool indispensable in any field use, whether you get your vehicle unstuck, clearing a campsite, digging a pit for a campfire, or rain ditches around your tent. Thanks to the handle length, the trowel is perfect for detailed land tasks or small space excavation. You will also find it perfect for gardening.
HAMMER:
It would be best if you didn't use a rock to hammer at the campsite for the same reason you don't do it at home. It is not a matter of comfort - It is all about safety and efficiency. The COMBAR™ hammer pad is made of hardened stainless steel and designed to hammer tent pegs and wooden stakes quickly. The pattern on the hammer allows traction and friction for various fieldwork tasks – like beating tree bark to create strips of fiber as tinder and even smashing rocks when needed.
KNIFE:
Although the notion that a heavy knife can do the work of a hatchet is a delusion, a knife is still one of the outdoorsman's best friends. It is used repeatedly during each camping, hiking, or hunting day for nearly every cutting task. Made of 420HC hardened stainless steel, the COMBAR™ full-tang serrated blade will get any cutting jobs done.
The fixed blade, drop-point Survival Knife, was built to complement the other COMBAR™ tools and fit snugly inside the hollow shaft. The knife has a slim and compact design with a glass-reinforced polymer ergonomic handle and an integrated belt clip sheath that fits inside the skeletonized knife handle.
SAW:
A saw and an ax are complementary tools and not alternatives to each other. Each is effective for other bushcraft tasks, and the combination of them makes them a winning pair. The COMBAR™ folding saw can use up to standard 10-inch reciprocating saw blades, long enough to deal with extra-thick branches, small logs, and brushes.
Every COMBAR™ folding saw is supplied with a 10-inch 5 TPI high-carbon steel blade for wood pruning, manufactured by Bosch and known for its superior quality.

The benefits of the blade:
Fast, long-lasting performance – designed for pruning applications
Engineered for extreme cuts – delivers excellent cuts during high-performance applications
Precision ground blade – starts sharp and stays sharper
Swiss-made blade – constructed with premium materials for reliable performance.
To keep your saw at its best, you can replace the dull blade with a fresh one from any reciprocating saw blade manufacturer you want. A significant advantage is that the unique fastening mechanism allows you to easily switch to any blade you wish to as long as it is a standard reciprocating saw blade. So, it will enable you to optimize the saw for any task and not only pruning. It is guaranteed to become your favorite utility saw for household, gardening, and wilderness jobs.