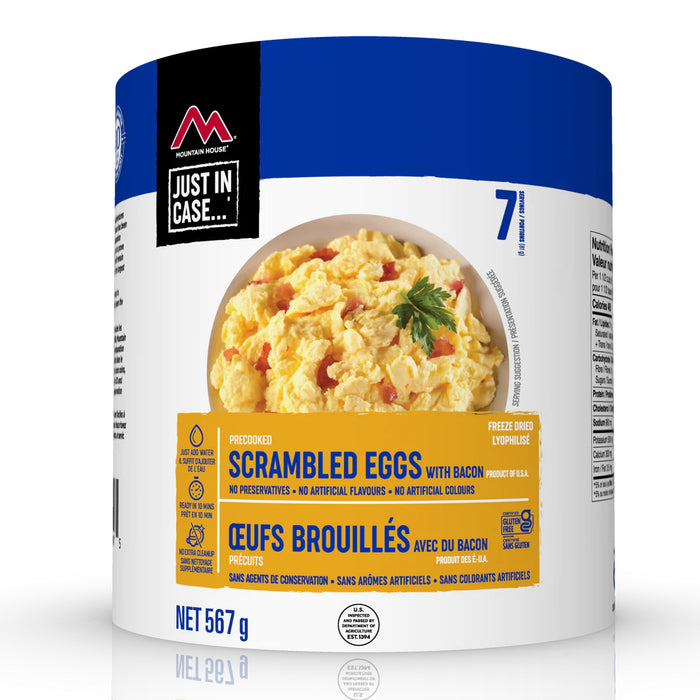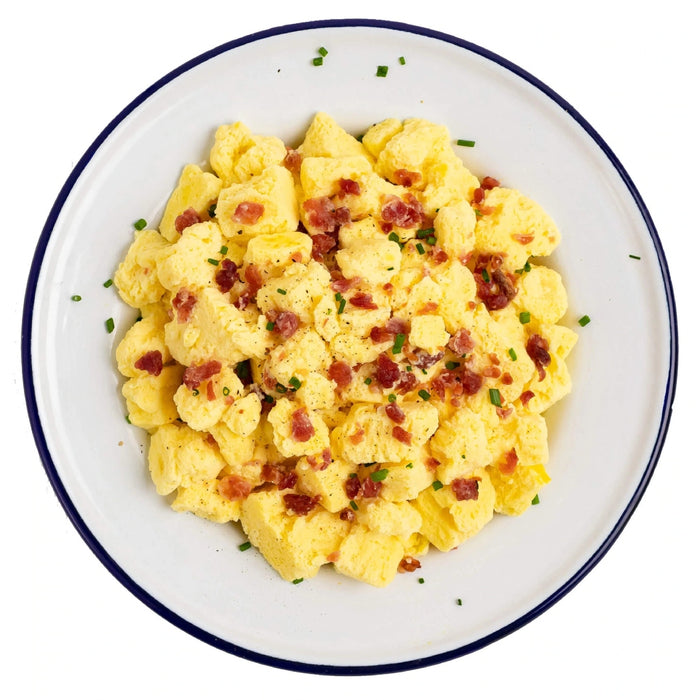 (#10 Can) Mountain House Scrambled Eggs with Bacon
If you like smokey scrambled eggs and bacon for breakfast, this is the Adventure Meal™ for you. And because each can contains 7 servings, you'll have enough to feed the whole group! Super simple to make, just add hot water and in a few minutes you'll have a delicious breakfast!
For nearly 50 years, Mountain House products have been the first choice for backpacking and camping, as well as emergency and food storage needs. Our foods are shelf-stable and can be easily prepared with just boiling water.
What is 'Clean Label'?
Mountain House is working to create foods that are healthier for you. You will notice a newer, cleaner looking label on our updated line of products. These new versions have reduced allergens and additives, and fewer, more recognizable ingredients. We know you want foods made with more wholesome ingredients that are more natural and less processed, and we are delivering on that.
Preparation Instructions (1 Serving):
Mix can contents.
Bring 1 1/4 cup of water to a boil
Remove from heat.
Add 1 1/2 cup dry mix.
Stir until mixed thoroughly.
Cover. Let stand 5 to 10 minutes.
Carefully drain excess water
Stir and serve.
To prepare the entire can:
Add 9 cups boiling water to contents of can. Follow steps 5 through 7 above.
More Information
| | |
| --- | --- |
| Free Shipping | Yes - When order subtotal is $199 or more |
| Shelf Life Sealed | Up to 30 years |
| Shelf Life Opened | Up to 1 - 2 weeks |
| Servings Per Container | 7 |
| Serving Size | 1 1/2 cup (81 grams) |
| Net Weight | 567 grams |
| Ingredients | Precooked egg mix: Whole liquid egg (stabilized glucose removed), Skim milk, Egg yolk (stabilized, glucose removed), Tapioca starch, Sunflower oil, Salt, Smoke flavor (sunflower oil, smoke flavor), Yeast extract, Xanthan gum, Cooked bacon (pork, seal salt, sugar, natural smoke flavor, cultured celery juice). |
| Allergens | Contains: Milk, Egg. |
| Country of Origin | USA |
| Gluten Free | Yes |
| Non GMO | No |
| Ships Canada Wide | Yes |
| Weight notice | Our food items are filled by weight and not by volume. Some settling may occur during shipping and this is normal. We do our best to fill packages full, please understand that we have standard pack sizes, and a wide variety of items to fit. |