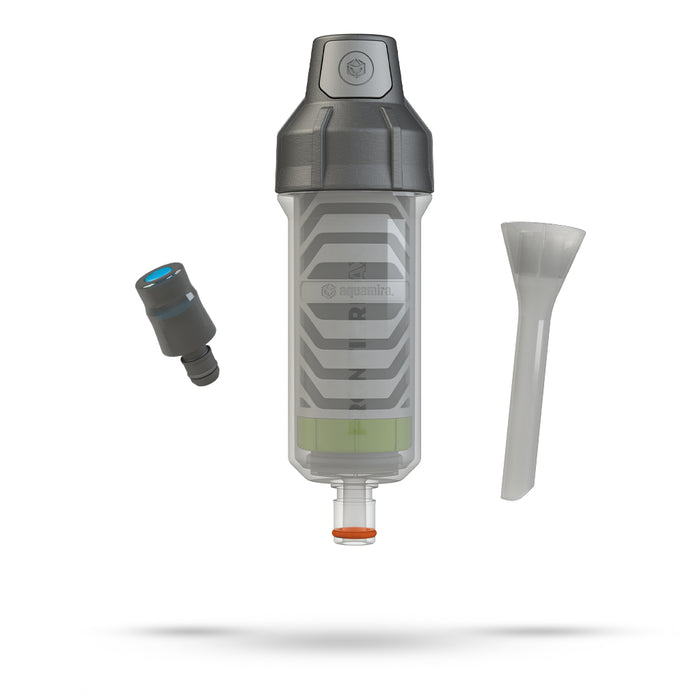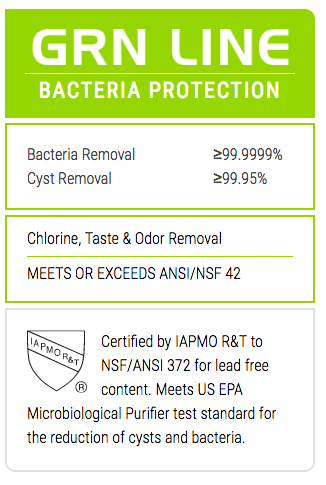 Aquamira Frontier Max Filter - Backcountry Plus (Bacteria)
The Aquamira Frontier Max is the only outdoor and tactical filter system, good for 1000 gallons of field use. Series IV Connectivity lets you customize the Max with any Series IV filter cartridge. UQC fittings allow you to connect the Max with the Aquamira hydration engine and pressurize for on-the-go, plug-and-play in-line filtration anywhere.
The Aquamira Frontier Max is the most versatile inline filter available on the market today. The Aquamira Series IV GRN Line Backcountry filter included with the Max is good for the removal of bacteria, Cryptosporidium and Giardia for 1000 gallons of use. It proudly boasts a flow rate of up to 800 ml/min for immediate thirst protection.

Aquamira Series IV connectivity allows you to customize the Max with any Series IV filter cartridge for use in emergencies, international travel, backcountry excursions or anywhere the water may be of questionable biological or chemical quality. The patented UQC connectors make it simple to plug into any hydration pack or inline system without a need to replace your current connectors. Plug in the patented Bite Me valve to convert your MAX into a straw filter.

For a complete, high-performance system combine the Aquamira Frontier Max with the award winning Geigerrig pressurized hydration engine for easy, on-the-go, plug-and-play in-line water filtration anywhere and anytime you need it.
Technical Information:
The motivation behind the Frontier MAX filtration system was easy, we wanted a filter that does everything and does it better than anything else. So we told our engineers to get to work, and what they designed is the Frontier MAX. MAX because it does it all, and does it better than anything else. We wanted a filter that connected to hydration packs. The MAX incorporates our patented UQC connection system that allows you to connect it to any quick connect on the market. We wanted a filter that protected you from every biological threat that you might possibly encounter, so we included the Aquamira GRN Line Backcountry filter, designed to be easy to use, lightweight, compact, and reliable. GRN Line Backcountry filtration is achieved using Hollow Fiber Technology. Inside a hollow fiber membrane water filter, hundreds of tubes are bundled together to create a filter matrix. The walls of these tubes are filled with microscopic pores, or holes. As you push water through the walls of these fibers, any microbiological threats in the water source are trapped inside.

The best thing about the MAX is that it connects to anything with a simple ""click"" and it accepts an array of Aquamira Series IV filters so that you can customize your system for whatever environment you find yourself in. It even comes with a patented Bite Me valve that converts the MAX to a filter straw with the same simple ""click"". Nothing is more versatile, Nothing provides more protection, and nothing else provides you with certified* claims. Anything else is just hype.
Features & Benefits:
Backcountry PLUS Filter with up to 500 ml/minute flow rate.
Certified filtration for 1000 gallons (over 3700 L)
Lightweight a compact 1 oz. (71 g) packable protection.
Customizable to accept any Series IV cartridge.
Connects to reservoirs, gravity, and DIY systems via quick connects.
Fits all Aquamira pressurized reservoirs, for pressure-assisted filtration on the trail.
Includes Miraguard™ Antimicrobial* Technology suppresses the growth of bacteria, algae, fungus, mold and mildew within the filter media.
Certified lead free (NSF/ANSI-372)
BPA free, chemical free, and iodine free.
Filter made in the USA.