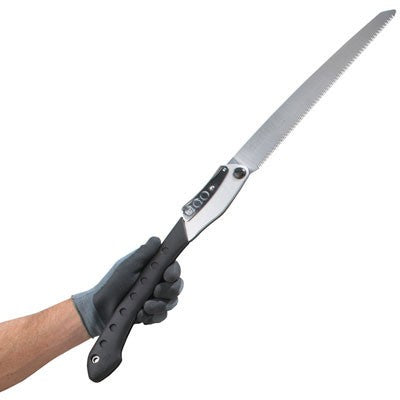 Silky BIGBOY 360MM- Medium Teeth
There are folding saws and then there is the BIGBOY. With a blade length of over 14 inches, the BIGBOY offers a larger cutting capacity, extended reach, and longer stroke for fast cutting. This saw can handle large limbs, small trunks and even many construction projects with no problem. Lightweight, with a thicker and stronger aluminum handle and longer blade, the BIGBOY is perfect for cutting larger jobs down to size. This saw weighs just 1.25lb (570g). If you need to cut bigger material than what an average length folding saw can handle, the BIGBOY is a "must have" in your cutting arsenal. Only the BIGBOY 2000 with XL teeth has a curved blade. The fine, medium and large tooth versions have straight blades. 
BIGBOY is available in four teeth sizes/configurations (tpi - teeth per inch): 5.5 tpi â Extra Large/Coarse (pruning, green wood), 6 tpi - Large/Coarse (pruning, green wood), 8.5 tpi - Medium (soft wood), and 11 tpi - Fine (hard wood, bamboo). Each BIGBOY has a color-coded handle associated with the teeth configuration: Yellow â Extra Large, Red - Large teeth, Black - Medium teeth, and Blue - Fine teeth.
Technical Features
14-1/5-inch (360 mm) blade length 

8.5 teeth per inch (10 teeth per 30 mm) teeth configuration 

1 pound (450 grams) weight 

Comes in a blister pack 

Product applications include pruning & trimming, lawn & garden, construction 

Limited lifetime warranty against defects in material and workmanship