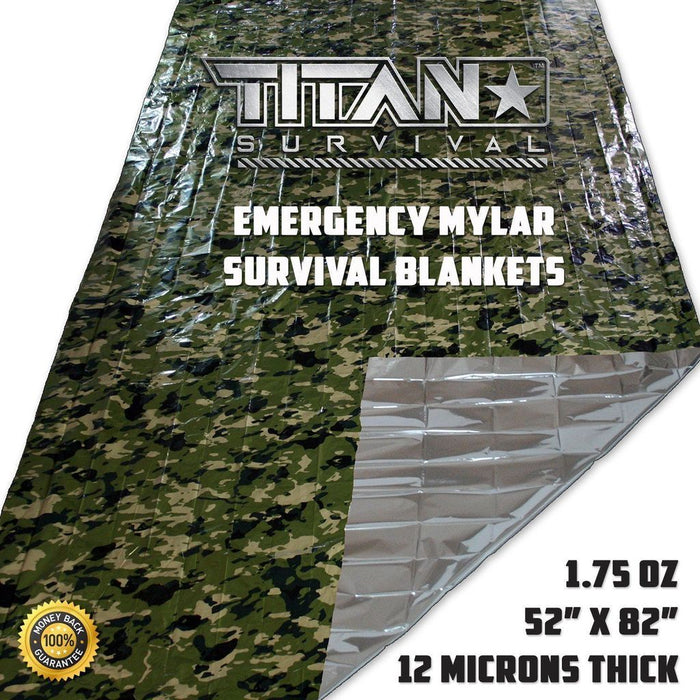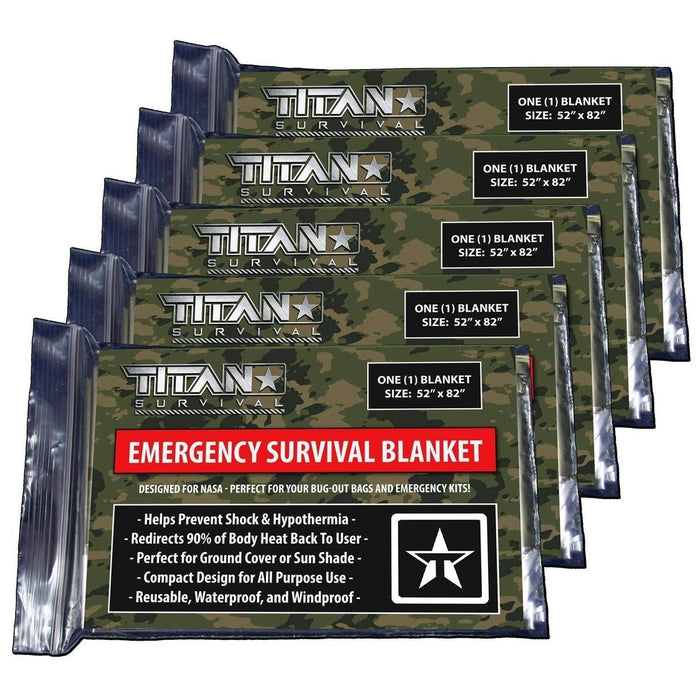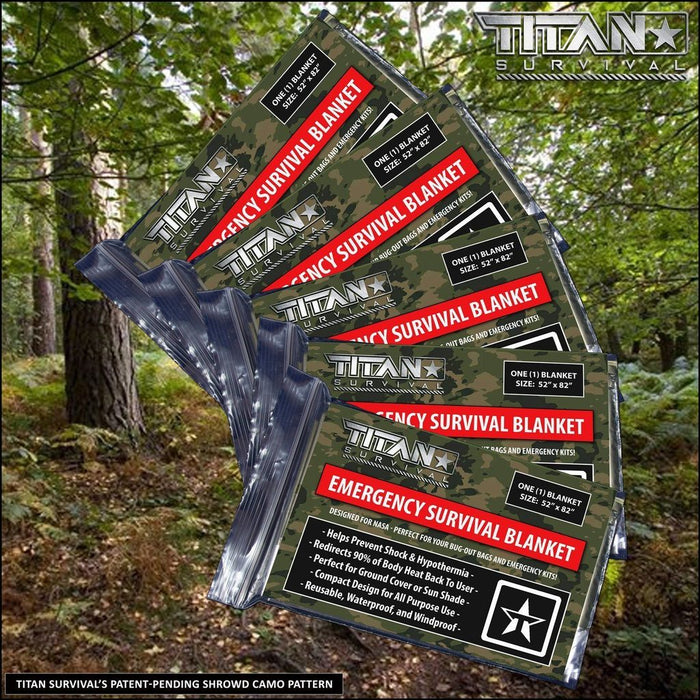 Titan Survival Blanket | Camoflauge (Single)
SURVIVAL BLANKETS – ALWAYS PREPARED!
Have you ever heard the story of the family-trip that went horribly wrong when the weather suddenly turned sour? And how many times have you found yourself freezing with no jacket to speak of? TITAN Survival Blankets are designed to help keep those situations at bay!
Our Survival Blankets are made from the same material that was originally developed for NASA's Apollo Space Program to help protect sensitive equipment from harmful radiation. But this same material is also a perfect reflector of body-heat in an emergency.  And with up to 90% of your body-heat reflected back towards you in an emergency, you simply can't go wrong with Survival Blankets.
So, what makes our Woodland Shrowd Survival Blankets so good?
While the front side of these Survival Blankets use the same high-quality metallic layer found in hospital Mylar blankets, the back-side is coated with our patent-pending Woodland Shrowd pattern. Like Army camo, this pattern is designed to help keep you hidden in forest and tundra themed environments.

Each Survival Blanket is individually-wrapped, waterproof, weigh just 75g per blanket, and measure in at 52" x 72" when unfolded – so they are perfect for storing in your vehicles, emergency kits, and go-bags.

Survival Blankets are designed primarily for single-use medical purposes like emergency warmth, protection from the elements, and to help prevent shock and hypothermia.

In addition to their primary medical uses, Survival Blankets can also be used as emergency ground cover, distress beacons, sun shades, and even dog-house wall liners.
PRODUCT SPECS
BLANKET SIZE (FOLDED)

:  3 x 5 x 0.6 inches
BLANKET SIZE (UNFOLDED):

 

52 x 82 inches

BLANKET WEIGHT: 1.9 ounces (55g)
Give TITAN's Emergency Survival Blankets a try today, and you won't be disappointed!  All TITAN products come with a LIFETIME guarantee, so it's RISK-FREE!