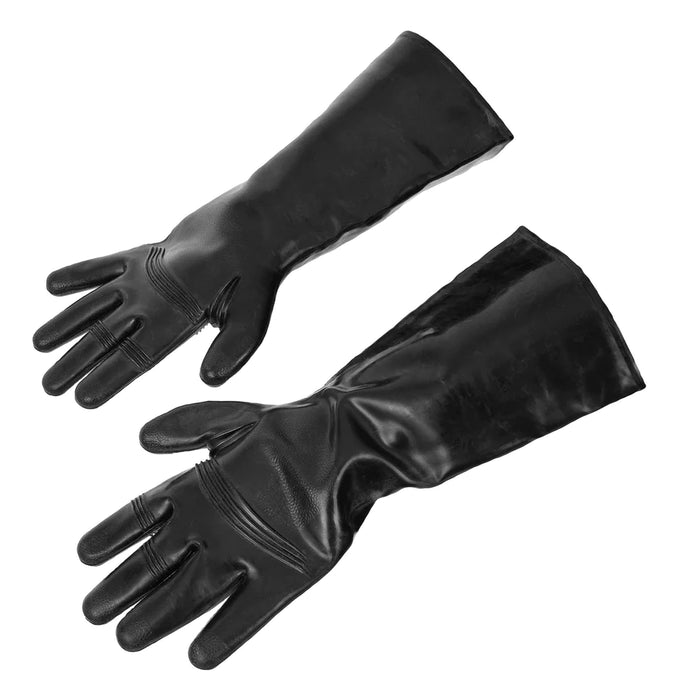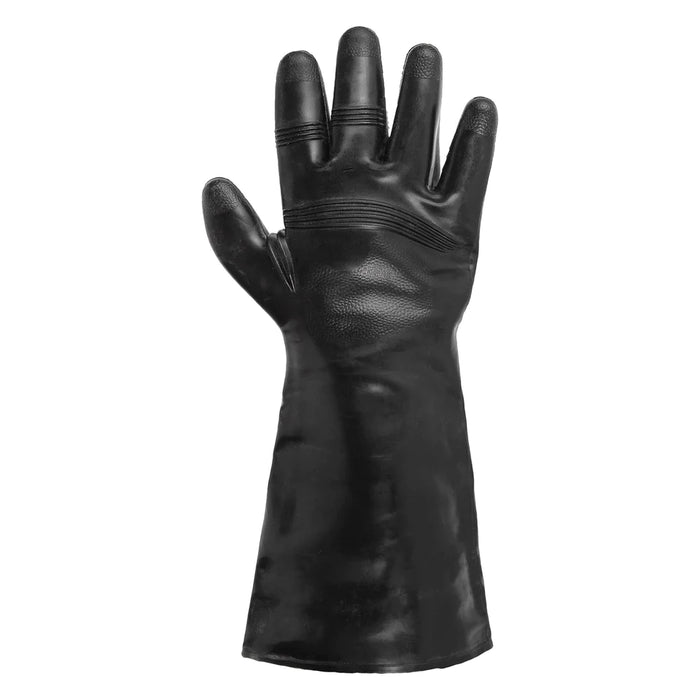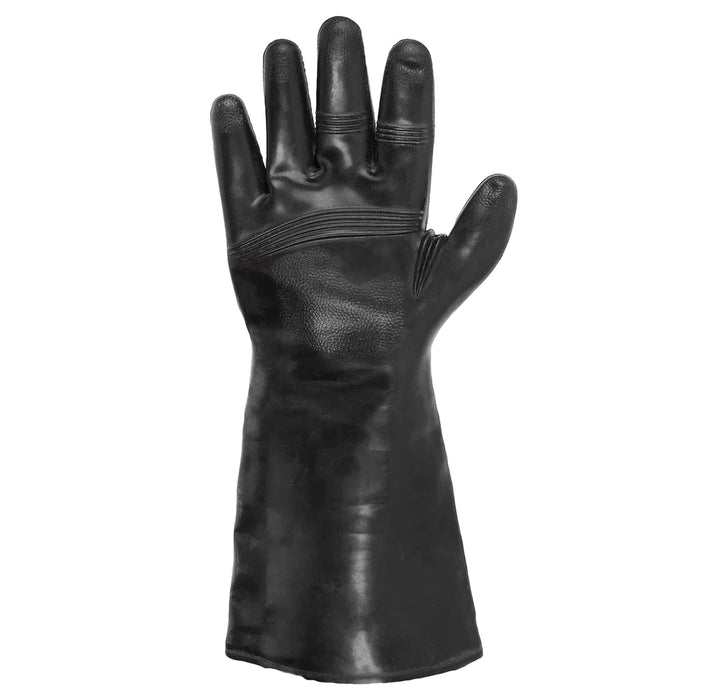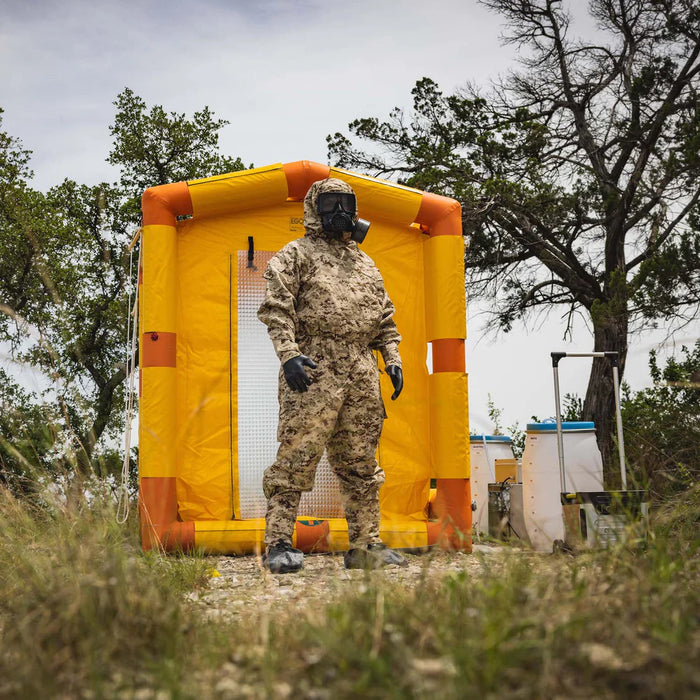 MIRA Safety NC-11 Protective CBRN Gloves
Our Protective CBRN Gloves provide up to 24 hours of protection against nuclear, biological, and chemical threats. They've been proven through extensive testing to perform in even the most extreme conditions. Featuring durable butyl rubber construction and an ambidextrous design, these hazmat gloves are a practical choice and an outstanding value that doesn't compromise on protection.

KEY FEATURES:
Butyl rubber construction (standard for most CBRN/Hazmat protocols)
Superior resistance against hazardous chemical splashes and exposure
Provides up to 24 hours of protection against vaporized chemical warfare agents
Designed to be worn for up to 30 days without losing chemical resistance or flexibility
Impermeable to biological agents and nuclear fallout
Each ambidextrous glove features corrugated joints, textured palms and fingerprints, and a snug fit to prevent slippage
Extra-long cuffs are easier to integrate with hazmat suit
Dusted with non-irritant, non-toxic mineral powder
Shelf life of up to 15 years in original packaging and optimum conditions (See below for details)
Smooth exterior finish allows for quick and easy decontamination
In compliance with EEC Directive for Personal Protective Equipment (89/686/EEC)
SIZE GUIDE
Size
Small (Inch)
Medium (Inch)
Large (Inch)

Middle finger length

3.15

3.35

3.54

Width of palm

3.86

 

3.98

4.09

Length of gloves

13.78

13.98

14.17

Wrist circumference

13.15

13.23

13.39

Weight of each pair

0.46

0.49

0.51
TECHNICAL SPECIFICATIONS FOR BUTYL GLOVES
Durable butyl hazmat gloves are an absolute necessity for any complete PPE kit. Our protective CBRN gloves help meet that need for numerous law enforcement agencies, militaries, and civilians from all over the world.
Unlike other hazmat gloves, these CBRN protective gloves come with a number of mobility-enhancing features that improve the user's ability to manipulate firearms, operate machinery, and navigate their environment while wearing full-body PPE. 
They're designed to integrate seamlessly with a wide range of hazmat suits using Kappler Chemtape to seal the junctions. And they've been extensively tested to meet a variety of different standards (see below).
Our Protective CBRN Gloves also have a substantially longer shelf life than most competitors. When kept in their original packaging they can last up to 15 years and still work perfectly. As a result, you get better value and easier logistics in the long-run.
TECHNICAL DATA
DEF STAN 93-55/2, Annex A: Method of Test for Penetration of Mustard Gas
DEF STAN 93-55/2, Annex B: Method of Test for Penetration of Mustard Gas Decontamination
QSTAG 991: .Standard Tests for Measuring the Penetration of CW Agents through Protective Clothing
TOP 8-2-501: Permeation and Penetration Testing of Materials with Chemical Agents or Simulants (Swatch Testing)
TOP 10-2-022: Chemical Vapor and Aerosol System Level Testing of Chemical/ Biological Protective Suits
EN 374-1: 2003: Protective Gloves against Chemicals and Microorganisms (Terminology and Performance Requirements)
EN 374-2: 2003: Protective Gloves against Chemicals and Microorganisms (Determination of Resistance to Penetration)
EN 374-3: 2003: Protective Gloves against Chemicals and Microorganisms (Determination of Resistance to Permeation)
EN 388: 2003: Protective Gloves against Mechanical Risks
EN 420: 1994: Protective Gloves: General Requirements and Test Methods
EN 1149-1: Electrostatic Properties (Protective Clothing)
ASTM D412: Vulcanized Rubber and Thermoplastic Elastomers - Tension
ASTM D624: Tear Strength of Conventional Vulcanized Rubber and Thermoplastic Elastomers
ASTM F739: Permeation of Liquids and Gases through Protective Materials
ASTM D1053: Stiffening at Low Temperatures: Flexible Polymers and Coated Fabrics
ASTM F1342: Test Method for Protective Clothing Material Resistance to Puncture
ASTM F1790: Test Method for Measuring Cut Resistance of Materials used in Protective Clothing
ASTM D2240: Rubber Property, Durometer Hardness
FTMS 191A Method 5931: Electrostatic Decay of Fabrics
BUTYL GLOVES STORAGE
MIRA Safety HAZ-GLOVES (like all butyl rubber gloves) should be stored in their original packaging in a dark room at a temperature between 41°F and 77°F with a relative humidity of less than 75%. In these conditions, HAZ-GLOVES can be stored for 10 years or longer. These gloves are 100% butyl rubber and should be handled as such, so inspect for cracking especially in flexion spots after use.