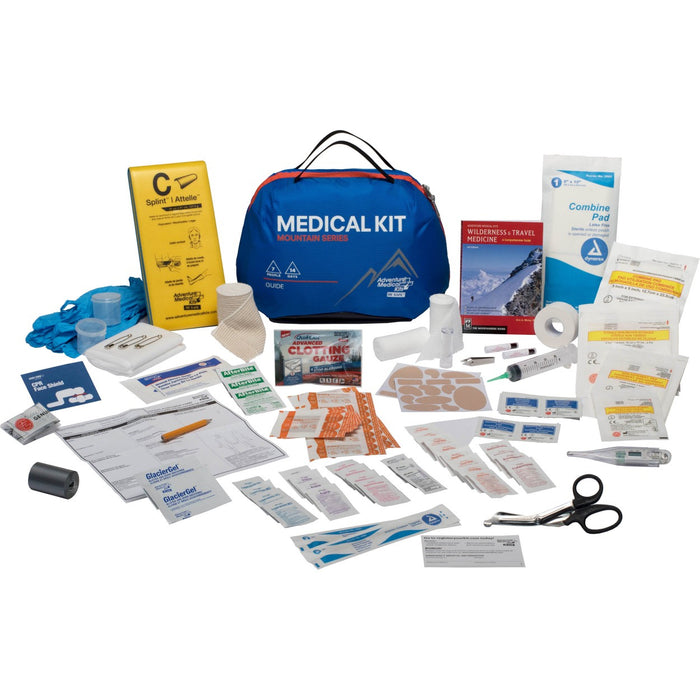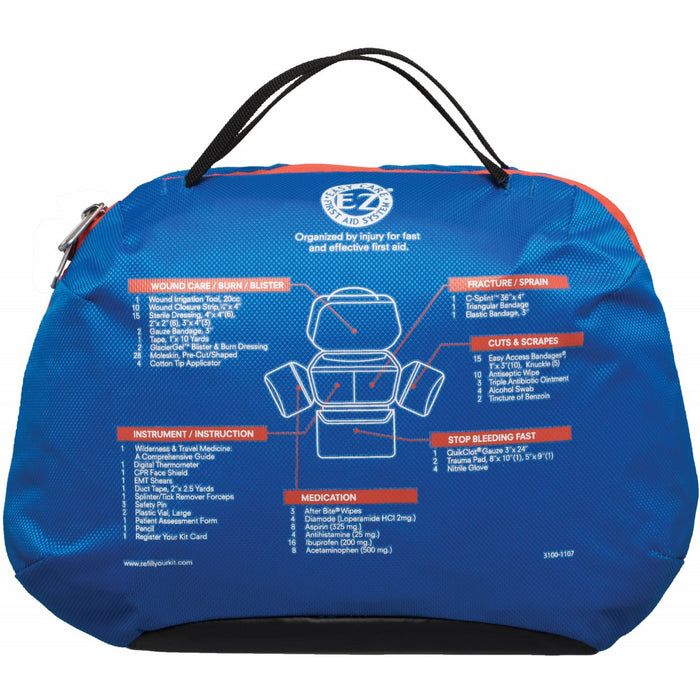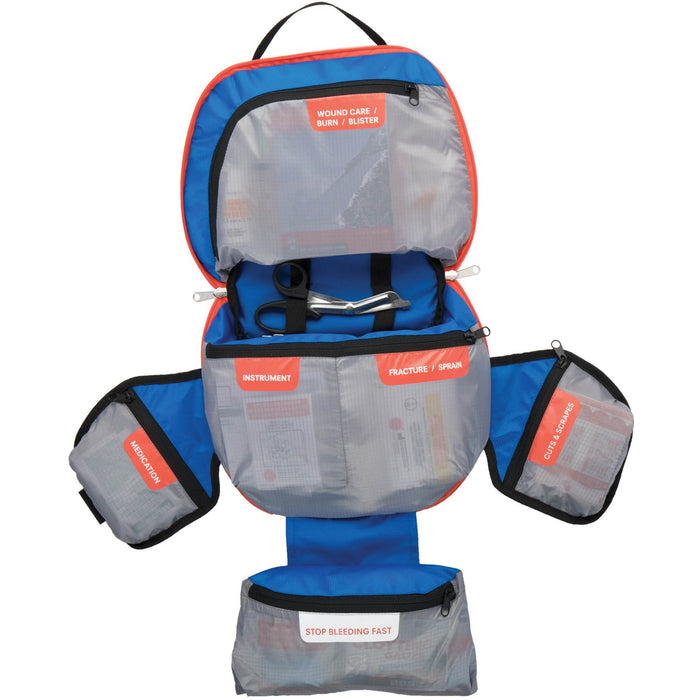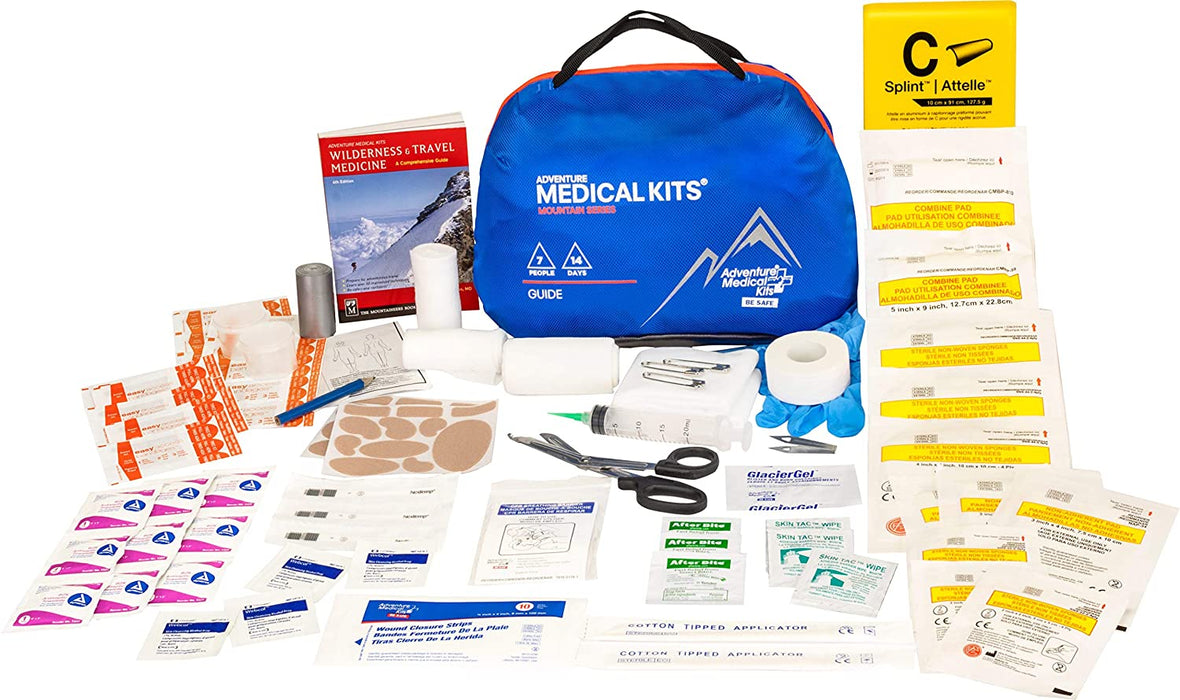 Adventure Medical Kits: GUIDE Medical Kit (7 people/ 14 days)
With the Guide medical kit, you can lead your survival team outdoors with the security of knowing you're prepared with the medical kit carried by the International Mountain Guides for their trips up Mt. Rainier and around the world. This group first aid kit contains a large amount of hospital-quality first aid supplies to meet the needs of seven people headed into the backcountry on adventures of up to two weeks. Inside, you'll find everything from everyday hiking essentials like After Bite® and GlacierGel™ to wilderness first aid supplies like the flexible C-Splint™ and trauma pads. The water-resistant medical bag organizes the contents by injury into clearly-labeled, semi-transparent pockets using the Easy Care™ Organization System, making it easy for anyone in your group to provide fast and effective first aid. Whether you're a professional guide looking for an expedition first aid kit or an adventurer looking for a wilderness first aid kit, the Mountain Guide kit is the essential addition to your trekking or backpacking gear that your team can count on to get you there and back safely.
Wilderness & Travel Medicine: A Comprehensive Guide
Know how to provide life-saving medical care. Written by wilderness medicine expert Eric A. Weiss, MD, this book includes over 50 improvised techniques and 100 illustrations for treating outdoor injuries and illnesses.
The Choice of Outdoor Professionals
Pack the wilderness first aid kit chosen by the International Mountain Guides as the official medical kit all their guides carry to lead expeditions around the world.
Find it Fast Design
Find supplies quickly using the external kit map for fast reference of all kit contents and the Easy Care First Aid®

 

System, which organizes contents by injury into clearly-labeled pockets.
QuikClot®

 

& C-Splint™
Control severe bleeding with QuikClot®

 

Gauze, the hemostatic agent trusted by the US military. Stabilize fractures, sprains, and strains with the flexible C-Splint™ and triangular bandages.
Hospital-Quality Tools
Provide hospital-quality care with tools that set the standard in backcountry medicine, including a digital thermometer, irrigation syringe, wound closure strips, tincture of benzoin, and EMT shears.
Blister & Burn Treatment
Stop blisters before they start with die-cut moleskin that reduces friction. Apply GlacierGel™ hydrogel dressings to developed blisters or burns for cooling relief that cushions and protects.
KIT DETAILS
Size:

10" x 5.5" x 7"

Weight:

2.15 lbs

Group Size:

1 - 7 People

Trip Duration:

1 - 14 Days

Item #:

0100-1007
Cuts & Scrapes
10 – Easy Access Bandages®, 1" x 3" Fabric
5 – Easy Access Bandages®, Knuckle Fabric
10 – Antiseptic Wipe
4 – Alcohol Swab
2 - Skin Tac Topical Adhesive Wipe
Fracture / Sprain
1 – C-Splint™, Aluminum & Foam Padded, 4" x 36"
1 – Triangular Bandage
1 – Elastic Bandage with Hook & Loop Closure, 3"
Instruction / Instrument
1 – Wilderness & Travel Medicine: A Comprehensive Guide
3 – Digital Thermometer, 90°F – 105°F (Single Use)
1 – CPR Face Shield
1 – EMT Shears, 4"
1 – Duct Tape, 2" x 2.5 yd.
1 – Splinter Picker/Tick Remover Forceps
3 – Safety Pin
2 – Plastic Vial (Large Flip-top)
1 – Accident Report Form
1 – Pencil
Medication
3 – After Bite® Sting & Bite Relief Wipe
Stop Bleeding Fast
1 – Trauma Pad, 8" x 10"
1 – Trauma Pad, 5" x 9"
4 – Nitrile Glove
Wound Care / Blister / Burn
1 – Wound Irrigation Tool, 20cc. with 18 Gauge Tip
10 – Wound Closure Strip, 1/4" x 4"
6 – Sterile Gauze Dressing, 4" x 4"
6 – Sterile Gauze Dressing, 2" x 2"
3 – Sterile Non-Adherent Dressing, 3" x 4"
2 – Conforming Gauze Bandage, 3"
1 – Tape, 1" x 10 yd.
2 – GlacierGel™ Blister & Burn Dressing, (Small Rectangular)
28 – Moleskin, Pre-Cut & Shaped Pieces
4 – Cotton Tip Applicator