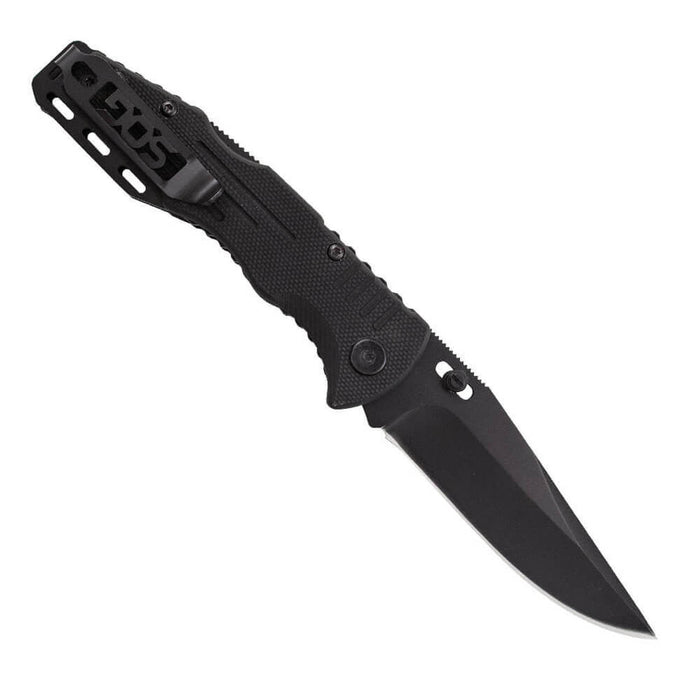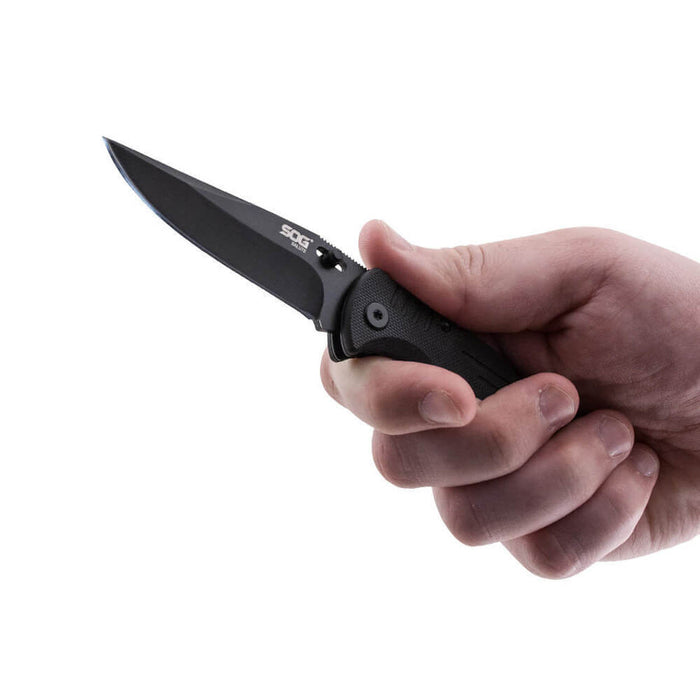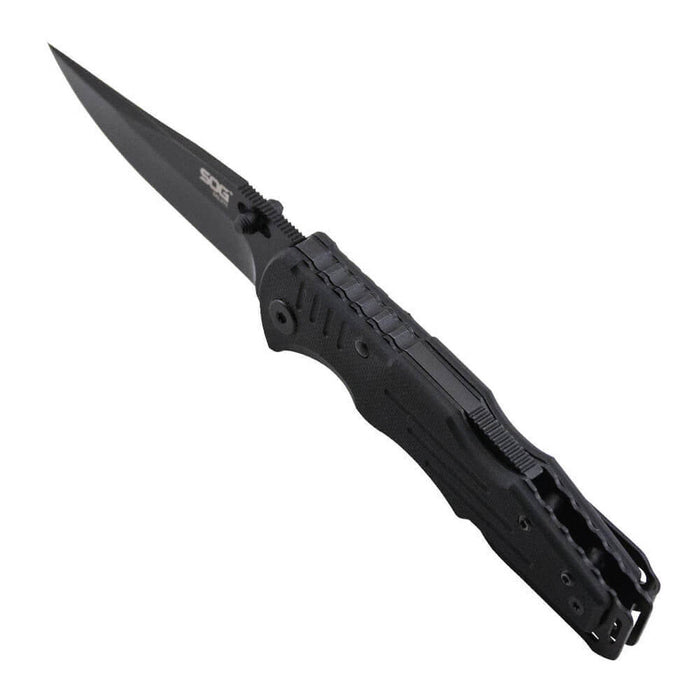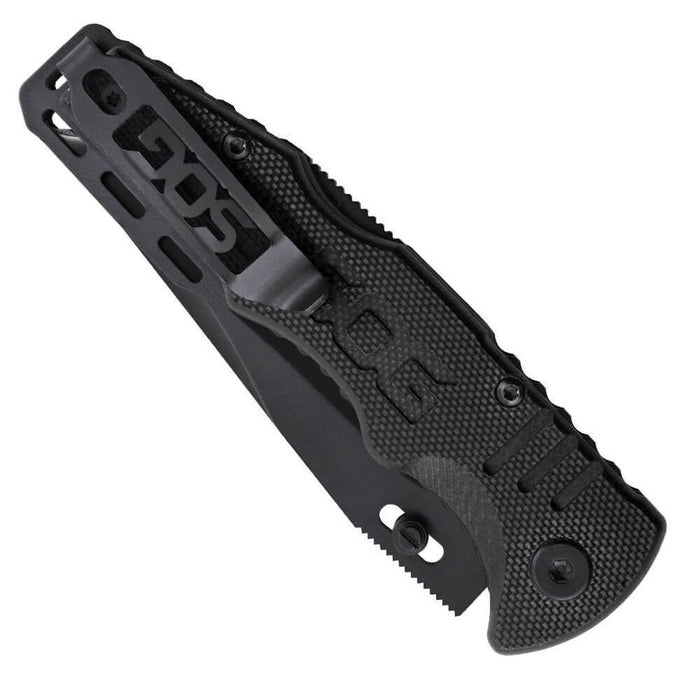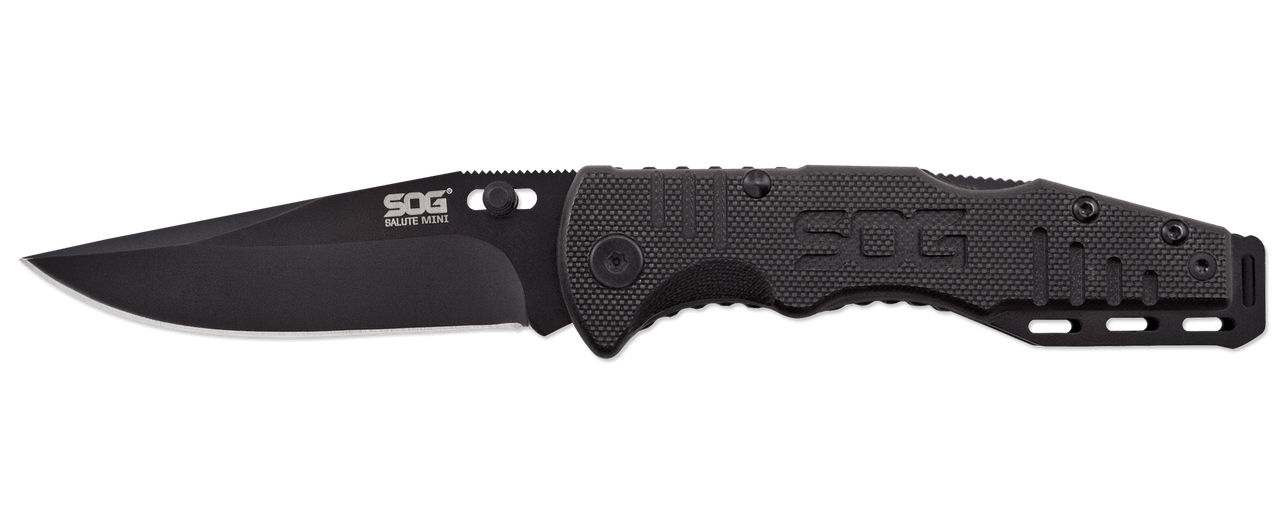 SOG Salute Mini Tactical Folding Knife- Black
Designed as a compact discreet pocketknife, the Salute Mini is still capable of delivering big time. Thanks to an easy opening blade that snaps to attention and a G10 handle that's easy to hold, the Salute Mini is ready to be deployed at a moment's notice.
The SOG Salute Mini is an acknowledgment that great design can still be affordable with a little perseverance. For a new, refreshed look, the handles are machined G10 with scalloped full-length steel liners. In addition to the detailed handle, the Salute Mini is completed with a strong lockback mechanism, smooth opening and operation, and a proven Bowie-style blade. To accommodate for different users, the adjustable thumb stud can adapt to various hands and thumbs, allowing the user to find the ideal fit for them. Equipped with a removable low-carry pocket clip, the Salute is a great tactical folder for everyday use.
Everyday Versatility, Emergency Utility
Affordable, Reliable + Durable
Trust the SOG Salute Mini folding knife to hold up under hard, heavy use. SOG, based in Seattle, WA, designed this knife to deliver tactical durability and versatility at an exceptional value.
THICK-SPINED CLIP POINT BLADE: This rugged blade bites deep into whatever you need to cut with strong, sturdy stainless steel

MEATY STAINLESS STEEL LINERS: The compact Salute Mini is a pocket-sized powerhouse with a reinforced stainless steel handle

ADJUSTABLE THUMBSTUDS: Most Thumbstuds are locked in place, but the Salute Mini lets you find the perfect grip

EASY-ACCESS LOCKBACK: Blade auto-locks upon opening, stays secure and releases quickly with a press on the lever

SOG COMMITMENT: Take care of your knives and we'll take care of you; SOG tools are built to last, and we're committed to making sure they do
BORN + BASED IN THE USA
SOG STRONG. SOG, short for MACV-SOG, is a U.S. tool and knife company founded in 1986 and named in honor of the Military Assistance Command, Vietnam - Studies and Observations Group, a spec ops outfit that valued quick, quiet solutions.
SOG SUPPORT. Our knives and tools are built to last, and we always stand ready to assist you when needed.
U.S. DESIGN + QUALITY CONTROL
SOG STEEL. Your SOG Salute Mini folding knife is crafted in bead-blasted 8Cr13MoV stainless steel, with a scalloped stainless steel liners under a machined G10 handle for superior strength and grip.
SOG STRAIGHT EDGE. The Salute Mini features a straight-edge blade for easy serviceability, and a clip-point design that brings the tip toward a more centered position for sharper, more precise piercing cuts.